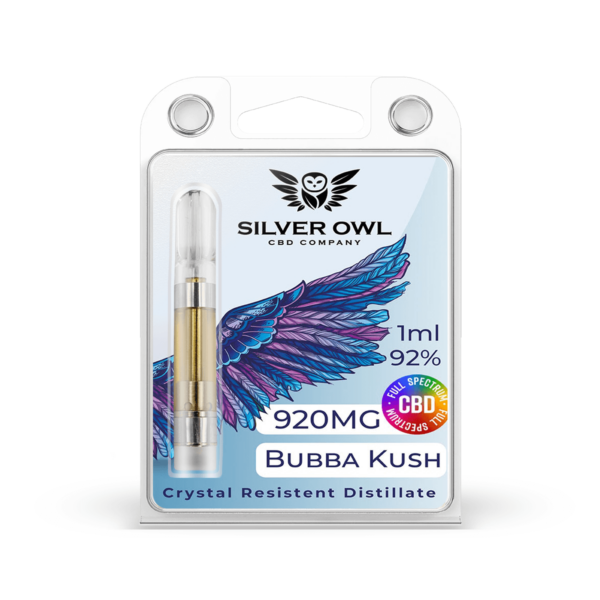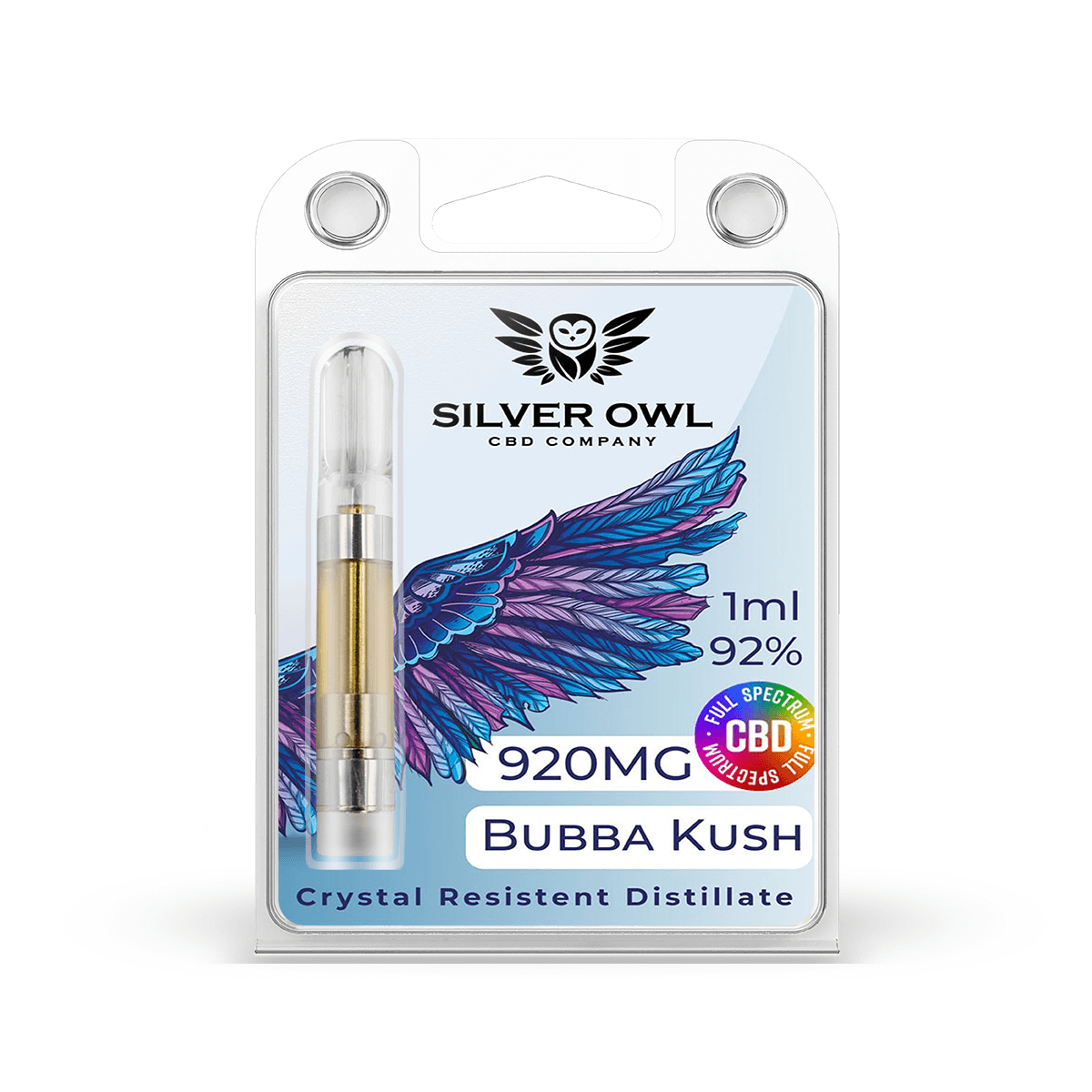 Full Spectrum Cartridge Bubba Kush
$19.99 – $180.00
Description
Additional information
Back from the grave in time for the fall: Silver Owl Full Spectrum CBD Cartridges!
We've been working with CBD Isolate since we started the Silver Owl CBD Company and have made a number of fantastic products with this pure form of CBD, but lately we've been feeling like it's time to start branching out with new types of hemp derived extracts as we grow. And the times, they certainly are a'changin': as more Americans have started taking CBD, the stigmas against hemp and hemp derived cannabinoids have lightened their grip on our country's perceptions of the plant and its compounds.

With these changes in perception and our efforts to expand compelling us, we've been working hard on developing our new Full Spectrum Extract. Full spectrum products usually contain a broad range of the better known and more abundantly available cannabinoids, but not every full spectrum product out there contains "lesser" cannabinoids such as CBC and CBA. We've refined our extraction techniques to ensure that our Full Spectrum Extract pulls CBD, CBN, CBG, CBC, CBA, numerous other cannabinoids and a full range of terpenes found in our raw flower for a truly full spectrum experience.
We're excited to release our first line of full spectrum products to the public: Silver Owl Full Spectrum CBD Cartridges! Each 1g cartridge contains 920mg of our Full Spectrum Extract and 80mg of terpenes for additional flavor in a crystal resistant distillate formulated to avoid hardening and congealing around the heating element, which can lead to premature burnouts. With roughly 580mg of CBD and 340mg of other cannabinoids working synergistically to provide the "Entourage Effect", our Full Spectrum CBD Cartridges are sure to please!
One of our two flavors for the flower fans out there, our Bubba Kush cartridges taste remarkably similar to the strain from which they take their name: herbal and slightly cheesy on the inhale, with spicy or peppery notes on the exhale. If you're a seasoned smoker, our Bubba Kush Full Spectrum CBD Cartridges will really hit the spot!
Please note: This product contains trace amounts of THC. Silver Owl Full Spectrum CBD Cartridges and any products formulated with our Full Spectrum Extract will naturally contain less than 0.3% Delta-8 and Delta-9 THC, in compliance with all applicable federal and state laws. Silver Owl Full Spectrum products are not psychoactive, but should not be used by anyone who is pregnant, breastfeeding or otherwise adverse to ingesting trace amounts of THC. 
If you are concerned about ingesting cannabinoids or are adverse to ingesting trace amounts of THC for any reason, please consult your physician or other licensed medical professional prior to using Silver Owl Full Spectrum products.
| | |
| --- | --- |
| Quantities | 1 Cartridge, Box of 10 Cartridges |
Great classic
Best hemp flavor on the market!! Hand down say this is best oil cart for OG smokers who don't like terp flavors!!!! 10 out of 10
Everything in my order was high quality and very top shelf. Amazing flower and carts!
Great products with great taste.