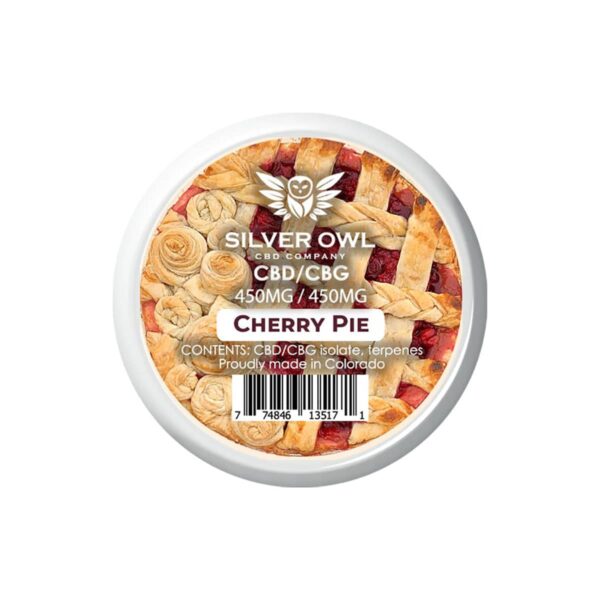 CBD/CBG Crystals Cherry Pie
$39.99 — or subscribe and save up to 20%
CBG Content: 450MG
CBD Content: 450MG
Strains: Cherry Pie
Recommended use: As needed
Ingredients: CBD Isolate, CBG Isolate, Terpenes
Brand: Silver Owl
Explore all strains of CBD/CBG Crystals
Actually tastes like cherry pie
Sweet desertey taste. Very smooth.
The cbd/cbg is amazing! the cbd relaxes me while the cbg helps me with getting that deep sleep
Great cbd/cbg combo
I love how the cbd help with pain and anxiety, while the cbg help with relaxation so it easier to get some sleep!!!! Great 2 in 1 combo!!
Mmmm Cherry Pie!
this cherry pie is so yummy!
Best top-shelf CBD products in the game, this stuff is tasty and Silver Owl never disappoints with the freshness and speed of delivery of their products.
This tastes just like a pie and will have you feeling relaxed and calm. If only it came with a scoop of ice cream
love the flavor!
smooth, tasty and amazing effect after smoking!! Need relief from your stressful day?? Get these crystals!! they are worth it! everyone I had try them loves it and will be ordering soon!!
Heavenly taste for sure!
this flavor of these crystals is insanely good! The effect is even better the relief I get from these crystals are amazing! no pain!
Flavor
I love this stuff. The flavor is amazing. I have never had any concentrates that taste this good. Amazing.
Thank you for your feedback
Cherry Pie Heaven!
I can't believe the flavor in these crystals. You really taste the cherry pie! The crust comes though strong with a fruity finish. Silver Owl knocked it out of the park with this one.
The 5⭐️ Supplier you've always wanted!!!
The product is always A1 and taste exactly how it says! The customer service is unbelievable and the business to consumer relations makes it feel like I'm buying from family ⭐️⭐️⭐️⭐️ If I could rate any higher I would