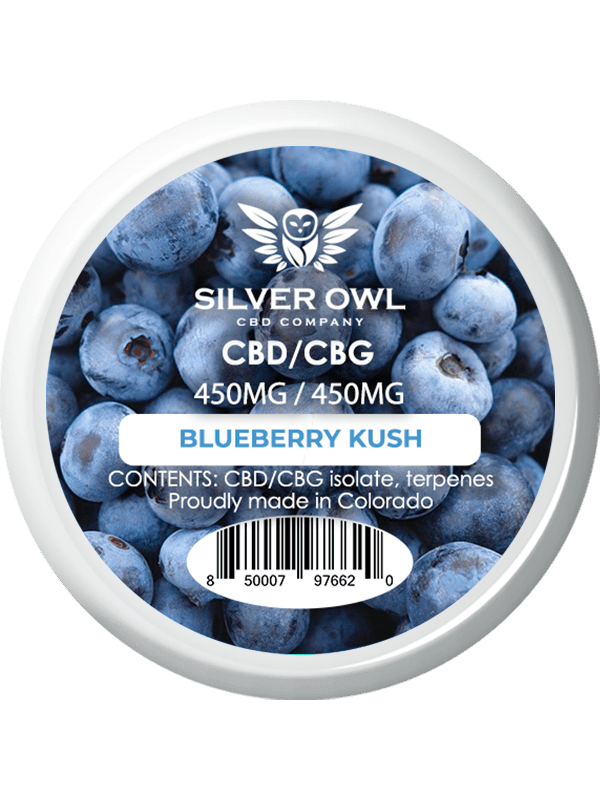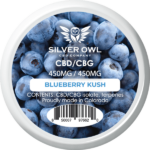 Silver Owl CBD/CBG Crystals Blueberry Kush
Description
Additional information
Have You Heard About The Entourage Effect?
The cannabinoids naturally found in the hemp plant's flower buds are potent and beneficial on their own, but each of these compounds works better when they're paired together and with terpenes. This synergistic boost in effects is called "The Entourage Effect" and has been steadily gaining increased attention as hemp research has increased over the past two years.
When Cannabidiol (CBD) and Cannabigerol (CBG) are paired together, The Entourage Effect kicks in to elevate the response our endocannabinoid systems have to both cannabinoids. CBG binds to our CB1 and CB2 receptors while CBD affects the system's processes across the mind and body; this allows the increased effects of both to become much more noticeable in harmony with each other.
Silver Owl CBD/CBG Crystals deliver the best of both hemp derived compounds, further magnified by the terpene profiles of each flavor. These Crystals are delicious and potent, providing a range of beneficial effects and tasty notes. All of this happens without any psychoactivity- like the rest of our Crystals, these contain hemp derived cannabinoids exclusively and no THC whatsoever.
And the best part? Our variety of CBD/CBG Crystals includes three brand new terpene powered flavors to the Silver Owl family of products, as well as updated mixes of terpenes for our existing flavors. Try a batch of our new Silver Owl CBD/CBG Crystals today and experience the hype for yourself!
Flavor: Blueberry Kush
Mgs CBD/CBG: 450/450
| | |
| --- | --- |
| Weight | 0.1 kg |
| Mgs CBD | 450 |
| Mgs CBG | 450 |
You can actually feel the CBD/CBG working together to relieve my pain. The taste and the effects of this are top-notch. The pricing is great as well. Everyone should try this.
Thank you so much for the review
The best!
There's no other way I would be able to survive probation without Silver Owl. Not only are the products A-1, the crew behind the product are integral people with amazing character. I appreciate it so much 💓
Literally the best flavor on earth
The blueberry kush flavor helps literally anybody wake up or fall asleep. It's the best flavor on earth and mars. My back literally doesn't hurt anymore. After 2020 everybody's back is hurting. Try this stuff
First Time, WILL BE ORDERING AGAIN
Love this! The taste is amazing and the calm is instant for me. SO glad I found Silver Owl!
Only good things to say
The combination of CBD and CBG offers a unique relaxation headspace. I think I said everything I have to say about the efficacy of the combination in my Cherry Pie crystals review. The only thing different here was I expected to like this flavor better, but actually preferred the Cherry Pie flavor. This still has a good taste, I just wish there was more of it. I would still definitely purchase this product again.
Great Isolate!
Loved the taste and the subtle relaxing feeling after this!