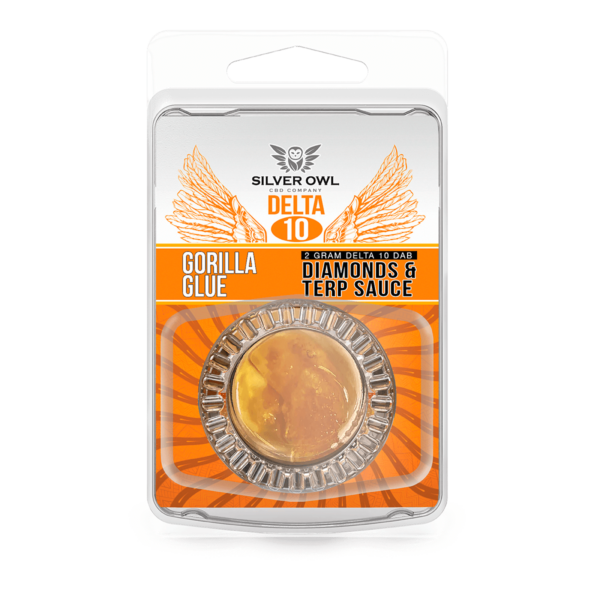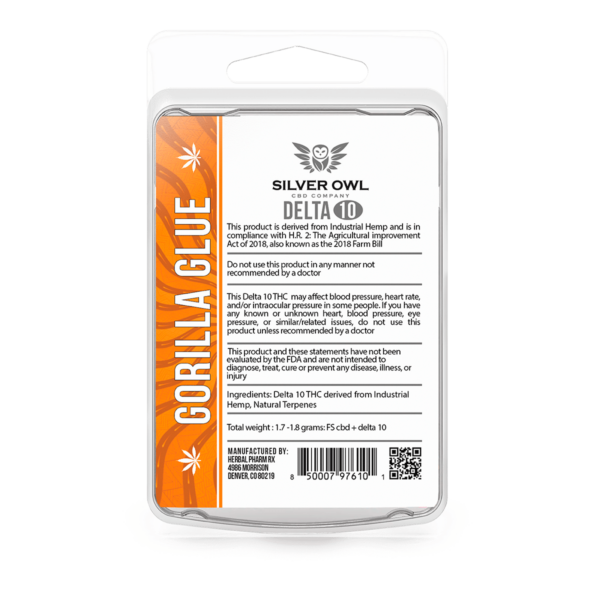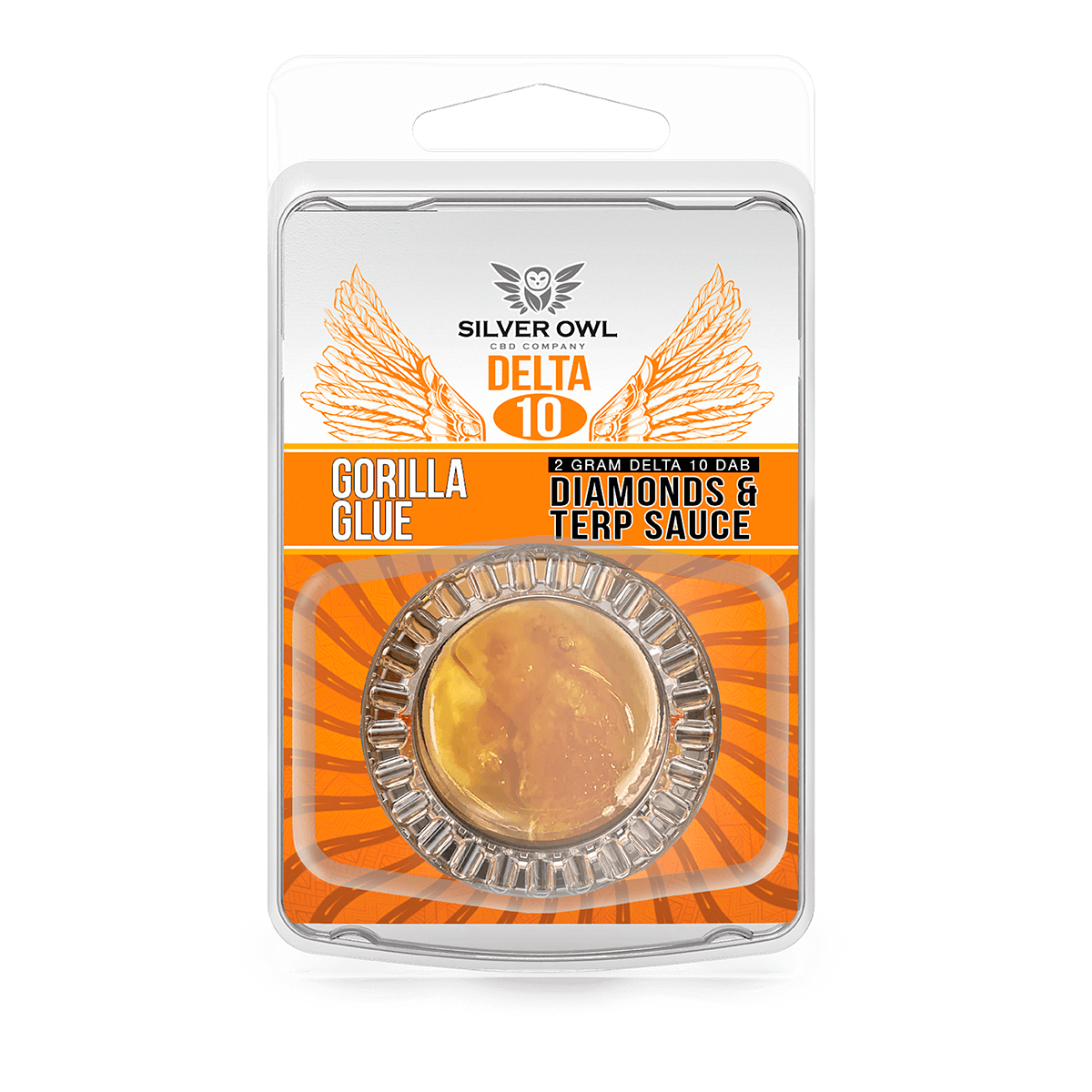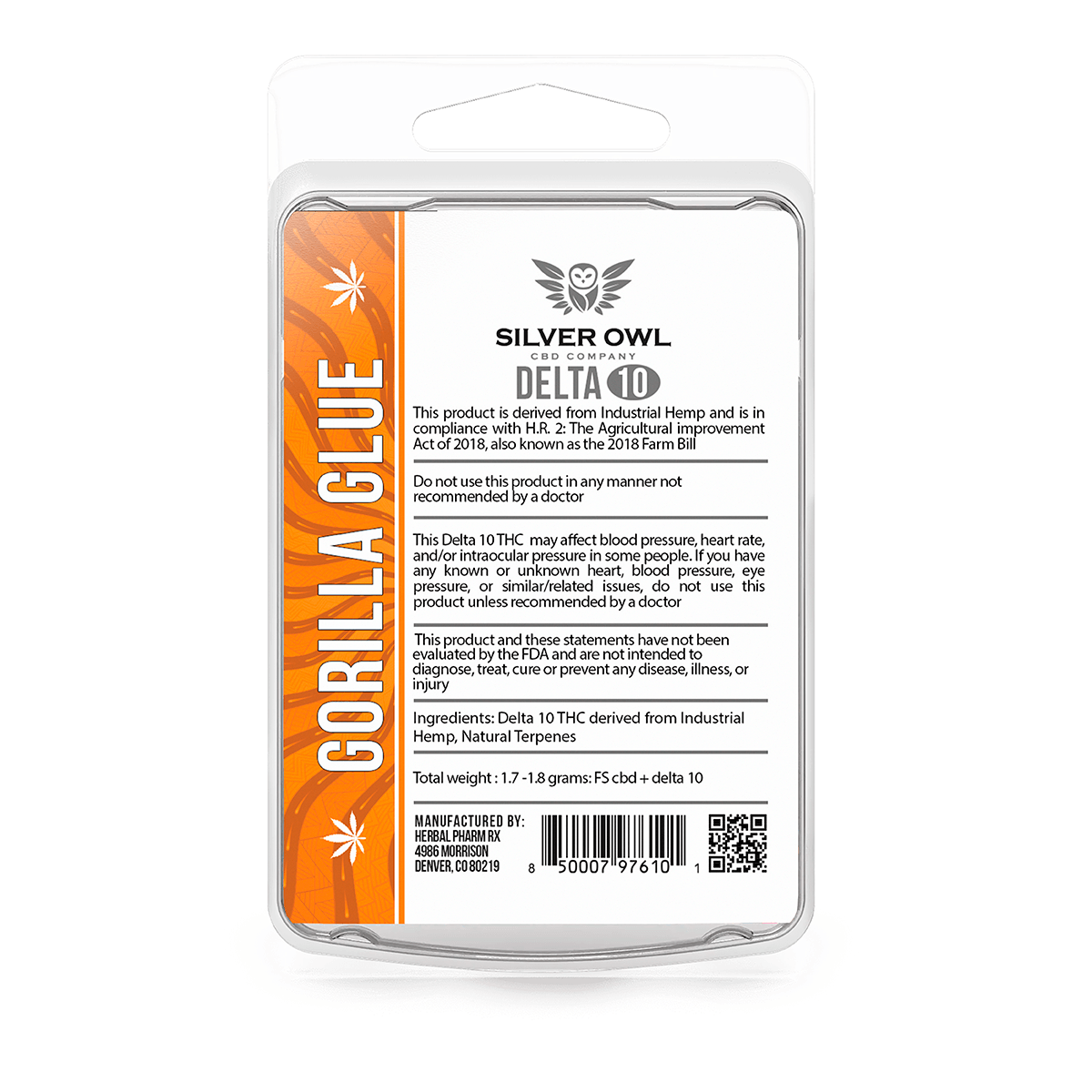 Silver Owl 2g Delta 10 Dabs Gorilla Glue (Hybrid)
$40.00 – $400.00
Description
Additional information
Delta 10 2g Dabs Description
Delta-10 THC, or Delta 10, is a federally legal cannabinoid derived from hemp CBD. Unlike the more indica-like effects of Delta 8, Delta 10 tends to provide its users a more uplifting, energizing and even motivational experience similar to the standard changes brought on by the use of sativa strains. However, both compounds tend to come with shorter duration times and less-potent psychoactive responses than what you might get from their more notorious cousin, Delta 9. This allows Delta 10 to benefit its users in quick, recharging bursts without getting too intense to handle.
Silver Owl Delta 10 Dabs provide our dabbers an opportunity to take as large or as small of a dose as they'd like and can be used with any dab straw, nectar collector, rig, e-nail setup, or concentrate pen.
Strain: Gorilla Glue
Lean: Hybrid
Flavor: Notes of chocolate and diesel on the inhale, sour and gassy on the exhale
Delta 10 Dabs FAQs
"How do Silver Owl Delta 10 Dabs compare to its Delta 8 line?"
Answer: they're on pretty equal footing in terms of potency, but the effects lean more towards the mentally stimulating and euphoric effects of traditional sativas while Delta 8's effects provide a more indica-like response from its users' bodies.
"Is Delta 10 safe to use?"
Answer: yes, with exceptions. This product is psychoactive and may cause impairment, so please don't use Silver Owl Delta 10 prior to operating any vehicles or heavy machinery. If you struggle with health issues pertaining to ocular pressure and blood pressure, we would not recommend the use of our products without the recommendation of a certified medical professional.
"How long will it take for me to feel something?"
Answer: in most cases, Silver Owl Delta 10 Cartridge users report the onset of effects within thirty seconds to three minutes of the initial use; however, you may experience a longer or a shorter wait.
For more information on Silver Owl Delta 10 THC and the other cannabinoids we offer, check out our blog!
Disclaimers
*Please be aware: due to the current legal classification of Delta 8 THC in some regions, we cannot ship Silver Owl THC products to the following states at this time: Alaska, Arizona, Arkansas, Colorado, Delaware, Idaho, Iowa, Mississippi, Montana, New York, Rhode Island, Vermont and Utah. Any Silver Owl THC products ordered to these states will be removed from their corresponding orders.
*You must be 21 years of age or older to buy ALL Silver Owl products, including Silver Owl Delta 8, Delta 9, Delta 10, THCV, THCP, THC-O and HHC products. Please keep out of reach of minors and enjoy responsibly.
*Silver Owl Delta 8, Delta 9, Delta 10, THCV, THCP, THC-O and HHC products are derived from Industrial Hemp and are in compliance with H.R. 2: The Agricultural Improvement Act of 2018, also known as the 2018 Farm Bill.
*Silver Owl Delta 8, Delta 9, Delta 10, THCV, THCP, THC-O and HHC products contain less than 0.3% Delta-9 THC, in compliance with all applicable federal and state laws.
*Silver Owl Delta 8, Delta 9, Delta 10, THCV, THCP, THC-O and HHC products may cause a psychoactive response and should not be used by anyone who is pregnant, breastfeeding or otherwise adverse to ingesting THC analogs or trace amounts of Delta-9 THC. Please do not use Silver Owl HHC, Delta 9, Delta 10, THCV and THC-O products prior to operating any vehicles or heavy machinery.
*If you are concerned about ingesting cannabinoids, including trace amounts of Delta-9 THC, please consult your physician or other licensed medical professional prior to using Silver Owl products.
*Silver Owl Delta 8, Delta 9, Delta 10, THCV, THCP, THC-O and HHC products may affect blood pressure, heart rate and/or intraocular pressure in some people. If you have any known or unknown heart, blood pressure, eye pressure, or similar/related issues- or if you are at risk of developing such conditions- do not use these products unless recommended by a doctor.
*Unless otherwise specified, Silver Owl products are not intended for animal use. Some of the ingredients found in Silver Owl products could prove harmful or even fatal if consumed by an animal. Please contact your nearest emergency veterinarian services if you suspect your pet has consumed a Silver Owl product not intended for their use.
*These products and statements have not been evaluated by the Food and Drug Administration (FDA) and are not intended to diagnose, treat, cure, prevent or otherwise manage any disease, illness, injury or similar condition in any way, shape, or form.
| | |
| --- | --- |
| Quantities | 1 Pack, 3 Packs, 6 Packs, Box Of 10 Packs |
Excepcional Company
Everything was amazing. They even sent my products rush delivery so I would have them in time for my anniversary. Amazing customer service and product!!!!
So Good!
The look = Fantastic.
The flavor = Amazing.
The feeling = Magical.
I have IBS and these have really helped me. I use mostly vapes and dabs and mostly delta 8. I've more recently been using the ten for right in the morning when I have the most pain. Nice and relaxing but I don't wanna take a nap.
Awesome Shtuff
this has got to be the best company I have ordered from!
amazing stuff!!
The hit I get from this stuff is insane! I love it! it hits so smoothly I haven't had a smooth hit like this from a delta 10 dab in a long time, they are all so harsh sometimes!! this is a really nice product
Great!
This is the best delta 10 I have had by far!! I have to have more!!! trying new flavors too!
YEAAAAH!! LOVE IT!!
I know Gorilla glue to be one of the original "flavor/strains" and this is by far the best flavor I have tired and I will be trying more flavors for sure!! the feeling after hitting it is amazing!! give me so much relief!
Diamonds
The flavor is great and the diamonds looks amazing! I have chronic Back pain and it helps a lot with that and helps me get though my work day and is also great if you have a low tolerance!!
These d10 dabs smack
Such a great effect!
I have a low tolerance, and it works super great,.flavor and terpene profile is on point
This is a newer product so thank you so much for your feedback.