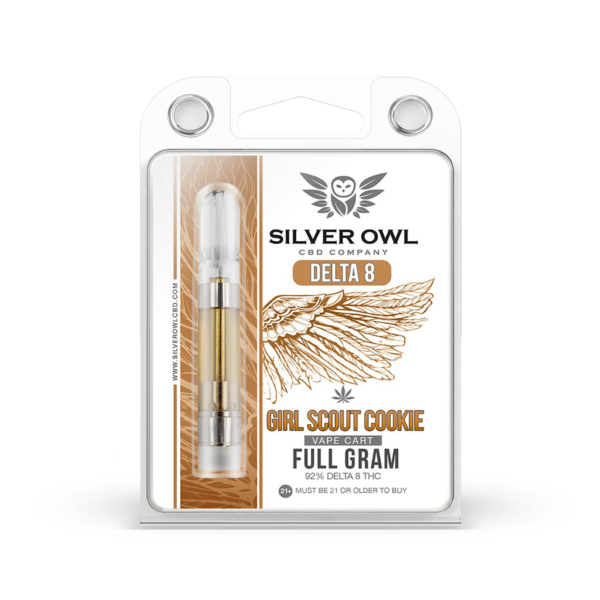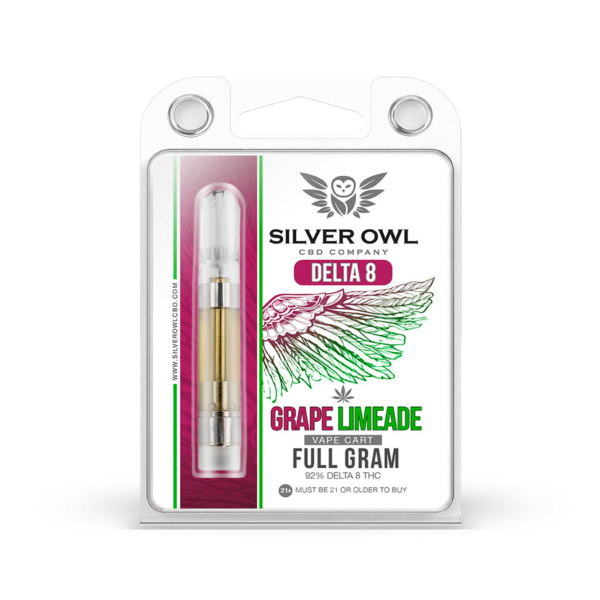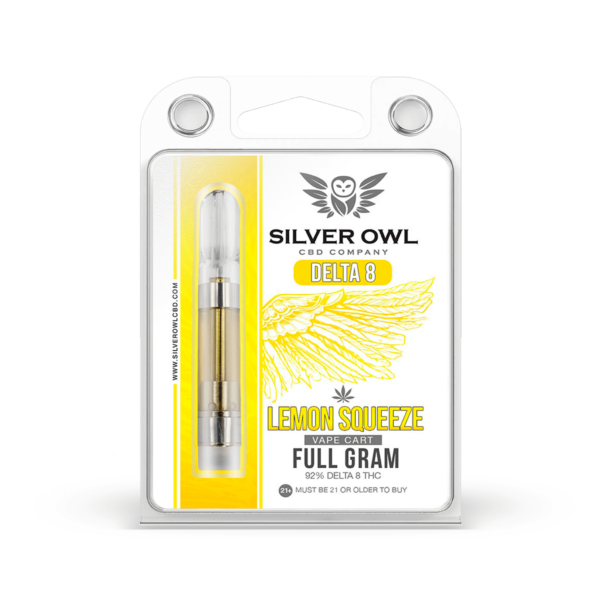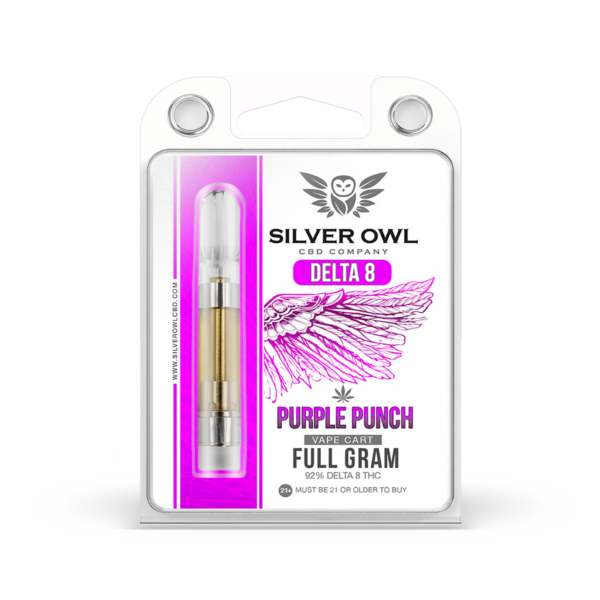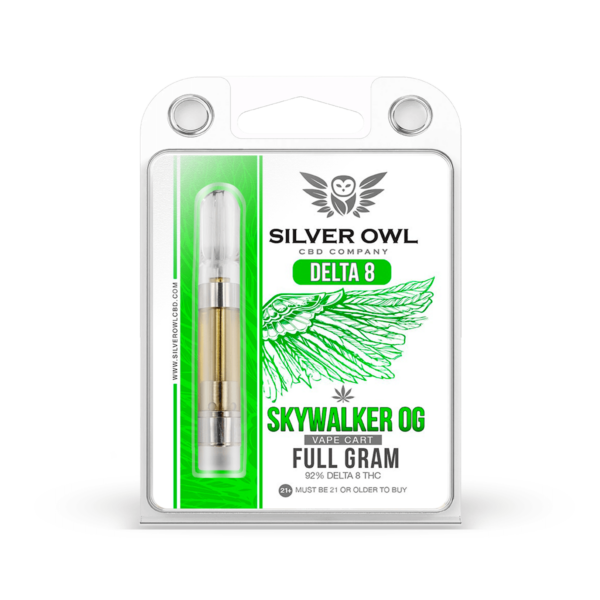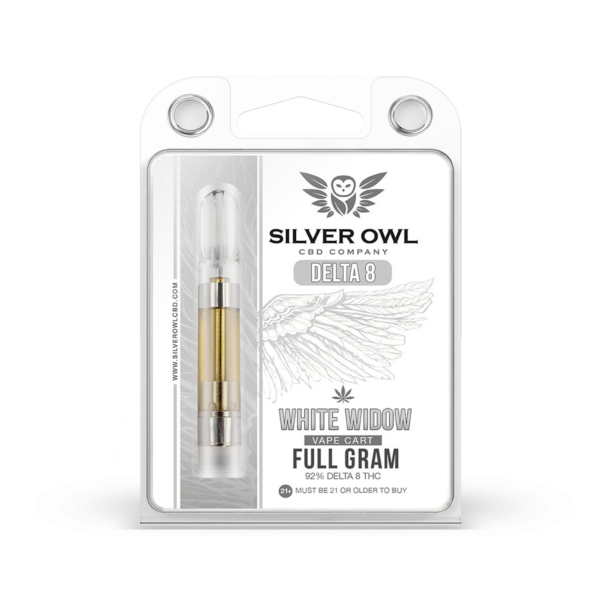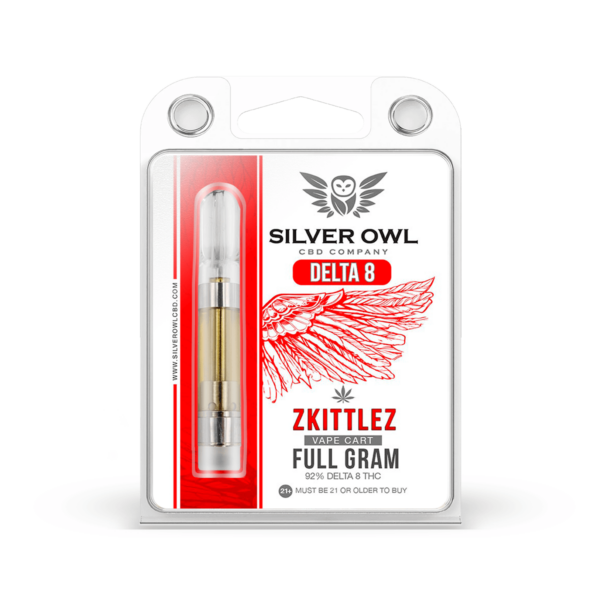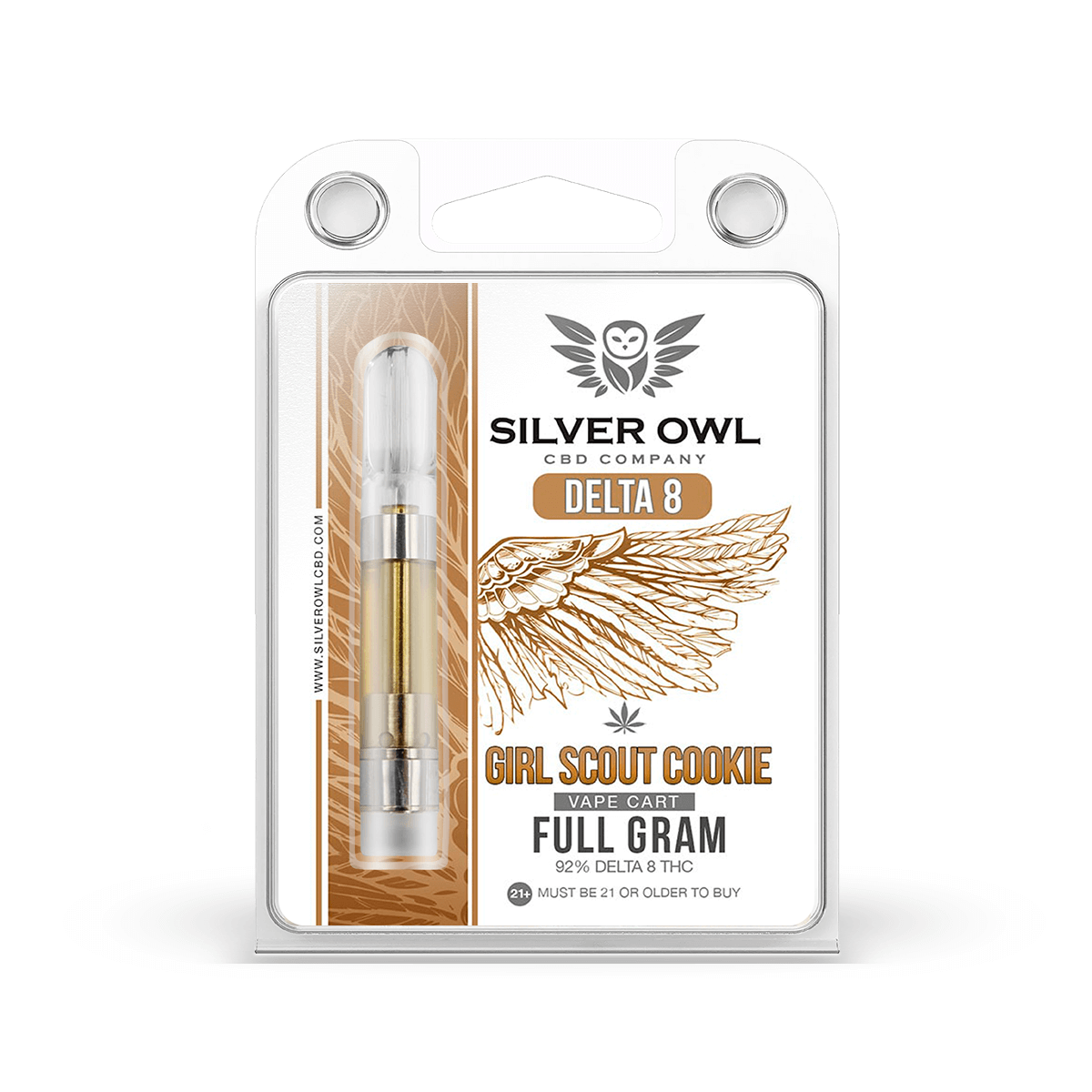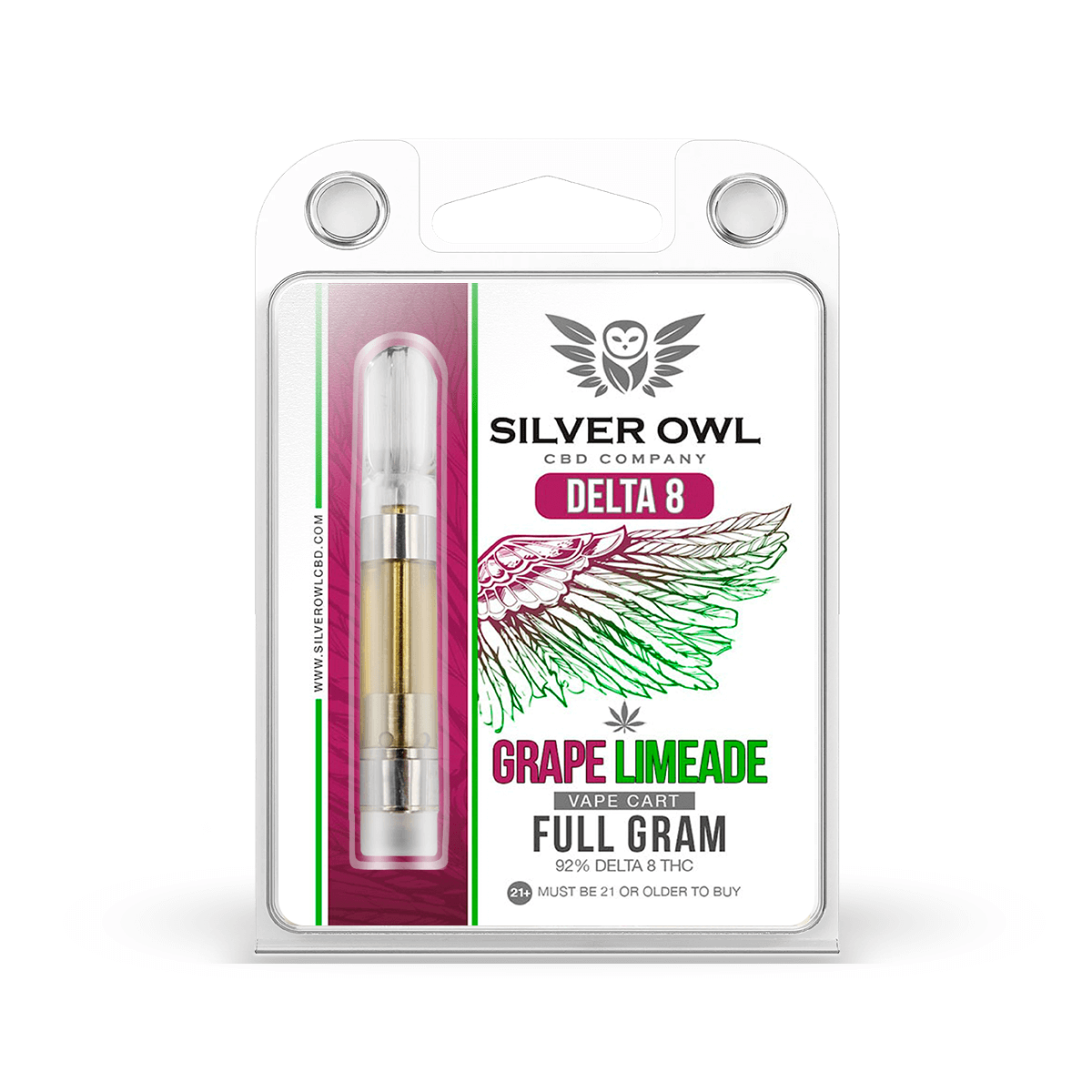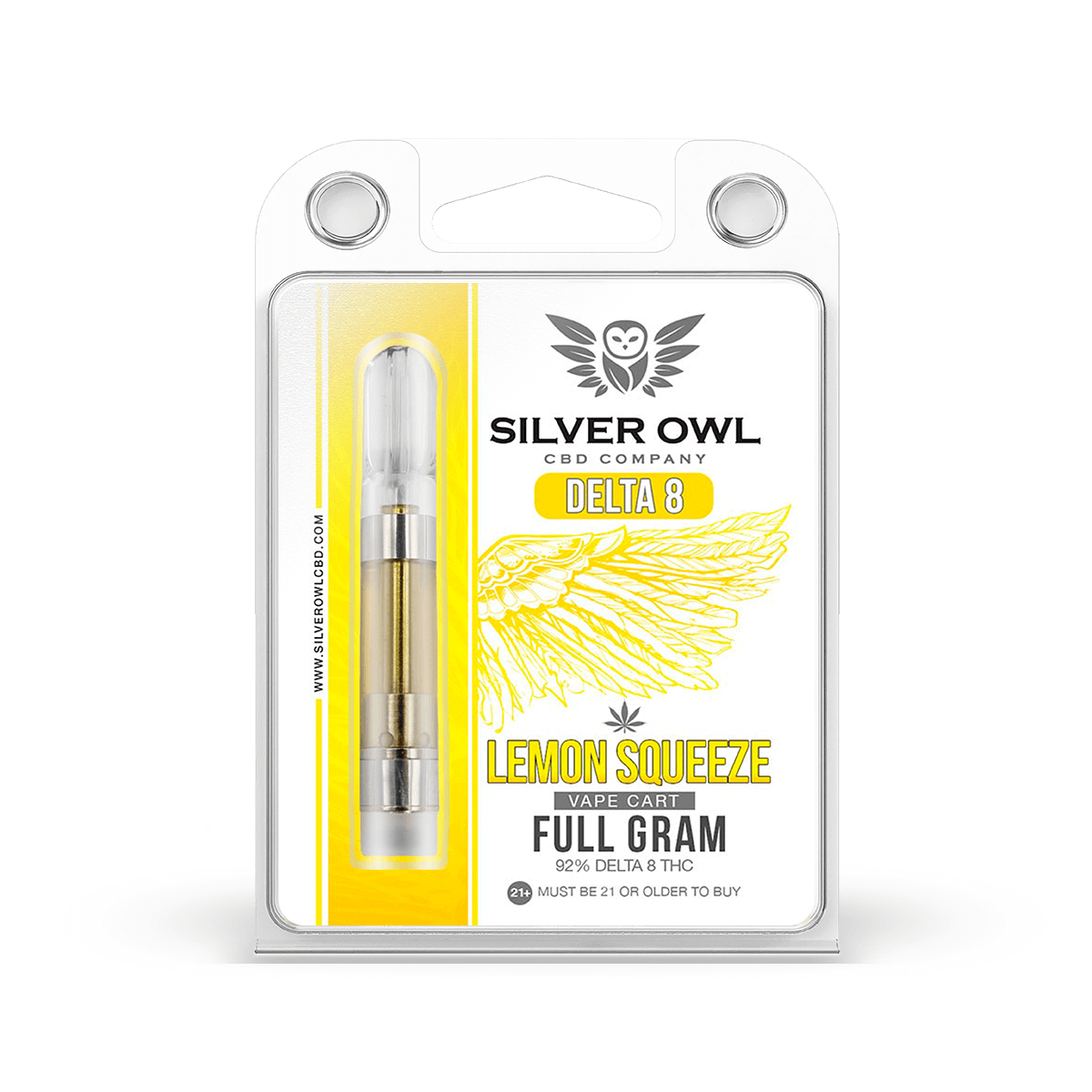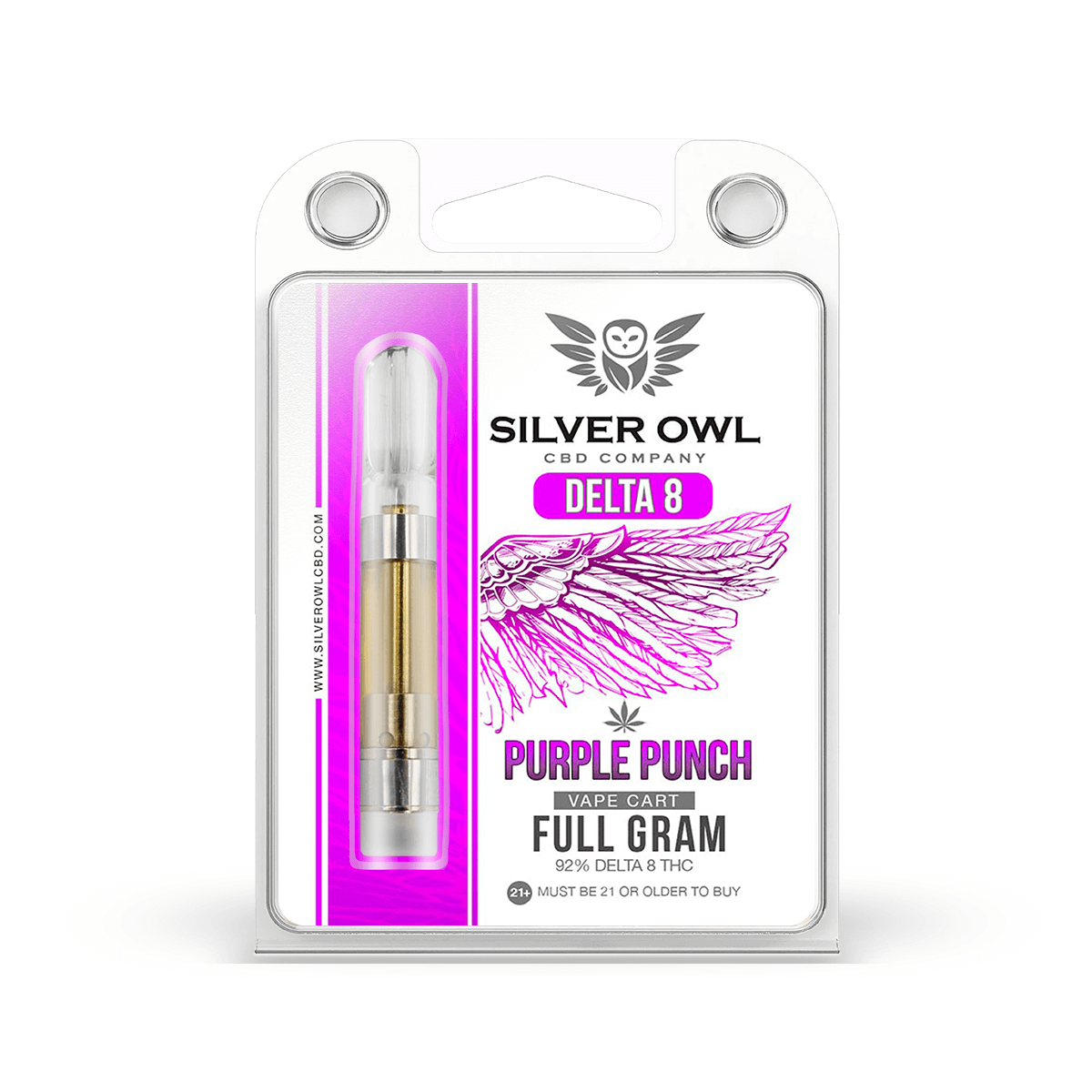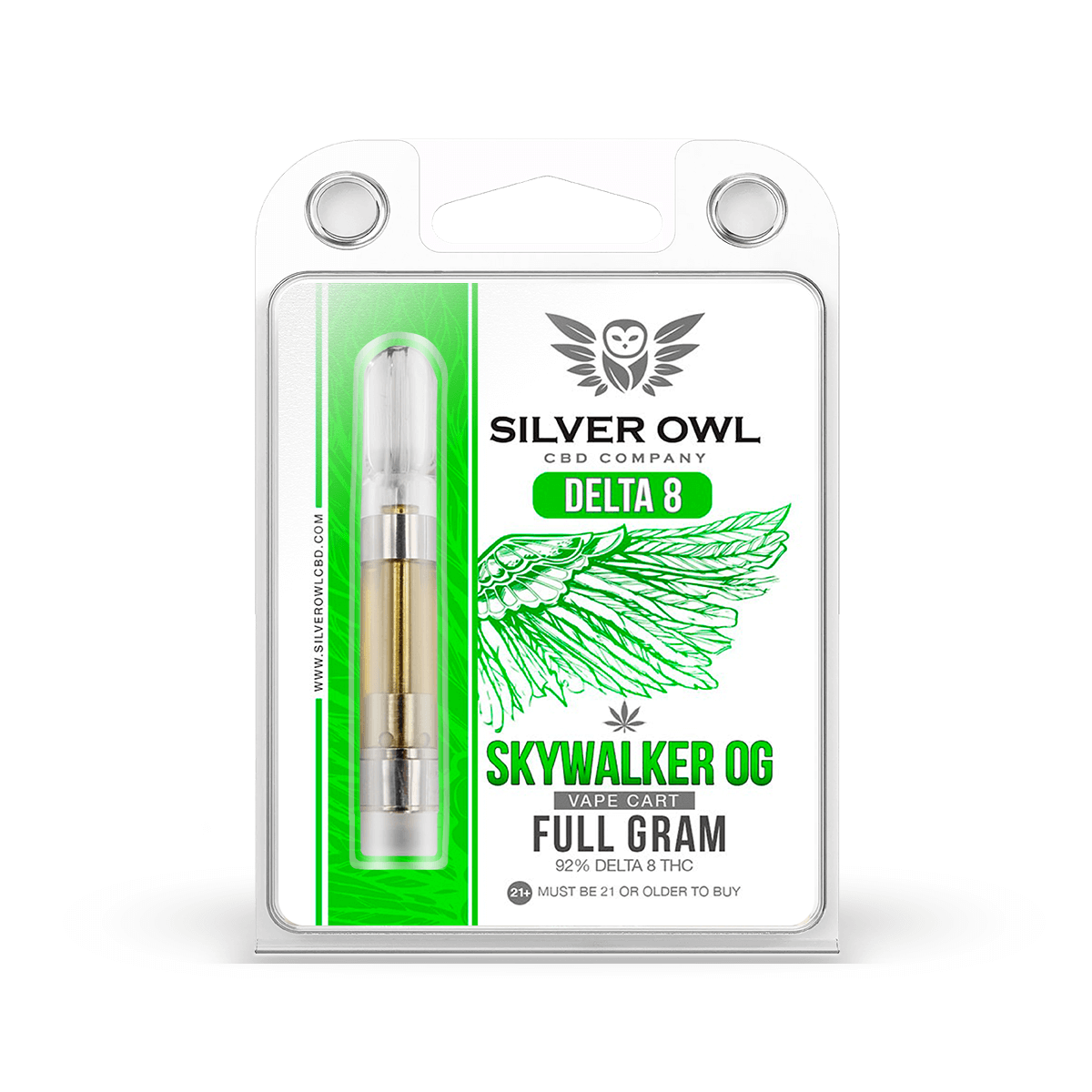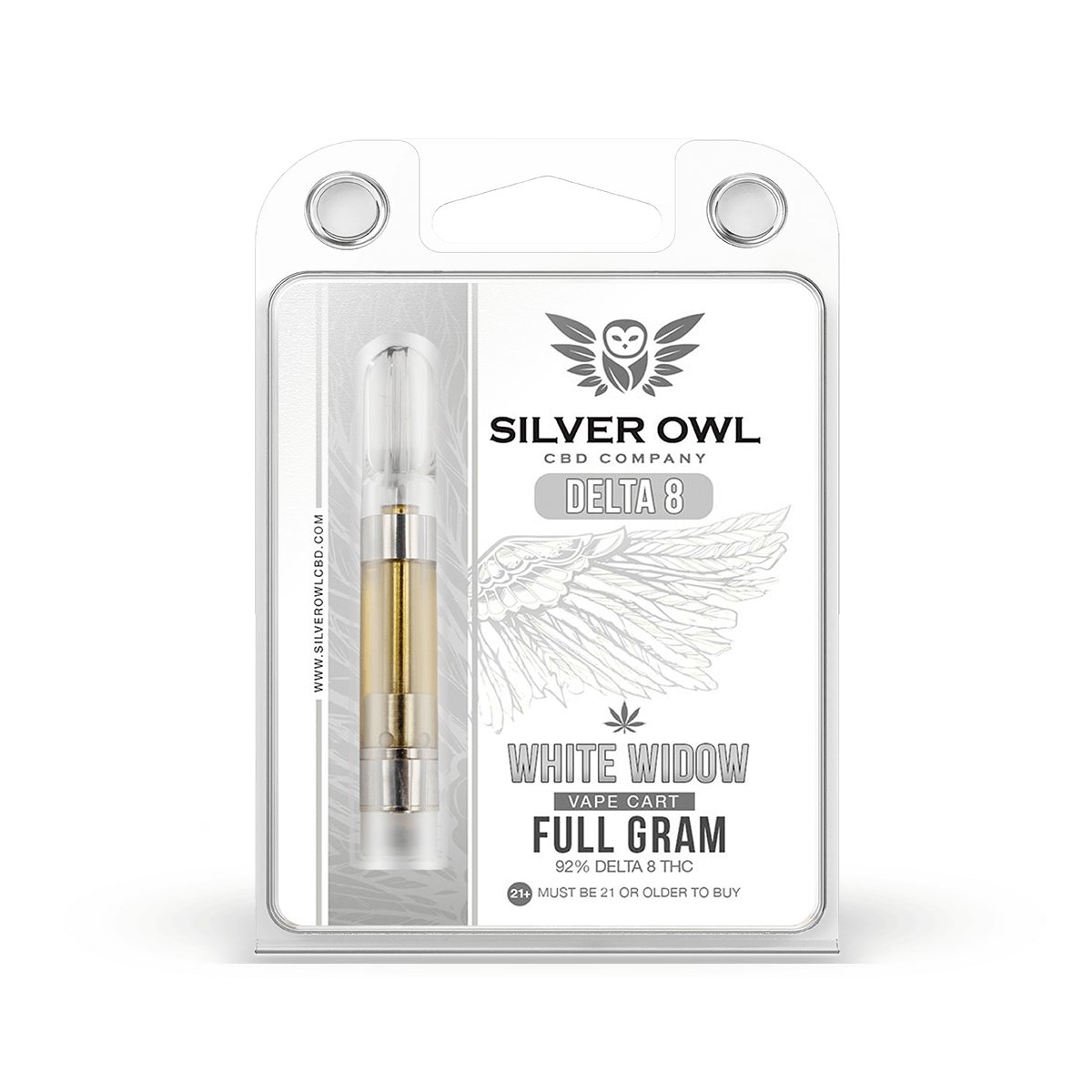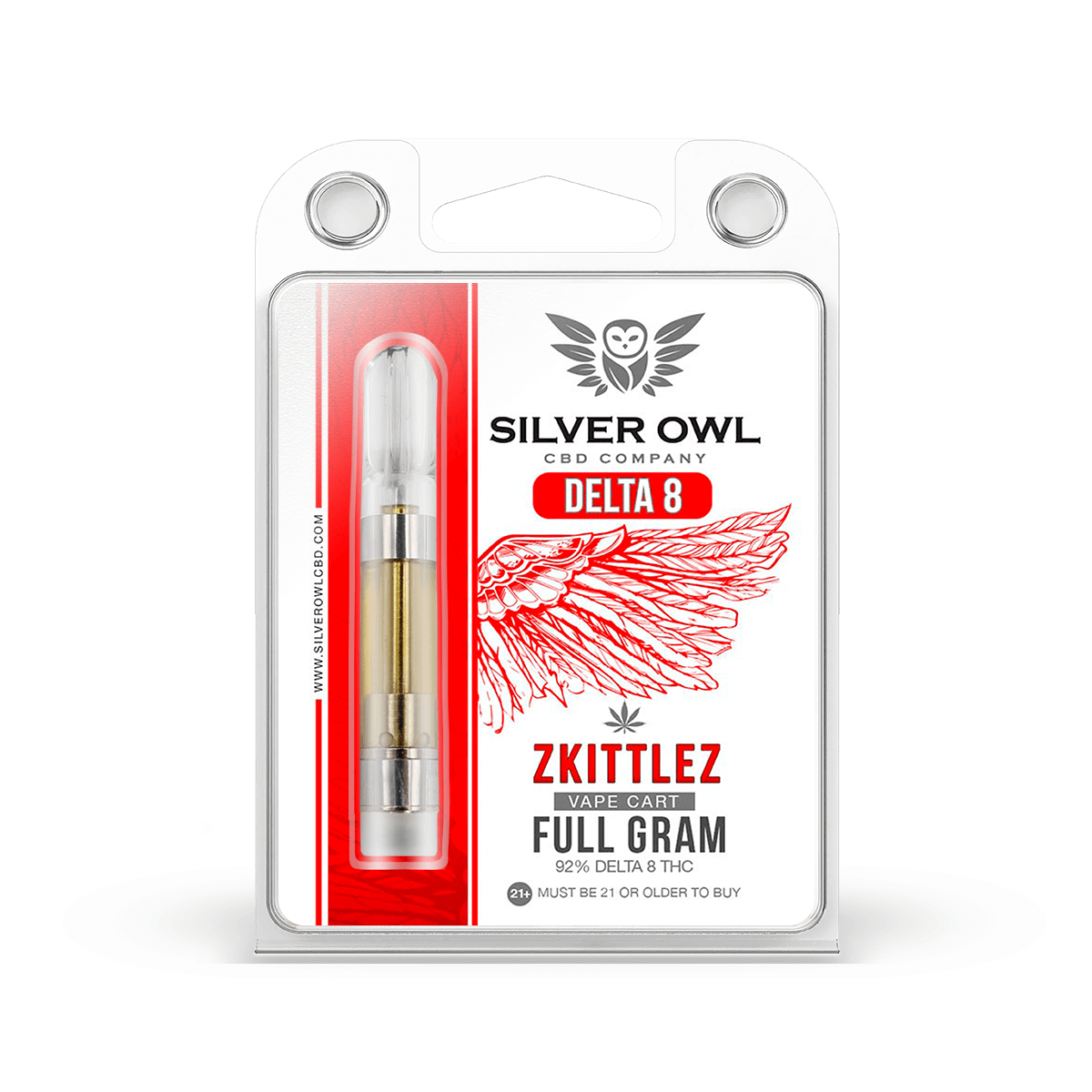 Delta 8 Vape Cartridge
— or subscribe and save up to 20%
Delta 8 Content: 1000MG
Strain Types: Indica, Sativa, Hybrid
Strains: Skywalker OG, White Widow, Girl Scout Cookie, Zkittlez, Purple Punch, Lemon Squeeze, Grape Limeade
Serving Size: 10 to 20 mg
Recommended use: As needed
Ingredients: Delta 8 derived from Industrial Hemp, Natural Terpenes
Brand: Silver Owl
Directions: Hit Delta 8 Cartridge until desired result are achieved.
Description
Additional information
Who doesn't like a hint of mouth-watering flavors with their cannabinoids? Delta-8 THC cartridges are all about smooth vapor with a fantastic taste that will take you on a relaxing journey. A vape cart is a hands-on solution that you can enjoy on the go without worrying about carrying medicine bottles or glass bongs. We at Silver Owl take pride in having carts that don't contain PG, VG, MCT, or PEG oil. We have set new standards by carrying Delta-8 carts that hold nothing but the goodness of Delta-8 and natural flavors. Thus, Silver Owl's Delta-8 THC carts are rich with all-organic terpenes extracted directly from plants. Silver Owl CBD holds yet another feather in its hat, being the only manufacturer in the country that offers 100% authentic C-cell cartridges.
If you are curious about other factors related to Delta-8 THC carts, this article will give you an introduction.
What are Delta-8 Cartridges?
The "carts" we are discussing here have nothing to do with the basket in which we collect the stuff in a superstore. When discussing Cannabis, "cart" refers to vape cartridges that come pre-filled with extract from hemp plants, converted into a liquid form that facilitates vape functioning. The processing, fluid quality, and even Cannabinoid content may differ from company to company. Some companies offer a mixture of Cannabinoids, while pure Cannabinoids are also available.
The purpose of a vape cartridge is to use heat to vaporize the extract and inhale the vapor for almost immediate effects.  This requires some kind of 510-thread battery, usually a pen or box mod.  The cartridges are interchangeable, so why bother with multiple disposables when you could use your own rechargeable device?
Why Delta-8 Carts?
You can get vape carts of any cannabinoid, so why choose Delta-8 over any other cannabinoid? Sometimes we want to relax after a long tiring day, but our mind is too stressed to stop processing all the tasks we have been doing all day. Delta 8, a new and potent cannabinoid available on the market today, can be a lifesaver in this case. It has shown up in multiple forms and flaunts a combination of benefits similar to many cannabinoids.
And why carts specifically? In any case that requires immediate Delta-8 THC effects, vape carts help most efficiently. After noticing all its jaw-dropping bonuses, Silver Owl couldn't help coming up with Delta-8 THC vape carts. If the information thus far has convinced you that Delta-8 may be worth your while, come along with us and learn more about this brilliant product.
The effects and benefits of Delta-8 THC Carts:
A few facts make Delta-8 vape carts stand out:
Reduced Time of Action: Other oral Delta-8 THC products usually take a lot of time to elicit the desired effects. This issue is mitigated by vaping Delta-8 carts, where effects can be noticed within 5-10 minutes. Vapor reaches the lungs instantly. The capillaries surrounding the alveoli rapidly take up these vapors by diffusion and deliver Delta-8 directly to the bloodstream, where it ultimately makes its way to the Cannabinoid receptors that regulate bodily functions. This diffusion from alveoli to capillaries explains why Delta-8 THC in vape form acts more rapidly than in other forms.
Psychoactive nature: Unlike Delta-9 THC, the most well-known cannabinoid in marijuana, Delta-8 THC is less potent that Delta-9 THC. However, Delta-8 does induce the sought-after lightened mood without the negative effects of Delta-9. What more could we ask for?
What does Vaping Delta-8 feel like?
Consumers have reported mild euphoria with lightheadedness that improves focus and imparts a feeling of relaxation and pleasure. Delta-8 will enhance your sensory perceptions, toning down your stress while making you more clear-headed, readying you to kick start a task or hit the hay.
How to use Delta-8 Vape Cart?
Silver owl Delta-8 vape carts are easy to use. Screw your vape cart to a 510 battery, put the mouthpiece between your lips, press the button to heat the liquid into a vapor, and inhale the unique taste and aroma of Silver Owl's terpene-based blend. Yes, it is as simple as that; PRESS and INHALE. We recommend novice users take small puffs when using for the first time. High concentration Delta-8 THC vapes may cause throat irritation. You can advance to larger and fuller puffs as your throat gets used to the vapor.
How to estimate Delta-8 vape dosing?
The popular "Start low and go slow" dosing technique works well in the case of Delta-8 vapes too. Start from as low as 10 mg and gradually increase it to find the optimum dose. Even experienced users may consider 100 mg an intense amount.
Consider your body weight, goals, the potency of Delta-8 juice, the number of puffs, and the severity of your condition when estimating the dose. Dosing amounts may also differ with each brand. For example, each vape cart from Silver owl contains 900 mg Delta-8. If it lasts 900 puffs, then each puff offers about 1 mg. Start with a small puff and proceed based on your body's reaction to that puff after 5-10 minutes.
How to choose the best Delta-8 vape?
The first and foremost recommendation is to buy from a reputable brand that is transparent regarding its processes and techniques. Such companies don't mind mentioning the following information on the product label:
Content of cartridge
Third-party lab testing information
A third-party lab testing report features the number of cannabinoids in the product and its legitimacy. You may also want to inquire about the extraction process, and whether the company offers additional tests like residual solvent testing. Silver Owl CBD uses a CO2 extraction method that filters out all impurities. The clean distillate conversion method is used to convert CBD into Delta-8 THC.
Storage and Maintenance:
Even a little air in the tank will vaporize the Delta-8 content. These vapors eventually soak in small parts of the cartridge, i.e., coils, making the cart look emptier, and that's totally normal. You may adopt the following steps to take care of your vape cart:
Avoid contact with direct sunlight as it may affect the freshness and potency of the product.
Do not detach the cart from the battery unless you need to recharge it.
Keep the battery upright and in a cool, dry place when not in use to prevent leakage and clogging.
Clean the mouthpiece after every use.
Which Delta-8 Vapes are the best?
There are so many brands, each vying for your attention in a hundred different ways, that it can be difficult to choose from among them. This confusion won't last long once you come across the specs of Silver Owl. It offers the best Delta-8 products that proudly feature the following specifications:
Safely CO2 extracted cannabinoids.
Absence of harmful ingredients like MCT, VG, PG, and PEG oils.
The yummiest flavors that you can't help but drool over.
Silver Owl offers the following mouth-watering flavors:
Lemon Squeeze
Skywalker OG
Girl Scout Cookie
Purple Punch
Zkittlez
Grape Limeade
White Widow
Delta-8 Cartridges FAQs:
How much Delta-8 does a vape cart contain?
The amount of Delta-8 in each cart varies from company to company. Silver owl Delta-8 vape carts contain 900 mg of liquid in each cartridge.
How many puffs can I get from each cart?
It depends. One long and fuller puff may consume around 4 mg of Delta-8 THC. So if your cart contains 900 mg Delta-8, you could enjoy anywhere between 225 to 900 puffs.
Is Delta-8 vape legal?
Yes, any Delta-8 vape that contains Delta-9 THC within the federally legal limits is allowed.
Why choose Delta-8 Carts?
Delta-8 vaping via carts is a hit since it's an option that you can avail of on the go. Moreover, it offers instant results that may offer relief from many acute conditions.
Delta-8 Carts Near me
If you are shopping online, Google maps will show you the option of "Delta-8 Carts near me." While you can find many stores near you, it is essential to go for the best one, and an online store like Silver Owl can help you with convenient reviews and price comparisons. Moreover, you may ask companies for a Certificate of Analysis of their products to ensure quality.
We at Silver Owl take care of your needs with fast and free shipping. We offer a 100% money-back guarantee because customer satisfaction is our priority. So what are you waiting for? Find us online and order before your favorite product goes out of stock!
| | |
| --- | --- |
| Strain Type | Hybrid, Indica, Sativa |
| Strain | Girl Scout Cookie, Grape Limeade, Lemon Squeeze, Purple Punch, Skywalker OG, White Widow, Zkittlez |
Great customer service
Best products found so far. Pricing and products are top notch. Customer service is GREAT. Have recommended to several people and none were disappointed.
Favorite strain
The taste and effects are awesome. The flavor is consistent and so delicious. I always snag at least one of these each time I order.