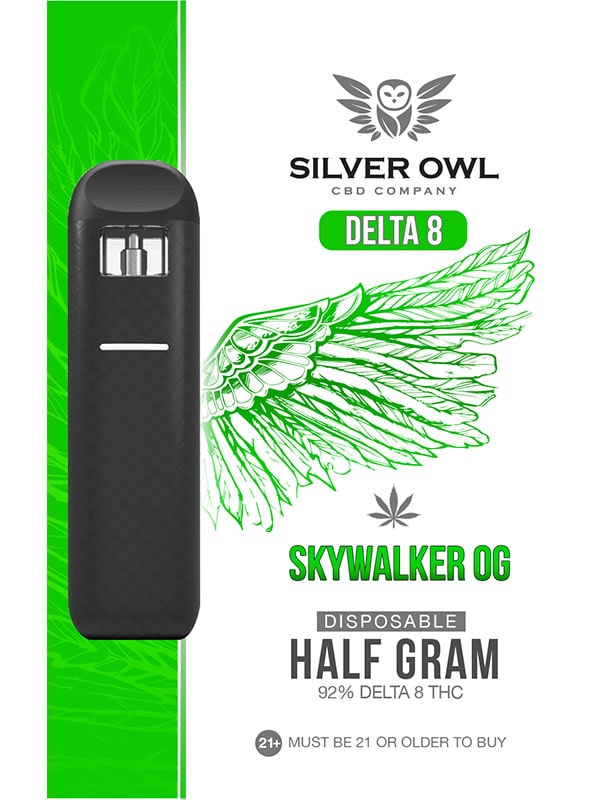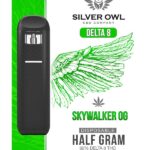 Silver Owl Delta 8 THC .5g Disposable Skywalker OG
$39.99 – $350.00
Description
Additional information
Back from the grave for the coming fall: Silver Owl Delta 8 Disposables!
Delta 8 THC (D-8THC) is an analogue and legal alternative to its relative. Unlike the other cannabinoids we've worked with, like CBD and CBG, Delta 8 IS psychoactive- as such we cannot recommend using this before operating any vehicles or heavy machinery. Please exercise caution when using any Delta 8 Products and enjoy responsibly.
Disposable vapes provide the same perks of use as cartridges, but contain a built-in battery so that everything you'll need for a session is entirely self contained. 
Featuring distillate and terpenes derived from the strain of the same name, Silver Owl Delta 8 Skywalker OG Disposables taste like the real deal and are a "Force" to be reckoned with!
Strain Used: Skywalker OG
Parent Strains: Mazar and Blueberry OG
Lineage: 55% Indica > 45% Sativa
*Please be aware: due to the current legal classification of Delta 8 THC in some regions, we cannot ship Silver Owl Delta 8 products to the following states at this time: 
Alaska, Arizona, Arkansas, Colorado, Delaware, Idaho, Iowa, Mississippi, Montana, New York, Rhode Island, Vermont and Utah
Any Silver Owl Delta 8 products ordered to these states will be removed from their corresponding orders. 
Disclaimers:
*You must be 21 years of age or older to buy ALL Silver Owl CBD Company Products, including Silver Owl Delta 8 products. 
*Silver Owl Delta 8 products are derived from Industrial Hemp and are in compliance with H.R. 2: The Agricultural Improvement Act of 2018, also known as the 2018 Farm Bill.
*Silver Owl Delta 8 products contain less than 0.3% Delta 9 THC, in compliance with all applicable federal and state laws. 
*Silver Owl Delta 8 products are psychoactive and should not be used by anyone who is pregnant, breastfeeding or otherwise adverse to ingesting Delta 8 THC or trace amounts of Delta 9 THC. 
*If you are concerned about ingesting cannabinoids, including trace amounts of Delta 9 THC, please consult your physician or other licensed medical professional prior to using Silver Owl Delta 8 products.
*Silver Owl Delta 8 products may affect blood pressure, heart rate and/or intraocular pressure in some people. If you have any known or unknown heart, blood pressure, eye pressure, or similar/related issues- or if you are at risk of developing such conditions- do not use these products unless recommended by a doctor.
*These products and statements have not been evaluated by the Food and Drug Administration (FDA) and are not intended to diagnose, treat, cure, prevent or otherwise manage any disease, illness, injury or similar condition.
| | |
| --- | --- |
| Quantities | 1 Disposable, Box Of 10 Disposables |
Potent
Wow- coming from someone who has tried a wide variety of delta 8 and hemp products from multiple companies, this has to be one of my new favorites. The disposable specifically is one of my favorite products. The oil is clear as day and the consistency and taste are amazing, the Do Si Dos is very good. The disposable hits are so smooth. And man is this stuff potent. Definitely will be ordering more in the future
Best!
This is honestly the best CBD company I have tried!! this is not the only thing I have tried from these guys! they are really really good!!
Discreet
This is a great item for the festival season up and running. The vape pen is discreet and easy to travel in pockets, fannies, purses, etc. I love how thin and slender the size of this vape pen. I purchased the Skywalker OG and the flavor is so smooth. The cost is very reasonable and Silver Owl's customer service is great. All of the reps I have encountered have been prompt and handled all issues well. I like the promo sales and freebies too.