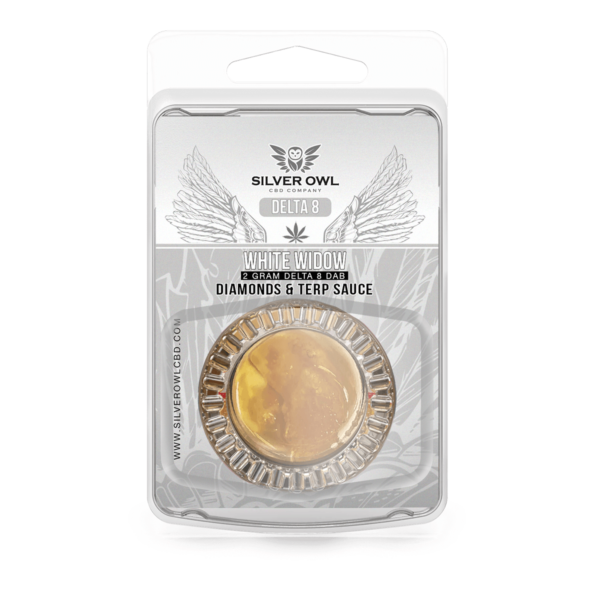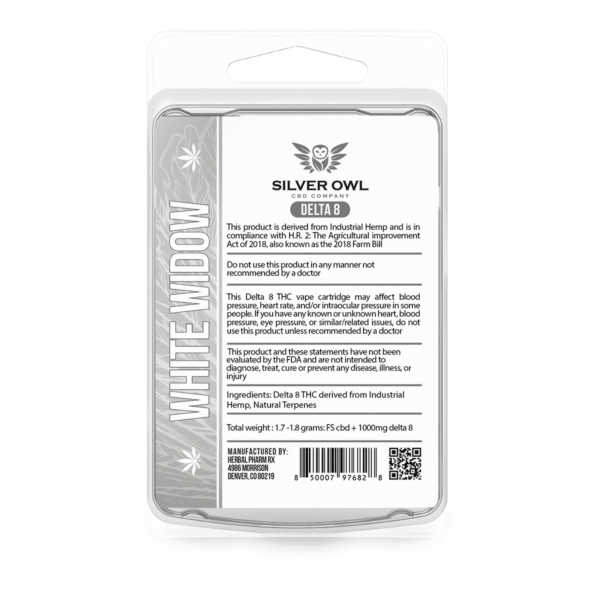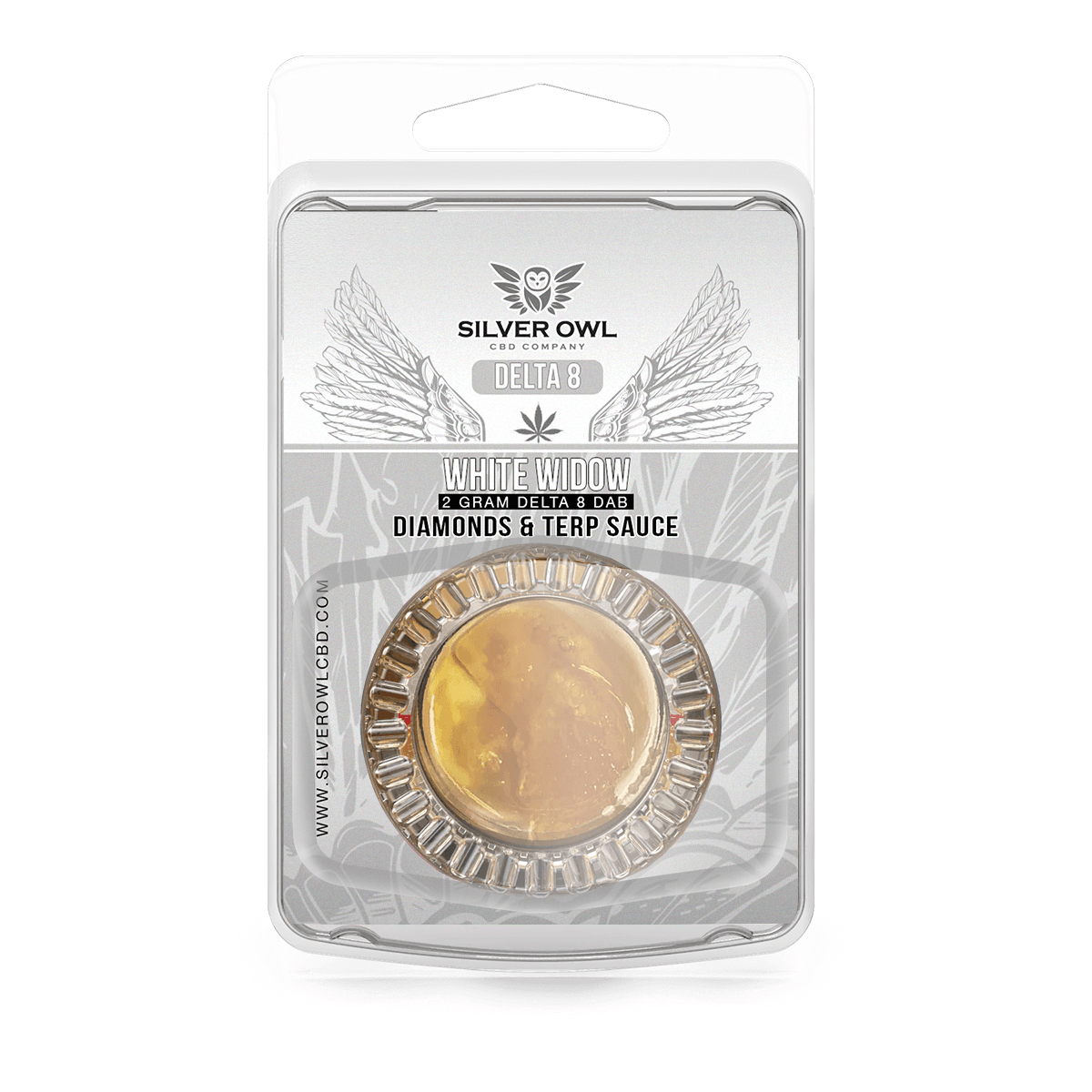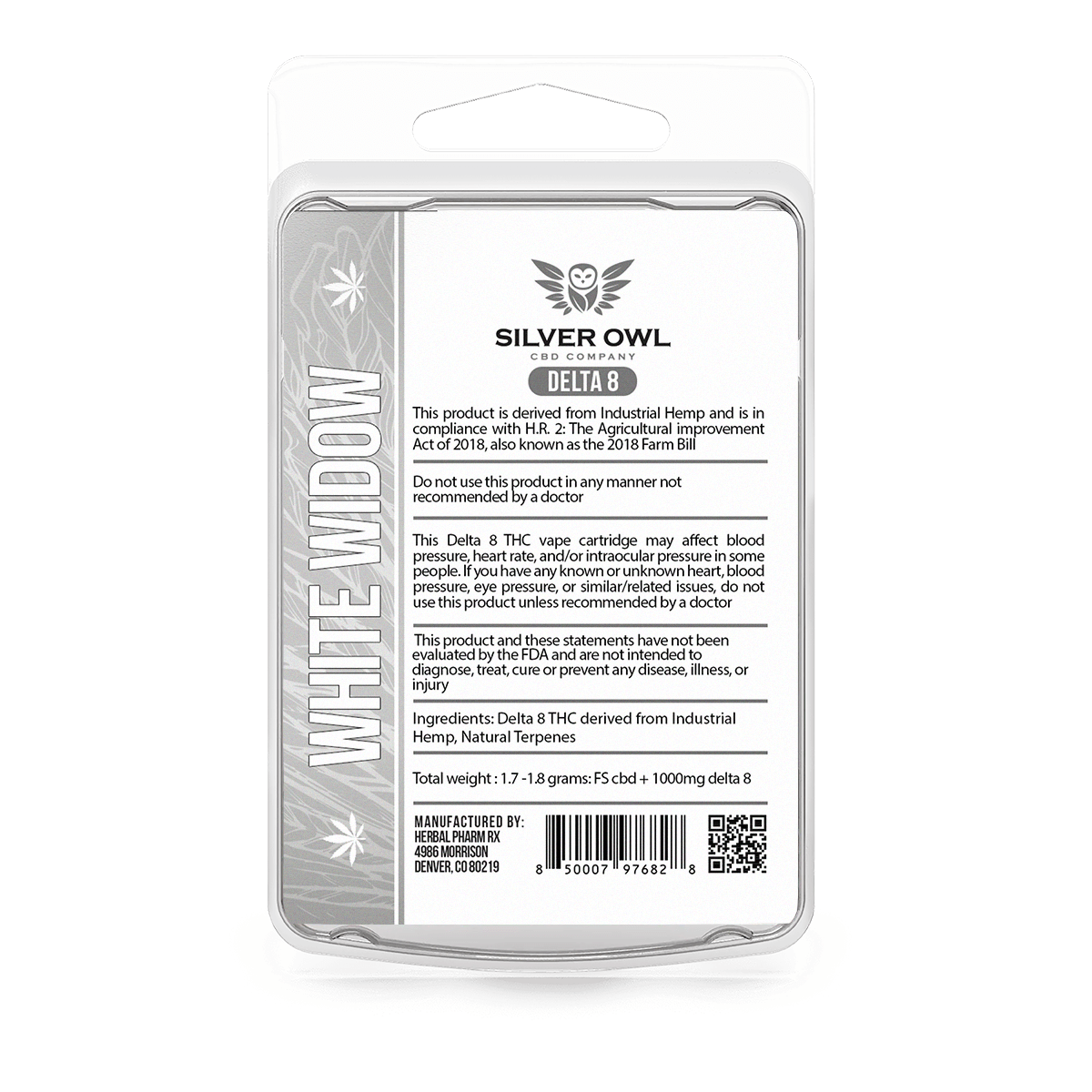 Delta 8 Diamonds in Sauce White Widow 2g
— or subscribe and save up to 20%
Strain Used: White Widow
Parent Strains: Brazilian Indica Landrace and South Indian Sativa Landrace
Lineage: 20% Indica < 80% Sativa
Description
Additional information
The Silver Owl CBD Company's recent work with other hemp derived cannabinoids has led to our most exciting release yet: the Silver Owl Delta 8 Line!
Delta 8 THC (D-8THC) is an analogue and legal alternative to its relative. Unlike the other cannabinoids we've worked with, like CBD and CBG, Delta 8 IS psychoactive- as such we cannot recommend using this before operating any vehicles or heavy machinery. Please exercise caution when using any Delta 8 Products and enjoy responsibly.
Dabbing is quickly becoming America's new favorite method of ingesting cannabinoids. And rightfully so- not only are there tons of ways to dab, the flavors are always amazing and the cannabinoids contained are introduced immediately upon the inhale, allowing for swift onset times.
Silver Owl's Delta 8 White Widow Dabs feature distillate, Full Spectrum Extract and terpenes derived from the strain of hemp sharing their name- lending that familiar flowery, cheesy and herbal flavor- are a great addition to any after-dinner routine!
Smooth
Amazing flavor! Was totally worth buying
No Mood Swings
This has been a great substitute since leaving a State where normal dabs were legal, I've been using the delta 8 dabs for over a year now and it has helped dramatically with mood swings, and overall just relaxation after a hard, long day at work.
Outstanding
Outstanding the effects are awesome the taste is unbelievably good to get ready for a fun relaxing good time!
Unique in a good way
This has a unique flavor and I like it! I love the effect it has on me it gives me a great relief feeling and it is amazing!
The terpenes that they use are top of the line. The flavors and the effects are hard to beat. By far the best product that I have tried from a Delta 8 company.
My favorite, so far!
I'm an active senior with chronic sciatic pain and have tried several different delta 8 brands for relief. Silver Owl's White Widow ranks highest on my list of favs. Will definitely reorder!
Silver Owl Delta 8 Dab White Widow
Great Product But
Wish they had small wholesale prices instead of 40/g all the way up, other than that quality competes with other potent D8 brands.