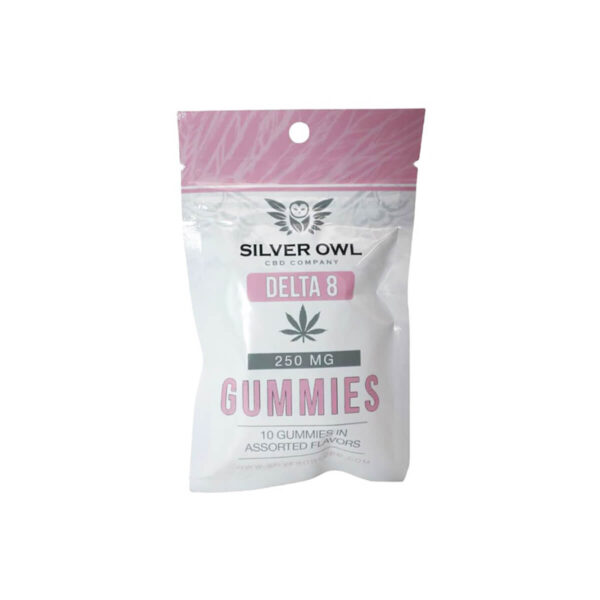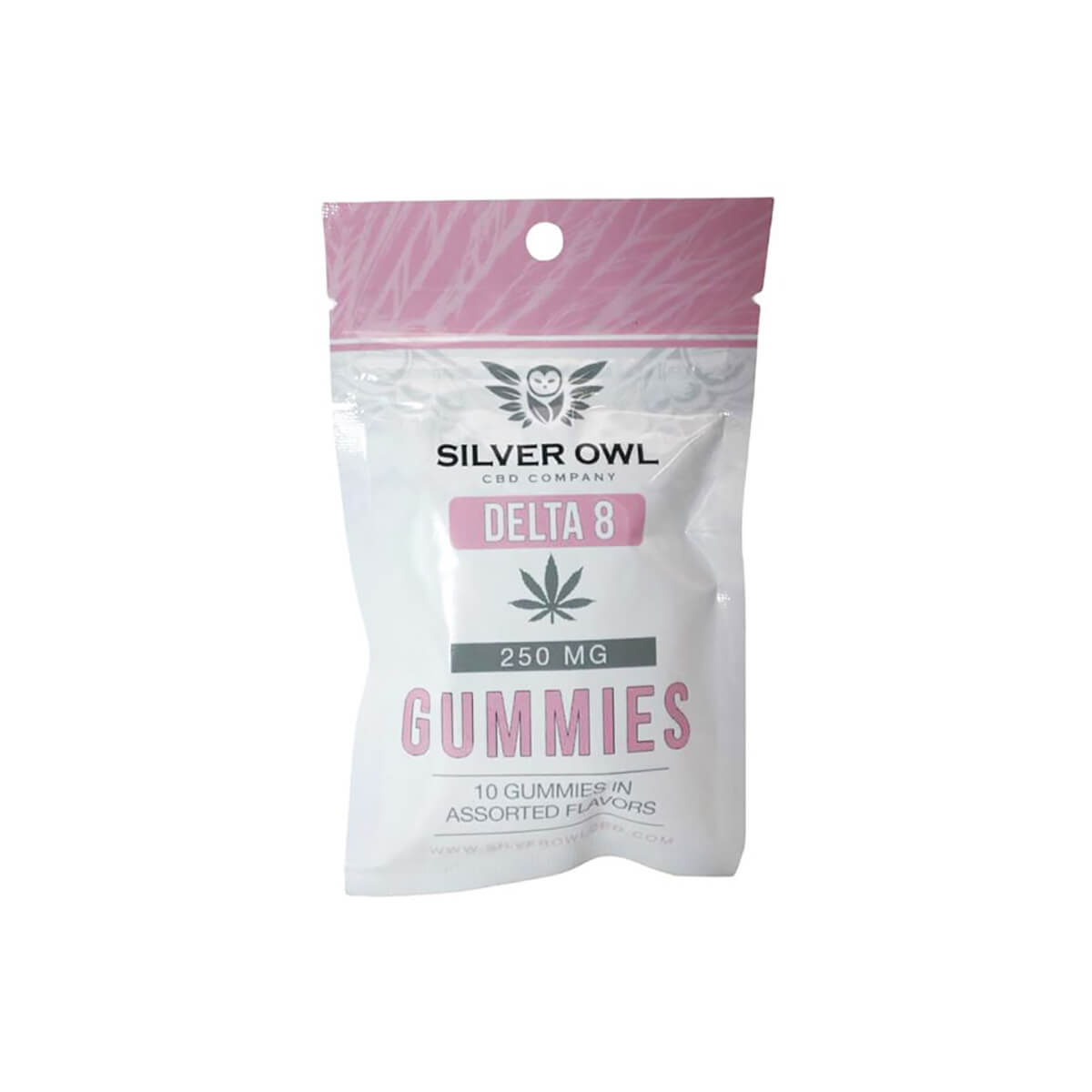 Delta 8 Gummies
$20.00 — or subscribe and save up to 20%
Available In: 250mg Packs (10 Gummies Per Pack)
Serving Size: 1 Gummy
Extract Used: Delta 8 Distillate
Delta 8 Per Serving: 25mg
Delta 9 THC Content: <0.3% (in accordance with all applicable state and federal laws)
Ingredients: Sugar, Corn Syrup, Gelatin, Citric Acid, White Grape Juice From Concentrate, Sorbitol, Natural & Artificial Flavors, Artificial Colors (Yellow 5, Yellow 6, Red 40), Delta 8 Hemp Extract
Due to the tremendous popularity of Delta 8 across the country and a major spike in requests from our community of Silver Owl fans, we've decided to expand our Delta 8 line with our new Silver Owl Delta 8 Gummies!
Silver Owl Delta 8 Gummies are made with our clear 95% Delta 8 Distillate to produce the strongest effects and the most subtle flavors. Each Gummy contains 25mg Delta 8 – enough for a potent dose in a single serving- and was formulated with the "frequent flyers" in mind. After all, we've heard the feedback out there: "not potent enough" and "terrible flavors" come up more often than not. We wanted to give our customers a federally legal gummy that's everything we love about our infused gummies here in Colorado and we think we nailed it. Let us know what you think after you've tried them!
Silver Owl Delta 8 THC Gummies are gluten-free and made with ingredients locally sourced to produce a good product you can feel great about using. Each 10-pack contains 25mg Silver Owl Delta 8 Gummies in a variety of flavors. These Delta 8 edibles look and taste delicious, but can pack a real punch; so please, take great care in keeping them out of reach of minors and family pets.
Gummies
I received the Delta 8 Gummies that I ordered in a timely manner and as of now I give Silver Owl CBD Company a thumbs up!!!
Awesome results
I was using a half cbd/thc gummie to help me sleep a couple times a week. My husband uses them almost every night and the Deta 8 CBD gummies work better. I only take half because when I took a whole one, I couldn't get out of bed at normal time. Even my husband says they work better. Thanks for a product that actually works!😋
Best ever
Great products great company. The only one I use for cbd related products
Heads up!
Just be aware, delta 8 is not like CBD! I took 2 because I thought they would just be relaxing, and I ended up getting pretty buzzed! Not quite what I'm going for, but it was fun to try once.
This is the most potent Delta 8 I've tried. I eat it - Reddit has some great suggestions regarding how to ingest it and I would read some of those before trying. Once you get your dosage right the buzz is great and for me, it lasts longer than edibles. Great stuff and I will be purchasing again. I find it relaxing with more of a head high than most potent edibles.
Sneaky!!!
these guys will sneak up on you and they high you harder than you think, TAKE IT SLOW but these guys awe so so good
I will be getting then again
Delicious Gummies
These are the absolute best gummies I have ever had and you'd be correct in assuming that I will be coming back for more.
Gummy yummy!!
These gummies will kick you in you butt for sure!! a small amount goes a long way for me, they are stronger than I thought!
GUMMY YUMMY
These gummies are so so yummy and they kicked fast for me! Took a little longer for my friend but they still worked amazingly!!