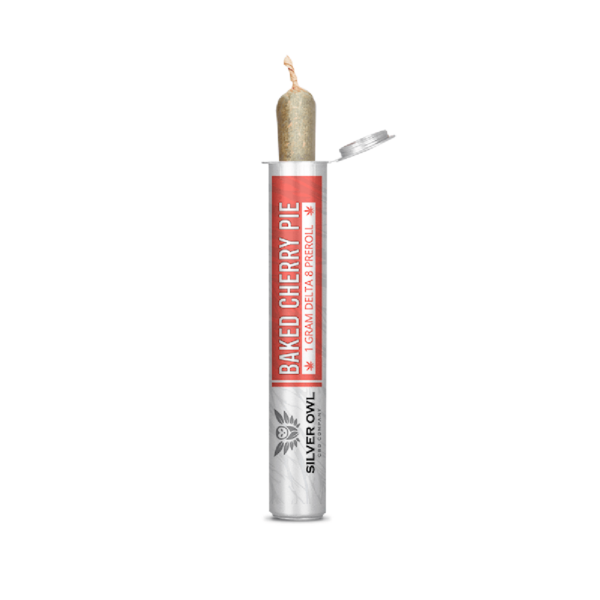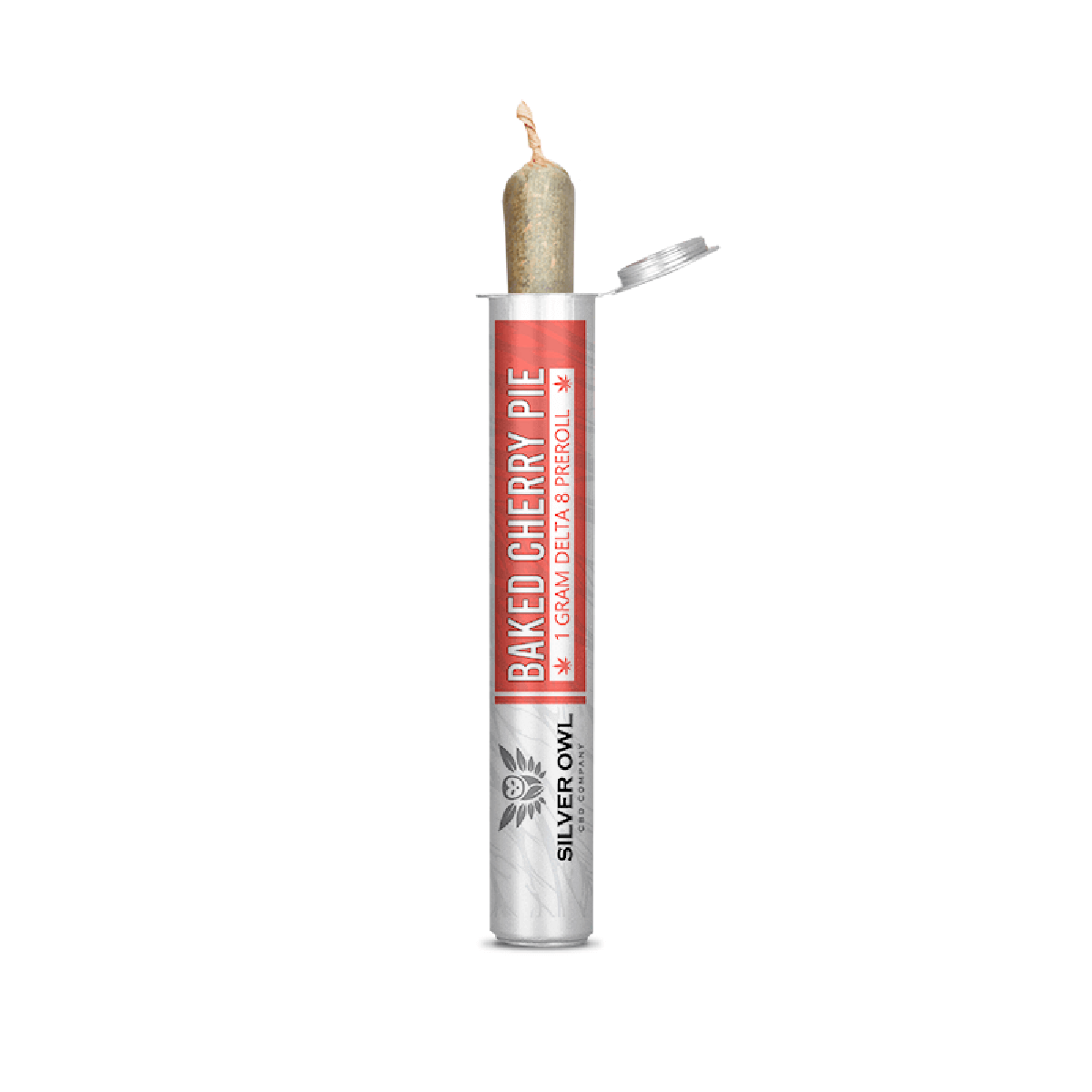 Silver Owl Delta 8 Preroll Baked Cherry Pie
$12.00 – $150.00
Delta 8 Contents: 758.3-840.3mg/g
Delta 9 Contents: 0.02%-0.05% (less than 0.3%)
Dominant Cannabinoid: CBDA (8.55%)
CBD Content: 1.76%
Description
Additional information
Silver Owl Baked Cherry Pie Delta 8 Preroll 
Want to get the most out of our Delta 8 Flower without going to all the trouble of grinding, rolling and packing your own smoke? We've got you covered! The Silver Owl CBD Company's hemp flower strains now come infused with Delta 8 Distillate and packed in pre-rolled cones, taking the work out of your hands and making your next session super convenient and delightful.
Joints are perhaps the most iconoclastic, sought after method of smoking hemp flower and are widely considered by many users to be the penultimate method of delivery, producing some of the best flavors the hemp plant has to offer and a swift kick to the lungs every time. Silver Owl Delta 8 Prerolls burn slowly and evenly as they introduce their Delta 8 contents and a full spectrum range of CBD, CBG, other cannabinoids and terpenes directly to their users' systems.
Each Silver Owl Delta 8 Preroll features one gram (1.0g) of your choice of Silver Owl Hemp Flower strains, rolled in a Raw™ paper and capped with a pre-rolled Raw™ tip. Each 1g preroll packs up to more than 800mg Delta 8- enough to pass around the circle for everyone to catch feelings, or burn down to the roach on your own if your tolerance is high enough. If it's not, you definitely will be! 
Baked Cherry Pie Dominant Cannabinoid: CBDA (8.55%)
Baked Cherry Pie Flower Delta-9 THC Content: 0.27%
Preroll Delta 8 THC Content: ~758.3-840.3mg/g
Indica/Sativa Ratio: 40% / 60%
Lineage: Warlock Cherry OG (Cherry Thai x Afghani x Lost Coast OG) x Double OG (Big Bud x Afgoo x SFV OG Kush)
—–
*Please be aware: due to the current legal classification of Delta 8 THC in some regions, we cannot ship Silver Owl Delta 8 products- including Delta 8 Hemp Flower- to the following states at this time: 
Alaska, Arizona, Arkansas, Colorado, Delaware, Idaho, Iowa, Mississippi, Montana, New York, Rhode Island, Vermont, and Utah
—–
Disclaimers:
*You must be 21 years of age or older to buy ALL Silver Owl CBD Company Products, including Silver Owl Delta 8 products. Please keep out of reach of minors.
*Silver Owl Delta 8 products are derived from Industrial Hemp and are in compliance with H.R. 2: The Agricultural Improvement Act of 2018, also known as the 2018 Farm Bill.
*Silver Owl Delta 8 products contain less than 0.3% Delta 9 THC, in compliance with all applicable federal and state laws.
*Silver Owl Delta 8 products are psychoactive and should not be used by anyone who is pregnant, breastfeeding or otherwise adverse to ingesting Delta 8 THC or trace amounts of Delta 9 THC.
*If you are concerned about ingesting cannabinoids, including trace amounts of Delta 9 THC, please consult your physician or other licensed medical professional prior to using Silver Owl Delta 8 products.
*Silver Owl Delta 8 products may affect blood pressure, heart rate and/or intraocular pressure in some people. If you have any known or unknown heart, blood pressure, eye pressure, or similar/related issues- or if you are at risk of developing such conditions- do not use these products unless recommended by a doctor.
*Unless otherwise specified, Silver Owl products are not intended for animal use. While Silver Owl CBD Pet Oil, Dog Treats and other such products in our pet line use animal friendly ingredients, some of the ingredients found in our other products could prove harmful or even fatal if consumed by an animal. Please contact your nearest emergency veterinarian services if you suspect your pet has consumed a Silver Owl CBD Company product not intended for their use.
*These products and statements have not been evaluated by the Food and Drug Administration (FDA) and are not intended to diagnose, treat, cure, prevent or otherwise manage any disease, illness, injury or similar condition.
| | |
| --- | --- |
| Quantities | 1 Preroll, Box Of 20 Prerolls |
Great smoke
These prerolls are always impressive but this is so far my favorite strain by far! The pre roll smokes evenly and has a nice burn. I wish I got more of these from my local shop
First Time Buyer
First-time buyer from this shop was skeptical at first but for all first-time buyers, this is a 100% genuine product that shows up in a timely manner packaging is unnoticeable. Came right to my mailbox. The product was good and had a nice flavor. It relieved my back pain within a few hits. I will be buying from here again
Baked cherry pie?? I love it! I loved it I am so glad I was recommended this company
Keeps me focused
Delta 8 high all the way, helps me keep my focus and be productive. Nicely packed joint
Amazing stuff!! so smooth the burn is great and the delta high is high out this world!
Fire it up!!!! This is a great ending to a wonderful day. Thank you so much Silver Owl for providing quality products at affordable rates. You are by far my favorite CBD and Delta 8 Company out there.
Amazing
Tastes amazing! The hit is so smooth and yummy!