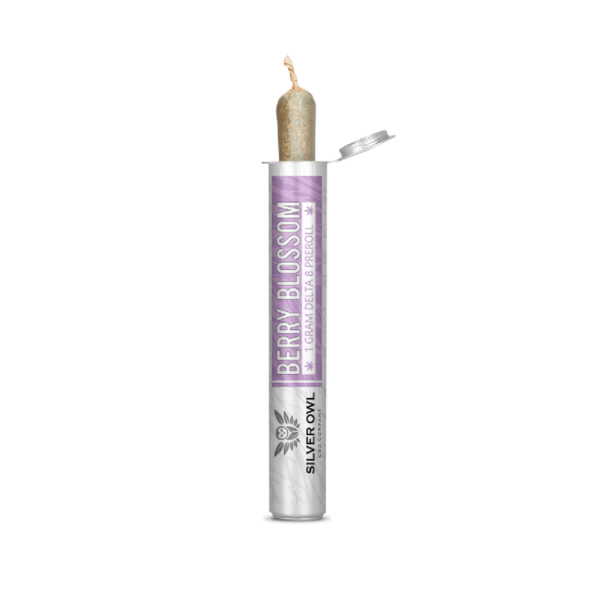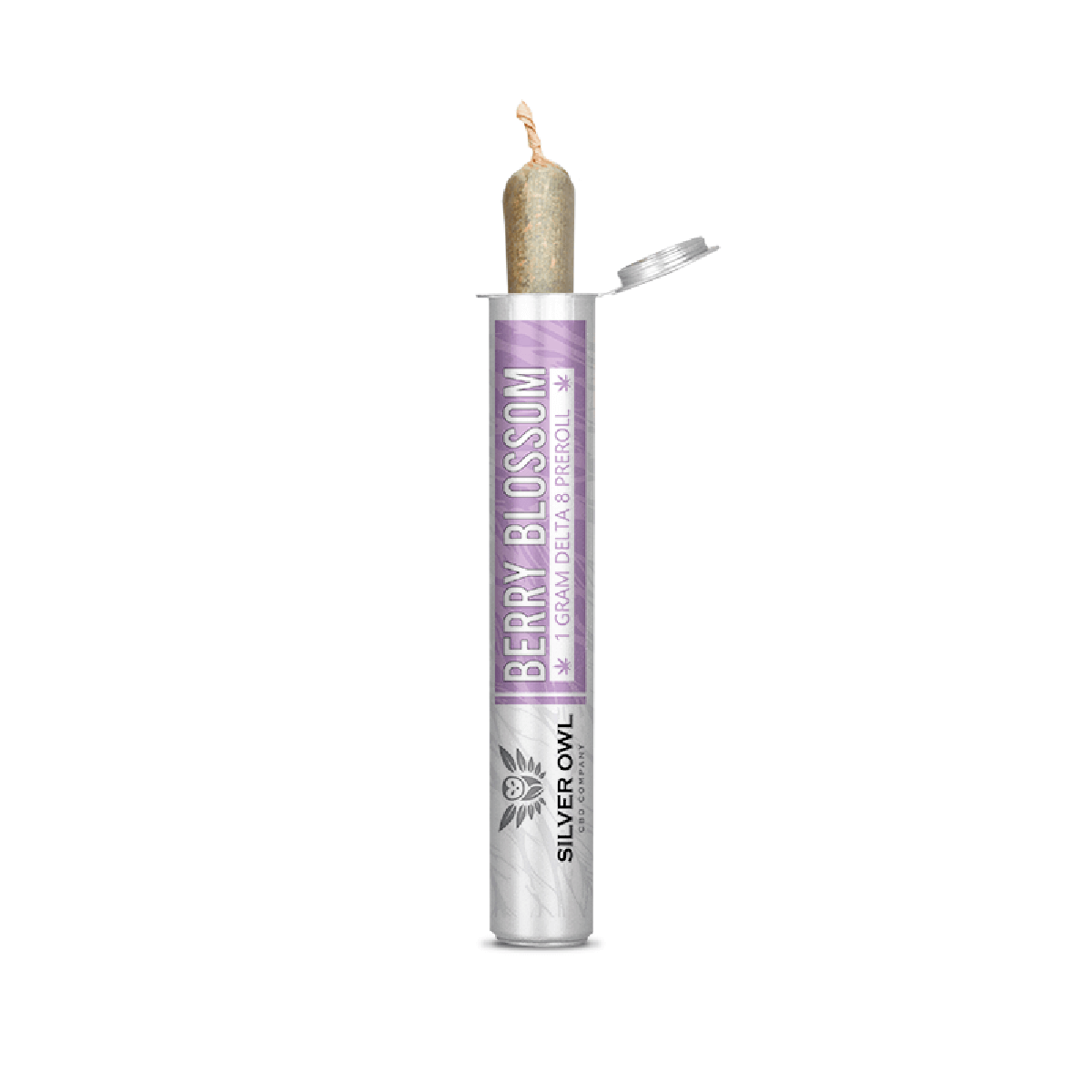 Delta 8 Preroll Berry Blossom
$5.99 — or subscribe and save up to 20%
Delta 8 Contents: 758.3-840.3mg/g
Delta 9 Contents: 0.02%-0.05% (less than 0.3%)
Dominant Cannabinoid: CBDA (8.55%)
CBD Content: 1.76%
Silver Owl Berry Blossom Delta 8 Preroll 
Want to get the most out of our Delta 8 Flower without going to all the trouble of grinding, rolling and packing your own smoke? We've got you covered! The Silver Owl CBD Company's hemp flower strains now come infused with Delta 8 Distillate and packed in pre-rolled cones, taking the work out of your hands and making your next session super convenient and delightful.
Joints are perhaps the most iconoclastic, sought after method of smoking hemp flower and are widely considered by many users to be the penultimate method of delivery, producing some of the best flavors the hemp plant has to offer and a swift kick to the lungs every time. Silver Owl Delta 8 Prerolls burn slowly and evenly as they introduce their Delta 8 contents and a full spectrum range of CBD, CBG, other cannabinoids and terpenes directly to their users' systems.
Each Silver Owl Delta 8 Preroll features one gram (1.0g) of your choice of Silver Owl Hemp Flower strains, rolled in a Raw™ paper and capped with a pre-rolled Raw™ tip. Each 1g preroll packs up to more than 800mg Delta 8- enough to pass around the circle for everyone to catch feelings, or burn down to the roach on your own if your tolerance is high enough. If it's not, you definitely will be!
This one is the best one.
Out of the three delta 8 pre rolls I purchased, this one was my favorite. I got home, stepped into the back yard, and lit up this joint. I checked my phone, had a few puffs, then went back inside. I put the remainder back in the little tube, and saw all the dishes in my sink and thought 'you know, I can get most of those into the dishwasher'. And after doing that, I saw the random stuff on my counter, and thought 'well, most of that is trash'. I replaced the paper towel roll after I wiped up some crumbs, and it was at that point I noticed the tell tale wobbly wobblies of being not entirely sober. I had just cleaned for 15 minutes without even really realizing it, and my kitchen looks the best its looked in weeks.
TL;DR: The high snuck up on me, but it made for a productive and ultimately relaxing night at home.
Less Intense
This smokes really well and it's a great product. I bought a Delta-8 because regular weed makes me waaay too high, like a single puff. This I can smoke 3 or 4 puffs and be high but not uncomfortably so. One pre-roll lasts me like 10 sessions. I recommend Delta-8 if you are a light smoker. It feels the same as weed just much much less intense.
Berry blossom is probably my favorite out of the ones I got!! Hit is amazing on all of them and the high is very equal
Perfect roll
These preroll are great! perfectly rolled and the flavor is up to what I hoped!! hits so smoothly as well and gives me a nice relief feeling!
Good quality pre-roll, nicely packed, slow burning, nice flavor and hey, got me pretty stoned! 10/10 recommend
I'd smoke these every day.
My local vape shop in Broomfield CO carries these- I love to pick up three or four when I'm near Vape Pros. They're perfect for a little self care treat and make my day easier. Burns even and smooth and always tastes so good. Favorite is the Berry Blossom
I love being able to come home at night and just light up. These prerolls are great. They burn so evenly and make you feel great. Cant get enough of these.
Smokes well
I love these they smoke so smoothly and the effect is just amazing as well! helps relax me after a long day!
Smokes Great!
The flavor of these preroll are really really good, smokes well burns slow and has great strong hits!