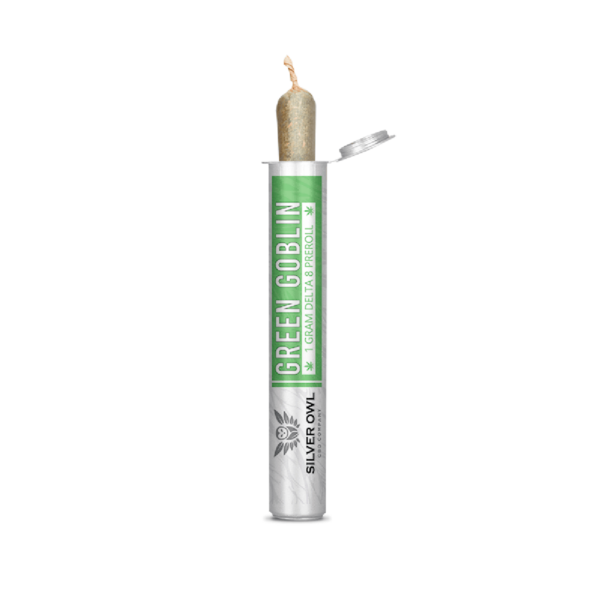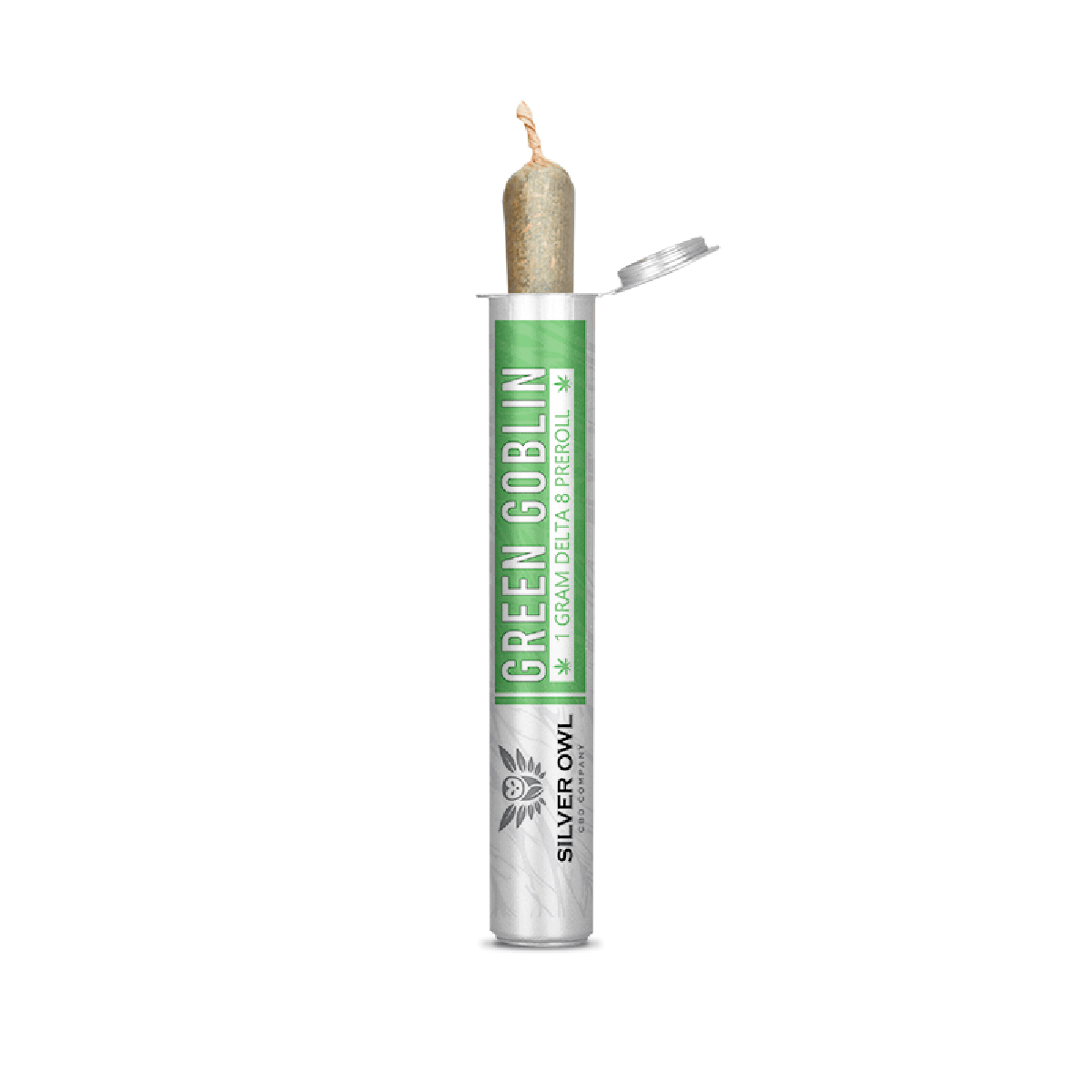 Delta 8 Preroll Green Goblin
$5.99 — or subscribe and save up to 20%
Delta 8 Contents: 758.3-840.3mg/g
Delta 9 Contents: 0.02%-0.05% (less than 0.3%)
Dominant Cannabinoid: CBDA (8.55%)
CBD Content: 1.76%
Silver Owl Green Goblin Delta 8 Preroll 
Want to get the most out of our Delta 8 Flower without going to all the trouble of grinding, rolling and packing your own smoke? We've got you covered! The Silver Owl CBD Company's hemp flower strains now come infused with Delta 8 Distillate and packed in pre-rolled cones, taking the work out of your hands and making your next session super convenient and delightful.
Joints are perhaps the most iconoclastic, sought after method of smoking hemp flower and are widely considered by many users to be the penultimate method of delivery, producing some of the best flavors the hemp plant has to offer and a swift kick to the lungs every time. Silver Owl Delta 8 Prerolls burn slowly and evenly as they introduce their Delta 8 contents and a full spectrum range of CBD, CBG, other cannabinoids and terpenes directly to their users' systems.
Each Silver Owl Delta 8 Preroll features one gram (1.0g) of your choice of Silver Owl Hemp Flower strains, rolled in a Raw™ paper and capped with a pre-rolled Raw™ tip. Each 1g preroll packs up to more than 800mg Delta 8- enough to pass around the circle for everyone to catch feelings, or burn down to the roach on your own if your tolerance is high enough. If it's not, you definitely will be!
An enjoyable introduction.
I live in a state where THC is not yet legal, and I found out about delta 8 via internet research. I wanted to get a buzz and thought this sounded like a potentially suitable option. About three puffs on this guy later, I can attest that I found what I was looking for.
Buzz
I'm pretty sensitive to Delta 9 and prone to pretty bad anxiety. Smoking these however has been highly enjoyable. Just enough of a body buzz and a nice chill. I really enjoy smoking half of one of these in the evening to wind down.
Also got some preroll
these preroll were really good as well I like how they burn, not too fast, really good
WOWWW
I really like their preroll's I had gotten a few other flavors as well and these hit really well the high is is amazing as well!!!!
Great stuff!!!!!!!!!
I will order again I ordered a few things off this company! and they all were amazing! this preroll hit so smooth and it burned slow just the way I love!! I will be putting in my next order as soon as I can!!
It is so hard to trust flower over the internet. I didnt have high expectations when I ordered this. I was just looking for a company that had decent prerolls. I was more than shocked at the flavor, freshness and packaging of this. It wasnt dry at all. The tubes are amazing and I cant tell you how nice the flower is. Super potent and tastes amazing.
Wonderful Delta 8 preroll
Love the quality and the freshness of this preroll! Will be ordering more soon :).
Best Quality~A1
Their quality is honestly the best I've had! It is amazing! the feeling it gives you after smoking it is really really good!!!
Fresh preroll joint
Silver owl preroll joints are always fresh,
I have one a day, keeps doctors away
We strive for Quality everytime.