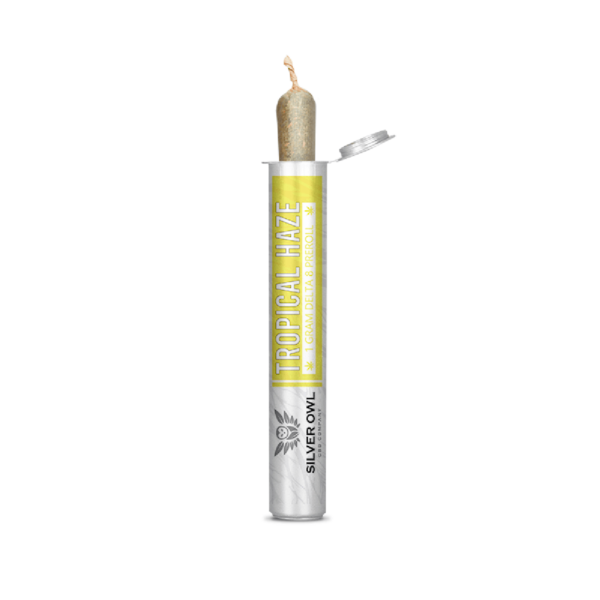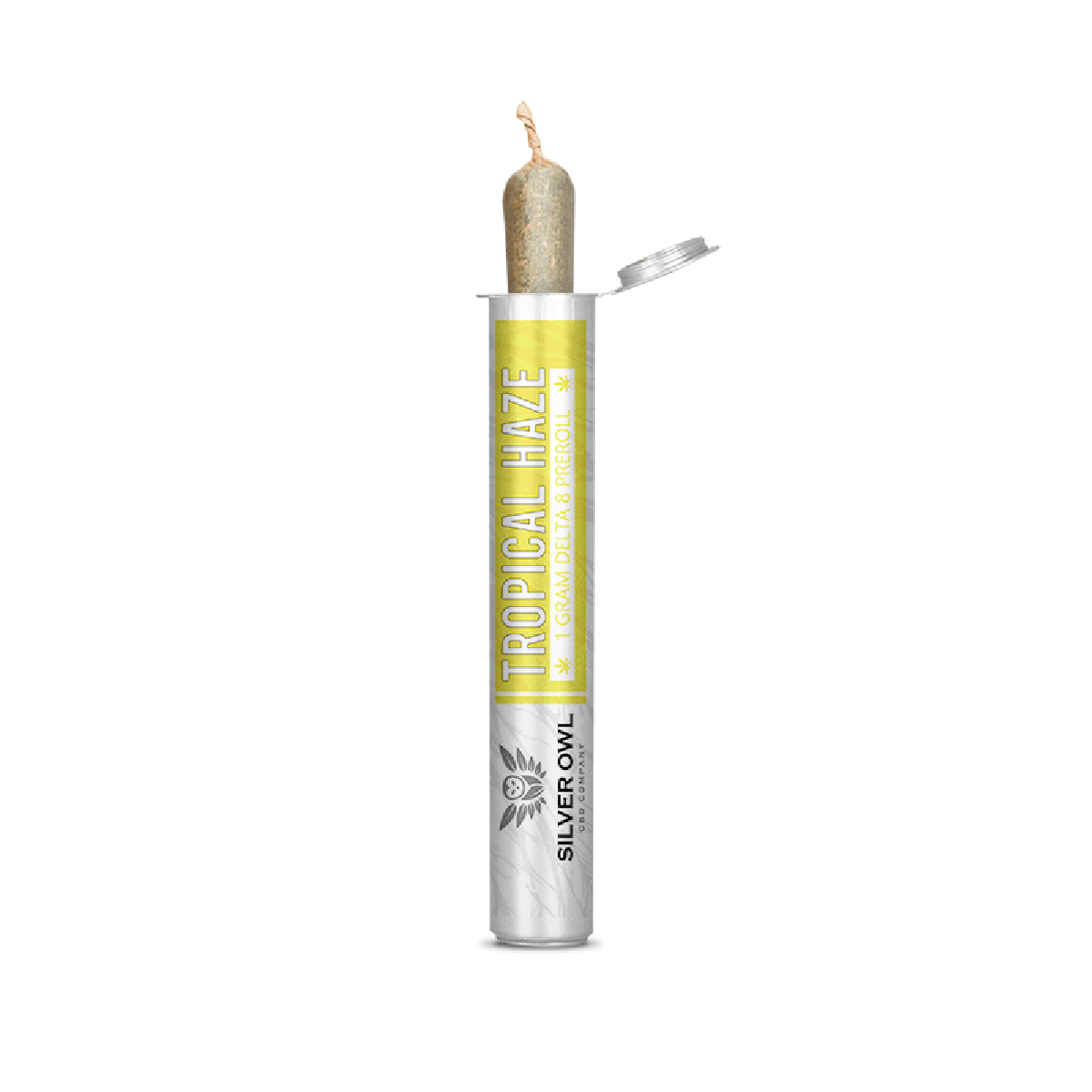 Delta 8 Preroll Tropical Haze
$5.99 — or subscribe and save up to 20%
Delta 8 Contents: 758.3-840.3mg/g
Delta 9 Contents: 0.02%-0.05% (less than 0.3%)
Dominant Cannabinoid: CBDA (8.55%)
CBD Content: 1.76%
Silver Owl Tropical Haze Delta 8 Preroll 
Want to get the most out of our Delta 8 Flower without going to all the trouble of grinding, rolling and packing your own smoke? We've got you covered! The Silver Owl CBD Company's hemp flower strains now come infused with Delta 8 Distillate and packed in pre-rolled cones, taking the work out of your hands and making your next session super convenient and delightful.
Joints are perhaps the most iconoclastic, sought after method of smoking hemp flower and are widely considered by many users to be the penultimate method of delivery, producing some of the best flavors the hemp plant has to offer and a swift kick to the lungs every time. Silver Owl Delta 8 Prerolls burn slowly and evenly as they introduce their Delta 8 contents and a full spectrum range of CBD, CBG, other cannabinoids and terpenes directly to their users' systems.
Each Silver Owl Delta 8 Preroll features one gram (1.0g) of your choice of Silver Owl Hemp Flower strains, rolled in a Raw™ paper and capped with a pre-rolled Raw™ tip. Each 1g preroll packs up to more than 800mg Delta 8- enough to pass around the circle for everyone to catch feelings, or burn down to the roach on your own if your tolerance is high enough. If it's not, you definitely will be!
Maybe my new favorite cannabinoid
I've been smoking CBD just to feel a little more mellow. One thing I've noticed is that I usually smoke the better part of an entire one before I really feel the kind of feeling I'm looking to feel. Delta 8 seems to be a bit more potent, and becomes noticeable after only a few hits. I only take two or three hits after I get home from work and it really helps me enjoy my evening.
Love It!!!
Love this product. Mostly body high with mind clear instead of spacey. Absolutely recommend. People with anxiety or low tolerance would also benefit from this exponentially as it is very calming without dragging you down or making you unfocused.
These guy's prerolls are really good!! I will be stocking up asap!!
tasty!
this is so yummy I love it! the tropical haze has such a uniq flavor and it burns slow unlike others. The high is amazing!
Tropical Haze is one of my favorite strains. I really like this one and the effects are flawless. So fresh and relaxing.