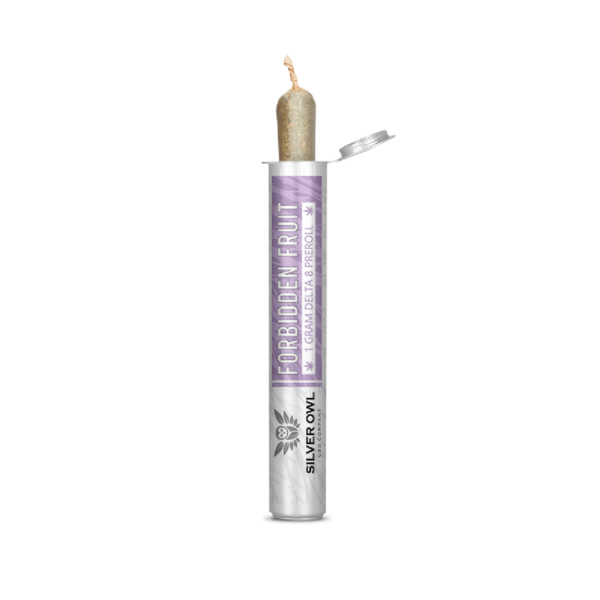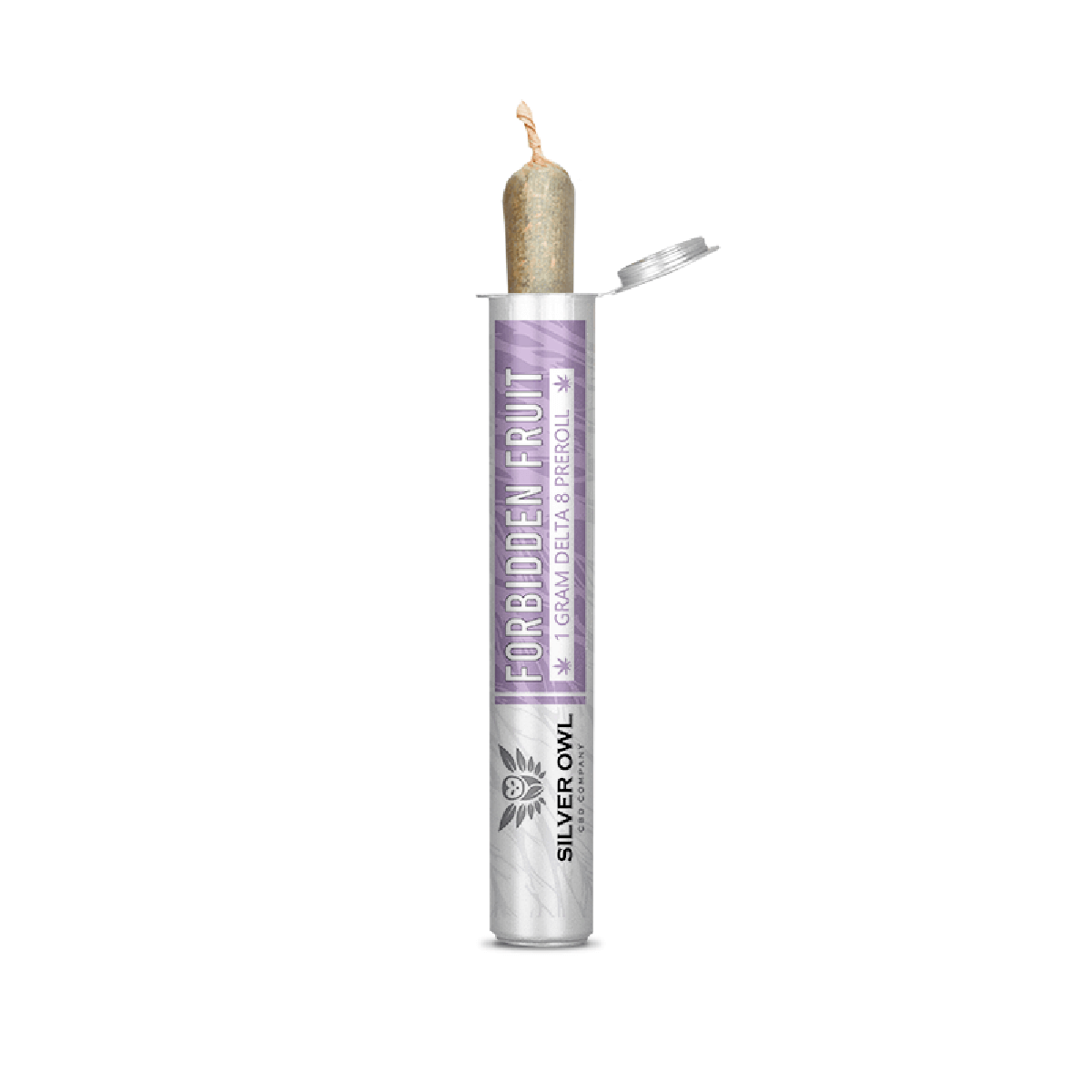 Delta 8 Preroll Forbidden Fruit
$5.99 — or subscribe and save up to 20%
Delta 8 Contents: 758.3-840.3mg/g
Delta 9 Contents: 0.02%-0.05% (less than 0.3%)
Dominant Cannabinoid: CBDA (8.55%)
CBD Content: 1.76%
Silver Owl Forbidden Friut Delta 8 Preroll 
Want to get the most out of our Delta 8 Flower without going to all the trouble of grinding, rolling and packing your own smoke? We've got you covered! The Silver Owl CBD Company's hemp flower strains now come infused with Delta 8 Distillate and packed in pre-rolled cones, taking the work out of your hands and making your next session super convenient and delightful.
Joints are perhaps the most iconoclastic, sought after method of smoking hemp flower and are widely considered by many users to be the penultimate method of delivery, producing some of the best flavors the hemp plant has to offer and a swift kick to the lungs every time. Silver Owl Delta 8 Prerolls burn slowly and evenly as they introduce their Delta 8 contents and a full spectrum range of CBD, CBG, other cannabinoids and terpenes directly to their users' systems.
Each Silver Owl Delta 8 Preroll features one gram (1.0g) of your choice of Silver Owl Hemp Flower strains, rolled in a Raw™ paper and capped with a pre-rolled Raw™ tip. Each 1g preroll packs up to more than 800mg Delta 8- enough to pass around the circle for everyone to catch feelings, or burn down to the roach on your own if your tolerance is high enough. If it's not, you definitely will be!
Affordable
Having grown up (and gone to college) in the '70s, I may have had some experience with some varieties of "smoking." Sadly, this variety is still illegal, and trips to Jamaica are few and far between. I discovered Silver Owl CBD when I was searching for an affordable source for Delta 8 CBD. I found the prerolled joints on the website and thought, why not?
I've had a very stressful year, and my "mellow" has been "harshed" a lot! I can tell you that smoking just a little of these joints goes a long way toward finding my mellow again! It doesn't take much for me before I'm all chill-and-mellow again. Way to go, SO CBD, and thank you!
Just add one to the cart
If you don't your are going to regret hitting some fire flower. Reminds me of a tropical fruit bowl!!!! 10 out of 10
The Best
I hate to admit it but, I can roll so these come in so so handy. I don't have to spend time rolling and I could just pull one out and start smoking immediately. This helps with my anxiety a lot and I couldn't think of anything better to smoke.
A Staple
This is actually the only thing I use besides ibuprofen. I have Lyme and my hands are starting to lock up and swell and it is so painful I couldn't even sleep. Doctors only wanted to prescribe opioids and as a single parent, I refused. All I need is a few hits and the pain is either gone or more than bearable and I'm sleeping better than I ever have before. I can also keep working without having to take time off for therapy which I can do in the evenings instead. I don't get tired, just a nice buzz and as someone with ADHD who has a hard time sitting still especially after working and being forced to do so, I can sit and play with my 6-year-old with no issues or anxiety. I'm so happy I found this stuff. The only good thing to come out of my time at home bored during COVID!