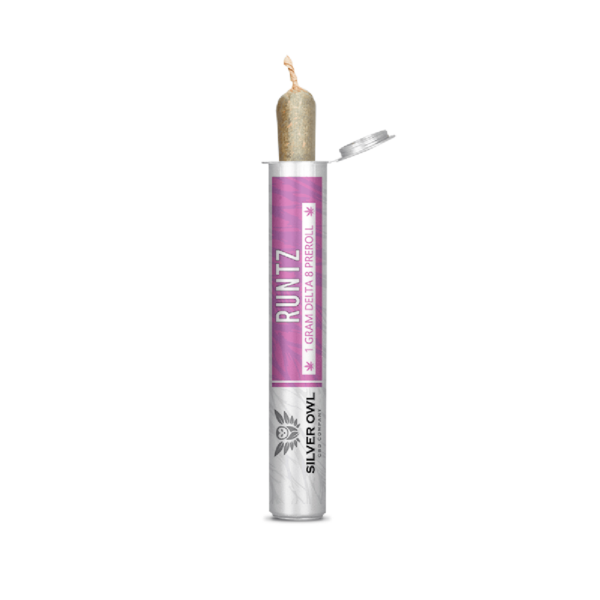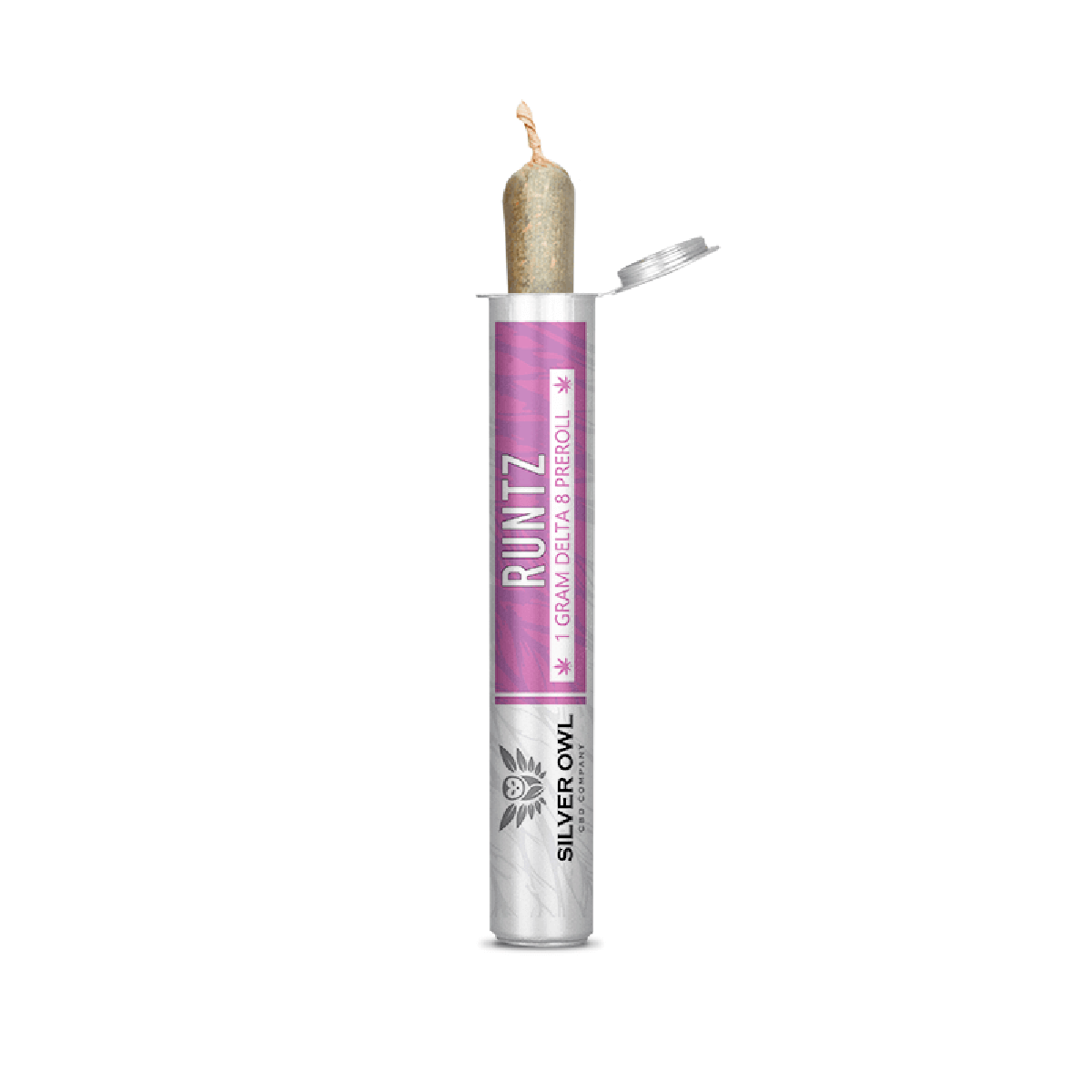 Delta 8 Preroll Runtz
$5.99 — or subscribe and save up to 20%
Delta 8 Contents: 758.3-840.3mg/g
Delta 9 Contents: 0.02%-0.05% (less than 0.3%)
Dominant Cannabinoid: CBDA (8.55%)
CBD Content: 1.76%
Silver Owl Runtz Delta 8 Preroll 
Want to get the most out of our Delta 8 Flower without going to all the trouble of grinding, rolling and packing your own smoke? We've got you covered! The Silver Owl CBD Company's hemp flower strains now come infused with Delta 8 Distillate and packed in pre-rolled cones, taking the work out of your hands and making your next session super convenient and delightful.
Joints are perhaps the most iconoclastic, sought after method of smoking hemp flower and are widely considered by many users to be the penultimate method of delivery, producing some of the best flavors the hemp plant has to offer and a swift kick to the lungs every time. Silver Owl Delta 8 Prerolls burn slowly and evenly as they introduce their Delta 8 contents and a full spectrum range of CBD, CBG, other cannabinoids and terpenes directly to their users' systems.
Each Silver Owl Delta 8 Preroll features one gram (1.0g) of your choice of Silver Owl Hemp Flower strains, rolled in a Raw™ paper and capped with a pre-rolled Raw™ tip. Each 1g preroll packs up to more than 800mg Delta 8- enough to pass around the circle for everyone to catch feelings, or burn down to the roach on your own if your tolerance is high enough. If it's not, you definitely will be!
Girls Weekend
Got a few of these for a girls' weekend getaway and they were a hit!!
Experienced and inexperienced friends were amazed by the Delta8 quality and wanted to know all about the product as well as Silver Owl in general.
I'm a loyal customer and love everything I've tried so far.
Thank you guys for elevating our little cabin in the woods weekend to joyous heights!!
Keep the hits coming!!
Amazing
Love the flavor!!!! But the best part is the buzz you get after smoking it!!! 10 out of 10 for flavor and aroma
Hi, I have been a regular cannabis user for over 30 years. I tried the Runtz once only out of curiosity and loved it. It isn't as intense as the marijuana that I've been accustomed to but in some ways that made it even better! I get that I enjoy the same relief and relaxation But am more comfortable around others. My friends love it also, so buy extra. Great product and excellent service!