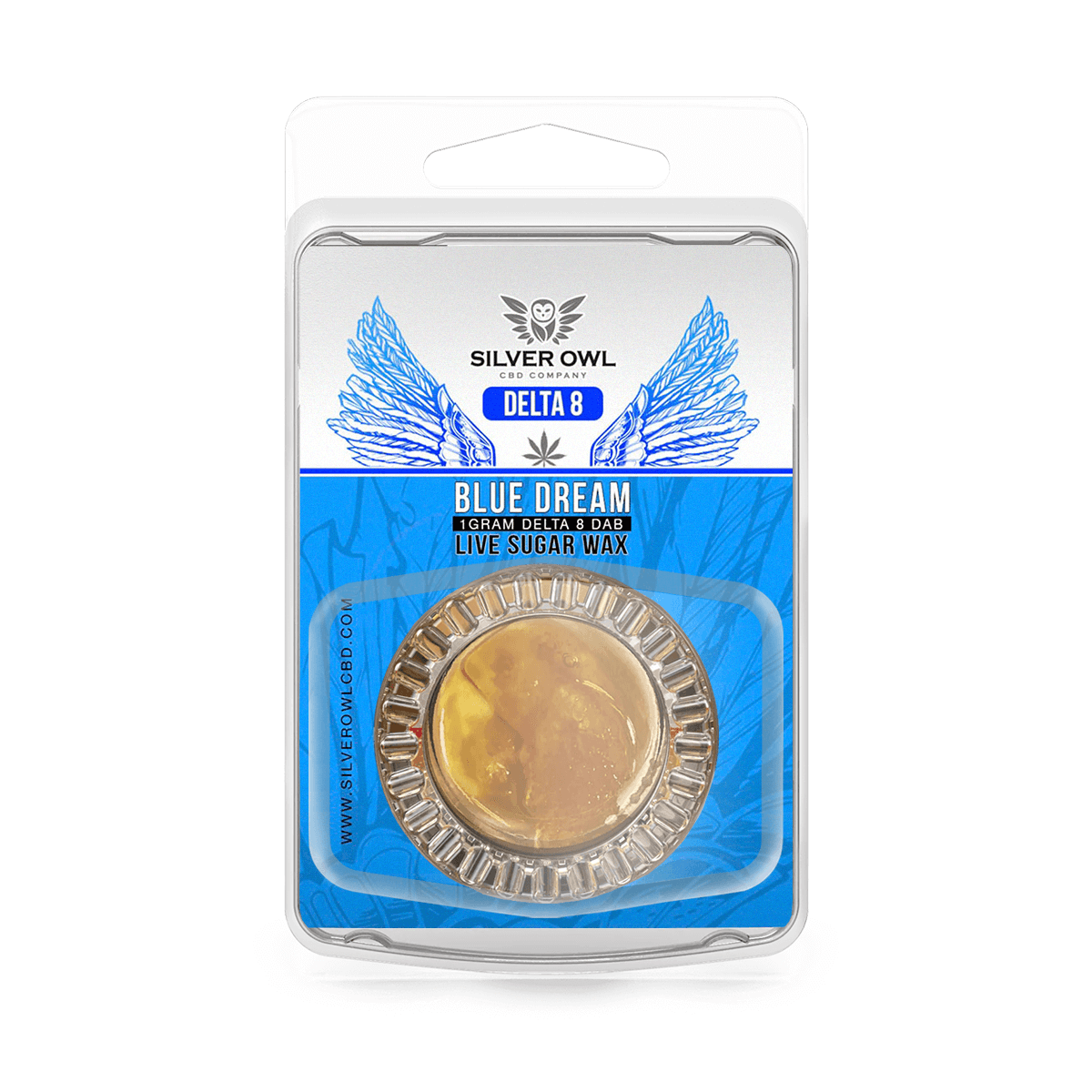 Delta 8 Live Sugar Wax Blue Dream
$39.99 — or subscribe and save up to 20%
The national popularity of Delta 8 has exploded over the course of 2020 and the first few months of 2021. True to our word, we've been playing around with all kinds of new concepts featuring this hemp derived cannabinoid and one of our little science experiments is ready for the world: Silver Owl Delta 8 Live Sugar Waxes!
Live Resin Sugar Waxes, or "Live Sugars" as they're more commonly known, are produced through a distinctively unique process. We start by harvesting whole industrial hemp plants and freezing them as soon as their stocks are separated from their trunks. This has the benefit of naturally preserving more of the hemp's terpenes for the full spectrum extraction.
Once we have the raw form of our Full Spectrum Live Resin produced we add additional terpenes and Delta 8 to the mix, then employ several techniques during the post-processing stage to achieve the desired consistency. The end result looks like a white cake batter made of tiny, clear sugar granules- and it's always delicious!
As one of our dedicated tributes to classic hemp strains, Silver Owl Blue Dream Delta 8 Live Sugar Waxes were produced using the strain of their namesake for a slightly sativa dominant experience. The sweet taste of blueberries tossed in cane sugar lasts from the first inhale to well after the exhale, producing cerebral sensations and a strong drive to get active that gradually fades into a nice, relaxing come-down period. If you've ever enjoyed our Blueberry Kush Crystals and Blue Bud Lite Cartridges, this one's for you- just be ready to be impressed because we've outdone ourselves with this one!
Strain Used: Blue Dream (Blueberry x Haze)
Indica/Sativa Ratio: 40% Indica / 60% Sativa
Full Spectrum Live Resin (CBD And CBG Dominant) Contents: 400mg
Delta 8 Distillate Contents: 500mg
Additional Terpene Contents: 100mg
—–
*Please be aware: due to the current legal classification of Delta 8 THC in some regions, we cannot ship Silver Owl Delta 8 products- including Delta 8 Hemp Flower- to the following states at this time: 
Alaska, Arizona, Arkansas, Colorado, Delaware, Idaho, Iowa, Mississippi, Montana, New York, Rhode Island, Vermont, and Utah
—–
Disclaimers:
*You must be 21 years of age or older to buy ALL Silver Owl CBD Company Products, including Silver Owl Delta 8 products. Please keep out of reach of minors.
*Silver Owl Delta 8 products are derived from Industrial Hemp and are in compliance with H.R. 2: The Agricultural Improvement Act of 2018, also known as the 2018 Farm Bill.
*Silver Owl Delta 8 products contain less than 0.3% Delta 9 THC, in compliance with all applicable federal and state laws.
*Silver Owl Delta 8 products are psychoactive and should not be used by anyone who is pregnant, breastfeeding or otherwise adverse to ingesting Delta 8 THC or trace amounts of Delta 9 THC.
*If you are concerned about ingesting cannabinoids, including trace amounts of Delta 9 THC, please consult your physician or other licensed medical professional prior to using Silver Owl Delta 8 products.
*Silver Owl Delta 8 products may affect blood pressure, heart rate and/or intraocular pressure in some people. If you have any known or unknown heart, blood pressure, eye pressure, or similar/related issues- or if you are at risk of developing such conditions- do not use these products unless recommended by a doctor.
*Unless otherwise specified, Silver Owl products are not intended for animal use. While Silver Owl CBD Pet Oil, Dog Treats and other such products in our pet line use animal friendly ingredients, some of the ingredients found in our other products could prove harmful or even fatal if consumed by an animal. Please contact your nearest emergency veterinarian services if you suspect your pet has consumed a Silver Owl CBD Company product not intended for their use.
*These products and statements have not been evaluated by the Food and Drug Administration (FDA) and are not intended to diagnose, treat, cure, prevent or otherwise manage any disease, illness, injury or similar condition.
experience
Isn't the first time I ordered from his company and they are amazing people!! I had an issue a while back with my order and they took really good care of me they even gave me some free samples on my texted order they sent out!! and I got that package super fast!! they are truly the best!!
Love the classic
Try out this amazing OG strain!!! Same flavor, but amazing buzz!!!!
Saucy
I've tried several flavors of their sauce and every single one of them was amazing, I'm currently using the CBN and CBC and it is absolutely potent. Even the sauce alone is potent, tasty, and just sits right with me
Dreamy! :)
This wax had me feeling so good, I finished everything I had the day I bought it. It literally felt like I was dreaming and was in a world of my own which is such a good feeling.
Bluessss!
Feeling blue?? Get Blue Dreams! this stuff is tasty and it works so so well!!
amazing flavor
this Delta 8 blue dream taste amazing and I love the high it gives me!!
For those of you who have not tried this sugar wax you absolutely need to. I have been wondering about Delta 8 for awhile. I wasnt sure it would be strong enough since I am a daily smoker of THC. I was shocked to find out that it was better. No paranoia, no anxiety. I dont feel nearly as loopy on this as I do on THC but I get all of the good benefits from Delta 8. This is such a great alternative I dont know that I will go back.
Lovely euphoria!!
Love it so so much so tasty! works well too! feels amazing to smoke my blue dream after I get off of work! the amazing euphoric feeling is the best by far!!!!!!
Feelin Blue in the Best Way
Oh I love this wax, it's easily my favorite from the live sugar wax line. The lowest setting on my seahorse pro makes vapes this stuff perfectly. ❤❤