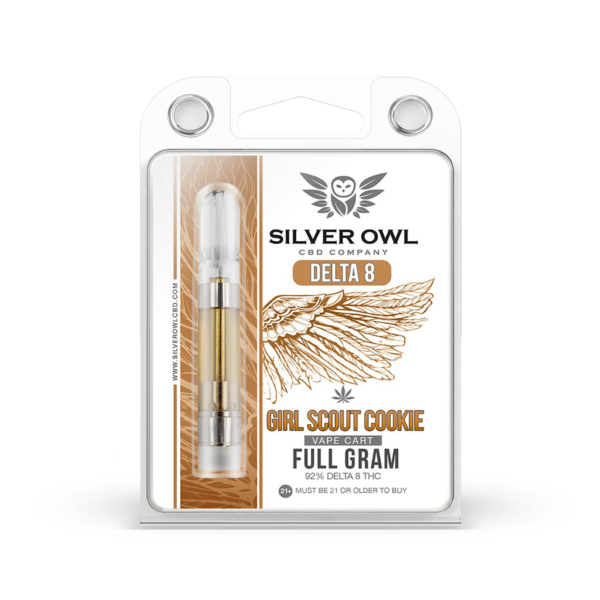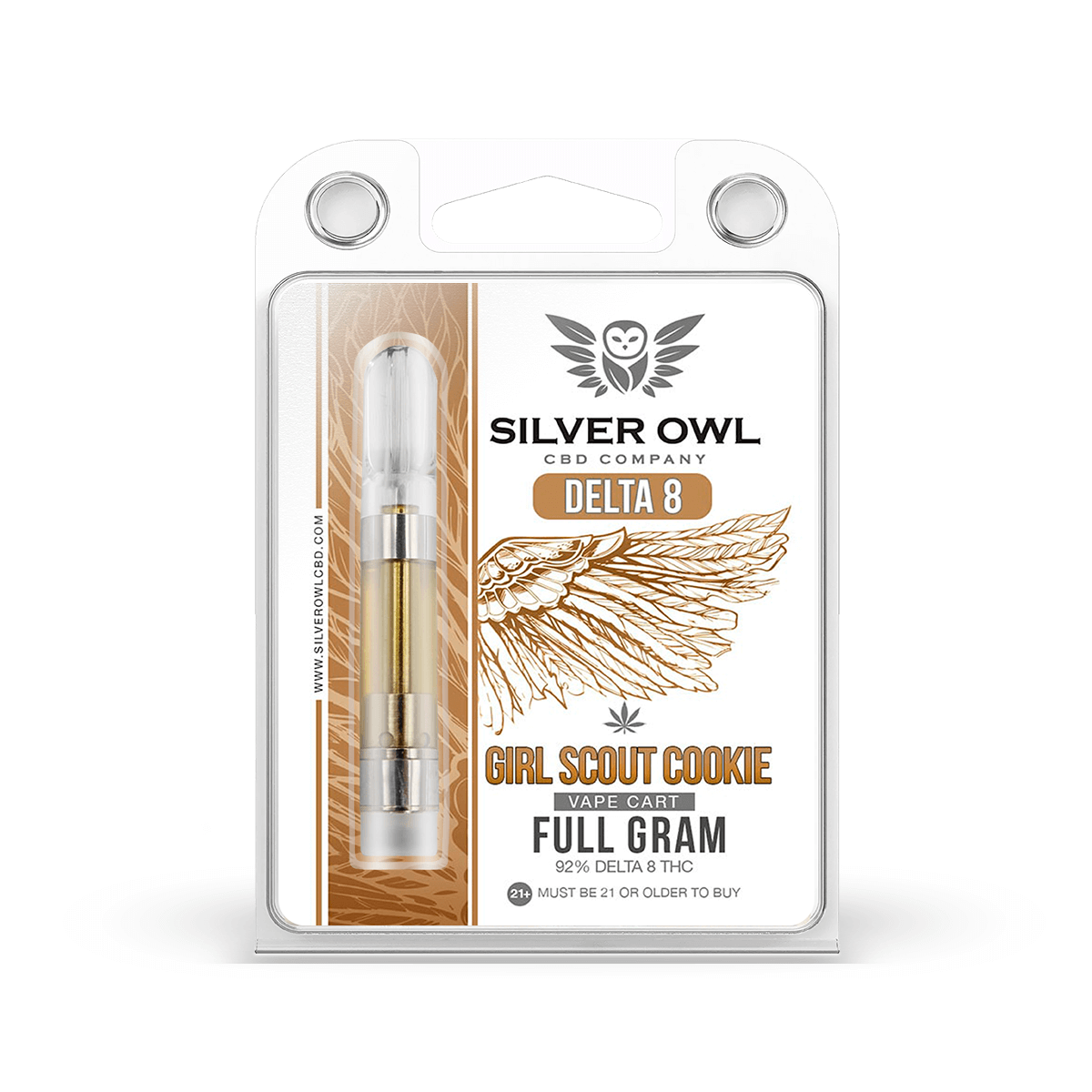 Delta 8 Vape Cartridge Girl Scout Cookie (Indica)
— or subscribe and save up to 20%
Delta 8 Content: 1000MG
Strain Type: Indica
Strain: Girl Scout Cookie
Serving Size: 10 to 20 mg
Recommended use: As needed
Ingredients: Delta 8 derived from Industrial Hemp, Natural Terpenes
Brand: Silver Owl
Directions: Hit Delta 8 Cartridge Girl Scout Cookie until desired result are achieved.
| | |
| --- | --- |
| Strain Type | Indica |
| Strain | Girl Scout Cookie |
So tasty!
The cartridges do not clog first time for that. The flavor is so good. Each cart is flavorful and consistently quality. Great stuff one of my top favorites for sure
An Excellent Alternative
Great relief from my stifling anxiety, and still able to write my thesis. New fan, I am very impressed. I've never considered cbd products before...I'm convinced.
Fast acting
These are wonderful for when you've had a stressful day at work and just need to mellow out and melt into your couch! My first one lasted me almost a month just puffing here and there
I was recommended this company by my daughter and I am so glad that she did bc now I don't have as much stress on my body as I was before, I haven't had a sleepless night since I started ordering from this company!!
Yummy Girl Scout cookie!! I will be getting more soon!!
I really liked the Girl Scout cookie! it tasted so good!! will be getting this flavor in dabs soon!
Great Product
I was very skeptical of this brand and product because of Reddit but once looking at the lab reports and great reviews I decided to give it a try. If anything I would trash it if it doesn't work. I bought Purple Punch and Girl Scout Cookies. First off, smoothest hits I've ever taken with any Delta8 brand. Great pulls. Very potent. Girl Scout Cookies had me very mellow yellow, in a good mood. Purple Punch was amazing, I was singing all night and couldn't go to sleep because I was that euphoric. The energy even carried into the next day. Can't wait to try out other strains. Thanks for being a clean and trustworthy delta 8 brands. White Widow and Lemon Squeeze here I come!
Lovely product!
love it! I will definitely recommend!!
No Disappointments
I love the Girl Scout Cookies Cart. So far my favorite flavor. I literally cannot get enough of it. By far the most enjoyable delta 8 cartridges I've had. Also, aside from how amazing it tastes the cartridge itself is awesome. Never have I had an issue with clogging or the wick burnout. If you are on the fence about Girl Scout Cookies I assure you that you won't be disappointed
yummy!
this flavor is so yummy, and the high I get from it is even better!!