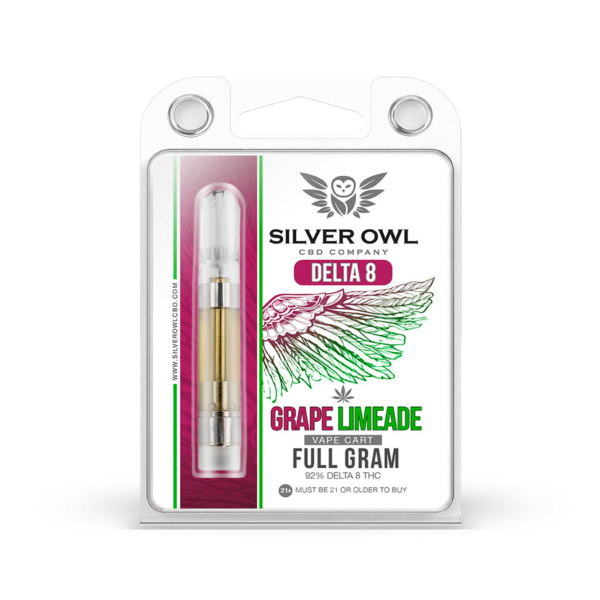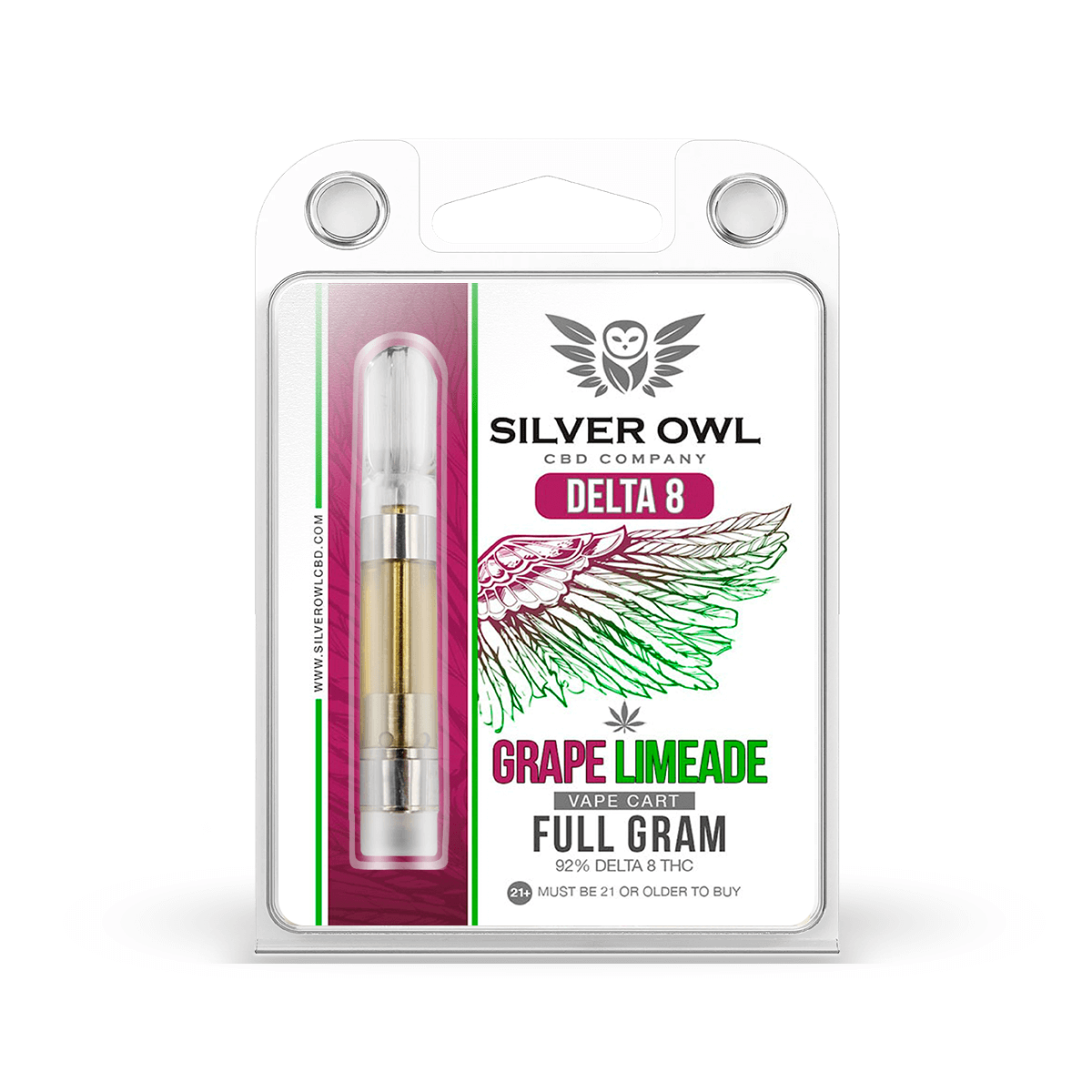 Delta 8 Cartridge Grape Limeade
$14.99 – $150.00
Description
Additional information
Back from the grave for the coming fall: Silver Owl Delta 8 Cartridges!
Delta 8 THC (D-8THC) is an analogue and legal alternative to its relative. Unlike the other cannabinoids we've worked with, like CBD and CBG, Delta 8 IS psychoactive- as such we cannot recommend using this before operating any vehicles or heavy machinery. Please exercise caution when using any Delta 8 Products and enjoy responsibly.
One of the easiest ways to introduce Delta 8 to the body is through the vaporization of a distillate in a pre-filled cartridge. This has the benefit of being a mess free way to use Delta 8 and allows pure flavor to shine through with every hit. 
Silver Owl's Delta 8 Grape Limeade Cartridges contain distillate extracted from the Grape Limeade strain of hemp and the same mix of terpenes as their counterparts, Silver Owl CBD and CBG Crystals, for that calming, tropical taste!
Strain Used: Grape Limeade
Parent Strains: Grape Ape and Cherry Limeade
Lineage: 60% Indica > 40% Sativa
| | |
| --- | --- |
| Quantities | 1 Cartridge, Box of 10 Cartridges |
Delta 8 Carts are the best!!
These carts are so good!! I have gotten these guys a few times and they are by far the best company I have ordered from!!
Yummy grape limeade!!
This cart is good all around!!
Amazing Grape lime twist
Love the buzz!!! Also the amazing smooth hit
Awesome
I really enjoy this stuff. Delta 9 hasn't really meshed well with me for a while so I was really excited when I heard about Delta 8. In my opinion, Delta 8 is all of the good effects with almost none of the negative effects that you get from Delta 9, and I feel it is more therapeutic. I purchased every type except for straight Sativa and I do notice the difference between strains, even between an Indica dominant hybrid and a pure Indica. I enjoy all the strains I have currently and I'm looking forward to trying more in the future.
Absolutely amazing
This cart is I say is probably better than the ones I get at the dispensary they don't clog up like the others I have had I don't know what it is about this company but they are amazing hands down! I have tried many of their products and I love every single one of them that I have tried!!
I knew this was the one when I saw that it was purple. Sometimes it's difficult to tell if a flavor is going to hit or not and this one did it for me. Full flavor, easy draws on the cartridge, and it didn't have me locked into the couch. Thank you!
Great Flavor
This is an amazing flavor!! I also love the high I get from it!! smoking this after work is the most satisfying thing!!
LOVE ANYTHING GRAPE LIMEADE!! It just cant be beat. Ive tried it in almost every different way they offer it and this may be the best!
LOVE IT!!
So far this is the best flavor I have tried and these guys are the best, good flavor good hit works great never had a shortage problem like I would if I got my carts from a dispensary! I will be getting more soon and these are great gifts as well!