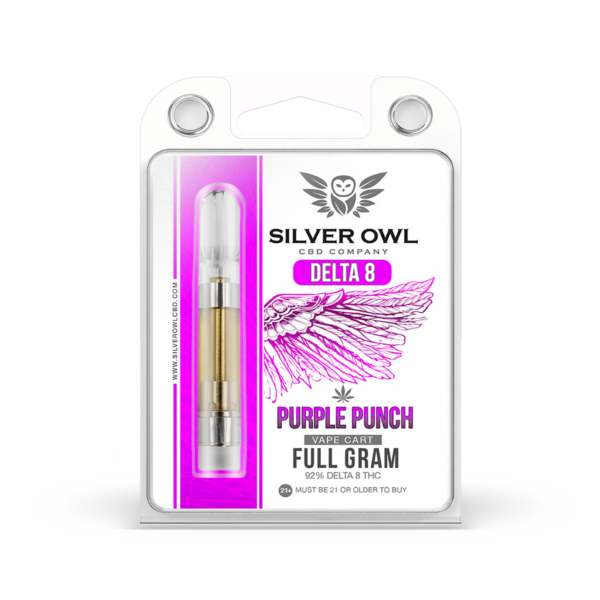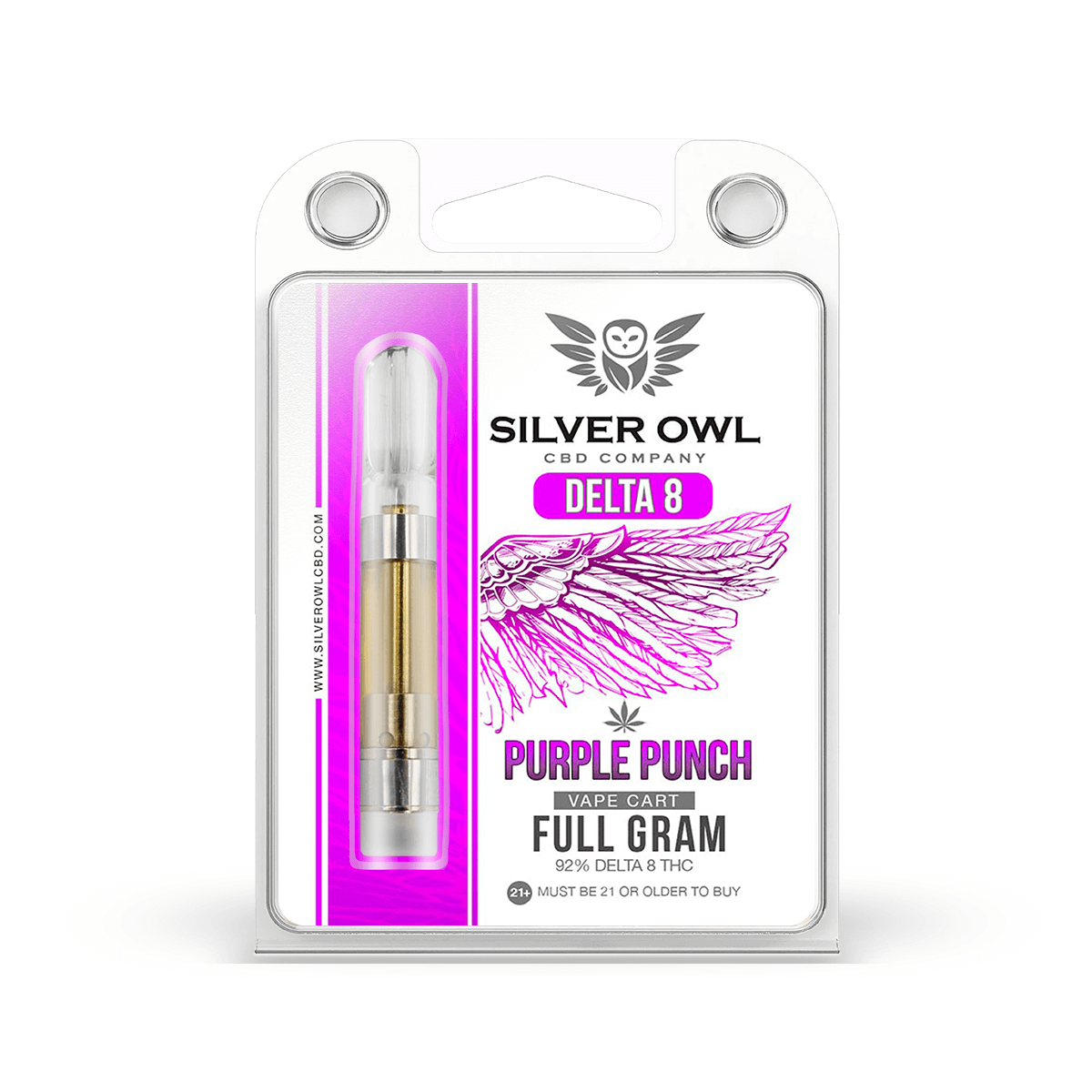 Delta 8 Cartridge Purple Punch
$14.99 – $150.00
Description
Additional information
Back from the grave for the coming fall: Silver Owl Delta 8 Cartridges!
Delta 8 THC (D-8THC) is an analogue and legal alternative to its relative. Unlike the other cannabinoids we've worked with, like CBD and CBG, Delta 8 IS psychoactive- as such we cannot recommend using this before operating any vehicles or heavy machinery. Please exercise caution when using any Delta 8 Products and enjoy responsibly.
One of the easiest ways to introduce Delta 8 to the body is through the vaporization of a distillate in a pre-filled cartridge. This has the benefit of being a mess free way to use Delta 8 and allows pure flavor to shine through with every hit. 
Featuring an updated blend of terpenes from our classic CBD Crystals and distillate derived from the Purple Punch strain, Silver Owl Delta 8 Purple Punch Cartridges are a delightful mix of sweet on the inhale and spicy on the exhale!
Strain Used: Purple Punch
Parent Strains: Granddaddy Purple and Larry OG
Lineage: 80% Indica > 20% Sativa
| | |
| --- | --- |
| Quantities | 1 Cartridge, Box of 10 Cartridges |
Love this one. This is my go to !
Simple and sweet
Quality stuff, in Tn the quality isn't the same or if it is the price is way higher. Good flavor and they last you a while. I won't buy from other places anymore.
Delta 8 has a different effect than thc I can smoke this and still be able to get stuff done around the house!
this cart is so good I haven't had issues with clogging as much as I do with others and these some how last me long than others as well
Exceeded Expectations
Best carts ever. I tried many different brands of carts, both Delta 9 (in the past) and Delta 8 (now), and these are the best D8 carts I have ever tried so far. The best ones I've tried so far are Berry White and Gary Payton, which both have different effects, but they got me so high, that it was mind-melting. It felt like a real weed, like when you smoke or eat an edible. It's very potent and high value IMO. I believe the CDT ones are my favorite. Also, they can and will put you to sleep, which is a big reason why I use them. To be honest, these carts seriously exceeded my expectations. Thank you very much!!
Purple punch... punched me in the face!!
I love it! it taste yummy and it is a little stronger than I thought it was going to be!! and it was amazing!
AWESOME!
This hit on this is so smooth, and doesn't get clogged like all the other carts. (not from this company). I have had!!
Punch to the Gut
This is an amazing product! The purple flavor really shines every time you get a hit. Perfect head high and amazing all-day cartridge. Definitely recommend anyone looking at this to BUY IT