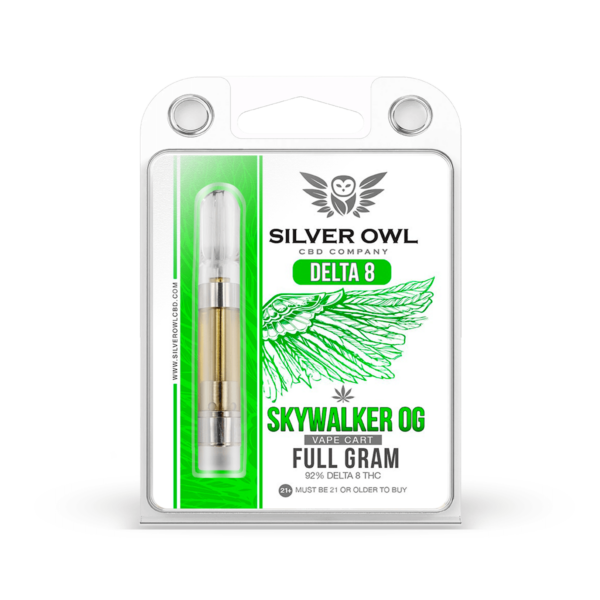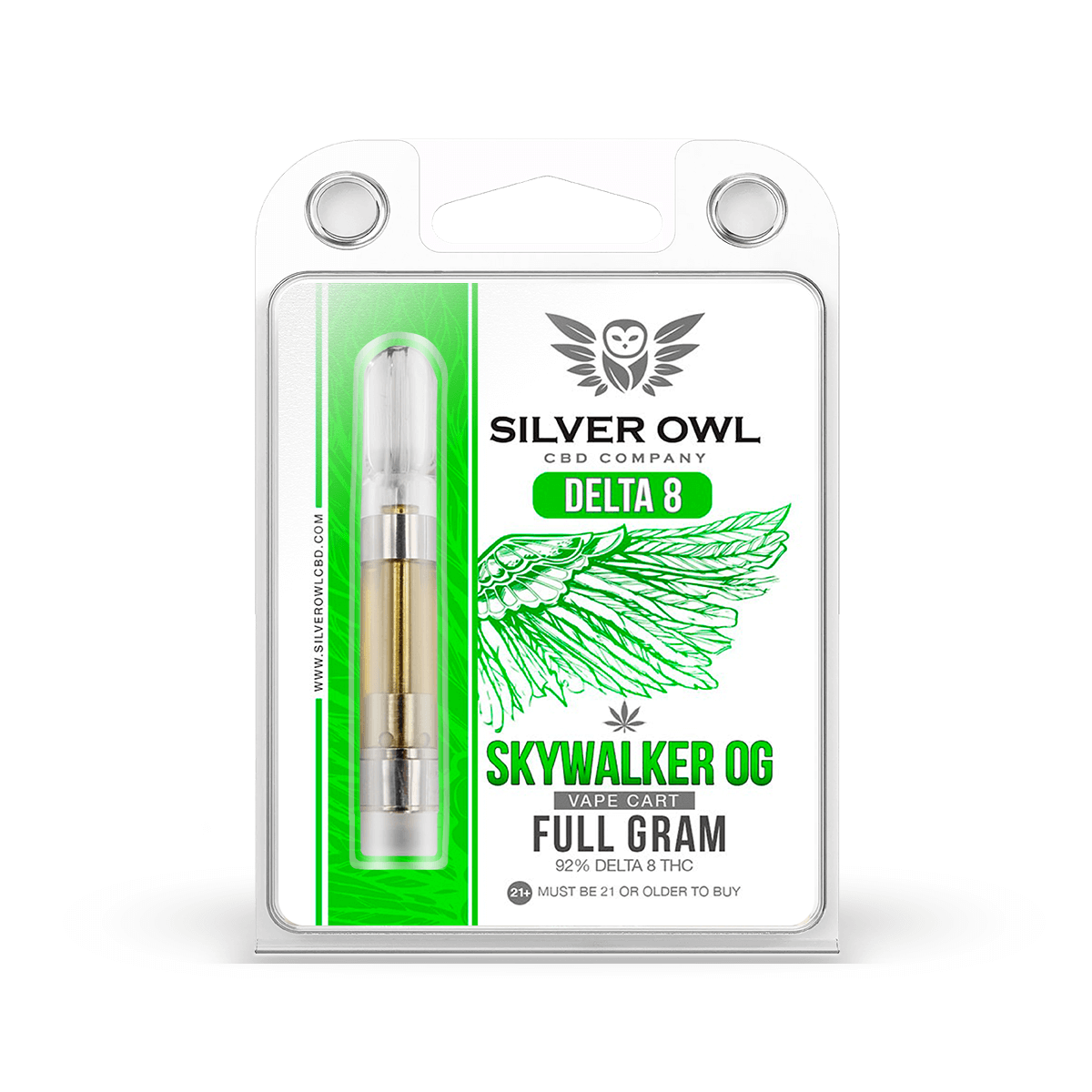 Delta 8 Vape Cartridge Skywalker OG (Indica)
— or subscribe and save up to 20%
Delta 8 Content: 1000MG
Strain Type: Indica
Strain: Skywalker OG
Serving Size: 10 to 20 mg
Recommended use: As needed
Ingredients: Delta 8 derived from Industrial Hemp, Natural Terpenes
Brand: Silver Owl
Directions: Hit Delta 8 Cartridge Skywalker OG until desired result are achieved.
| | |
| --- | --- |
| Strain Type | Indica |
| Strain | Skywalker OG |
Never fails
No legal delta 9 in my state but this takes care of me. Love the flavor it doesn't diminish over time either. Gotta be in my top 3 for sure
Skywalker Alright!
Def helped w/slip disc pain of course temporarily. But worked. Great Quality & Potency. Would 100% recommend to anyone if you wanna get to that right place
Amazing delta 8! great quality of the carts as well!!
I love their delta 8! it always gives me that high I am looking for and still be bale to do stuff around the house!!
Happy Customer!!!
Silver Owl vape cartridges are the best🙌🏻 It's the only brand I'll use because it's lab-tested, and has high. potency, the cartridge is completely clear and it's super smooth. I would rather have a high-quality vape cartridge than something cheap with poor quality control. I noticed that a lot of YouTubers are reviewing and selling junk delta 8 products and it causes people to think delta 8 sucks when in reality it's amazing. The vape cartridges YouTubers are reviewing look brown and yellow in color. You can tell it's horrible quality. They probably have half the potency of Silver Owl and taste like crap. I truly appreciate how pure and clear Silver Owl makes their products!!! It's possibly the cleanest vape cartridge on the market. I'm a happy customer!!!
Great for anywhere!!
I Love the fact that I can smoke their product everywhere I go, at work and home and my families house's anywhere and I don't get paranoid like I would if I smoked something from the dispensary!! and it tastes so so so good! I can still do stuff and not mess stuff up while I am high on this Delta 8!
Focused
This is my go-to before work as it doesn't make me easily distracted and allows me to stay productive while still feeling pretty damn cool.
Always keep one on me
These are the best discovery I have made with Delta 8 so far. All of the cartridges are smooth and tasty and always do the trick quickly and efficiently. I recommend them to all my friends on the go or with busy lifestyles. Helped me tremendously with my social anxiety and irritability.
Great product as well as there online experience!
I have have issues with ordering my supply online and I have had a great experience with Silver Owl!! Their products are amazing as well, I have shopped a few times online and these guys are the best I have found online!!
Awesome
This is an awesome product.