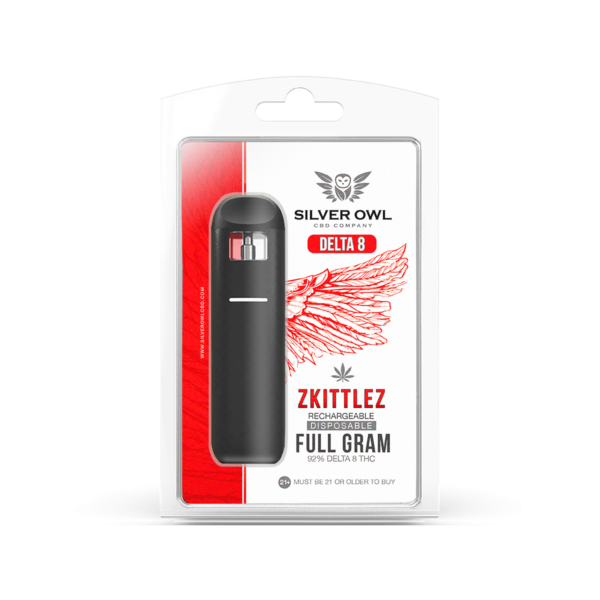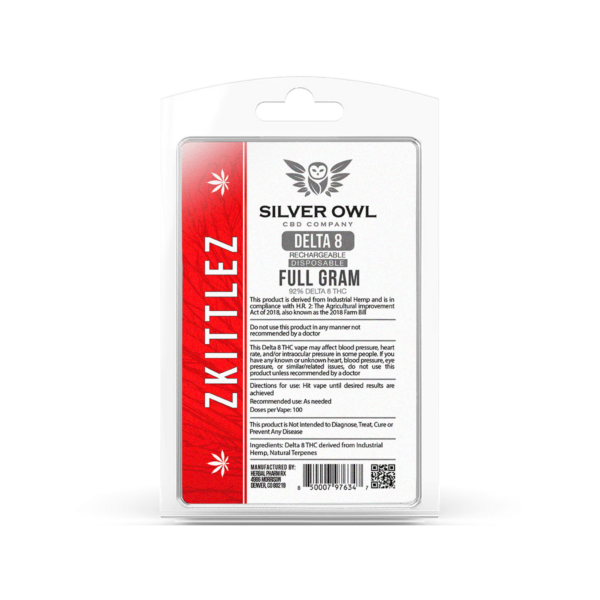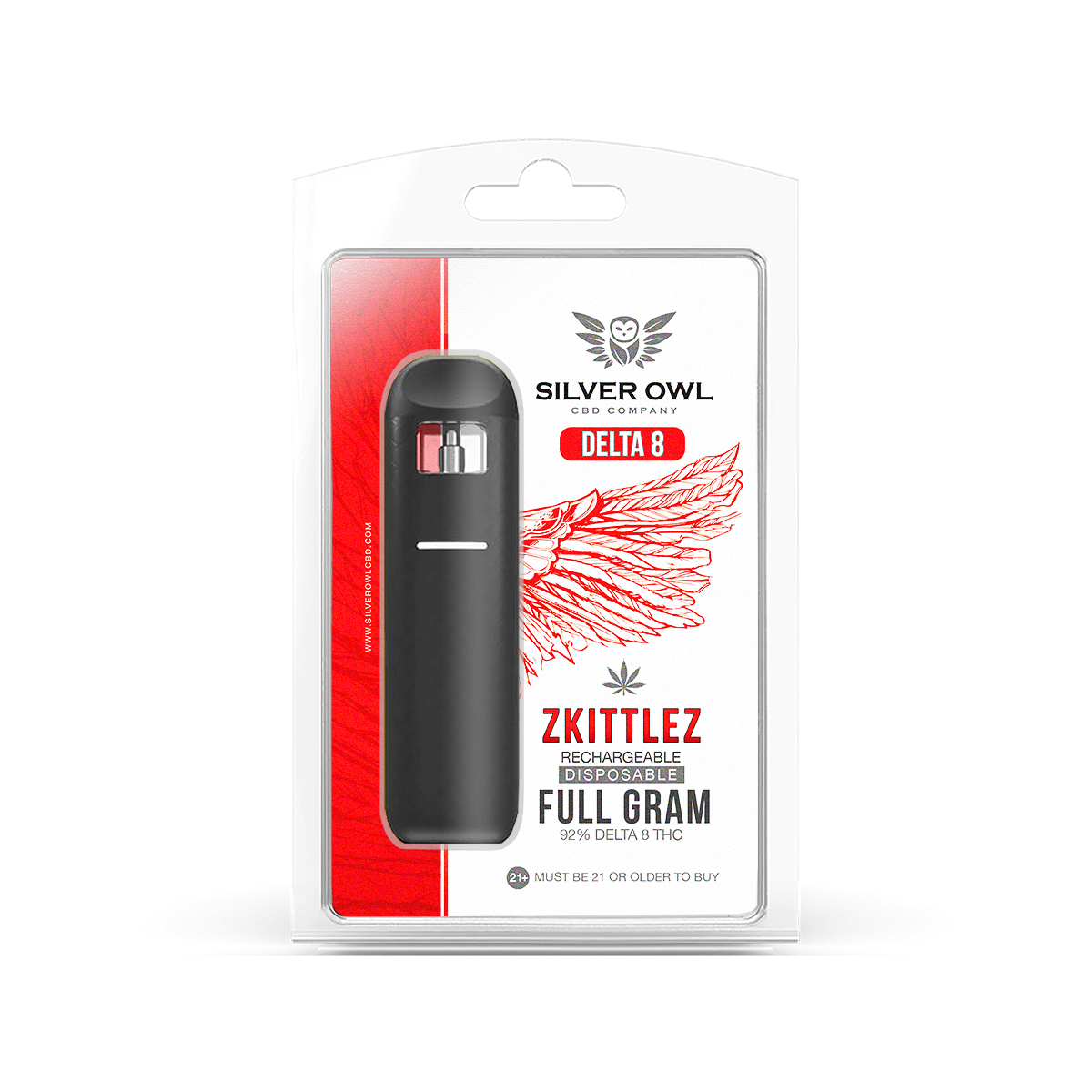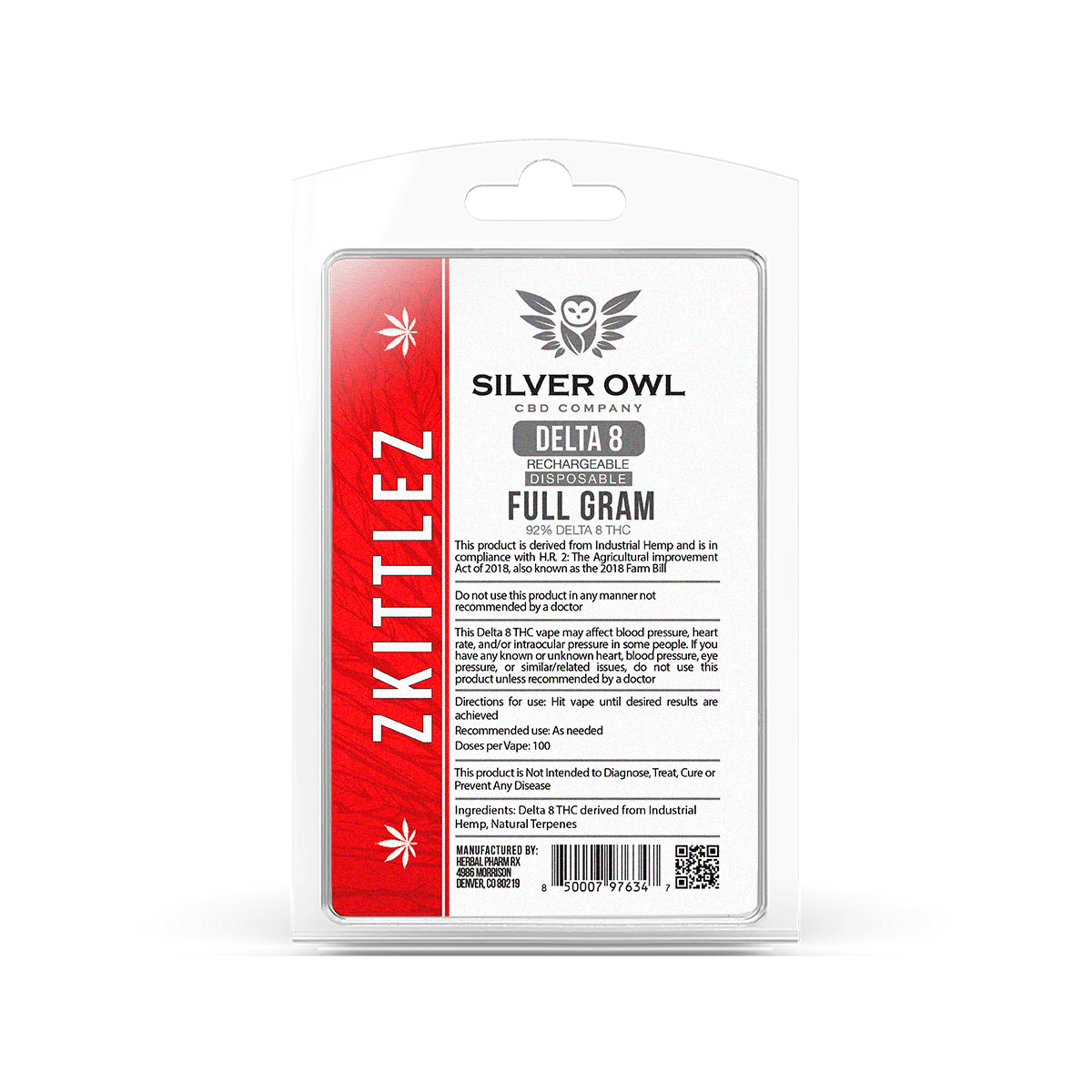 Delta 8 Disposable Vape Zkittlez (Indica)
$39.99 — or subscribe and save up to 20%
Delta 8 Content: 1000MG
Strain Types: Indica
Strains: Zkittlez
Serving Size: 10 to 20 mg
Recommended use: As needed
Ingredients: Delta 8 derived from Industrial Hemp, Natural Terpenes
Brand: Silver Owl
Directions: Hit Delta 8 Disposable Vape Zkittlez until desired result are achieved.
| | |
| --- | --- |
| Strain Type | Indica |
| Strain | Zkittlez |
So far very impressed with the product. I use it for insomnia and works fantastic after the initial high. Will definitely be ordering again!
Better Than Anyone
This product was even better than I was hoping it would be. I was feeling great almost immediately. It was easy to use and lasted a while. The flavor was tasty as well. I highly recommend any of the Silver Owl products that I have tried. I will definitely be purchasing this product again.
great!
this is a great flavor, I recommend this product for sure! I am back to get more flavors!!
Delta 8 disposable vape pen is a product that's worth considering. It's one of the most convenient and enjoyable ways to get that much-needed dose of Delta 8 THC.
Perfect for me
Out if the blue I heard about Delta-8 and pure coincidence a guy at Convenience Store starts talking to about THC and new Delta 8 like he was a undercover promoter. I kept thinking about it because years ago I really enjoyed old school 1980s style stoner life but when i got older all the pros of THC went away and were replaced with paranoia etc, no more laughing, just eating and being lazy.
Anyways next day bought the disposable and was so shocked with the coolest mellow high with no bad effects. Even got munchies but not like gluttoness. So, for sensitive systems its great and hope stays legal. Seems too good to be legal in a state with no recreational. I just rambled all that out because i did 2 good vape hits 30 min ago!