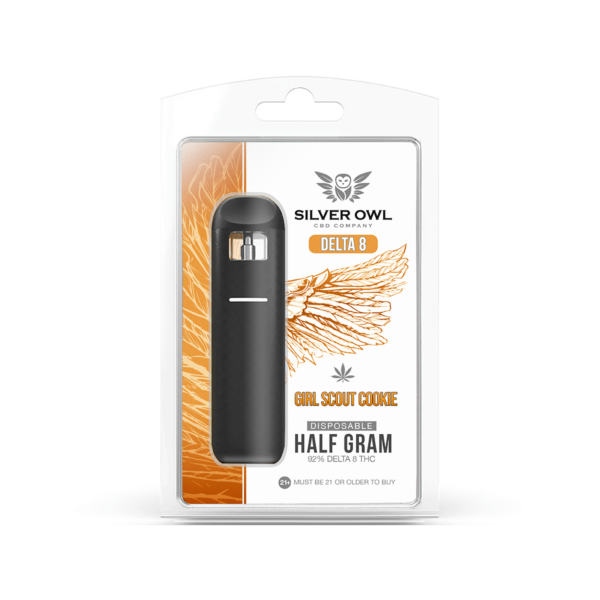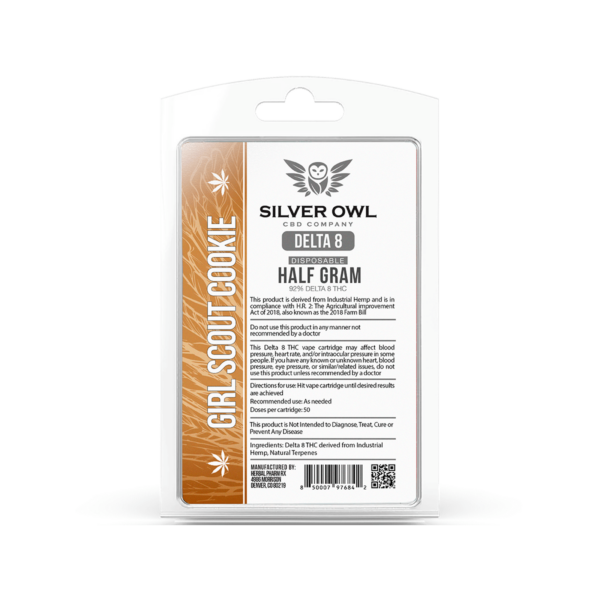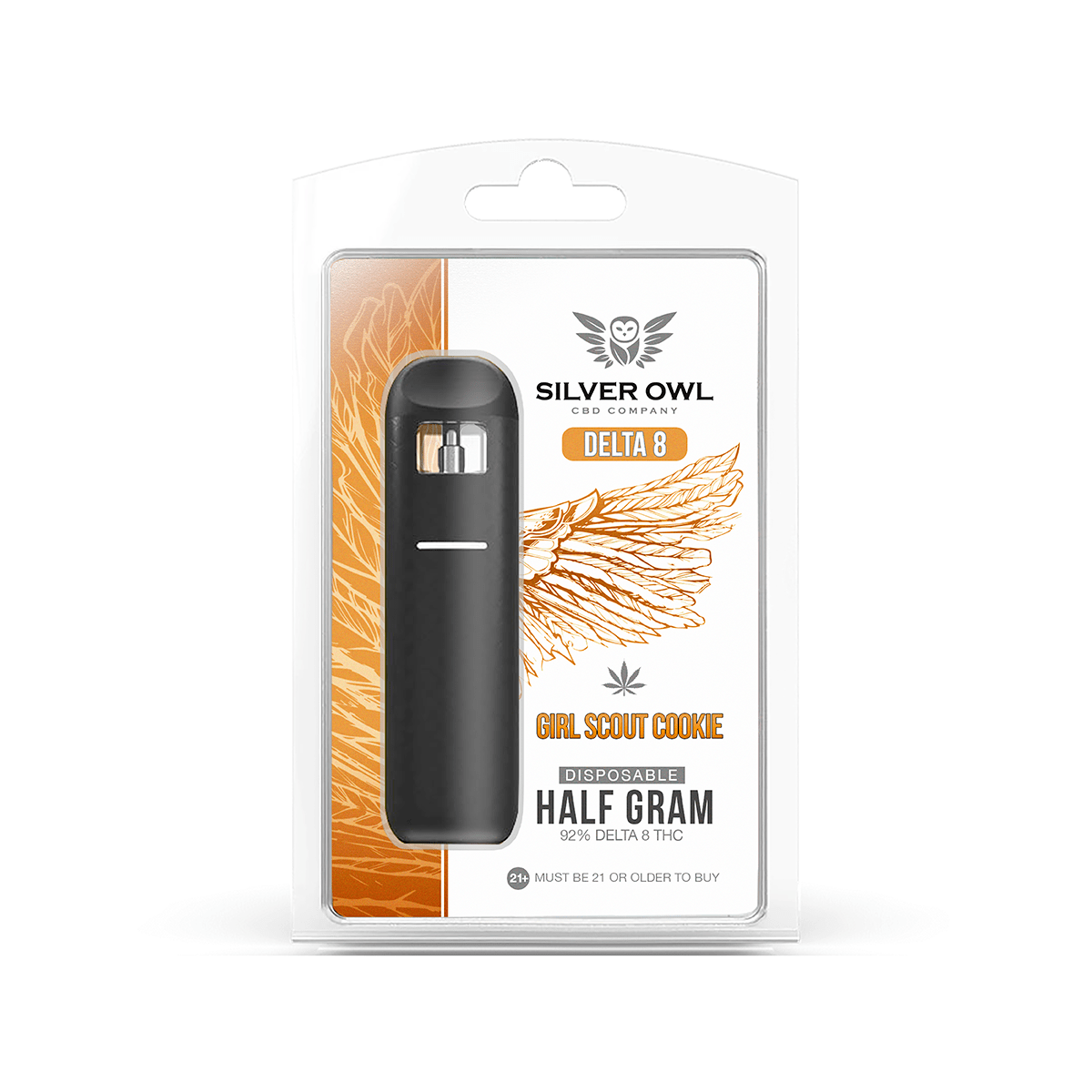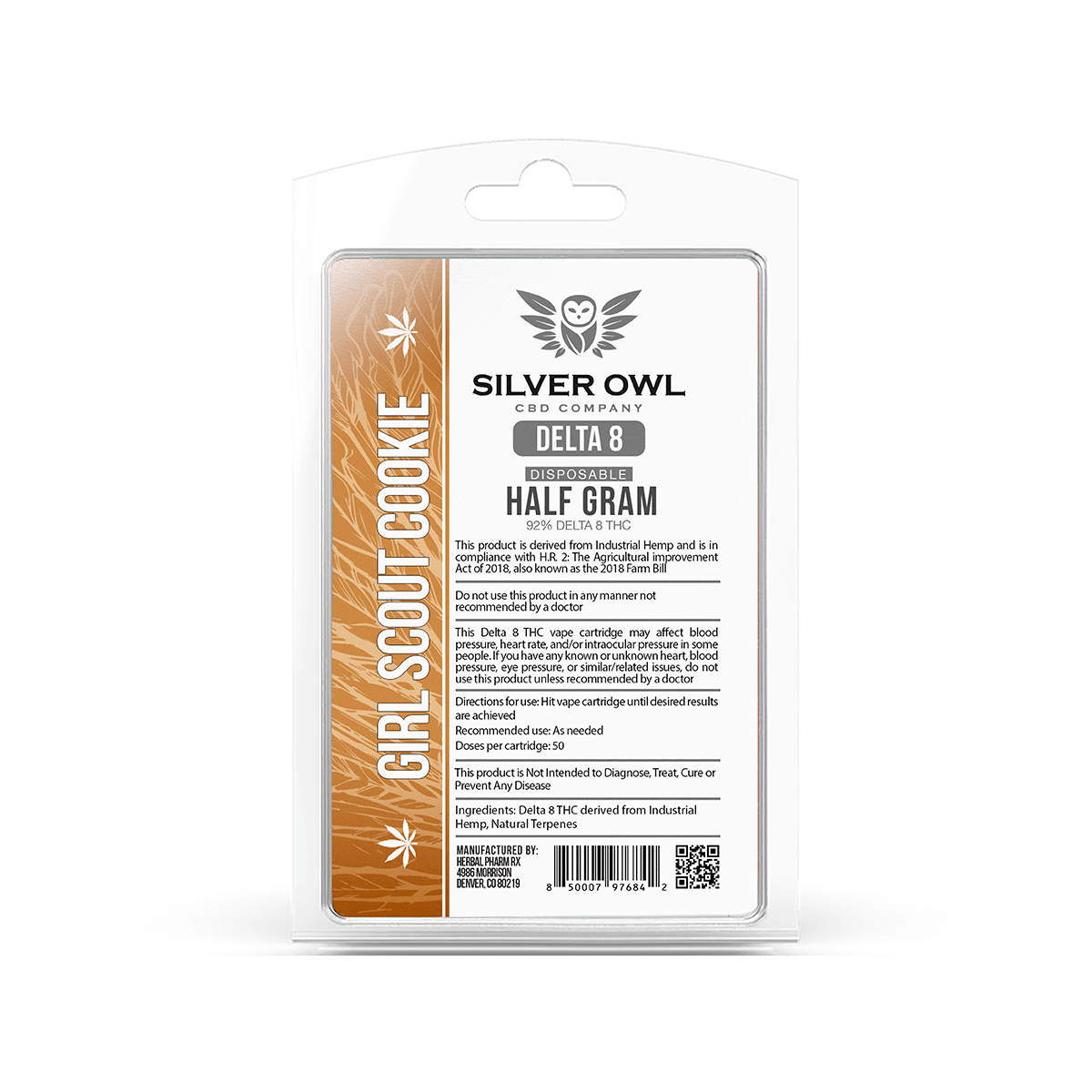 Delta 8 Lite Disposable Girl Scout Cookie
Back from the grave for the coming fall: Silver Owl Delta 8 Disposables!
(D-8THC) is an analogue and legal alternative to its relative. Unlike the other cannabinoids we've worked with, like CBD and CBG, Delta 8 IS psychoactive- as such we cannot recommend using this before operating any vehicles or heavy machinery. Please exercise caution when using any Delta 8 Products and enjoy responsibly.
Disposable vapes provide the same perks of use as cartridges, but contain a built-in battery so that everything you'll need for a session is entirely self contained. 
Featuring distillate extracted from the sativa leaning hybrid strain of hemp by the same name and a specially selected blend of terpenes, Silver Owl's Delta 8 Girl Scout Cookie Disposables pack that delicious baked dessert taste with some familiar floral notes that are sure to please! 
Strain Used: Girl Scout Cookie
Parent Strains: OG Kush and Durban Poison
Lineage: 40% Indica < 60% Sativa
These disposables are amazing I love how they re rechargeable I can actually finish the delta
really convenient
doesnt get you paranoid, awesome taste and no need to worry about batteries like with the carts.
These disposables were really good! I got a few of them and they worked better than I though from getting them online!
Better than THC
When I first purchased the delta 8 I was skeptical but you really do feel the effects. I purchased birthday cake and the vape definitely tasted like cake. It didn't leave a weed smell in the room like other vapes. It's true what they say about delta 8. It gives you a high without the anxiety. Consider this a lighter version of THC. I will definitely order again.
All I can say is wow! I ordered one to start with because I wasn't sure how good it would be. I got the Girl Scout Cookies and the flavor is amazing. It's not harsh and has a great buzz, can't believe it's legal and only takes seconds for it to kick in. One lasted a little over a week, and I hit it every day. Now I need more!