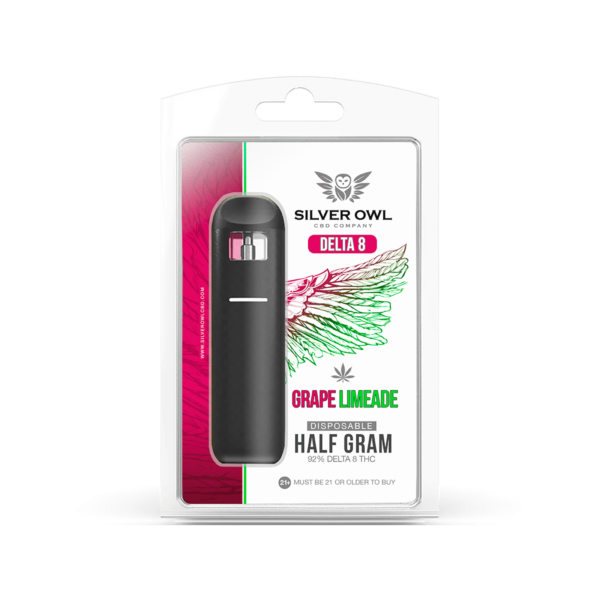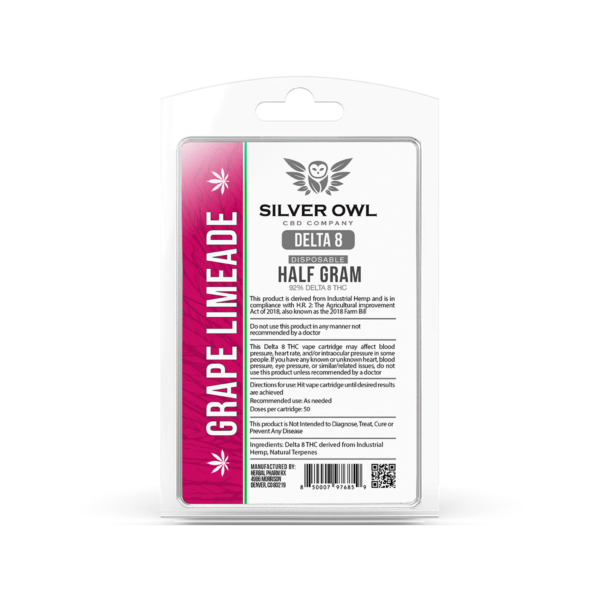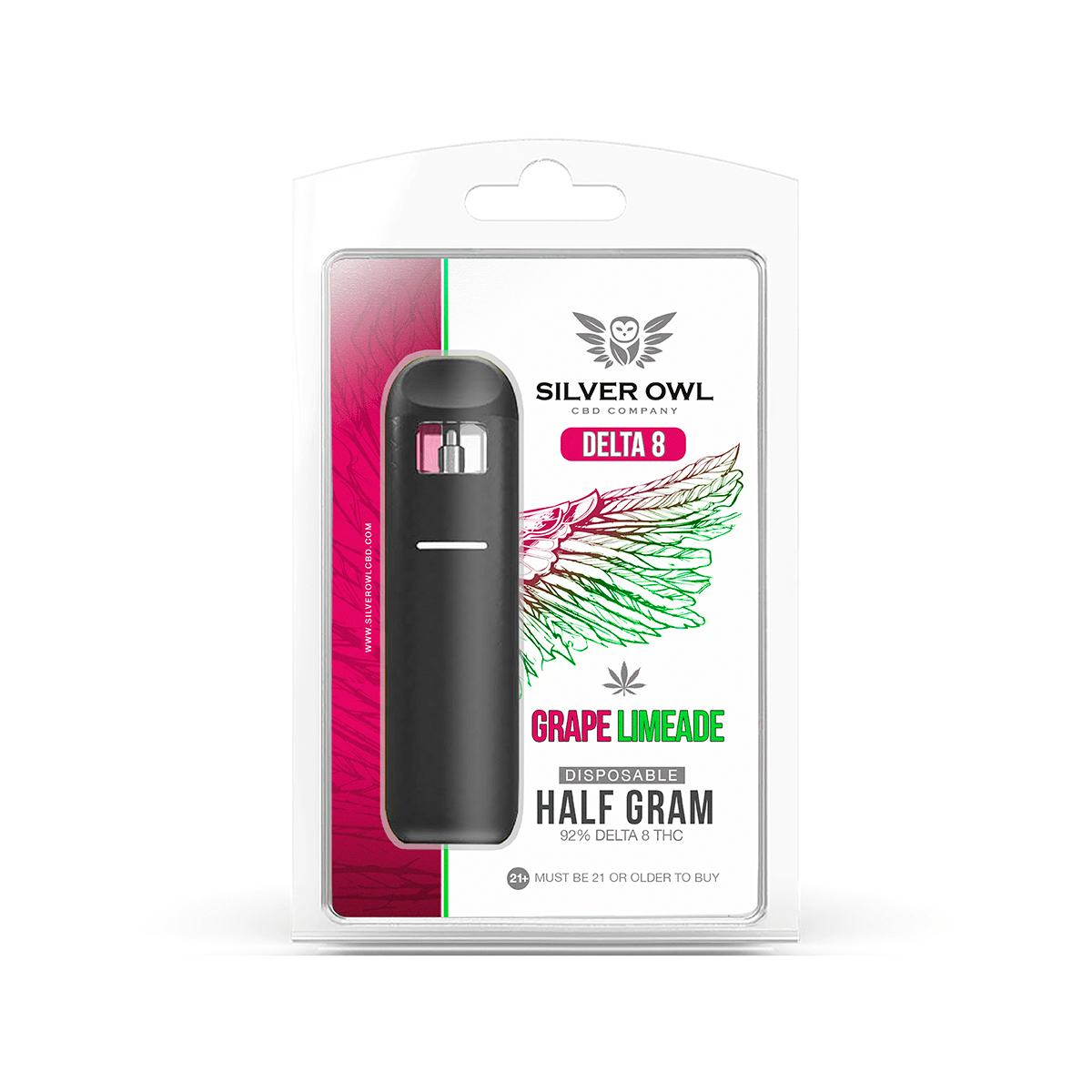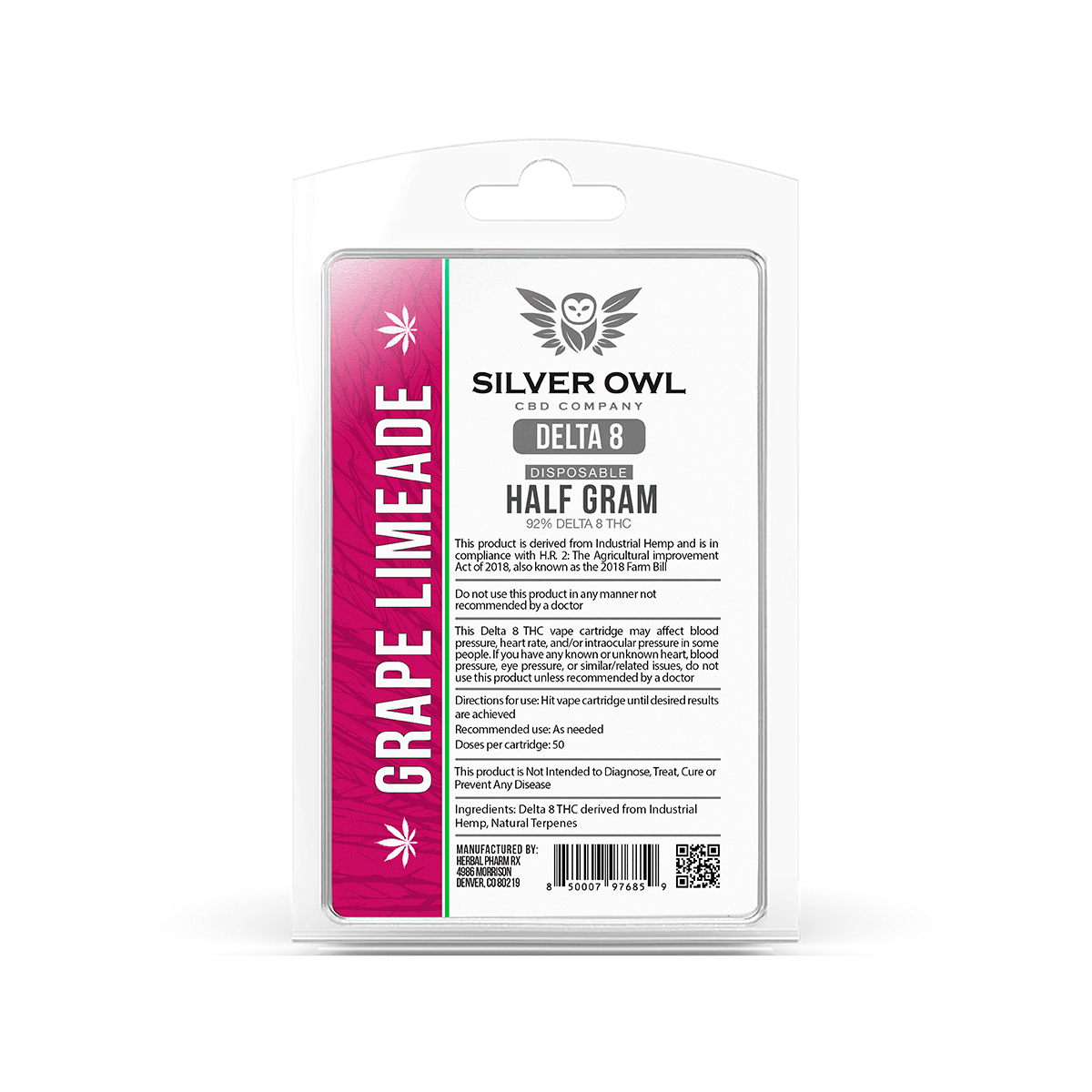 Delta 8 Lite Disposable Grape Limeade
Back from the grave for the coming fall: Silver Owl Delta 8 Disposables!
Delta 8 THC (D-8THC) is an analogue and legal alternative to its relative. Unlike the other cannabinoids we've worked with, like CBD and CBG, Delta 8 IS psychoactive- as such we cannot recommend using this before operating any vehicles or heavy machinery. Please exercise caution when using any Delta 8 Products and enjoy responsibly.
Disposable vapes provide the same perks of use as cartridges, but contain a built-in battery so that everything you'll need for a session is entirely self contained. 
Silver Owl's Delta 8 Grape Limeade Disposables contain distillate extracted from the Grape Limeade strain of hemp and the same mix of terpenes as their counterparts, Silver Owl CBD and CBG Crystals, for that calming, tropical taste!
Strain Used: Grape Limeade
Parent Strains: Grape Ape and Cherry Limeade
Lineage: 60% Indica > 40% Sativa
GrapeLimeade!
Get little disposable.Very reliable. Light & Discreet. Wish there was little more flavor but once again Silver Owl w/potency. Please make northern lights, Jack herer.
Better than others
this company has been the best one that I have ordered from!!
yum yum yum
I love that these guys actually charge unlike other disposables I was getting!!
Awesome
This product is absolutely amazing. The Grape Limeade one is our favorite. We don't go anywhere without this pen. Great way to administer our medicine. Would recommend it to anyone who wants a good disposable with high-quality D8.
Great Pocket Friend
What a great little friend to carry around with you. Take it out and puff on it a couple times and it will have you feeling just right :)
Fast Shipping
I've tried Bahama Blast and Peach Berry Burst they taste good and will get me high after several hits. 1G lasts about 5 days for me so the fast delivery helps that I get my order quickly. Give it a go if you're on the fence about trying Delta 8 vapes from Silver Owl CBD. Everything from this company is amazing.
Do it!
Love this flavor and the hit is so smooth!!
my favorite
amazing for when we are hiking and dont want to be too crazy buzzed. very level headed
All around solid product
Always get everything out of these which i cant say for most of the disposables it get. Plus it tastes just as good as the crystals they have. If you havent tried either, you should