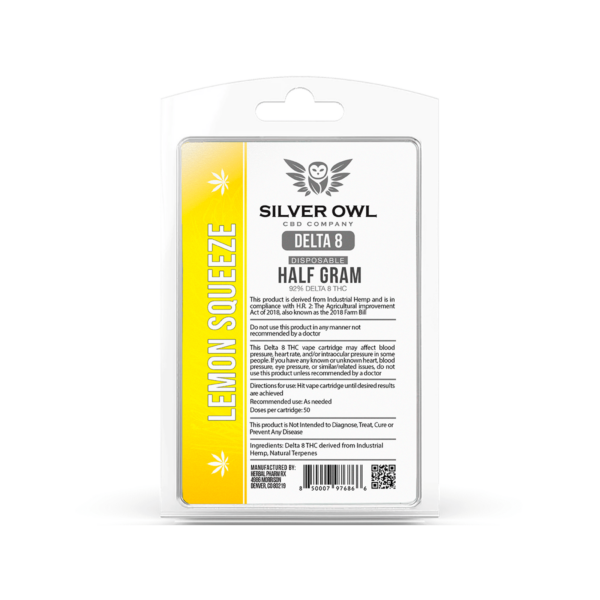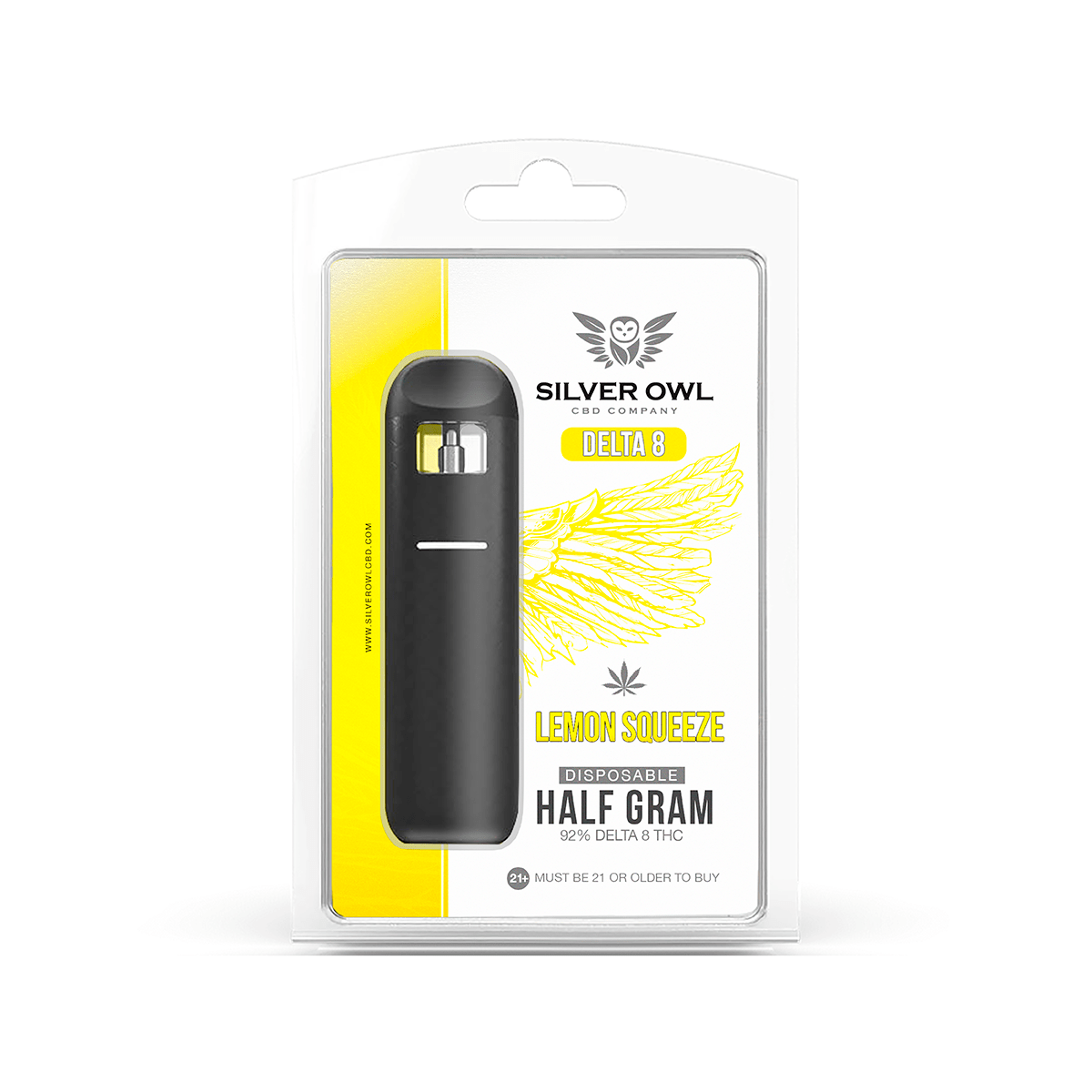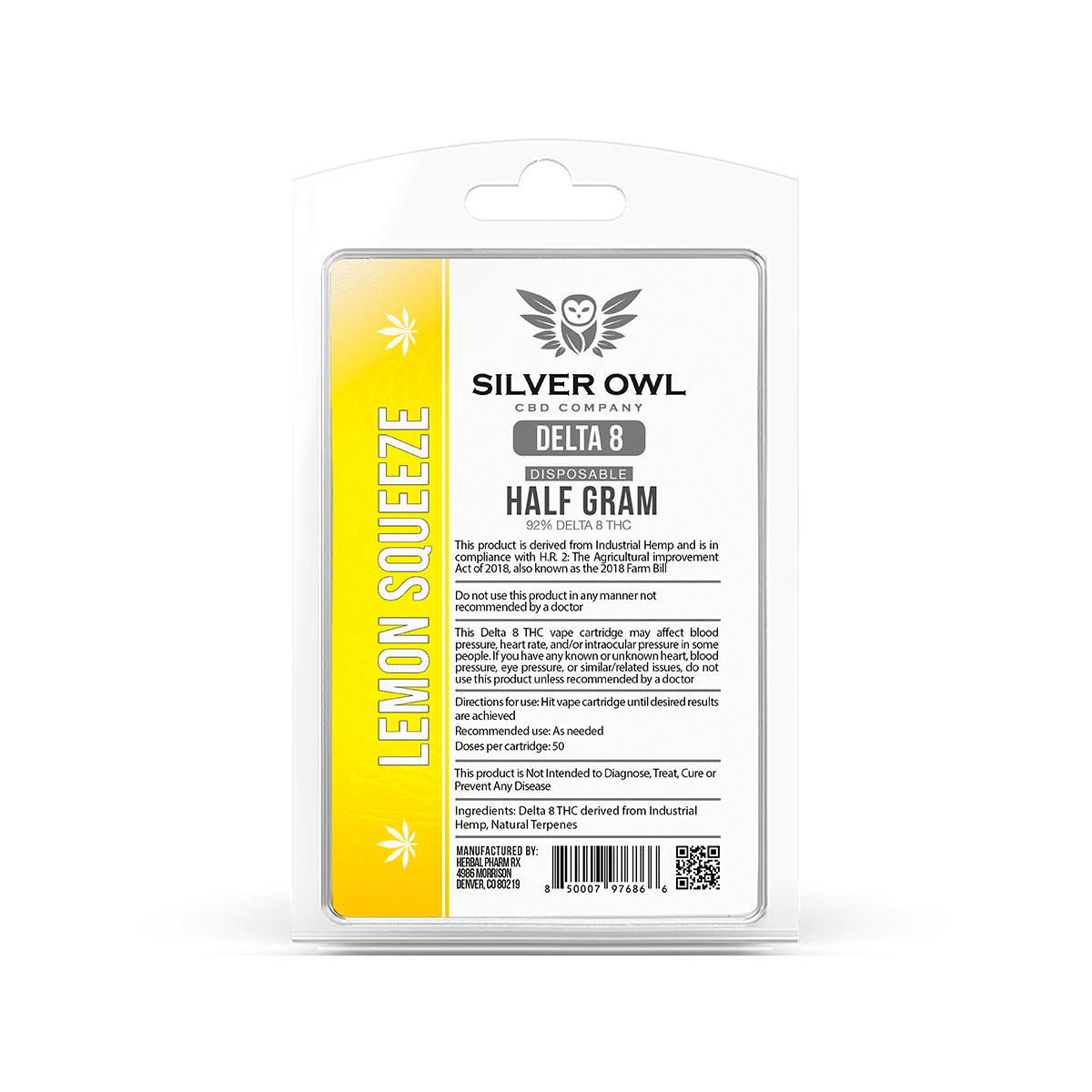 Delta 8 Lite Disposable Lemon Squeeze
Back from the grave for the coming fall: Silver Owl Delta 8 Disposables!
Delta 8 THC (D-8THC) is an analogue and legal alternative to its relative. Unlike the other cannabinoids we've worked with, like CBD and CBG, Delta 8 IS psychoactive- as such we cannot recommend using this before operating any vehicles or heavy machinery. Please exercise caution when using any Delta 8 Products and enjoy responsibly.
Disposable vapes provide the same perks of use as cartridges, but contain a built-in battery so that everything you'll need for a session is entirely self contained. 
With the same terpene powered citrus candy flavors as our CBD and CBG Crystals supporting distillate derived from the Lemon Squeeze strain of hemp, Silver Owl's Delta 8 Lemon Squeeze Disposables might be our fruitiest flavor in the line!
Strain Used: Lemon Squeeze
Parent Strains: OG Lime Kush, Chemdawg D and Sour Diesel
Lineage: 75% Indica > 25% Sativa
This disposable is really good, I love that fact that I can charge it!
Great work hit
Got things to do but get to stoned to remember? Try delta 8 same high but helps you still stay focused!!!
I am not a huge THC or vape person, but after trying these Delta 8 Vape Pens, I am a fan! Love the relaxing feeling with just enough high.
Nothing Like It
I have a delta 8 disposable and it is an extra terrestrial experience that I can only be described in two sentences. It is an amazing additive to the disposable collection and has unexpectedly widen my horizons. There's nothing like it unless.... nope there's nothing like it
This item is convenient to carry. The effects are very pleasant both in taste and mood enhancement. I have tried this flavor and several others and have enjoyed all of them.