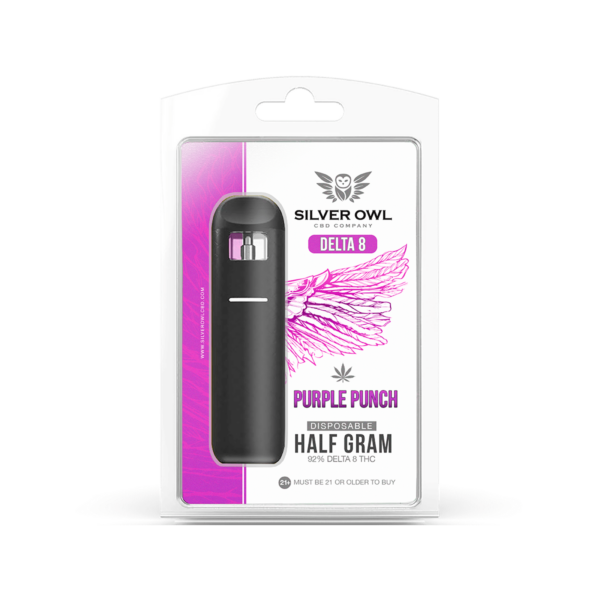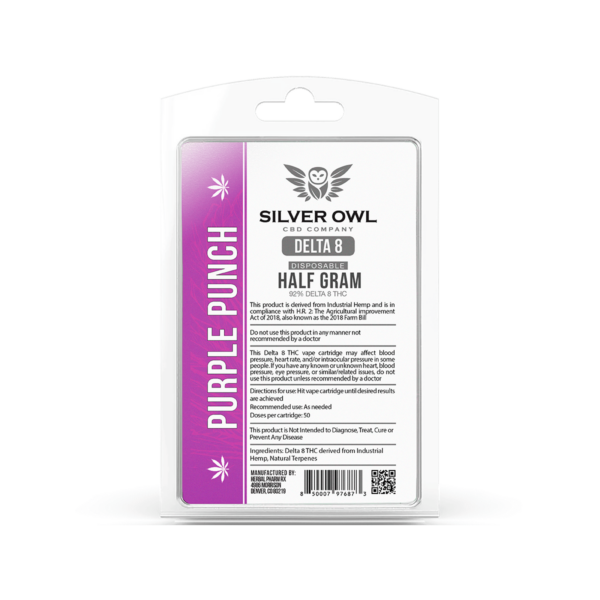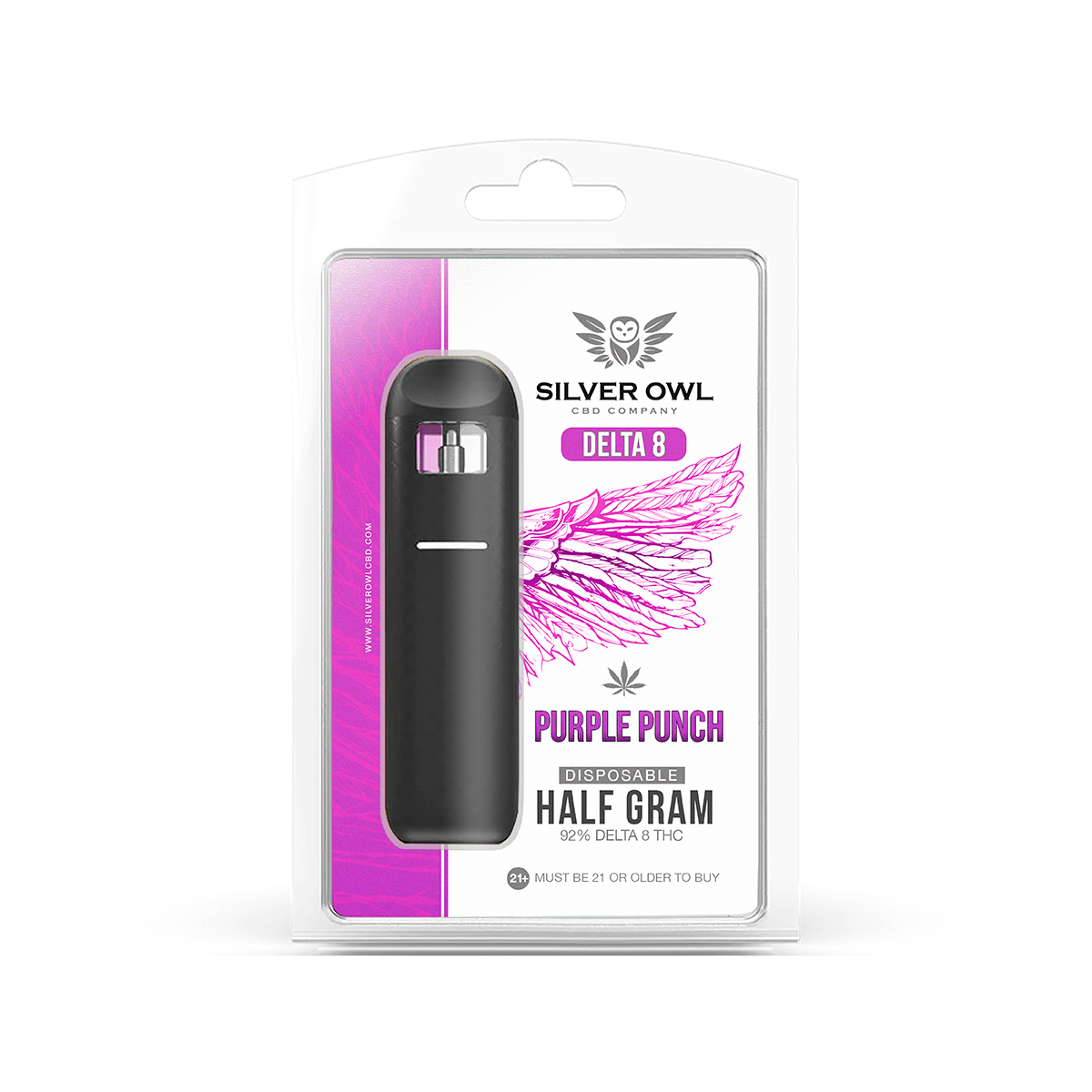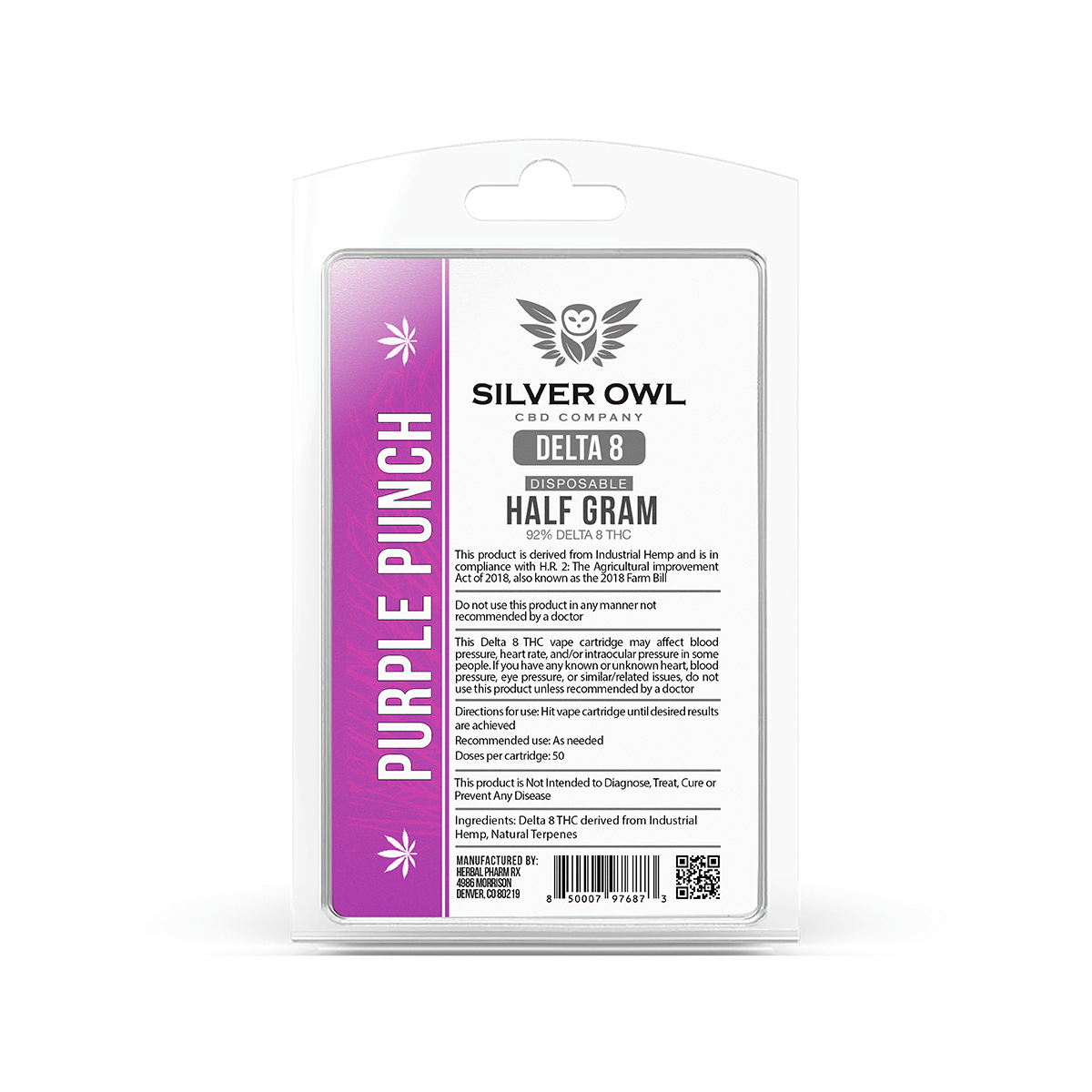 Delta 8 Lite Disposable Vape Purple Punch (Indica)
Delta 8 Content: 500MG (92%)
Strain Types: Indica
Strains: Purple Punch
Serving Size: 10 to 20 mg
Recommended use: As needed
Ingredients: Delta 8 THC derived from Industrial Hemp, Natural Terpenes
Brand: Silver Owl
Directions: Hit Delta 8 Lite Disposable Vape Purple Punch until desired result are achieved.
| | |
| --- | --- |
| Strain Type | Indica |
| Strain | Purple Punch |
| Brand | Silver Owl |
| Manufacturer | Herbal Pharm RX |
Just Enough...Which is Enough
The best delivery of delta 8 ever. My favorite is Purple Punch.
love them!!
got a few of these!! and they worked really well for me!
Me encanta!!!!!
Me encanta el sabor de este disposable, y lo mejor de todo es que lo puedo llevar a otro pais :D
Repeat Customer
Good product. Not overbearing and makes the body relaxed. I use it to help me fall asleep on restless nights and my quality of sleep has improved a lot. Definitely have a repeat customer.
Purple Punch
By far the best delta 8 I've had. Out of all the flavors, this is my favorite.
No Doubts
This was my first time purchasing any delta 8 product and I will be honest...I was suspicious, but this really does live up to the hype. The Taste is amazing, it hits hard, and the lab testing confirms that these products are safe, unlike street disposables. The high was also very clear-headed and productive, instead of couch locking me for the entire duration of the high like most street disposables.
Overall, i'm a huge fan and will definitely be buying again in the near future.
Perfect for busy lifestyles
This disposable is probably my current must have. Discreet, doesnt really smell much and the taste caught me off guard! Doesn't have a harsh hempy taste and it hits sooo smooth
Great flavor, nice mellow and relaxing high, disposable itself was hard-hitting and very good quality, the buzz was intense but in a good and non-overwhelming way
tasty and convenient
I Use this a lot for my daily smoke. Its easy to use and super discrete, I love it.
Great Product for sure!
This is worth it! All their product, I have tried my fare share of brands and products and so far this is the best I have tried, and will be continuing to getting more!!