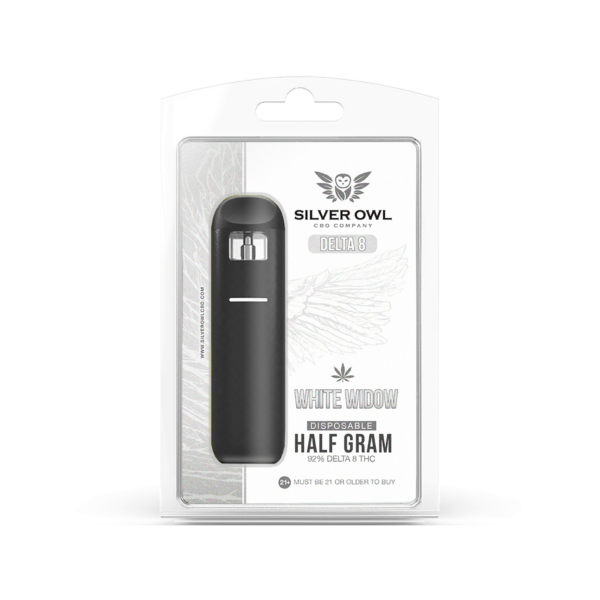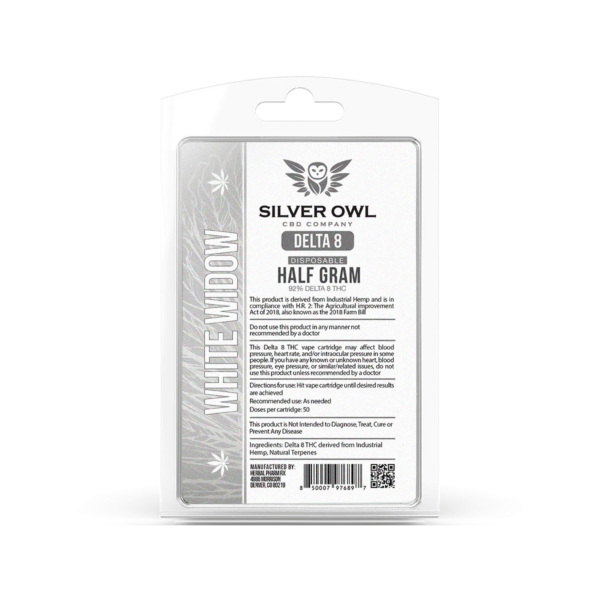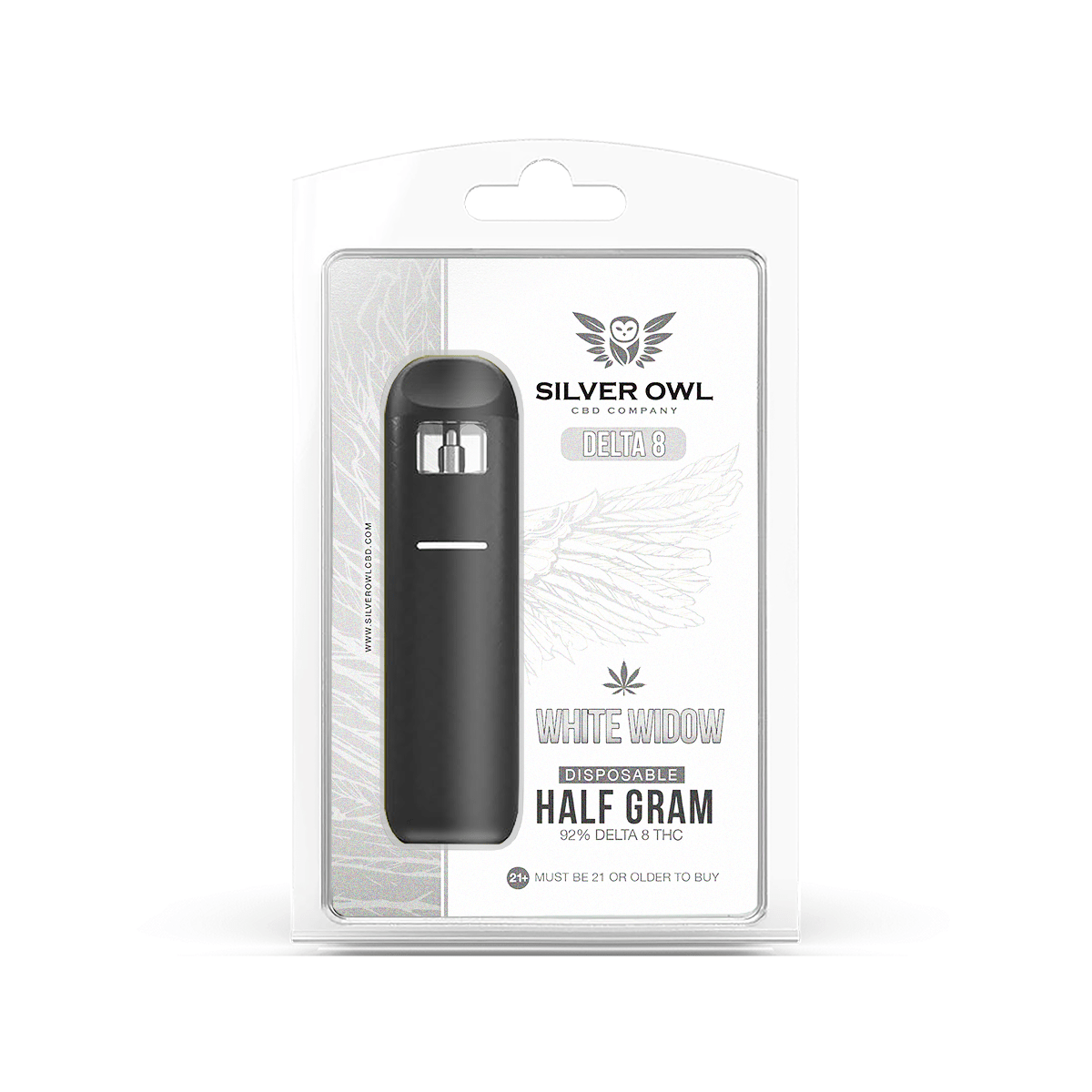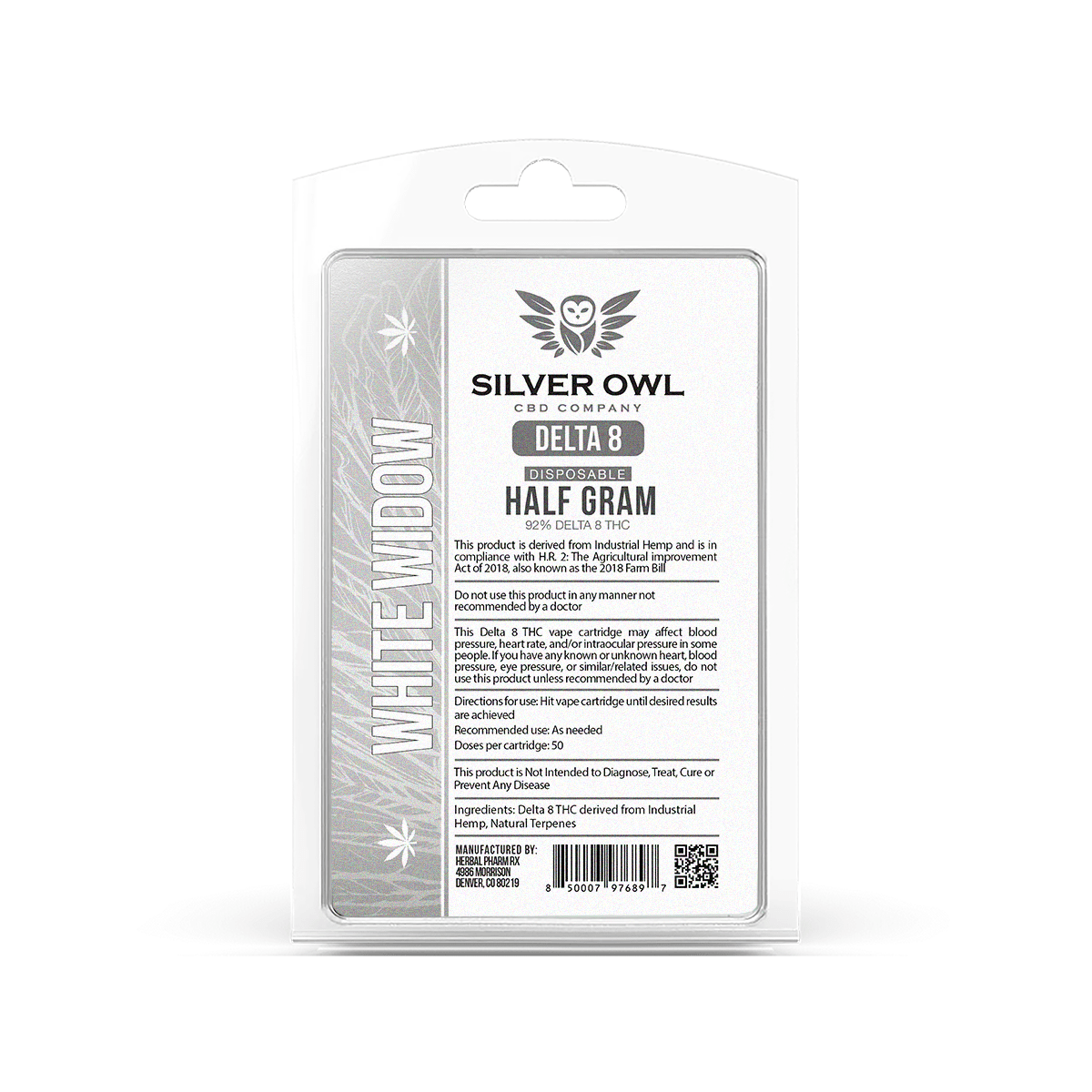 Delta 8 Lite Disposable White Widow
Back from the grave for the coming fall: Silver Owl Delta 8 Disposables!
Delta 8 THC (D-8THC) is an analogue and legal alternative to its relative. Unlike the other cannabinoids we've worked with, like CBD and CBG, Delta 8 IS psychoactive- as such we cannot recommend using this before operating any vehicles or heavy machinery. Please exercise caution when using any Delta 8 Products and enjoy responsibly.
Disposable vapes provide the same perks of use as cartridges, but contain a built-in battery so that everything you'll need for a session is entirely self contained. 
Silver Owl's Delta 8 White Widow Disposables feature distillate and terpenes derived from the strain of hemp sharing their name- lending that familiar flowery, cheesy and herbal flavor- are a great addition to any after-dinner routine!
Strain Used: White Widow
Parent Strains: Brazilian Indica Landrace and South Indian Sativa Landrace
Lineage: 20% Indica < 80% Sativa
White Widow
I'm so grateful in finding your company online. I've enjoyed your products & will continue too! Ty for having quality products that help with anxiety & great sleep aid naturally. Hopefully in the future you will come out with a couple of more strains for your cartridges and disposables. ( northern lights, Jack herer. Looking forward to the future Purchases.
LO mejor de lo mejor!!!!!! XD
He estado utilizando estos disposables y son severos!!!! me pego severos viajes Lol, lo mas chimba de todo es que los puedo llevar a mi pais.
This vape was better than I had anticipated. The battery lasted a good while, I felt more relaxed and happy without the anxious feeling I get from marijuana. The effects of the vape were a 10/10 for me.
These are very convenient for a quick feel-good moment. Easily kept and easy to travel with. I did discover that it sometimes requires a charge before emptying. Once charged again it's like brand new all over again. I love Silver Owl products.
yummy
there is something about this flavor that I love! is it great definitely getting it again and more!
Great Product
The Delta 8 disposable from Silver Owl is a great product. It's very convenient and easy to use. Just pull the cap off, and start vaping. The effects are quick to come on and last for a good amount of time. The taste is good, not too harsh or uncomfortable, and has a nice sweet aroma.
Excelente producto!!!!!!
He venido probando Delta 8 por mucho tiempo y hasta ahora los productos de Silver Owl son los mejores que he probado.
Excelente producto!!!!!!!!
He venido probando delta 8 por mucho tiempo y hasta ahora los productos de Silver Owl son los mejores que probado.