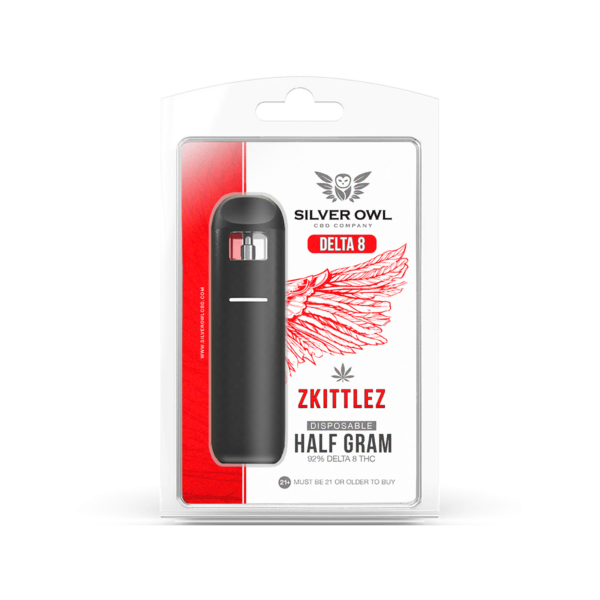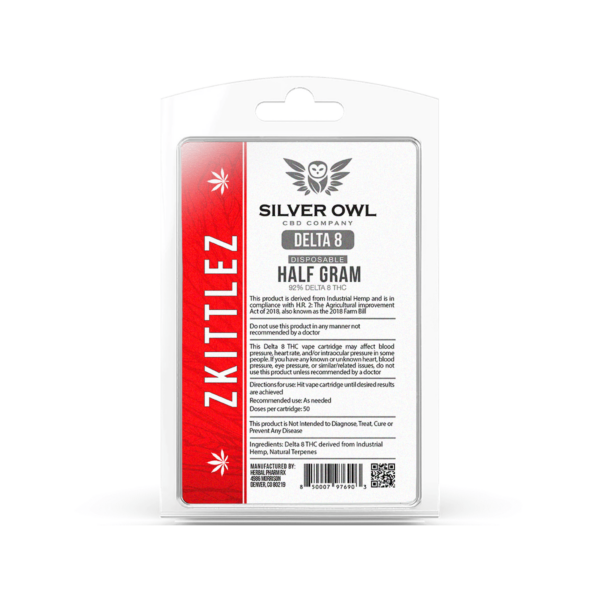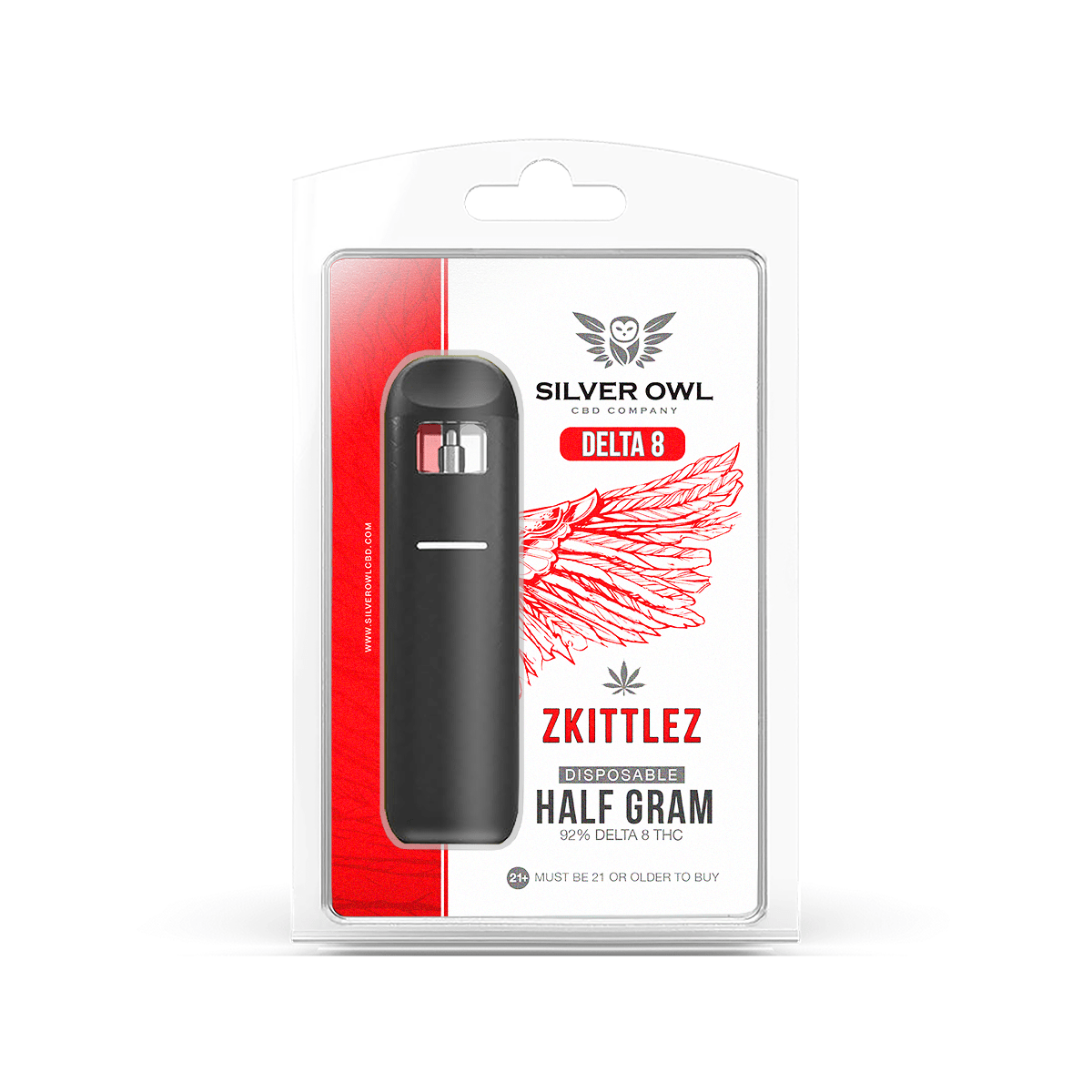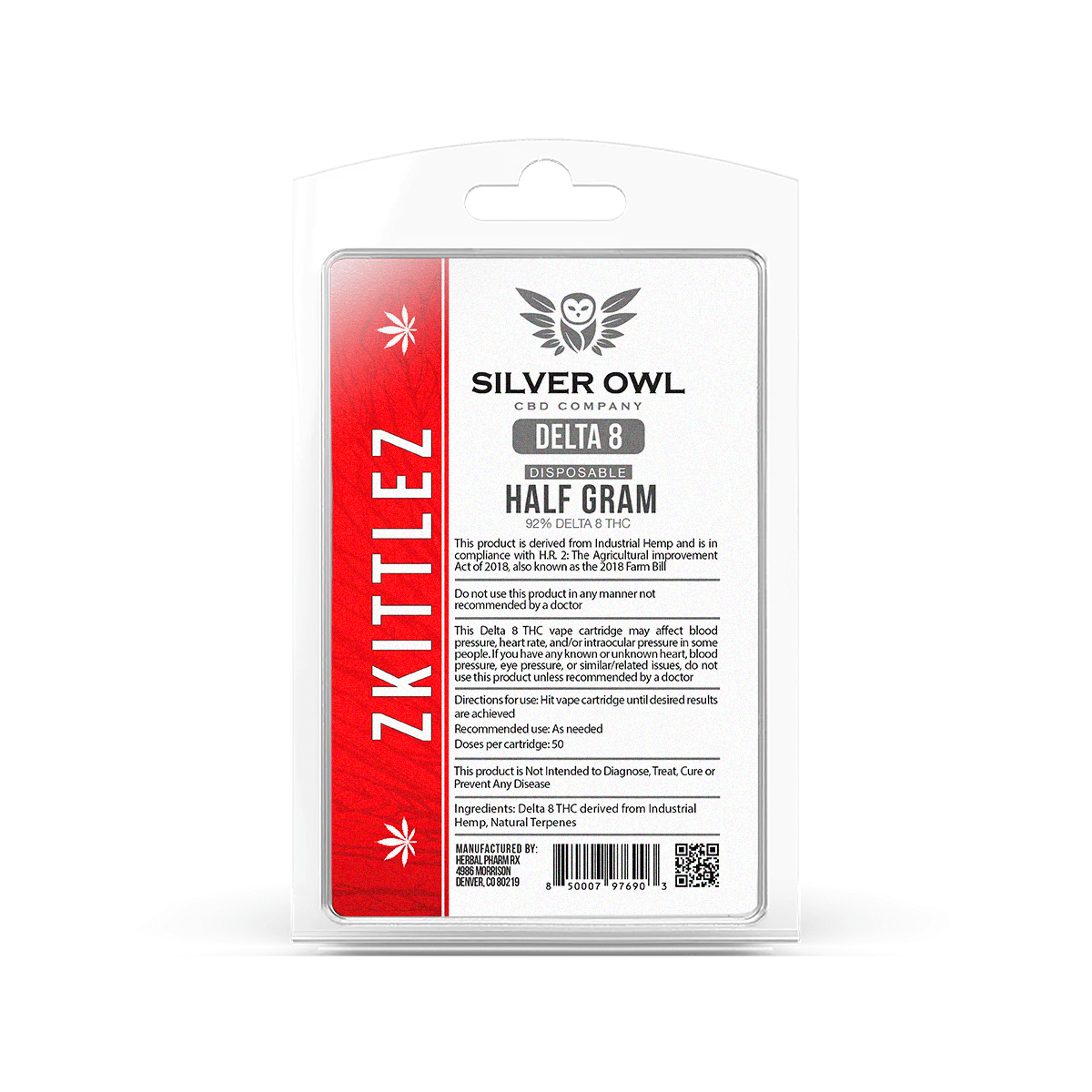 Delta 8 Lite Disposable Zkittlez
Back from the grave for the coming fall: Silver Owl Delta 8 Disposables!
Delta 8 THC (D-8THC) is an analogue and legal alternative to its relative. Unlike the other cannabinoids we've worked with, like CBD and CBG, Delta 8 IS psychoactive- as such we cannot recommend using this before operating any vehicles or heavy machinery. Please exercise caution when using any Delta 8 Products and enjoy responsibly.
Disposable vapes provide the same perks of use as cartridges, but contain a built-in battery so that everything you'll need for a session is entirely self contained. 
We've updated the mix of terpenes we used for our Schittlez CBG Crystals to pull out more of those fruity, sweet notes and have used the new blend to power Silver Owl Delta 8 Zkittlez Disposables. The result is an explosion of delicious vapor that's almost too good to be true!
Strain Used: Skittles (aka Zkittlez)
Parent Strains: Grape Ape and Grapefruit
Lineage: 70% Indica > 30% Sativa
So far very impressed with the product. I use it for insomnia and works fantastic after the initial high. Will definitely be ordering again!
Better Than Anyone
This product was even better than I was hoping it would be. I was feeling great almost immediately. It was easy to use and lasted a while. The flavor was tasty as well. I highly recommend any of the Silver Owl products that I have tried. I will definitely be purchasing this product again.
great!
this is a great flavor, I recommend this product for sure! I am back to get more flavors!!
Delta 8 disposable vape pen is a product that's worth considering. It's one of the most convenient and enjoyable ways to get that much-needed dose of Delta 8 THC.
Perfect for me
Out if the blue I heard about Delta-8 and pure coincidence a guy at Convenience Store starts talking to about THC and new Delta 8 like he was a undercover promoter. I kept thinking about it because years ago I really enjoyed old school 1980s style stoner life but when i got older all the pros of THC went away and were replaced with paranoia etc, no more laughing, just eating and being lazy.
Anyways next day bought the disposable and was so shocked with the coolest mellow high with no bad effects. Even got munchies but not like gluttoness. So, for sensitive systems its great and hope stays legal. Seems too good to be legal in a state with no recreational. I just rambled all that out because i did 2 good vape hits 30 min ago!