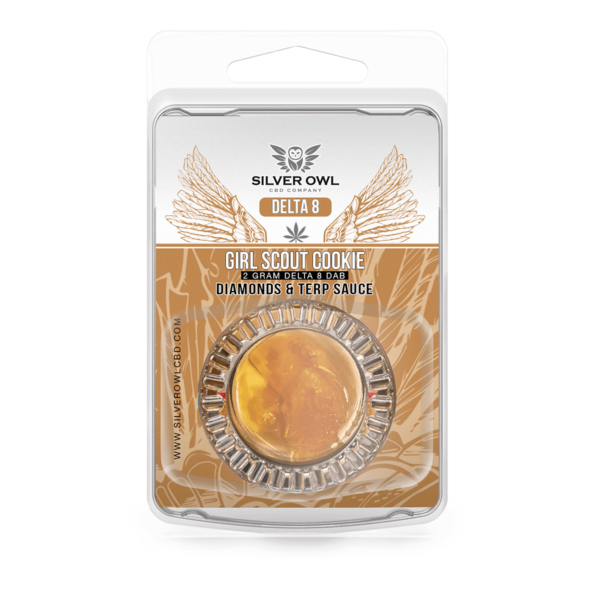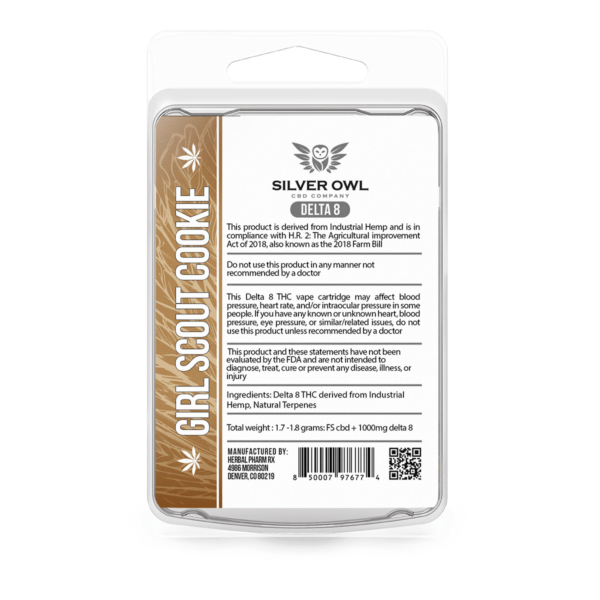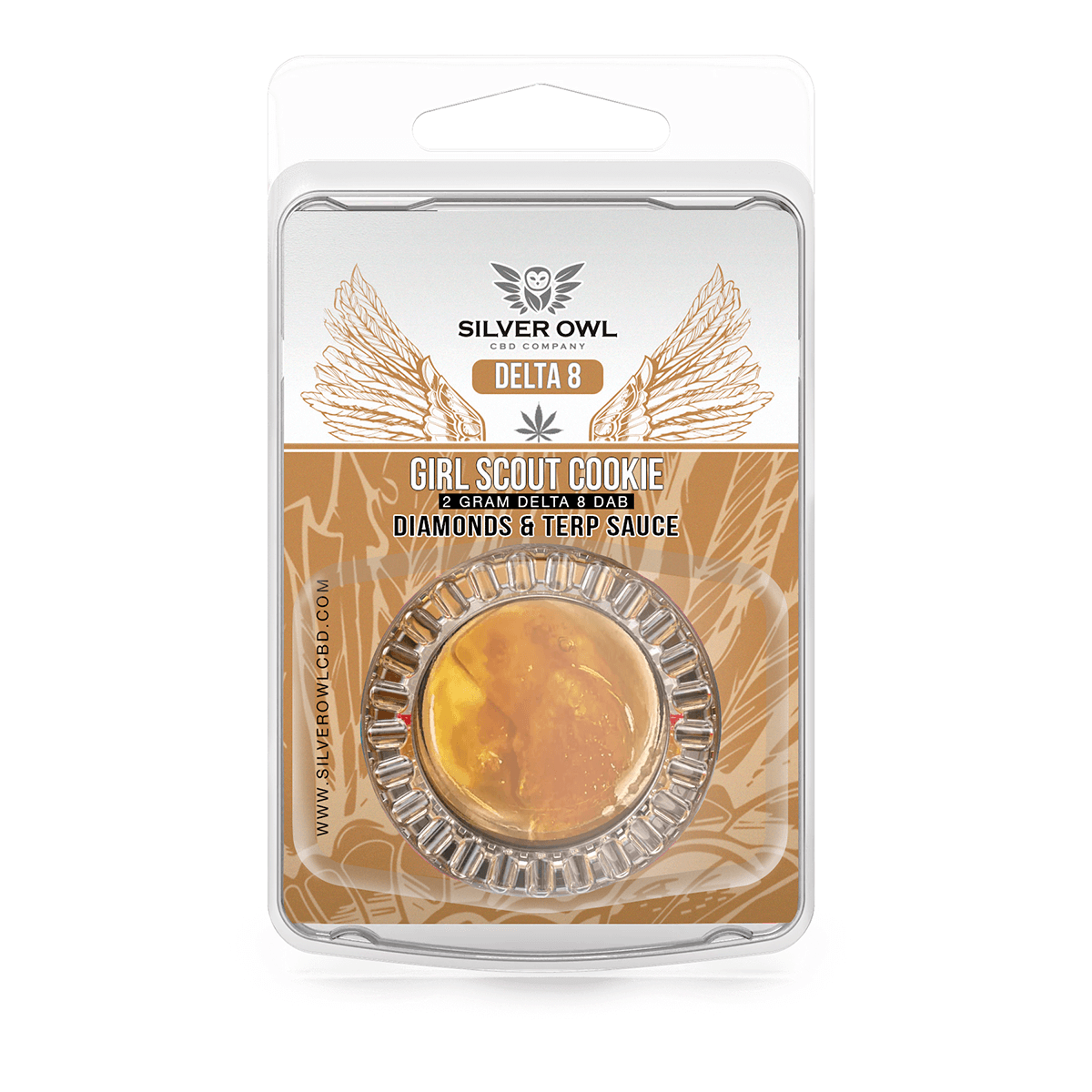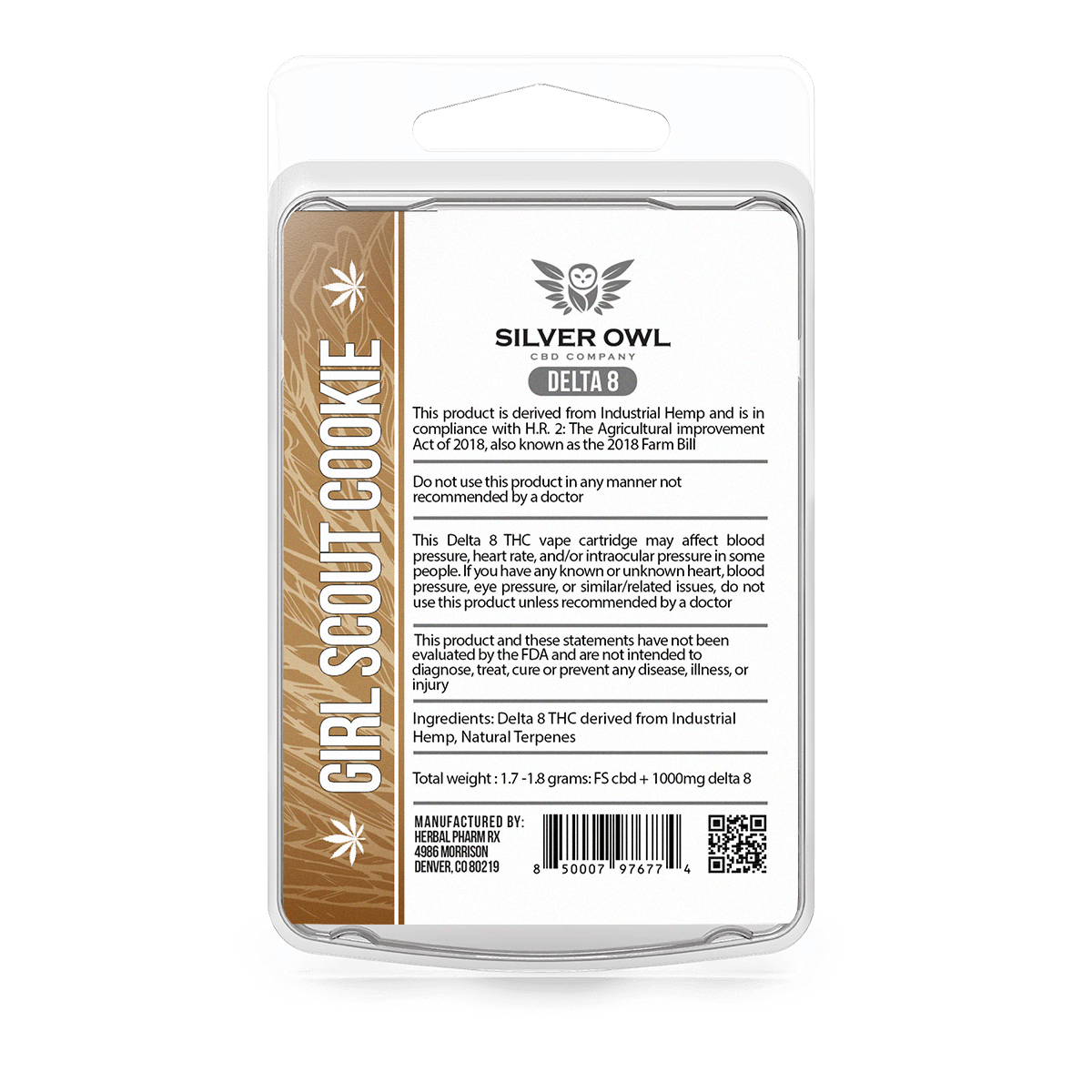 Delta 8 Diamonds in Sauce Girl Scout Cookie 2g
— or subscribe and save up to 20%
Strain Used: Girl Scout Cookie
Parent Strains: OG Kush and Durban Poison
Lineage: 40% Indica < 60% Sativa
Description
Additional information
The Silver Owl CBD Company's recent work with other hemp derived cannabinoids has led to our most exciting release yet: the Silver Owl Delta 8 Line!
Delta 8 THC (D-8THC) is an analogue and legal alternative to its relative. Unlike the other cannabinoids we've worked with, like CBD and CBG, Delta 8 IS psychoactive- as such we cannot recommend using this before operating any vehicles or heavy machinery. Please exercise caution when using any Delta 8 Products and enjoy responsibly.
Dabbing is quickly becoming America's new favorite method of ingesting cannabinoids. And rightfully so- not only are there tons of ways to dab, the flavors are always amazing and the cannabinoids contained are introduced immediately upon the inhale, allowing for swift onset times.
Featuring distillate extracted from the sativa leaning hybrid strain of hemp by the same name mixed with a Full Spectrum Extract and a specially selected blend of terpenes, Silver Owl's Delta 8 Girl Scout Cookie Dabs pack that delicious baked dessert taste with some familiar floral notes that are sure to please!
| | |
| --- | --- |
| Weight | 1 kg |
| Shatter | 1 Gram Shatter |
Yummy Girl Scout cookie!! the best cart I have tried!
Girl Scout cookie is amazing!! taste really good and the high it gives me it amazing as well
Worth the Money
Absolutely wonderful feeling with great taste... Got exactly what I was looking for when I put this in my order... It was well worth the money that I paid for it... I will buy it again and again... I really enjoyed it...
yummy cookie
Girl Scout cookies are amazing!! great stuff! I will get it again!
Delicious
Finally! I have been looking for something like this for so long. It makes me so happy that Silver Owl makes this. Definitely will be visiting this website a lot more.
Delta-8 THC is an excellent start for those looking to try the benefits of cannabis without worrying much about the extreme side effects such as short-term memory loss, paranoia, or anxiety. New users will enjoy the euphoric feeling of being high, mainly being happy and giddy while the effect is still present.
Diamond Girl Scout cookie
this is a great product works amazingly! great for relaxing for sure!!!
Best Delta8 out there
I absolutely loved the relaxing effect the Delta 8 gives me. I recommend people with anxiety or sleeping issues try this product. You won't disappointed.💯💯💯❤️❤️❤️
Amazing
I cant begin to tell you how good this tastes. The effects are amazing. The consistency is amazing. It is just amazing