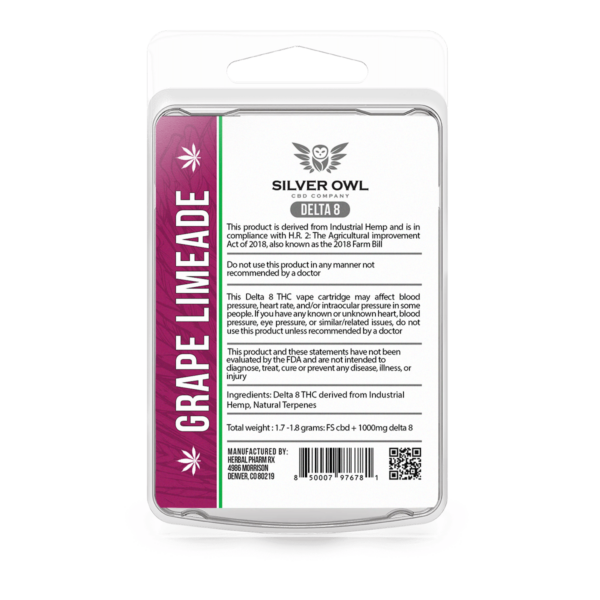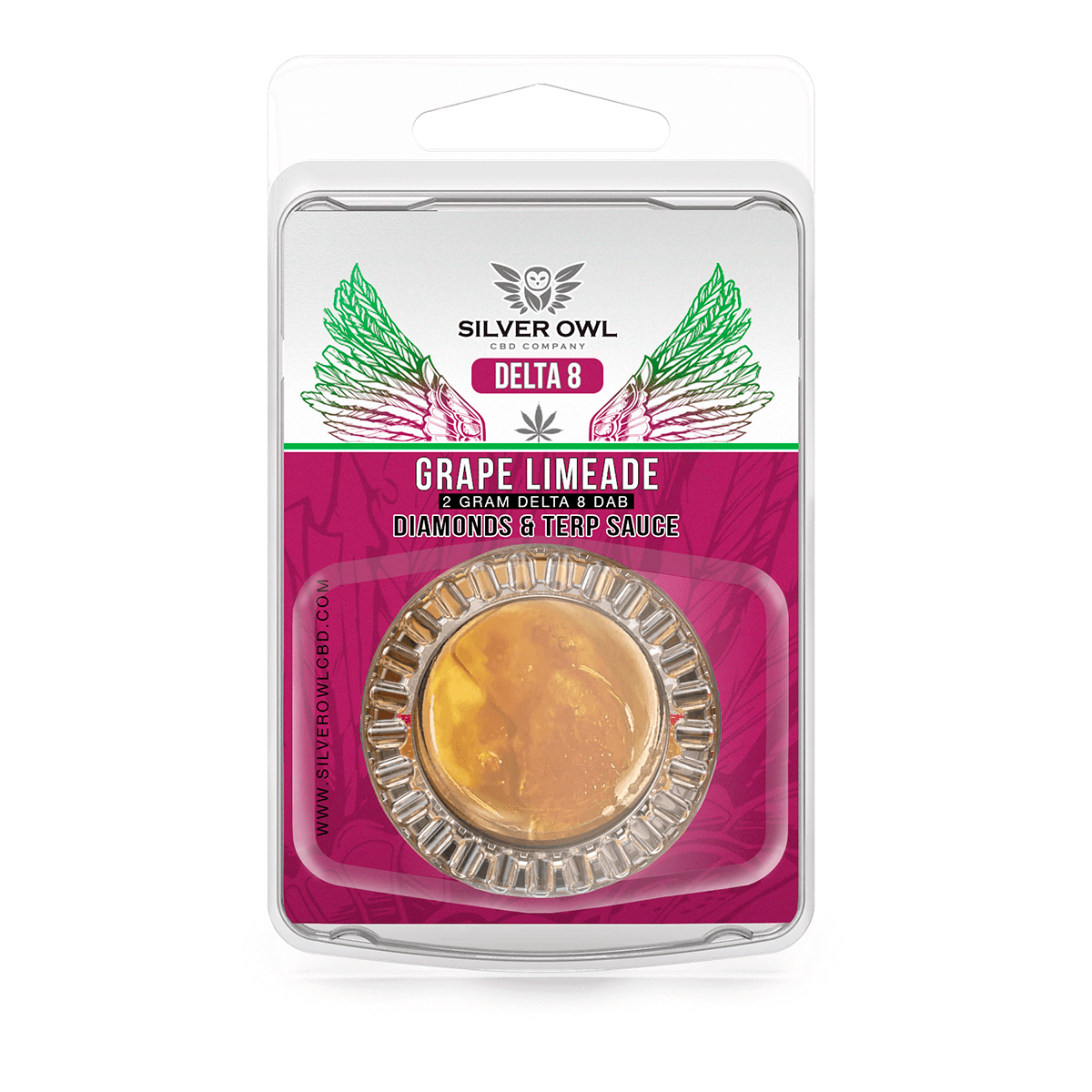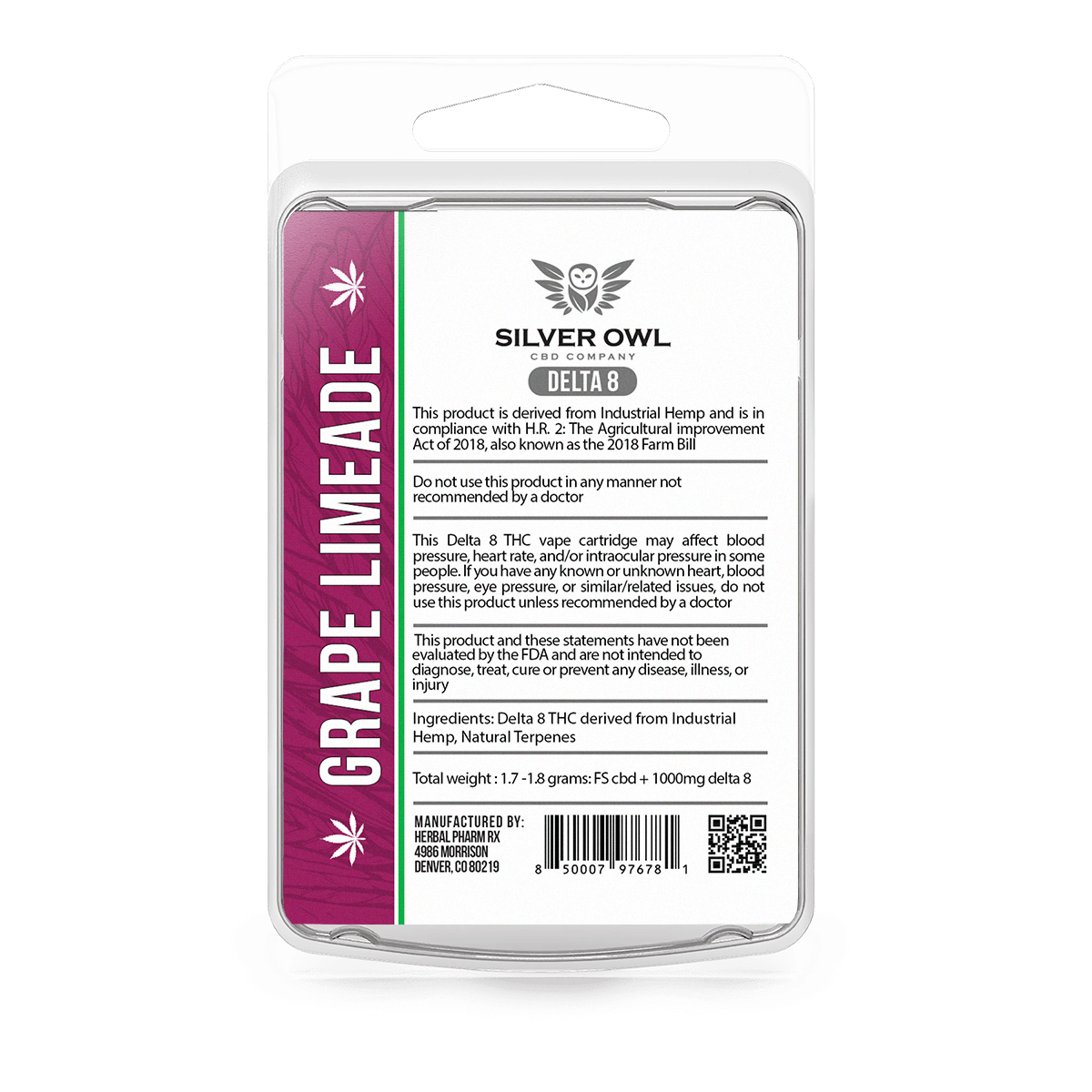 Delta 8 Diamonds in Sauce Grape Limeade 2g
— or subscribe and save up to 20%
Strain Used: Grape Limeade
Parent Strains: Grape Ape and Cherry Limeade
Lineage: 60% Indica > 40% Sativa
Description
Additional information
The Silver Owl CBD Company's recent work with other hemp derived cannabinoids has led to our most exciting release yet: the Silver Owl Delta 8 Line!
Delta 8 THC (D-8THC) is an analogue and legal alternative to its relative. Unlike the other cannabinoids we've worked with, like CBD and CBG, Delta 8 IS psychoactive- as such we cannot recommend using this before operating any vehicles or heavy machinery. Please exercise caution when using any Delta 8 Products and enjoy responsibly.
Dabbing is quickly becoming America's new favorite method of ingesting cannabinoids. And rightfully so- not only are there tons of ways to dab, the flavors are always amazing and the cannabinoids contained are introduced immediately upon the inhale, allowing for swift onset times.
Silver Owl's Delta 8 Grape Limeade Dabs contain distillate and Full Spectrum Extract derived from the Grape Limeade strain of hemp, paired with the same mix of terpenes as their counterparts, Silver Owl CBD and CBG Crystals, for that calming, tropical taste!
Pretty good
Maybe not the hardest hitting dabs, but nice flavor and the price seems fair, definitely will consider buying again
Delta 8 Grape limeade is such great flavor! great to hit so smooth!!
My daughter recommended me this flavor when she recommended me this website, and this is such a good flavor for sure!!
PTSD
I have been using the dabs ever since I discovered them, I'm a disabled vet your product works great for pain anxiety, and PTSD! I find that it works better for me than regular marijuana and marijuana extract, your product as far as I am concerned is a godsend keep up the good work.
LOVE IT!!
this one tasted good! I love the high I get from Delta sooo yummy
I cant get enough of this flavor. I wasnt sure about Grape and Lime but it is so refreshing and such a smooth lovely flavor that this is now one of my favorite flavors. Dont let this one get by you. It is truly amazing.
DO IT! GET IT!
Love it! flavor and all. it has an amazing flavor and it has an amazing feeling after smoking it as well and I really love it!!!!!!!
HIGHLY recommend!
Works great!
the flavor on these diamonds are outstanding! great hit nice and smooth it doesn't burn your chest like most others will and the feeling it give is also amazing!!