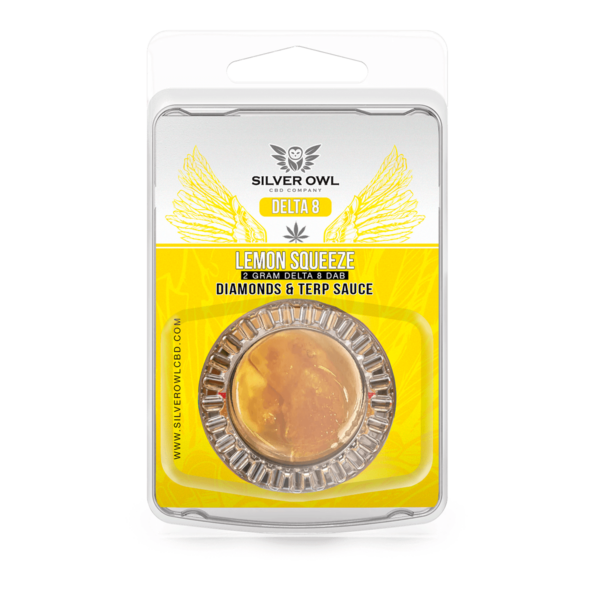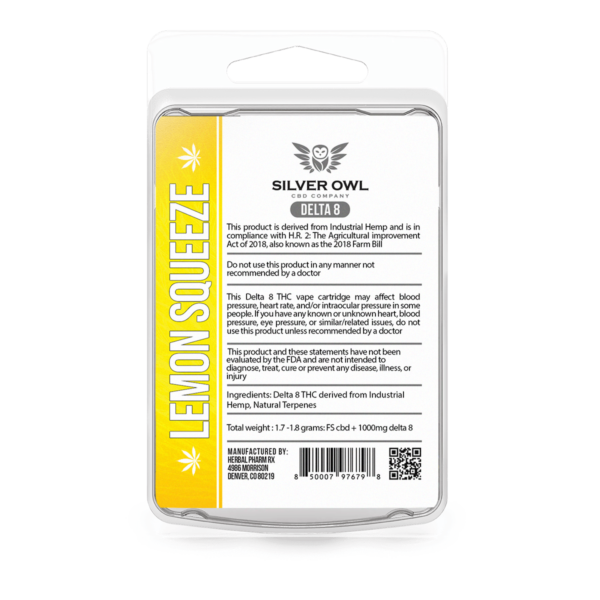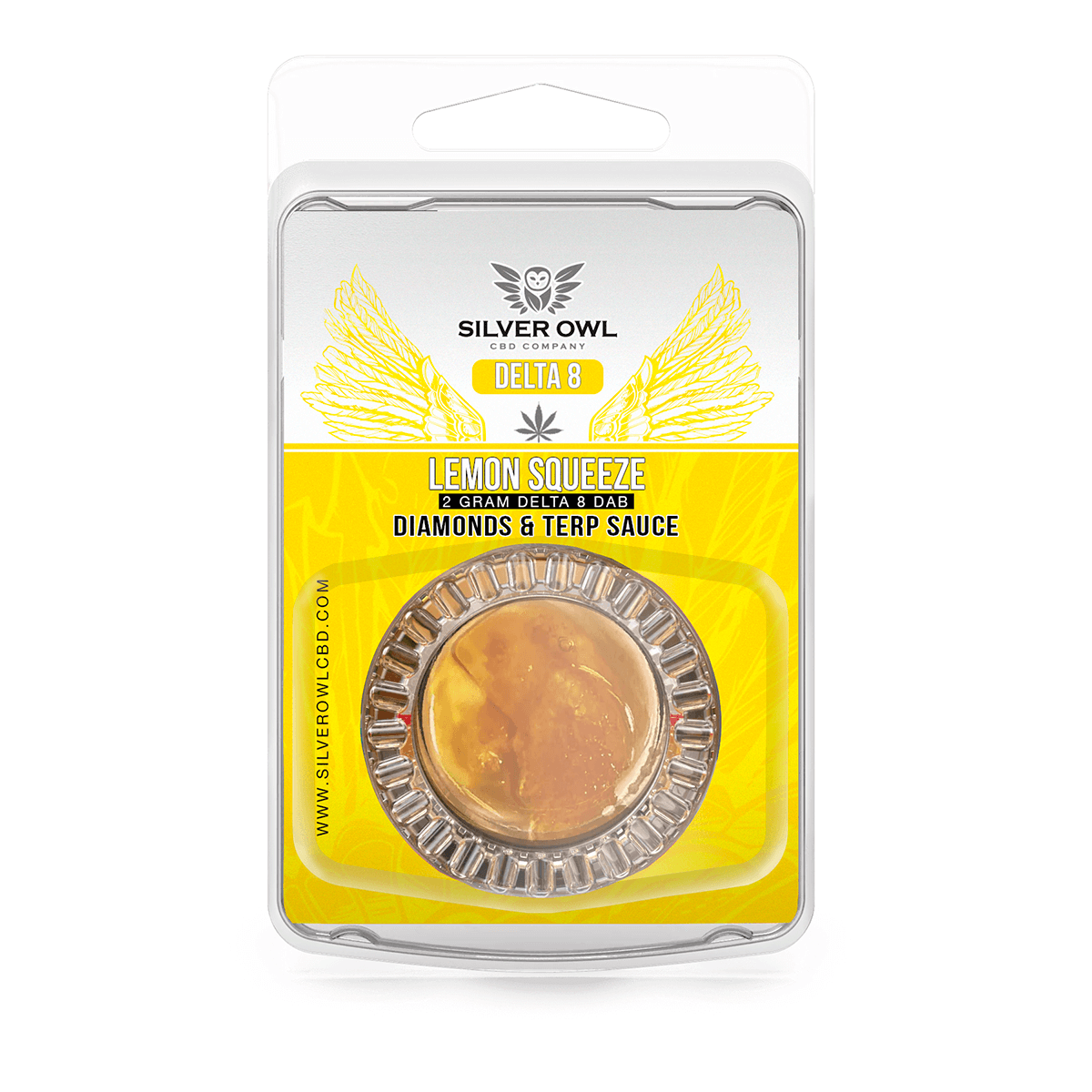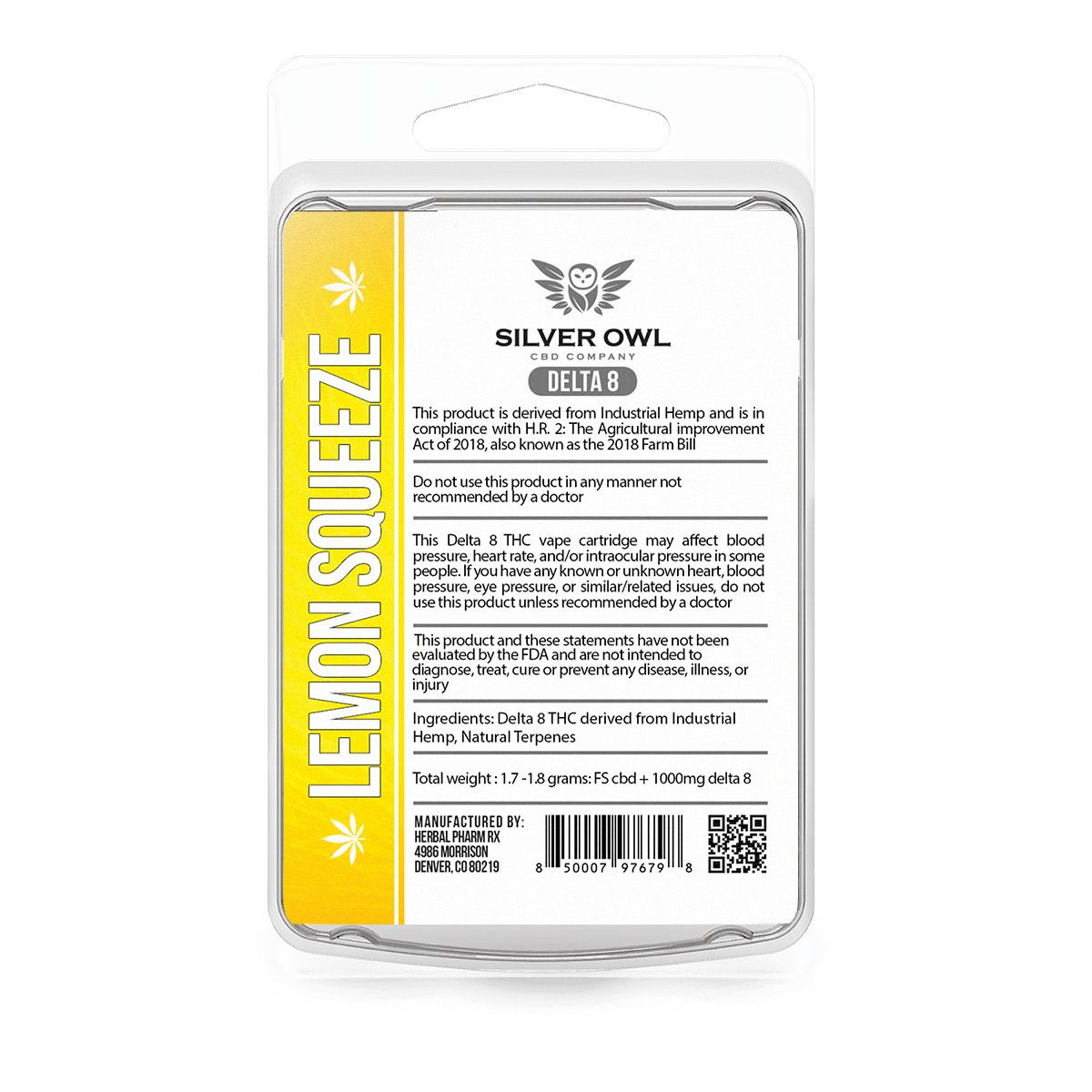 Delta 8 Diamonds in Sauce Lemon Squeeze 2g
— or subscribe and save up to 20%
Strain Used: Lemon Squeeze
Parent Strains: OG Lime Kush, Chemdawg D and Sour Diesel
Lineage: 75% Indica > 25% Sativa
Description
Additional information
The Silver Owl CBD Company's recent work with other hemp derived cannabinoids has led to our most exciting release yet: the Silver Owl Delta 8 Line!
Delta 8 THC (D-8THC) is an analogue and legal alternative to its relative. Unlike the other cannabinoids we've worked with, like CBD and CBG, Delta 8 IS psychoactive- as such we cannot recommend using this before operating any vehicles or heavy machinery. Please exercise caution when using any Delta 8 Products and enjoy responsibly.
Dabbing is quickly becoming America's new favorite method of ingesting cannabinoids. And rightfully so- not only are there tons of ways to dab, the flavors are always amazing and the cannabinoids contained are introduced immediately upon the inhale, allowing for swift onset times.
With the same terpene powered citrus candy flavors as our CBD and CBG Crystals supporting distillate and Full Spectrum Extract derived from the Lemon Squeeze strain of hemp, Silver Owl's Delta 8 Lemon Squeeze Dabs might be our fruitiest flavor in the line!
Lemon is such an amazing flavor!!
these dabs are so so good!! I love the high this delta 8 gives me
Yummy lemon squeeze I love how it tastes!! the hit is so smooth too!!
Try It
I ordered a gram of the Lemon Squeeze. Compared to the THC dabs I get from my medical dispensary, I actually like these better. I did have an uplifting feeling after taking a couple of dabs. The smell is nice. Not as many coughs as compared to the carts. Anyways, I recommend at least trying this so you can judge for yourself.
Yummy!!!
I bought this and the lemon squeeze cart at the same time three days ago and let's just say that I'm already gonna have to buy more.
amazing flavor!!
The flavor on this guy is amazing! I love it! the high on this guy is so smooth
alright, so these dabs are killer. they taste amazing and if you are someone like me you will be able to enjoy so decent tasting reclaim after cleaning your glass... or if thc just doesnt sit well with you then you can enjoy a little more subtle buzz.
Very relaxing and mellow effects, the strength is definitely up there and can get you coughing. Along with that, these concentrates give a very fascinating taste. Smooth, sweet, and flavorful, it definitely gave me a good experience. This Lemon flavor tastes like a summer day at the pool. AMAZING!!!
will buy again!
I don't typically like lemon flavor anything but I like to try things, I LOVE these Lemon Diamond! will definitely get these Lemon dabs again!!!!
Great Experience
I had a really well and easy shopping experience and everything was so quick
These dabs smells absolutely AMAZING tastes amazing works amazing as well!
this product is just AMAZING all around best pick I could have made!