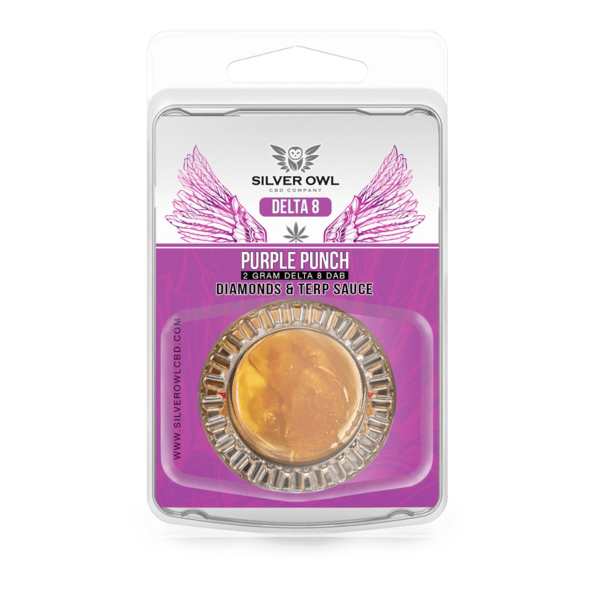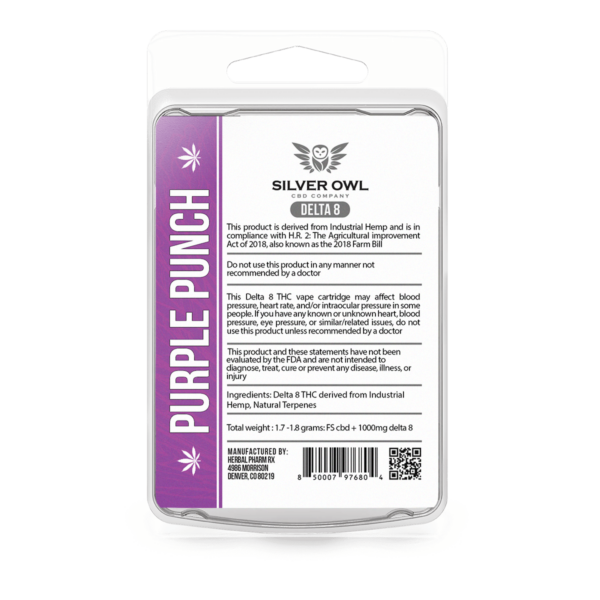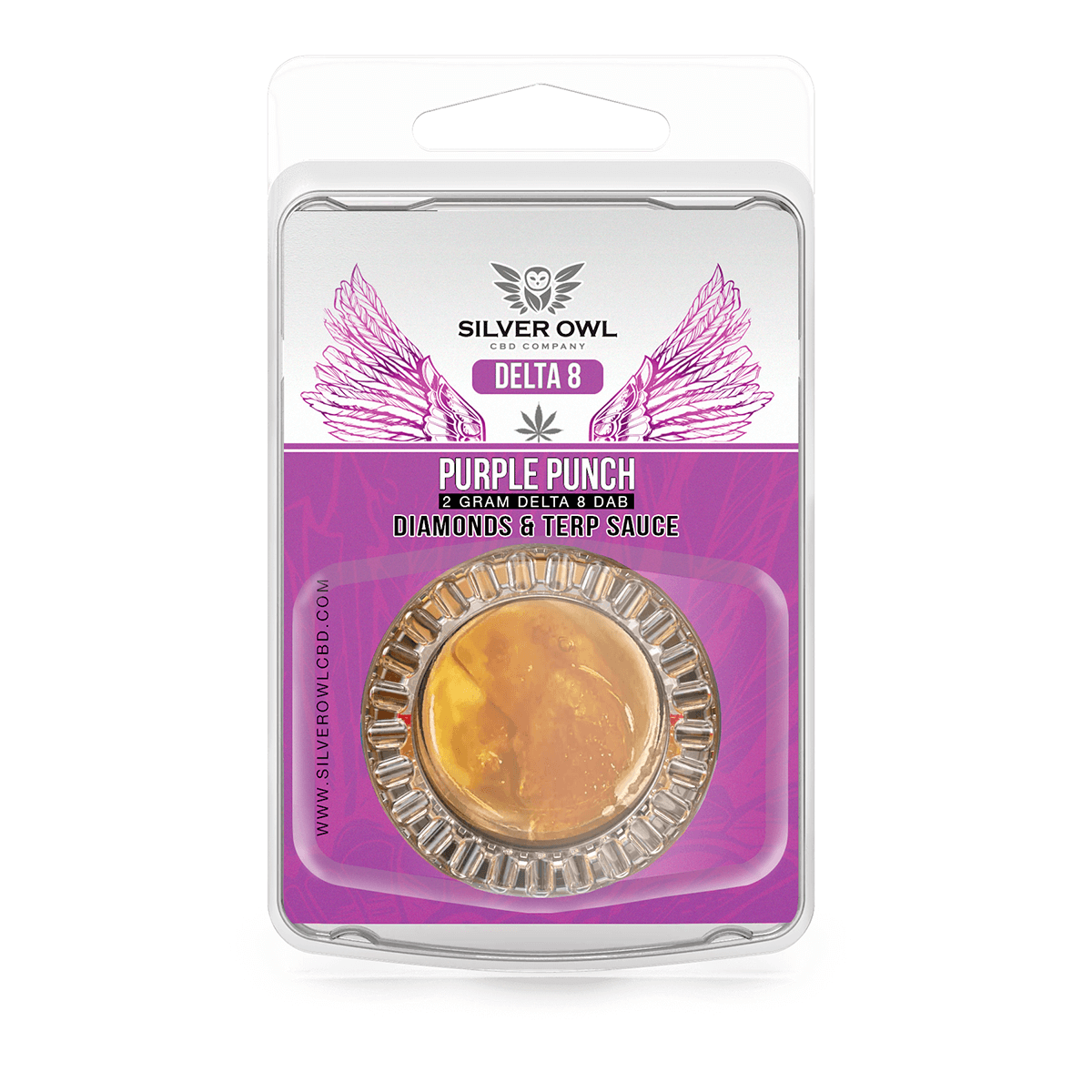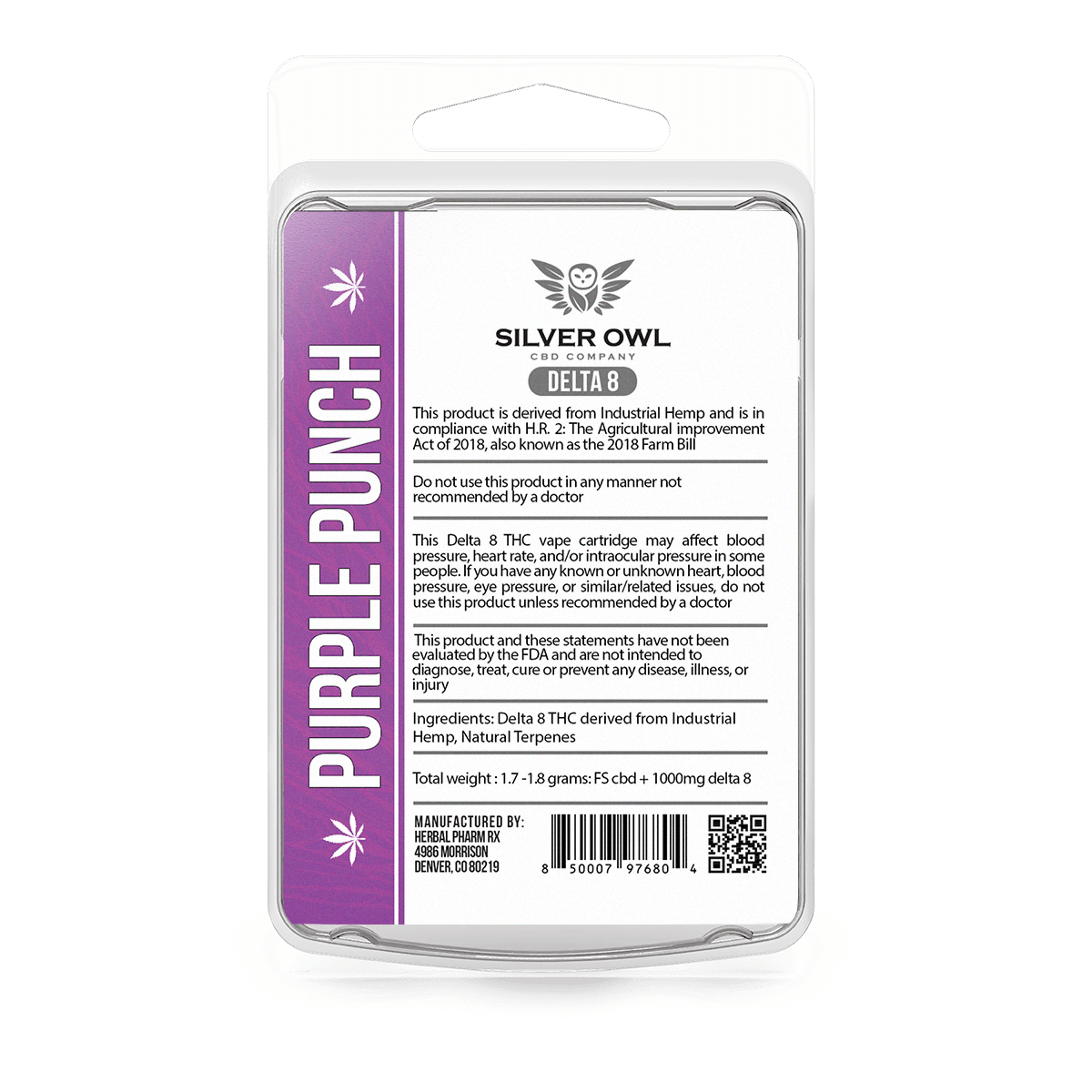 Delta 8 Diamonds in Sauce Purple Punch 2g
— or subscribe and save up to 20%
Strain Used: Purple Punch
Parent Strains: Granddaddy Purple and Larry OG
Lineage: 80% Indica > 20% Sativa
Description
Additional information
The Silver Owl CBD Company's recent work with other hemp derived cannabinoids has led to our most exciting release yet: the Silver Owl Delta 8 Line!
Delta 8 THC (D-8THC) is an analogue and legal alternative to its relative. Unlike the other cannabinoids we've worked with, like CBD and CBG, Delta 8 IS psychoactive- as such we cannot recommend using this before operating any vehicles or heavy machinery. Please exercise caution when using any Delta 8 Products and enjoy responsibly.
Dabbing is quickly becoming America's new favorite method of ingesting cannabinoids. And rightfully so- not only are there tons of ways to dab, the flavors are always amazing and the cannabinoids contained are introduced immediately upon the inhale, allowing for swift onset times.
Featuring an updated blend of terpenes from our classic CBD Crystals paired with distillate and Full Spectrum Extract derived from the Purple Punch strain, Silver Owl Delta 8 Purple Punch Dabs are a delightful mix of sweet on the inhale and spicy on the exhale!
Purple Punch!
yummy I love this delta 8! How smooth the hit is, is amazing!!
I love this so much the delta 8 gives me such a relax feeling but I can still do stuff around the house!!
The best!!
I have tried lots of their stuff by now and they never seem to fail me!! always work !!
purple punch
This delta 8 dab gives me a really good high I like it a lot
Works great! Very relaxing :) good quality and a good buzz. What more could you ask for. I will purchase again.
Love it
Yummy purple punch! tasted to good and the high I had after smoking it... Spot on!!
I must say these diamonds are better than any d8 concentrate I have used on the market. Very potent true to strain buzz that is very enjoyable. Keep up the good work Silver Owl.
awesome
This has such good flavor and it is so smooth!
good stuff
The taste on this stuff is awesome! it's so smooth to hit!
These crystals are amazing. They give you a great boost. The high is much milder than THC without any paranoia. These work great.