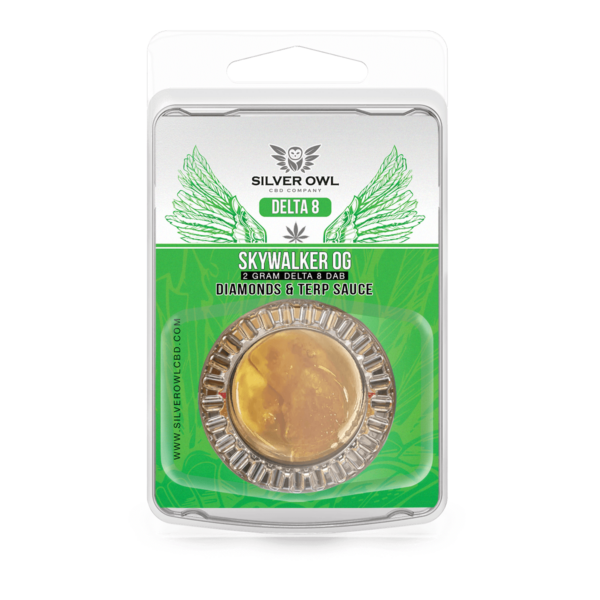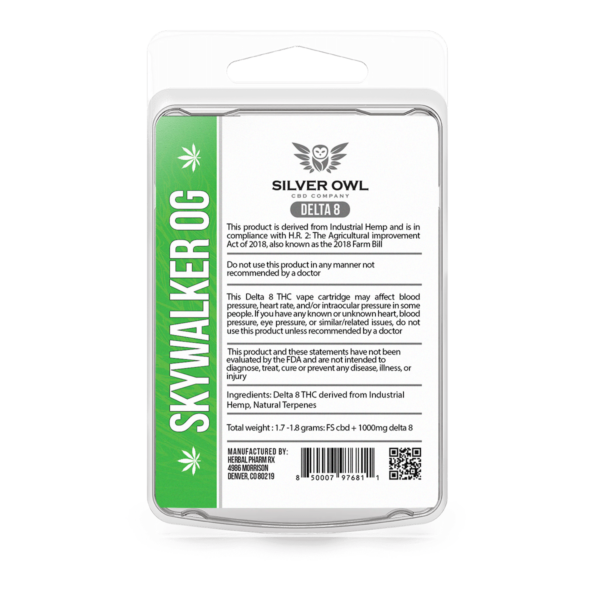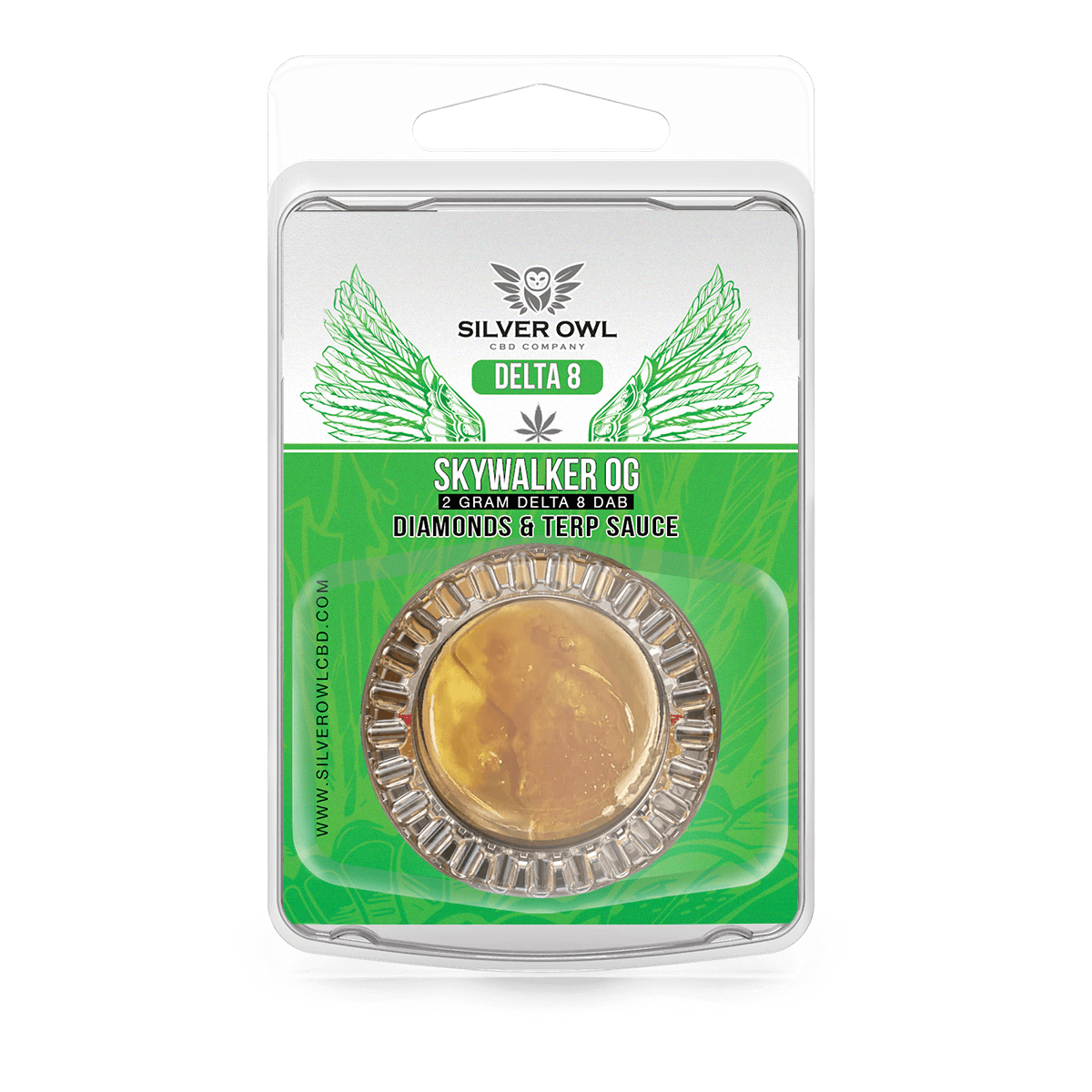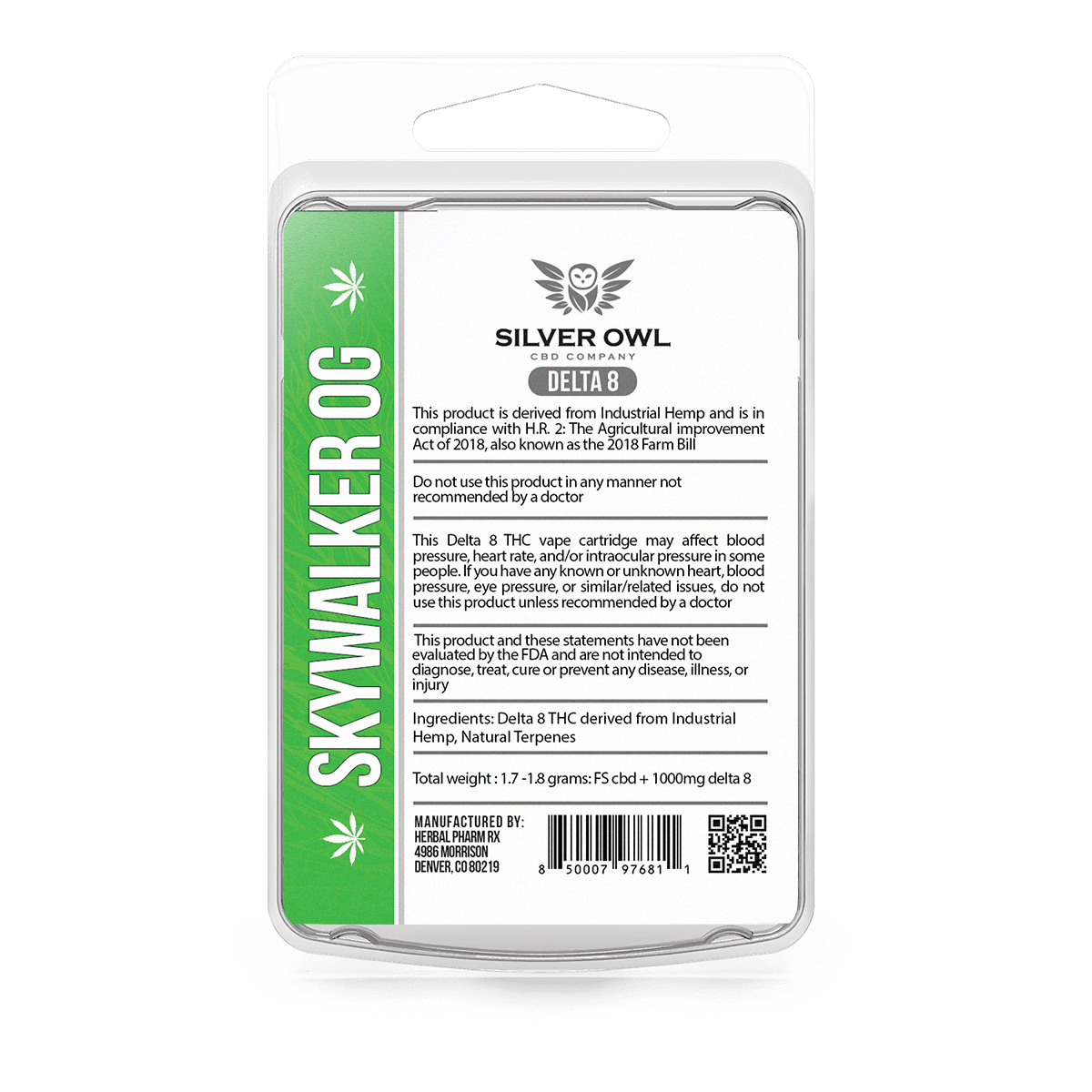 Delta 8 Diamonds in Sauce Skywalker OG 2g
— or subscribe and save up to 20%
Strain Used: Skywalker OG
Parent Strains: Mazar and Blueberry OG
Lineage: 55% Indica > 45% Sativa
Description
Additional information
The Silver Owl CBD Company's recent work with other hemp derived cannabinoids has led to our most exciting release yet: the Silver Owl Delta 8 Line!
Delta 8 THC (D-8THC) is an analogue and legal alternative to its relative. Unlike the other cannabinoids we've worked with, like CBD and CBG, Delta 8 IS psychoactive- as such we cannot recommend using this before operating any vehicles or heavy machinery. Please exercise caution when using any Delta 8 Products and enjoy responsibly.
Dabbing is quickly becoming America's new favorite method of ingesting cannabinoids. And rightfully so- not only are there tons of ways to dab, the flavors are always amazing and the cannabinoids contained are introduced immediately upon the inhale, allowing for swift onset times.
Featuring distillate, Full Spectrum Extract and terpenes derived from the strain of the same name, Silver Owl Delta 8 Skywalker OG Dabs taste like the real deal and are a "Force" to be reckoned with!
Tried All
I've tried all the flavors of Silver Owl Delta 8 Wax Dabs and Skywalker OG was my favorite ‼️ The taste was great with a mellow head high and a slight body buzz. With all the flavors I could take a big hit, hold it, and wasn't forced to cough during or after the exhale... My interactions with Silver Owl's customer service were pleasant to work with and helped me with post-buy questions.
All in All, I had a great experience🤘😁
Yummy
Delta 8 is amazing!! the feeling it give me is better than what I used to smoke for sure!!
Thank you
I am super impressed with this product. It has an excellent taste of flavor. I do recommend it. Above all, it packs a punch that gives more power to the various strains of flower from Silver Owl CBD Thank you again and again.
Yum yum
these are so yummy! they give you a different high that I like better than thc
Sky walker!
These delta 8 dabs are so effective!! I love the way it makes me feel! delta 8 is stronger than regular thc and it feel great!!
Skywalker OG
Not gonna lie, I only got this because it reminded me of Star Wars, but… it was like the best decision I ever made!
This is so damn good!
SKYWALKER
Yummy stuff!! the way this stuff hits me is amazing!!
I have been a daily smoker of THC for years now but something happened in my brain and it started giving me anxiety and panic attacks. I switched to Silver Owl Delta 8 Crystals and they are amazing. I still get high I am looking for without all the side effects. This product is truly a game-changer in the industry. I love that I can still function, go to work and get things done as opposed to THC which would make me tired, unfocused, and paranoid. I LOVE LOVE LOVE this product. It has been a life saver.
Amazing
Honestly this is one of the most amazing things I've tried definelty would recommend to others and would most definitely purchase this flavor among others as well!!!
Potent, flavor profile needs work
The product is truly amazing, potent as can be and CLEAN. My only concern with this product are the terps/sauce used. I'm not sure if its a mix made to emulate Skywalker OG or if its just the way Delta-8 tastes with true strain specific Skywalker, but the smell is definitely off strain.