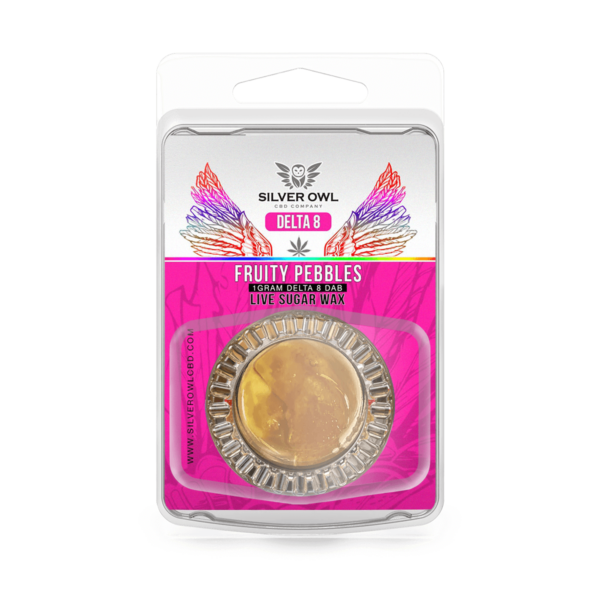 Delta 8 Live Sugar Wax Fruity Pebbles
$39.99 — or subscribe and save up to 20%
The national popularity of Delta 8 has exploded over the course of 2020 and the first few months of 2021. True to our word, we've been playing around with all kinds of new concepts featuring this hemp derived cannabinoid and one of our little science experiments is ready for the world: Silver Owl Delta 8 Live Sugar Waxes!
Live Resin Sugar Waxes, or "Live Sugars" as they're more commonly known, are produced through a distinctively unique process. We start by harvesting whole industrial hemp plants and freezing them as soon as their stocks are separated from their trunks. This has the benefit of naturally preserving more of the hemp's terpenes for the full spectrum extraction.
Once we have the raw form of our Full Spectrum Live Resin produced we add additional terpenes and Delta 8 to the mix, then employ several techniques during the post-processing stage to achieve the desired consistency. The end result looks like a white cake batter made of tiny, clear sugar granules- and it's always delicious!
With this line we're introducing two new dessert inspired flavors to our family of products. Featuring a special mix of terpenes hand-picked to provide that classic cereal taste, Silver Owl Fruity Pebbles Delta 8 Live Sugar Waxes start with a mix of citrus, berry and tropical fruit notes on the inhale and end with a mild, sugary aftertaste on the exhale. There's a slight potential for some couch lock with this flavor, but if you become one with your furniture you can expect to have a mentally stimulated and creative time in between the cushions. Just make sure to bring a sketch pad on your journey to the center of the sofa!
Strain Used: Alien Kush (Las Vegas Purple Kush x Alien Dawg)
Indica/Sativa Ratio: 60% Indica / 40% Sativa
Full Spectrum Live Resin (CBD And CBG Dominant) Contents: 400mg
Delta 8 Distillate Contents: 500mg
Additional Terpene Contents: 100mg
—–
*Please be aware: due to the current legal classification of Delta 8 THC in some regions, we cannot ship Silver Owl Delta 8 products- including Delta 8 Hemp Flower- to the following states at this time: 
Alaska, Arizona, Arkansas, Colorado, Delaware, Idaho, Iowa, Mississippi, Montana, New York, Rhode Island, Vermont, and Utah
—–
Disclaimers:
*You must be 21 years of age or older to buy ALL Silver Owl CBD Company Products, including Silver Owl Delta 8 products. Please keep out of reach of minors.
*Silver Owl Delta 8 products are derived from Industrial Hemp and are in compliance with H.R. 2: The Agricultural Improvement Act of 2018, also known as the 2018 Farm Bill.
*Silver Owl Delta 8 products contain less than 0.3% Delta 9 THC, in compliance with all applicable federal and state laws.
*Silver Owl Delta 8 products are psychoactive and should not be used by anyone who is pregnant, breastfeeding or otherwise adverse to ingesting Delta 8 THC or trace amounts of Delta 9 THC.
*If you are concerned about ingesting cannabinoids, including trace amounts of Delta 9 THC, please consult your physician or other licensed medical professional prior to using Silver Owl Delta 8 products.
*Silver Owl Delta 8 products may affect blood pressure, heart rate and/or intraocular pressure in some people. If you have any known or unknown heart, blood pressure, eye pressure, or similar/related issues- or if you are at risk of developing such conditions- do not use these products unless recommended by a doctor.
*Unless otherwise specified, Silver Owl products are not intended for animal use. While Silver Owl CBD Pet Oil, Dog Treats and other such products in our pet line use animal friendly ingredients, some of the ingredients found in our other products could prove harmful or even fatal if consumed by an animal. Please contact your nearest emergency veterinarian services if you suspect your pet has consumed a Silver Owl CBD Company product not intended for their use.
*These products and statements have not been evaluated by the Food and Drug Administration (FDA) and are not intended to diagnose, treat, cure, prevent or otherwise manage any disease, illness, injury or similar condition.
Such a sweet yummy flavor Fruity Pebbles!!
get it!!
this sugar dabs are so yummy I can't get enough of it!!
Got this flavor as well!
this is such a good flavor!! I will be getting more ASAP
Great wake and bake
Love this flavor, its hard finding amazing cereal flavors, that aren't harsh or flavourful!!! Must have
Fruity Pebbles is such a yummy flavor!!
High Quality
Very fast shipping. High-quality delta8 with a great feel that lasts hours. Very happy with this product!
amazing sugar wax!!
Fruity Pebbles?! I wasn't expecting it to tastes as good as it did!!
Awesome
This strain literally makes it taste like I just had a mouthful of cereal! Bought this twice already and both were good quality and consistent.
Great Customer Service
Thought it was a little empty when I got it. Sent an email to their customer service to ask for a refund. They explained that the full amount was there, and I found this to be true when I compared it against other live waxes I bought. They still offered to exchange the wax if I wanted and were very nice and professional, but I decided to keep it. Glad I did, it was smooth and tasty.
This stuff smells so good!!
This is by far my favorite flavor! love it! it helps with relieving my anxiety at the end of the day, and when I am about to go do something that I know if going tomes with me I smoke this and I feel so much better