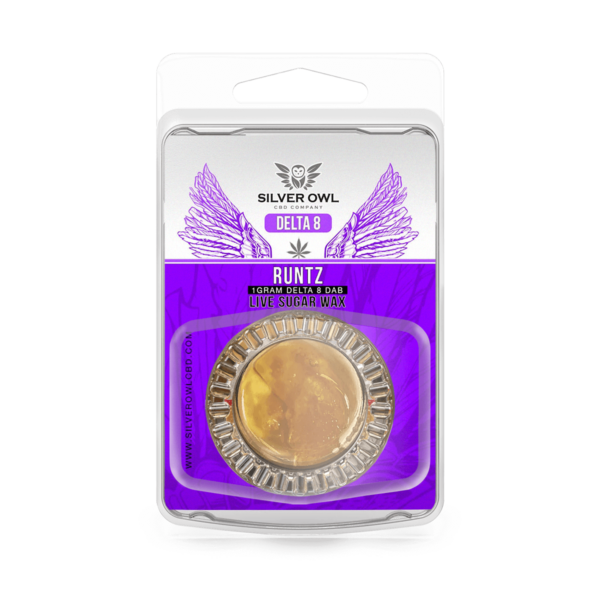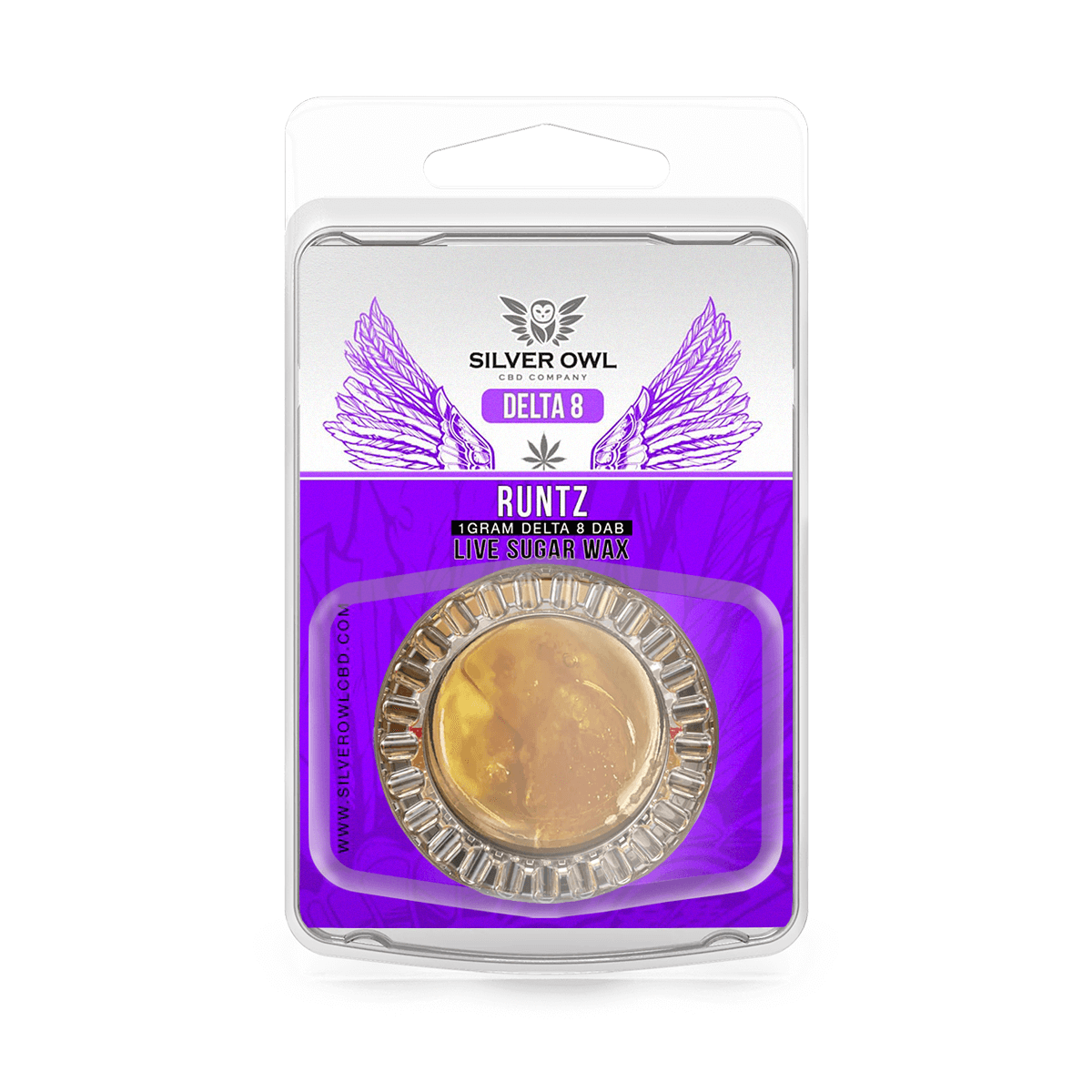 Delta 8 Live Sugar Wax Runtz
$39.99 — or subscribe and save up to 20%
The national popularity of Delta 8 has exploded over the course of 2020 and the first few months of 2021. True to our word, we've been playing around with all kinds of new concepts featuring this hemp derived cannabinoid and one of our little science experiments is ready for the world: Silver Owl Delta 8 Live Sugar Waxes!
Live Resin Sugar Waxes, or "Live Sugars" as they're more commonly known, are produced through a distinctively unique process. We start by harvesting whole industrial hemp plants and freezing them as soon as their stocks are separated from their trunks. This has the benefit of naturally preserving more of the hemp's terpenes for the full spectrum extraction.
Once we have the raw form of our Full Spectrum Live Resin produced we add additional terpenes and Delta 8 to the mix, then employ several techniques during the post-processing stage to achieve the desired consistency. The end result looks like a white cake batter made of tiny, clear sugar granules- and it's always delicious!
With this line we're introducing two new dessert inspired flavors to our family of products. Of the two, Silver Owl Runtz Delta 8 Live Sugar Waxes might be the wildest dabs we've ever made! We utilize the Runtz strain- known as Leafly's Strain of the Year in 2020 due to its unique bursts of flavor, vivid colors expressed during growth and smooth, mellow hits- and a blend of terpenes formulated to better produce that nostalgic flavor from one of the 90's most popular candies.
There's a kicker to this product: though some of our Runtz phenotypes maintain a 50/50 balance in their Indica/Sativa Ratio, others vary pretty wildly and can yield a 75% lean in either direction. This means that Silver Owl Runtz Delta 8 Live Sugar Waxes can be a bit of a wild card in terms of effects, but generally produce physically relaxing and mentally euphoric effects. If you're down to be surprised and would like to play a delicious guessing game, hit that Runtz!
Strain Used: Runtz (Zkittlez x Gelato)
Indica/Sativa Ratio: 50% Indica / 50% Sativa* (Can vary up to 25/75 or 75/25)
Full Spectrum Live Resin (CBD And CBG Dominant) Contents: 400mg
Delta 8 Distillate Contents: 500mg
Additional Terpene Contents: 100mg
—–
*Please be aware: due to the current legal classification of Delta 8 THC in some regions, we cannot ship Silver Owl Delta 8 products- including Delta 8 Hemp Flower- to the following states at this time: 
Alaska, Arizona, Arkansas, Colorado, Delaware, Idaho, Iowa, Mississippi, Montana, New York, Rhode Island, Vermont, and Utah
—–
Disclaimers:
*You must be 21 years of age or older to buy ALL Silver Owl CBD Company Products, including Silver Owl Delta 8 products. Please keep out of reach of minors.
*Silver Owl Delta 8 products are derived from Industrial Hemp and are in compliance with H.R. 2: The Agricultural Improvement Act of 2018, also known as the 2018 Farm Bill.
*Silver Owl Delta 8 products contain less than 0.3% Delta 9 THC, in compliance with all applicable federal and state laws.
*Silver Owl Delta 8 products are psychoactive and should not be used by anyone who is pregnant, breastfeeding or otherwise adverse to ingesting Delta 8 THC or trace amounts of Delta 9 THC.
*If you are concerned about ingesting cannabinoids, including trace amounts of Delta 9 THC, please consult your physician or other licensed medical professional prior to using Silver Owl Delta 8 products.
*Silver Owl Delta 8 products may affect blood pressure, heart rate and/or intraocular pressure in some people. If you have any known or unknown heart, blood pressure, eye pressure, or similar/related issues- or if you are at risk of developing such conditions- do not use these products unless recommended by a doctor.
*Unless otherwise specified, Silver Owl products are not intended for animal use. While Silver Owl CBD Pet Oil, Dog Treats and other such products in our pet line use animal friendly ingredients, some of the ingredients found in our other products could prove harmful or even fatal if consumed by an animal. Please contact your nearest emergency veterinarian services if you suspect your pet has consumed a Silver Owl CBD Company product not intended for their use.
*These products and statements have not been evaluated by the Food and Drug Administration (FDA) and are not intended to diagnose, treat, cure, prevent or otherwise manage any disease, illness, injury or similar condition.
yeah!
Runtz is such a good one! I smoke it everywhere I go!
this is such an amazing company I have been ordering from them for so long now and they will take care of you if anything happened to your order or something else they are the best for sure!!
Amazing
Best Runts flavor!!! When you open up the sugar wax up you can smell the amazing aroma from these dabs!!!!
Grateful!!!
The best! The smell and look of the products are to die for! You can instantly feel the effects as soon as you inhale. This is about as close to the real thing as it gets. I highly recommend this! If you can buy in bulk, do it! It's way cheaper. Thanks, Silver Owl for keeping me sane while I am stuck in a backward ass state that won't legalize it. Delta8 has really saved me. I have severe nerve damage and back issues. I am now 31 and had my first back surgery at 14 so it's safe to say I know a thing or two about pain. Delta 8 products have taken the edge off and I will be forever grateful for that?
Great Experience
I love this company so so much! I always have an amazing experience and their product is amazing as well!! the flavor the hit everything!!
Cant stop!!! Wont Stop!!!! So great. You wont be able to get enough of these.