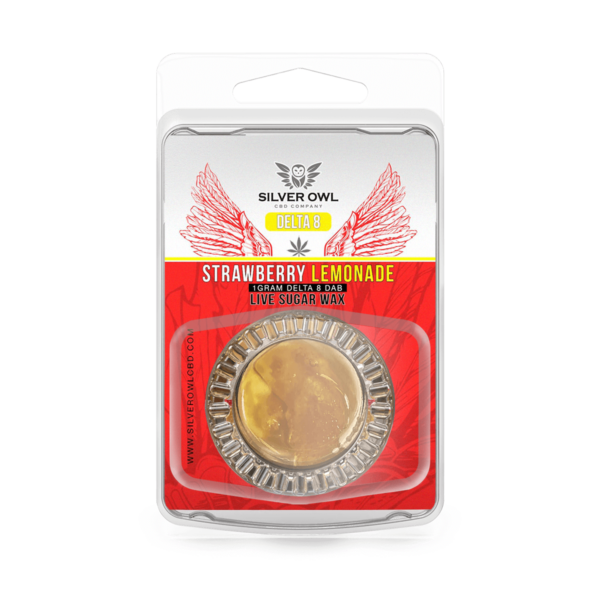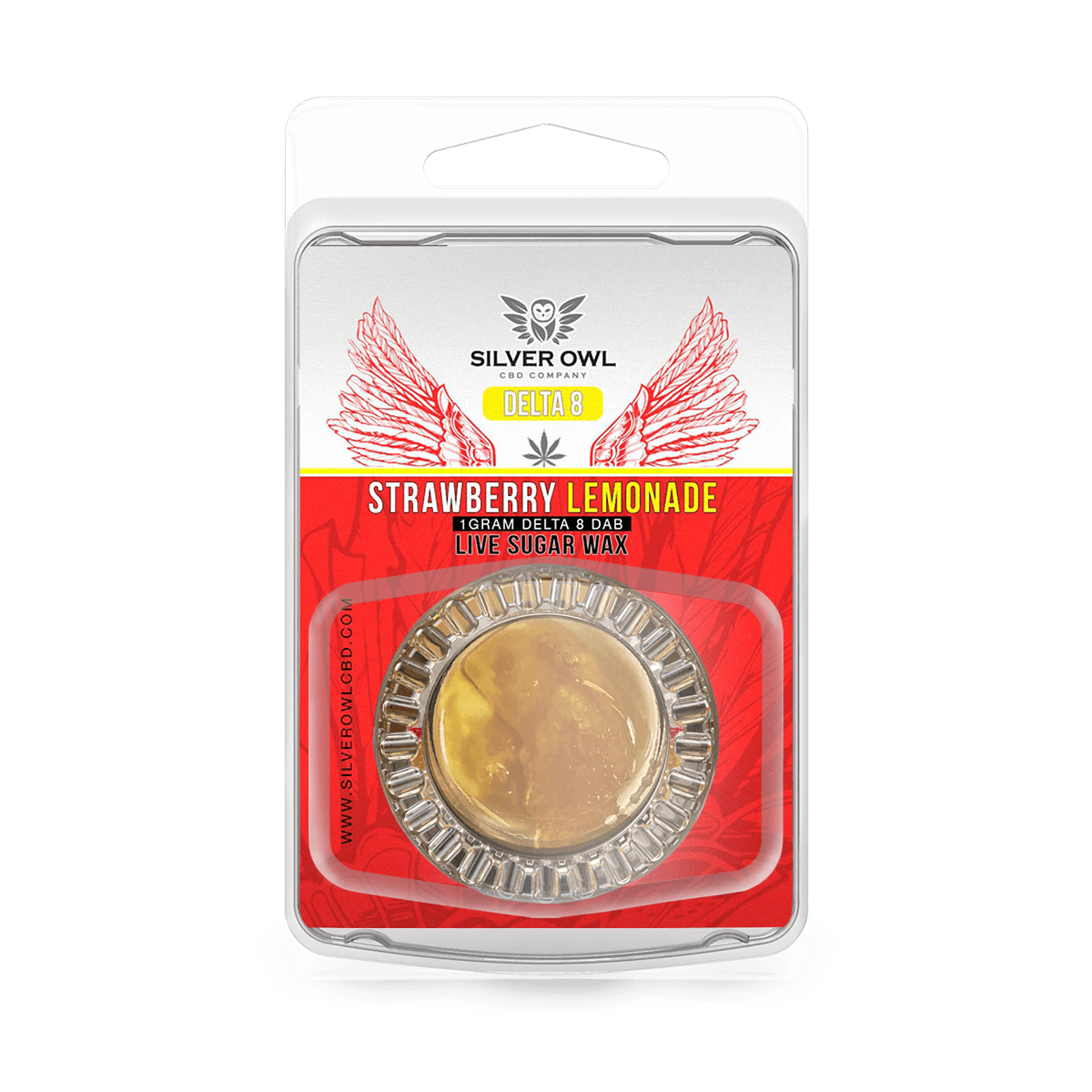 Delta 8 Live Sugar Wax Strawberry Lemonade
$39.99 — or subscribe and save up to 20%
The national popularity of Delta 8 has exploded over the course of 2020 and the first few months of 2021. True to our word, we've been playing around with all kinds of new concepts featuring this hemp derived cannabinoid and one of our little science experiments is ready for the world: Silver Owl Delta 8 Live Sugar Waxes!
Live Resin Sugar Waxes, or "Live Sugars" as they're more commonly known, are produced through a distinctively unique process. We start by harvesting whole industrial hemp plants and freezing them as soon as their stocks are separated from their trunks. This has the benefit of naturally preserving more of the hemp's terpenes for the full spectrum extraction.
Once we have the raw form of our Full Spectrum Live Resin produced we add additional terpenes and Delta 8 to the mix, then employ several techniques during the post-processing stage to achieve the desired consistency. The end result looks like a white cake batter made of tiny, clear sugar granules- and it's always delicious!
To produce Silver Owl Strawberry Lemonade Delta 8 Live Sugar Waxes, we've turned to the strain of the same name. Strawberry Lemonade is a classic Denver strain, having been originally produced here and winning its first Cup here back in 2015. Since those days an industrial hemp variant has been perfected, allowing this extremely Sativa-dominant strain to reach an even greater number of end users across the country.
We've boosted the flavors this hemp strain produces with an upgraded mix of the terpenes we previously used in our Strawberry Lemonade CBD Crystals, CBG Crystals and Full Spectrum Cartridges. And since this flavor has consistently been a fan favorite in all three of its previous incarnations, we have no doubt that you'll love our Strawberry Lemonade Delta 8 Live Sugar Waxes- especially right before a long and exciting adventure into the great outdoors!
Strain Used: Strawberry Lemonade (Strawberry Cough x Lemon OG)
Indica/Sativa Ratio: 15% Indica / 85% Sativa
Full Spectrum Live Resin (CBD And CBG Dominant) Contents: 400mg
Delta 8 Distillate Contents: 500mg
Additional Terpene Contents: 100mg
strawberry lemonade is such an awesome flavor! I will be getting more soon!!
New Review
I reviewed this at 3 stars before and if you can take it or tell me how to I will but this is the best wax I've had in a long time and I've only smoked d8 for 2 months, In other words, that means item 9 too. Literally can't describe how happy I am I found "the one" I've ordered Elyxr, Hive, Natural Hemp, CBDGenisis, and Exhale. I've done my searching and this is the one if it changed I will be very disappointed but I won't be buying anywhere else. Stay kings! 🤙
Yummy sugar wax! I love it! I have to get more!!
Legal
Good value right now! Feels like delta 9 but in more control, need another dose for sure after about 20 min, legal, and lots of flavors, big fan
Sugar waxxxxxx
Sugar wax is amazingly smooth and the high and flavor is hands down amazing!!
How do they get this so potent? Amazing Flavor and how can you beat the best product out there?
When life gives you lemons
Smoke em. For real this is some of the smoothest, hardest hitting d8 I've found so far. Love this shit.