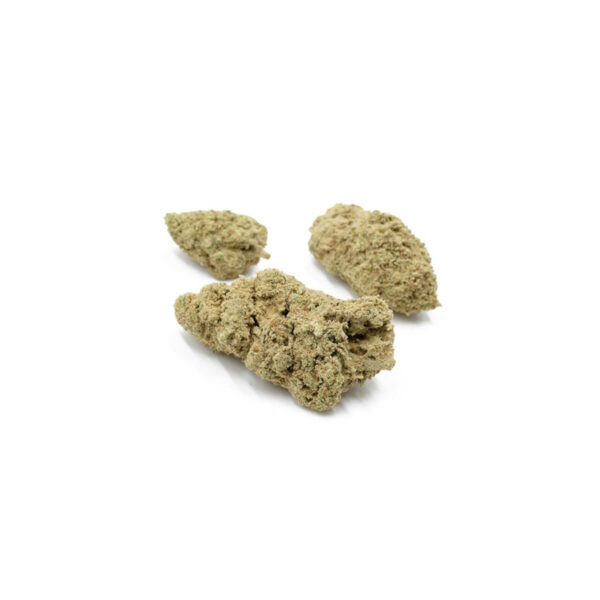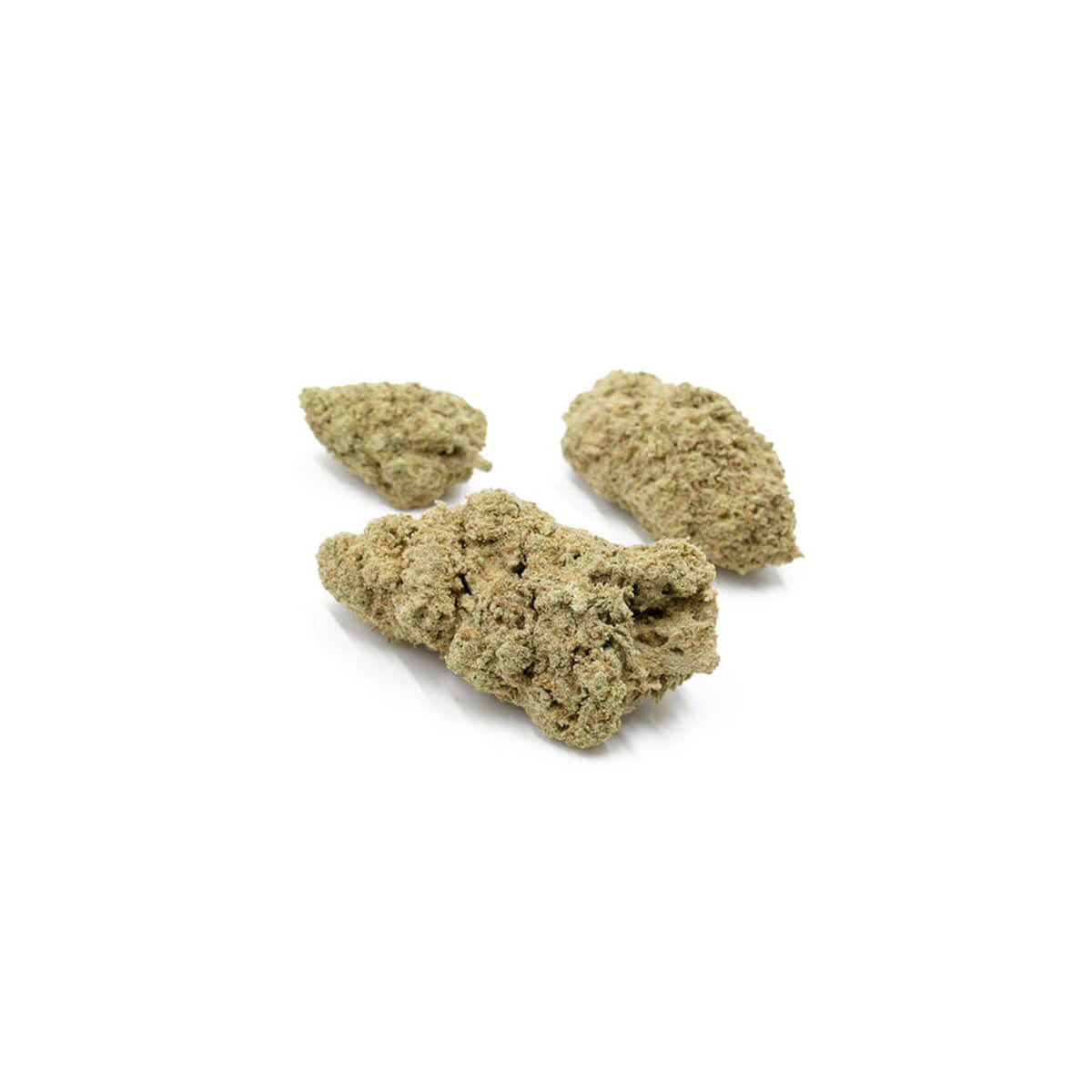 Delta 8 Moon Rocks
$30.00 – $1,000.00 — or subscribe and save up to 20%
Delta 8 THC Content: 226.0mg/g
Delta 9 THC Content: .03%
Flower Strain: Tropical Haze
Delta 8 Distillate: Skywalker OG
Description
Additional information
A community favorite due to their three-in-one punch, the popularity of Moon Rocks amongst flower fans has exploded in the past few years. Moon Rocks are produced by dipping a flower bud into warm distillate, then breading the sticky nug in the kief, or pollen, of the flower. When produced properly, the end result is a tan-colored, bud-shaped delight! Fans of this combination of raw matter and refined concentrates often break their Moon Rocks up by hand, then use the small chunks to pack or enhance bowls, prerolls or wraps.
Silver Owl Delta 8 Moon Rocks feature the same industrial hemp flower we offer to end users in its rawest form, the Delta 8 distillate found in our Delta 8 Cartridges and Disposables, and the fallen pollen from the hemp that produces our concentrates. These delicacies are ideal for those who want to experience the combined effects of Delta 8, CBD, CBG and numerous other cannabinoids synergistically working together through the Entourage Effect. You'll know you've hit something special the moment you register that first puff!
Cannabis is composed of numerous active compounds called cannabinoids. THC, (tetrahydrocannabinol) is the most popular cannabinoid found in the Cannabis genus. Delta 9 THC is responsible for the euphoric effect and satisfying smoke produced by Cannabis. Other phytonutrients such as flavonoids, terpenes, and cannabinoids, including CBD, CBG, CBC, CBN, etc., are also found in the cannabis plant. Recently scientists have recently produced another compound known as Delta 8 THC, which is a variant of Delta 9. Delta 8 has approximately the same properties as Delta 9 THC, but Delta 8 is less potent when it comes to the psychoactive properties of the compound.
People prefer using Delta 8 as it is easy on the body and mind. If you also want to use this fantastic compound for medicinal or recreational purposes, there is no better option than the Delta 8 moon rocks. Each moon rock offers a combination of Delta 8 THC derived from certified industrial hemp containing terpenes and other phytonutrients. This perfect blend is wrapped up in CBG kief which is known to produce the best smoke.
What is a Delta 8 Moon Rock?
A Cannabis flower bud soaked in distillates and rolled in kief is called a Moon Rock. This allows exciting combinations of Delta 8 and other cannabinoids, which is then rolled in a powder with the chosen cannabinoids. In this way, a single product is made extremely powerful and effective for more significant results. These moon rocks are made to deliver the relaxing effect of Bubba Kush and the uplifting properties of diesel. CBD and CBG offer restorative properties to make them even more enjoyable.
Delta-8 is not as potent as Delta 9 THC but is more stable, which is the reason why it has a lower affinity for the receptors causing it to have a lessened effect.
Moon Rocks for A Powerful Experience 
Delta 8 THC occurs in minimal amounts naturally, which is why synthetic Delta 8 is used in most products. Moon rocks offer up to 35 percent Delta 8 and are for experienced cannabis smokers looking for higher doses and a powerful punch of THC.
Moon rocks are moist, sticky, and concentrated with bulky buds on the inside, which offer great taste and aroma. The effect starts to kick in within 5 or 10 minutes of use.
Benefits of Delta 8 Moon Rocks
A wide range of cannabinoids found in Delta 8 moon rocks may potentially offer fantastic health benefits. Cannabinoids like THC and CBD interact with the ECS. Also, Delta-8 binds itself with the receptors present in the brain – mainly CB1 and CB2 – and influences the endocannabinoid system (ECS). The ECS is responsible for maintaining many body functions, including pain and inflammation.
Delta 8 may assist in all the functions performed by the endocannabinoid system of the human body, such as:
It can help stimulate appetite and improve metabolism to control weight and overcome nausea.
It also offers excellent antiemetic properties to reduce vomiting and nausea usually caused by chemotherapy which is used to treat different types of cancers.
The anti-inflammatory properties of Delta 8 can help in reducing chronic pains and inflammation.
A controlled quantity of delta 8 may also help in anxiety management.
How to Use Moon Rocks?
You may have heard that moon rocks can be used in any way possible, but it is best to smoke them through a glass pipe or bong. If you are using a glass pipe, make sure to go for a large or medium shaft. Smoking moon rocks is a little different as you don't have to make a joint or a blunt. Moon rock can be used in a vaporizer if it is made for dry herb and not just wax.  Moon Rocks are a combination of concentrates and flower.
The distillate used to bind the bud to the kief is moist and melts slower than the flower. Moreover, the distillate is quite dense, so narrow pipes should be avoided to reduce clogging.
The first step to using a moon rock is to break it into small chunks with the help of hands or a knife.
Take the broken Moon Rock and put it in the bowl of the bong or pipe.
Light the chunks very slowly, so soft flame is produced in the beginning and start inhaling very slowly. Avoid using a torch as it may destroy the flavor.
Be ready for melting or bubbling. Be prepared for the dense and substantial smoke clouds.
Delta-8 Moon Rocks FAQs
What Do Delta-8 Moon Rocks Do?
They offer exceptional recreational and medicinal properties and take the cannabis consumption experience to a whole new level. Delta 8 moon rocks are a great combination of Delta 8 THC, industrial hemp, and cannabinoids such as CBD and CBG. You can use them to seek relief from chronic pain and inflammation. Both Delta 8 and Delta 9 THC produce the recreational effect, making the overall experience even more smooth.
Do Delta-8 Moon Rocks Get You High?
Delta 8 is a slightly less potent form of Delta 9 THC. It produces a gentler effect than Delta 9. However, it can still get you high and produce significant psychoactive effects. Moon rocks have a considerable concentration of Delta 8 that kicks in within 10 to 15 minutes.
Are Delta-8 Moon Rocks Legal?
Delta 8 is a form of Industrial Hemp and therefore is legal in most states.  However, moon rocks also contain Delta 9 THC, which is illegal in most parts of the country. Moon Rocks should contain less than the FDA requirement of .3% THC.
Does Delta 8 Show Up On A Drug Test?
Moon rocks also contain THC, which flags positive during a drug test. Moon rocks are not recommended for athletes and people expecting a drug test. Any products containing THC of any kind will show up positive on a drug test.
Do You Smoke Delta 8 Moon Rocks?
Smoking moon rocks is a little different as you don't have to make a joint or a blunt. You can use glass to smoke moon rocks.
Can You Use Moon Rocks In a Vaporizer?
Smoking moon rocks is a little different as you don't have to make a joint or a blunt. You can use glass to smoke moon rocks.
Moon rock can be used in a vaporizer if it is made for dry herb and not just wax.  Moon Rocks are a combination of concentrates and flower.
| | |
| --- | --- |
| Size | 1 pound, 1 oz, 3.5 grams, 7 grams |
Relaxation
After my long shifts cbd flower is the best thing
Everyone loved these!
Brought a couple of nugs to the smoke sesh, and everyone loved them!
Great
Had me moon-walkin! Best moon rocks ive tried
A must have!!
You have not lived until you've had these moon rocks. Definitely have to try these at least once at some point in your life, I promise it's worth it!
Love this stuff
This stuff has helped me and my social anxiety, my social anxiety has gotten a lot better since smoking this stuff!
Amazing shutfffff!
This stuff is amazing to smoke after I get off work!! love it, I need more already!
There is so much to say about Moon Rocks. These are amazing. I love that I can smoke everything in the jar including the keif at the bottom. The nuggets were huge and the additional keif at the bottom was a huge bonus. Cant get enough of these.
MOONROCKS! <3
These guys are amazing! really really love them! will be buying again!
Smokes great!
Smokes just like the flower you get from the Dispensary, but helps with my pain more than if I went to the dispensary.
Moon Rocks
I loved these!! They really seemed to help with my back pain and my anxiety. I'm very very pleased with them!! 💚💚💚