Blunts vs Joints: How do people roll their Premium Cannabis up in this Joint?
Cannabis has been used for medical and recreational purposes for centuries, and by the time the United States began to consider decriminalization, there were nearly as many ways to smoke it as there were strains to choose from. Of course there are pipes: made of glass, wood, stone, bone, or just about any material which can withstand the heat of a flame, and allow the smoke of burnt herb to cool as it passes through a chamber, sometimes including water or ice. An "old school" stoner might remember how to craft a makeshift pipe with an empty can or an apple core. But rolling cannabis, like tobacco in cigarettes, has also been common historically. There are folks for whom arthritis has claimed much of their dexterity, yet they can roll a perfect joint every time, simply because they've been doing so for decades. Today, new technology allows for even more ways to inhale cannabis, such as vaporizers, yet rolled cannabis remains popular. There are two major forms of rolled cannabis, joints and blunts, and plenty of reasons to enjoy both!
So, first off, why bother going to the trouble of rolling your premium cannabis when you could smoke it from a bong or a shiny new vaporizer? For some folks, it is something about that "old school" taste and feel of a doobie; they like the classic Cheech and Chong vibe. Rolling cannabis is also excellent for its on-the-go factor. It's easy to tuck a few prerolls into a stash container and bring those camping, out on picnics, or to outdoor festivals. Compare that to dedicating carrying capacity to a pipe or a bong and risking damage to your nice glass, or bringing a vaporizer and worrying it could get lost or broken. Furthermore, with a blunt or a joint, you're smoking "fresh" each time, without the lingering taste of resin from former bowls. Many people also find rolling their own cannabis helpful in monitoring their use, because they can take a quarter ounce of premium flower and roll 14 half-gram slim joints and know they won't consume more than a gram per day. And then there's simply a love of the ritual, the creative ways one can master rolling a good jay.
What is a joint?
Joints are the most common form of rolled cannabis. Ultrathin papers were originally made for rolling cigarettes, but it wasn't long until people began rolling them with herbs other than tobacco, paving the way for the term "marijuana cigarette" and the TV sitcom gag of someone expecting tobacco and finding themselves stoned for the first time. These unflavored papers added very little to the taste of the weed, but flavored papers are now available to give you a little extra grape or banana taste to go with your grape or banana kush. Joints vary considerably in size and design, from "slims" with half a gram or less, to the footlong cones produced by Raw, to crosses and other more "artistic" joints created by pros. They're easy to transport, because you can roll them to meet the size of whatever container you stash them in. Joints can also be mass-produced quickly with help from gadgets like rolling machines or cone loading sifter boxes. There is generally very little waste from joints, and what remains of the roach is typically a bit of burnt rolling paper and possibly a tip rolled from a thicker paper, which are generally biodegradable and much kinder to the environment than the butt of an average name-brand cigarette.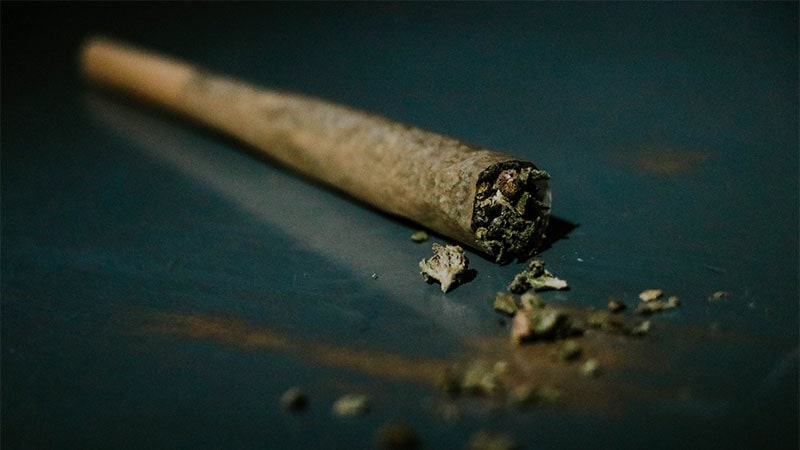 What is blunt? What's the difference between blunts and joints?
Just as the "marijuana cigarette" came to become more popular through the states, a competitor in the arena of rolled cannabis was formed in Jamaica and the Caribbean using what was commonly used to wrap tobacco there: cigar leaves. The thick tobacco leaves used for wrapping cigars would obscure the scent of lighting up, which made them ideal for keeping up that "island vibe" without drawing repercussions from island law enforcement. Cannabis may have been federally illegal during much of its rise in popularity, but if anything can be said for prohibition, it's that stoners were constantly finding ways to burn their favorite plant regardless. Immigrants from the Caribbean filtered into the States during prohibition, bringing with them the idea of rolling cigars with weed. Meanwhile, companies such as White Owl released mass-produced cigarillos, mini-cigars rolled with a continuous outer leaf and a rounded tip. This round, "blunted" tip is what earned the style its name. It's not entirely clear whose idea it was to combine the two, but by the time Snoop Dogg famously smoked his first blunt in 1993, the term had already appeared throughout rap culture multiple times in the decade prior. While the nickname came specifically from splitting a pre-rolled cigar, removing the tobacco and replacing it with cannabis, blunts can also be rolled using wraps made with anything from tobacco to hemp to palm leaves. These wraps are commonly found today at head shops and dispensaries, and like papers, come both with and without added flavor. Blunts are almost always bigger than joints, and smoking one is more often considered a "social occasion", due as much to its cultural origins as the greater amount of weed to pass around the circle.
No matter what new technologies come about, rolled cannabis is sticking around like the resin on your teeth after you finish smoking. Blunts and joints may have come from two different cultural roots, and sometimes one might be preferable to the other, but both share the same goal: freely smoking your premium cannabis in your own way.
Shop Delta-8 Pre Rolls Now!