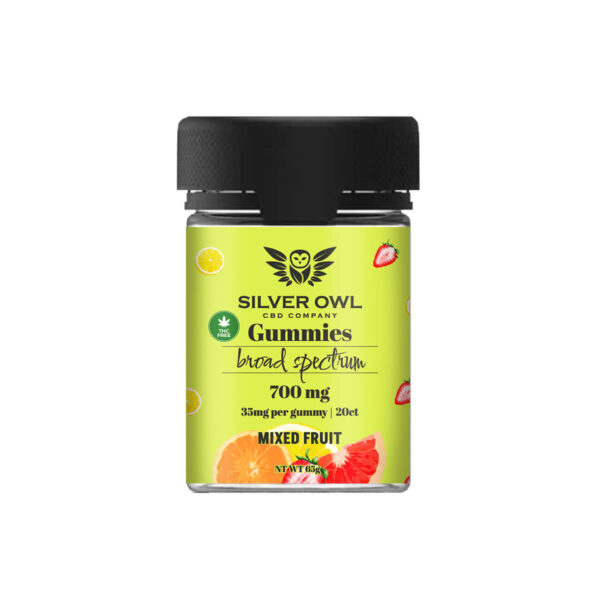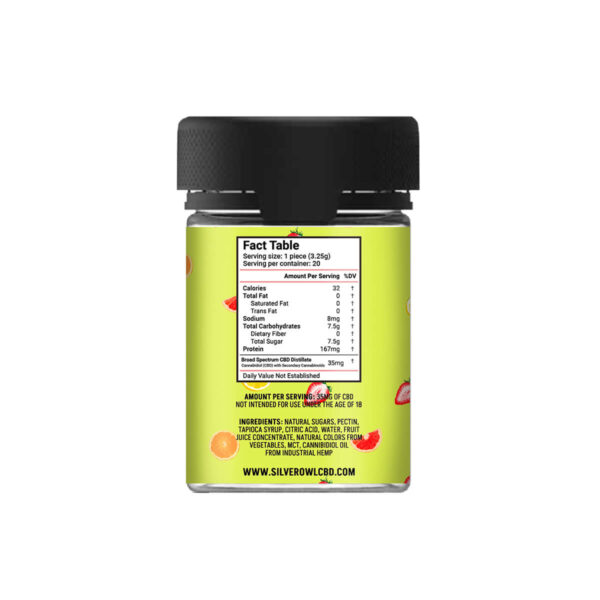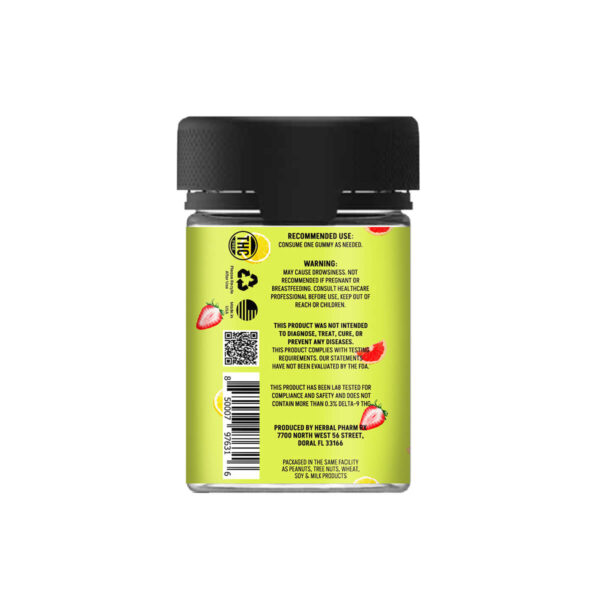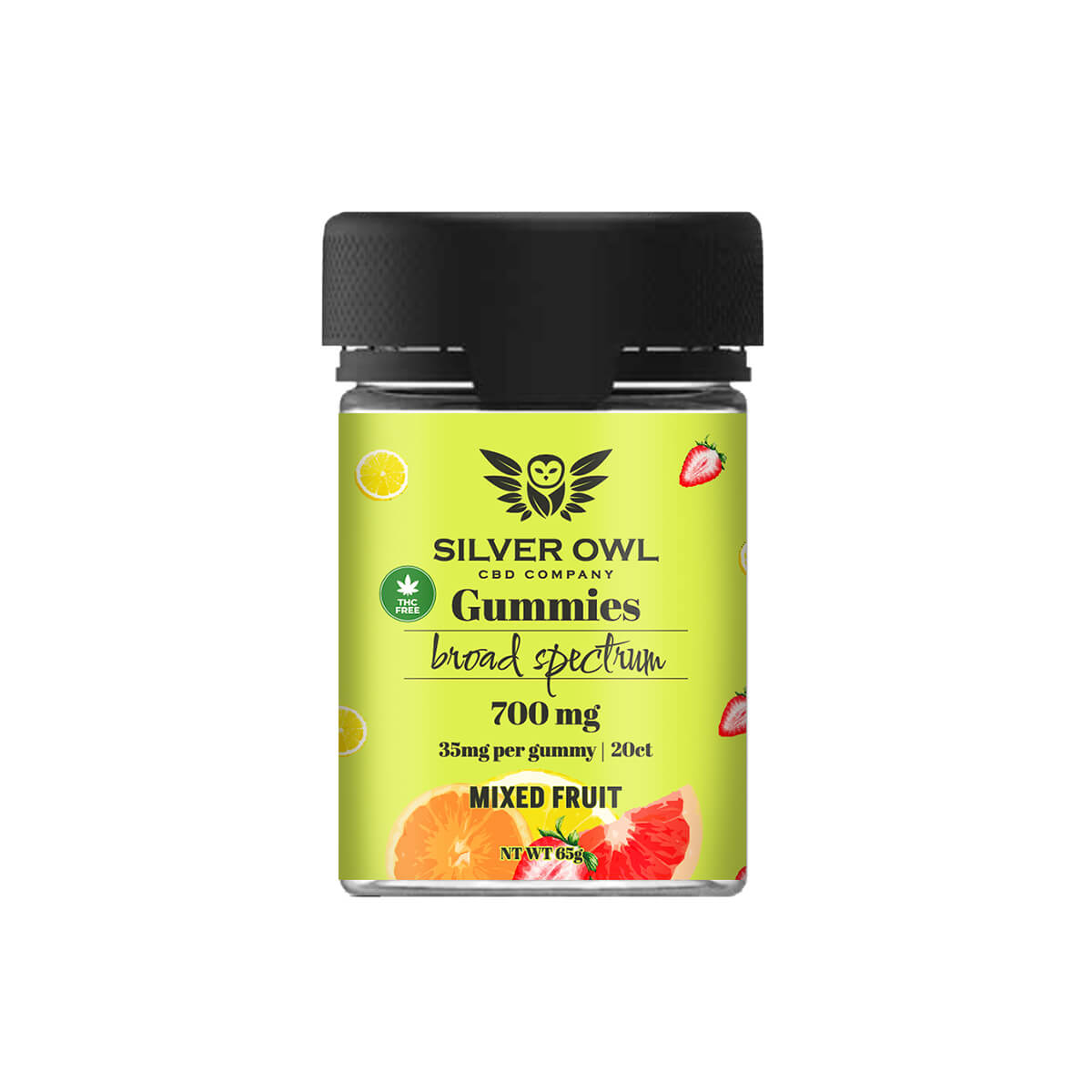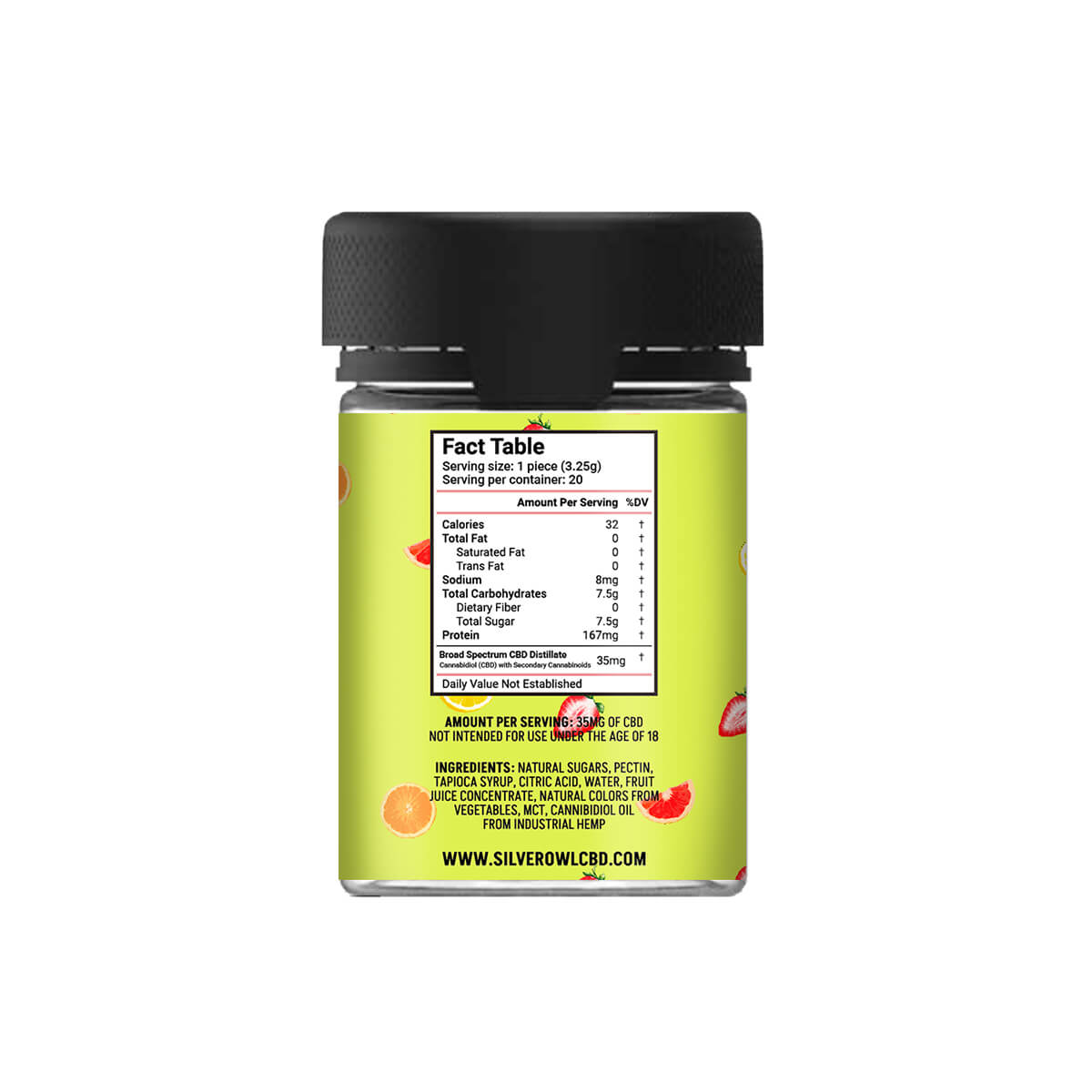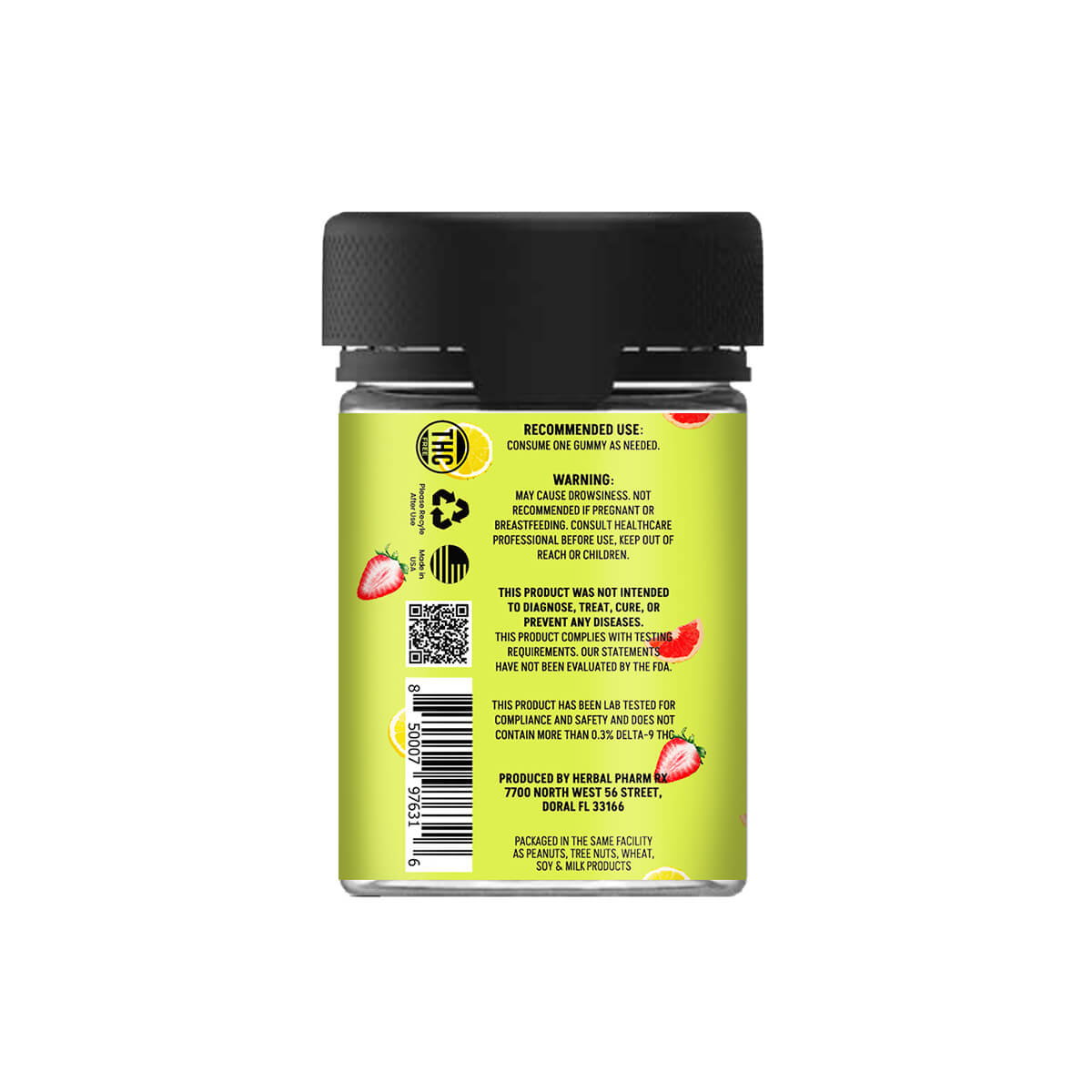 Broad Spectrum CBD Gummies
$30.00 — or subscribe and save up to 20%
Strain: Broad Spectrum
Flavors: Assorted
Type: Gummy
Serving Size: 1 gummy
Gummies per Pack: 20
Cannabinoid Content: 35MG / 700MG
Ingredients: Natural Sugars, Pectin, Tapioca Syrup, Citric Acid, Water, Fruit Juice Concentrate, Natural Colors From Vegetables, MCT, Cannibidoil Oil From Industrial Hemp
Description
Additional information
Gummies are the best way of consuming cannabinoids. It's quick, easy to accurately take whatever dosage you want, and they come in a variety of tasty flavors. Gummies infused with CBD can also be infused with other cannabinoids. The resulting gummies can be CBD isolate (gummies containing only CBD), full-spectrum (gummies with a number of other cannabinoids, including THC), or broad-spectrum (like full-spectrum, but without THC). While CBD on its own can impart a number of benefits, it becomes far more effective when taken with other cannabinoids. Broad-spectrum gummies, consequently, stand out as one of the most effective products on the market.
Quality of Broad Spectrum CBD Gummies
To ensure our customers get the desired results, we make gummies with CBD derived from industrial hemp. The plants are grown in a favorable environment that produces cannabinoids of high quality. The whole process of extracting and purifying these cannabinoids is safe and is according to established standards. Our CBD gummies are free from intoxicating chemicals, and the product complies with the 2018 Farm Bill.
How to Use Broad Spectrum CBD Gummies?
Gummies can be consumed just like any other food item, and are available in a wide enough variety of flavors that you're sure to find a favorite. The most important thing to keep in mind is that being eaten rather than inhaled, the cannabinoids will take longer to get to your bloodstream. Therefore, it's recommended to wait an hour or two to see how you will be affected before taking more than one. After it kicks in, you can expect the effects to last between 4-6 hours. Start with one; only eat more than one after you've given your body a chance to get used to it.
35mg Per Serving
Each Broad-spectrum CBD gummy contains 25 mg of cannabinoids, and a container has a total of 20 gummies. You can enjoy this pack for a whole month at a reasonable price. Apart from CBD, these gummies also have sugars, CBD oil extracted from hemp, and some natural colors obtained from vegetables and fruit juice concentrate. All the ingredients combine to make high-quality CBD gummies.
Benefits of Taking Broad Spectrum CBD Gummies
Broad-spectrum CBD gummies contain many other cannabis compounds such as CBG, CBN, and terpenes. The effects of broad-spectrum are much more potent compared to CBD isolate. This is because of the Entourage Effect, a phenomenon where the different cannabinoids work together to enhance each other's effects. The stress relief is more relieving, the relaxation is more relaxing, and the focus is more focused. Broad-spectrum CBD can assist with everything from working out those aches and pains in the morning to sleeping more soundly at night.
Best of all, our broad-spectrum gummies contain no THC, so you can enjoy all the benefits without any of the mind-warping high. Just a single gummy every morning will avail you of your own natural energy and put enough pep in your step to get you through the day.
Are these Broad Spectrum Gummies Right for Me?
The only reason anyone would need to have even the most minuscule amount of hesitation about taking CBD would be if they were already taking prescribed medications. Cannabinoids can interact with some medications, which could produce adverse effects. If you are on a medication regimen, consult with your medical professional before adding any other kind of substance on top of it.
To ensure the highest quality CBD gummies, the food scientists in our laboratories are constantly working to improve the taste and quality, and we can confidently say we have the best darn gummies in town. We put love and dedication into every step of the production process and use only the highest quality, FDA standard ingredients. We could go on about how good we think our gummies are, but our customer reviews do a pretty excellent job of singing our praises.
Does Consuming these Broad-Spectrum CBD Gummies Show a Positive Drug Test?
If you were taking full-spectrum gummies, the answer would be yes. Full-spectrum gummies contain trace amounts of delta-9 THC, the compound responsible for marijuana's psychoactive effects, and tested for in drug tests. But while broad-spectrum gummies contain a plethora of additional cannabinoids, THC isn't one of them. You can safely consume them without the fear of getting a positive drug test.
Is it Legal to Consume Broad Spectrum CBD Gummies?
If the CBD is derived from a hemp plant, it is legal. Since a hemp plant contains less than 0.3% THC, a product made from it will not have any psychoactive or intoxicating effects. Our products are made from cannabinoids derived from hemp plants; therefore, they can be freely consumed wherever you are.
However, cannabinoids extracted from marijuana or any other cannabis plants are federally illegal to consume as they would contain an actionable concentration of THC.
CBD gummies are a fun way of maintaining your general well-being. You can have a flavorful gummy every day to keep your stress away and stay focused the whole day. Make sure to get high-quality CBD gummies before you purchase. Our Silver Owl CBD Gummies proudly display all the information about each batch so you can munch confidently.
It is recommended to see your doctor before getting any cannabis product for yourself. A doctor will give you the best advice on dosage and the type of product for you.
Took the edge off
I've dealt with low grade anxiety for over a decade and have tried everything to manage it, from prescription meds to over the counter homeopathics. I wound up on silver owl's page by mistake one day and ended up ordering these gummies, just to give them a try. I found they really helped me to relax, particularly after a long stressful day. Highly recommend.
helped me manage my stress
I noticed i was getting irritable and anxious on my day to day so i decided to give these gummies a try and my mood improved remarkably, these are so so good to treat anxiety!
Amazing!
These gummies are amazing!! I can't wait to order more!!
I love these!
I found them at a Smash Glass And Vapes head shop in Arvada, and they were super fresh and tasty! I hadn't had a broad spectrum before and loved the pain relief I felt after taking them
Some of the strongest most effecient CBD gummies ive ever found!!! And they taste great!!!
Love!
Got these in Broomfield at Vape Pros inside Flatirons mall and had no idea how much I was going to love them. I wish I had bought more than one bottle because I am almost out and need to get another one for sure!
loved it
the gummies taste good and i dont have to eat a bunch like other products ive tried before. makes it easier
Considering how hempy most gummies taste this is great.
Yum yum gummies
A bit chewy , just how I like them,
Some hempy aftertaste, but not as overwhelming as other brands I've tried