Delta-8: How Long Do They Affect Last and Will Delta-8 Make Me Fail a Drug Test?
The amount of "new" cannabis derivatives on the scene is getting very extensive. From CBD to HHC, there really is something for everyone as far as cannabinoids are concerned. Delta-8 is a cannabinoid that has been getting quite a bit of press in recent years due to the lightweight high that it produces when compared to its more intoxicating older brother, delta-9 (THC).
While delta-8 is unquestionably less potent than THC, it interacts with the same brain receptors responsible for producing psychoactive effects. As a result, delta-8 does appear on standard drug tests and can cause you to fail one. Like traditional THC, delta-8 has a half-life within your body and dissipates at different rates depending on quite a few other factors.
In this article, we'll cover some delta-8 basics. As with any other product that you ingest, it is best to understand what delta-8 is and how it affects your body before venturing into uncharted territory. We'll also discuss the most common types of delta-8 products, how long their effects last, and how long delta-8 remains detectable in your system.
Table of contents
What is Delta-8?
Delta-8 is a naturally-occurring cannabinoid that is produced by the Cannabis sativa plant. While delta-8 is present on its own, it is usually only generated in small quantities by cannabis plants themselves. Delta-8 can also be produced chemically from CDB and delta-9, which is the most common way to yield large qualities.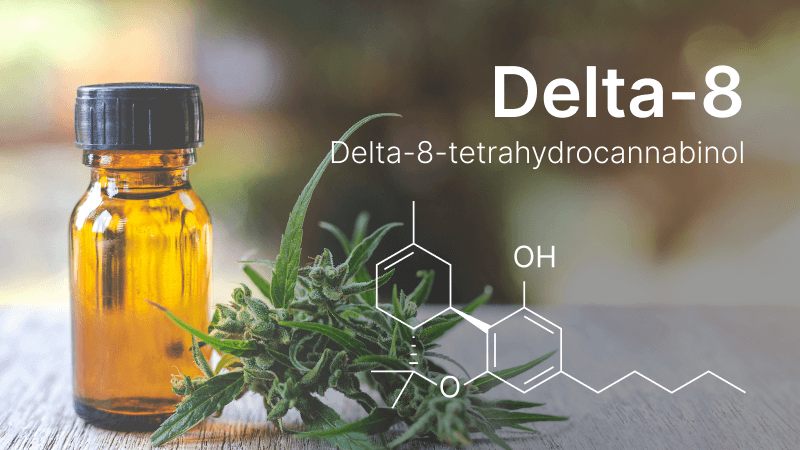 Since delta-8 can be produced from hemp plants that are bred to contain very little delta-9-THC, it sits in a legal grey area for sale in states where marijuana is illegal. It is technically legal to grow hemp in 46 states, even in some where marijuana is illegal. Since delta-8 can be derived from CBD, the second most populous cannabinoid in hemp, the ruling is still out in terms of its widespread legality.
With that being said, delta-8 is one of the most common cannabis derivatives for sale today. Like delta-9-THC, delta-8 reacts with your endocannabinoid system. Delta-8 binds to receptors in your brain and causes varying effects. Some of the most commonly reported effects of delta-8 include euphoria, pain relief, reduced anxiety, and relaxation. Despite being similar to delta-9 in terms of molecular structure, with the only difference being the placement of one double bond in one ring within the THC molecule, delta-8 is only around half as potent as traditional delta-9 THC.
How Long Do the Effects of Delta 8 Last?
In general, the effects of delta-8 typically last anywhere between 2-8 hours, depending on quite a few factors. The duration of a delta-8 high can vary substantially depending on how you choose to take it. In general, there are two primary ways to take delta-8. These include smoking it via a vape cartridge, or by ingesting it in the form of an edible or tincture. Overall, it is concluded that delta-8 takes longer to produce effects, and the effects typically last longer than those from delta-9.
How Long Does a Delta 8 Vape Hit Last?
As we stated previously, the way that you choose to take delta-8 influences the effect duration. Delta-8 smoked out of a vape cartridge tends to produce less long-lasting effects than ingesting delta-8. In terms of its initial onset, you'll begin to feel the effects of a delta-8 vape cartridge hit after around 6 minutes. That is a short amount of time when compared to intaking delta-8 orally.
The effects of smoked delta-8 begin to peak between 30 minutes to 2 hours after you take a hit from a vape for most people that have had minimal exposure to the substance. Prior tolerance to THC or delta-8 plays a big role here, as the more you smoke delta-8, the less potent a single hit will be. Tolerance might also affect the time it takes for you to feel its effects.
How Long Does a Delta-8 Edible Last?
Delta-8 edibles can be a bit trickier to properly dose, as they affect everyone differently. The onset of a delta-8 edible can be dictated by the user's body type and metabolic rate. With that being said, it typically takes around 1.5 hours for your body to break down a digested edible which is right around when you'll start feeling its effects.
Unlike smokable forms of delta-8, delta-8 edibles have to go through the digestive system to reach the bloodstream, which unquestionably takes more time than simply smoking it. However, the effects of a delta-8 edible tend to last longer than in inhaled form. Once again, the length of a delta-8 edible high can vary dramatically based on your metabolism and body type, but it is generally concluded that the effects can last 6 or more hours. The most pronounced effects will typically onset at around the 3-hour mark and slowly dissipate from there.
Will Delta-8 Make Me Fail A Drug Test?
As we mentioned previously, delta-8 reacts with your brain in a similar way to delta-9-THC which is commonly tested for on routine drug tests. Due to the extremely similar molecular structure between the two cannabinoids, common drug tests can rarely differentiate the two from one another. For that reason, delta-8 can certainly cause you to fail a routine drug test.
How Long Does Delta 8 Stay In Your System?
In a similar way to how long its effects last, the amount of time that delta 8 stays detectable in your system depends on a number of factors unique to the individual. Overall, delta-8 can remain detectable in your system on a standard urine test anywhere from 2 to 30 days after smoking or ingesting it. It can remain detectable for even longer (90 days) with a hair analysis test although those are less common.
Delta-8 has a half-life in your body once you consume it. It's actually a pretty rigid and established formula. In the second phase of delta-8's metabolic process, its presence in your body decreases by half every 32 minutes. To put that more simply, half of the original dose that you consumed will be clear from your body 32 minutes after ingesting it. Half of that amount, or a quarter of your original dose, is cleared from your body after another 32 minutes. This process repeats until there is nothing left.
While that remains true regardless of other factors, the amount of delta-8 that you consume and the frequency in which you intake it affect how it dissipates. For example, a 60mg dose of delta-8 will take much longer to completely leave your system than a more moderate 25mg dose. With frequent use, delta-8 cannabinoids are stored within your body's fat cells. When delta-8 accumulates within fat cells, it tends to stay detectable in your system longer.

While this chart isn't set in stone, as the other factors listed above still have to be considered, these general time frames are a good rule of thumb to estimate how long delta-8 will remain in your system:
Infrequent users (3 times a week or less): 3 days
Moderate users (4-5 times a week): 5-7 days
Heavy users (daily): 10-15 days
Chronic users (multiple times per day): 30 days or more
How Long Does Delta-8 Stay In Your System: Takeaways
Delta-8 is a great cannabinoid for those looking for a hemp-based product that will produce the effects of relaxation, euphoria, pain relief, and mood stability without the intoxicating downsides of traditional delta-9-THC. While delta-8 is widely considered to be less potent, it is still a psychoactive substance, so proper dosing and care are still crucial.
If you have a drug test coming up, it is important to recognize that consuming delta-8 can cause you to fail. Since delta-8 reacts with your nervous system in a very similar way to delta-9-THC, standard urine drug tests can rarely differentiate between the two compounds. While hemp-derived products like delta-8 aren't, strictly speaking, federally illegal, delta-8 still falls in a bit of a legal grey area depending on your location.
For most users, delta-8 will remain detectable in your system somewhere between 2 and 30 days. For infrequent users that intake delta-8 once or twice a week, it'll likely only be traceable for a few days. For moderate users, more delta-8 will have built up in your body and will likely take around a week to dissipate. Heavy users will likely have delta-8 stored within fat cells in their bodies. In that case, it might take between two and three weeks for delta-8 levels to dip below a traceable amount.