What are terpenes and why are they so important?
Terpenes play multiple vital roles in plants: in some cases they attract pollinators, and in other cases, they cause a strong reaction to deter predators. They can play a protective role in the plant, helping it recover from damage or acting as part of the plant's immune system to protect against infectious microbes.
Sometimes people use another term, terpenoids, but this is not the same as terpenes. Terpenes are the natural form of these compounds when they are in a living plant. But when the plant is dried, such as in the production of cannabis, the terpenes are oxidized and become terpenoids. Well, it's time to learn more about these amazing compounds found in cannabis and what varieties exist.
Table of contents
What are terpenes: a brief overview
Terpenes are highly aromatic compounds that define the smell of many plants and herbs, such as rosemary, and lavender. Put simply, the aroma you smell from a plant is nothing but terpenes. Many manufacturers use isolated terpenes to create the flavors and aromas of many household products such as perfumes, body care products, and even food.
What are terpenes?
Terpenes are "a large and diverse class of organic compounds produced by various plants, especially conifers, and some insects. Their role is primarily to create distinct aromas." Terpenes are behind the distinctive smell of a wide range of plants and their scents are very recognizable. Mangoes, pines, and anise. In addition, terpenes are one of the main components of cannabis, and they are what give it its specific aroma when vaporized.
What do terpenes do?
These compounds are responsible for the aromas, flavors, and even colors associated with different types of plants. In the case of cannabis, terpenes make some varieties smell or taste different from others. They can also be processed into products such as cleaning solvents, pesticides, and dyes.
Terpenes and evaporation
Terpenes have a very important function in the cannabis vaporization process: without them the vaporization products would be devoid of flavors, aromas, and therapeutic effects. In other words, terpenes are an essential part of cannabis vaporization.
Terpenes in cannabis
Terpenes are one of the important components of the famous Mary Jane. The plant from which this much-loved weed is harvested contains more than 100 identified terpenes, each with its characteristic, scent, and set of potential benefits. Each cannabis strain varies in its terpene profile – for example, strains named "lemon" often contain large amounts of limonene.
Terpenes and cannabis are so closely related that it is a common misconception that terpenes = cannabinoids. This is far from the case, and terpenes have a completely different effect. In addition, they do not interact with the body in the same way that cannabinoids do. In other words, terpenes do not bind with the cannabinoid receptors of the brain and do not cause the same high effect (in common parlance – a buzz).
Another important chapter in the relationship between terpenes and cannabis is the recent movement toward a better classification system of varieties of these compounds. Most cannabis varieties are now divided into two main categories: indica and sativa. While there is still controversy in the scientific community, new research shows that this classification is somewhat outdated and that a complete cannabinoid and terpene profile of the plant provides a complete picture of the potential effects and benefits of each strain.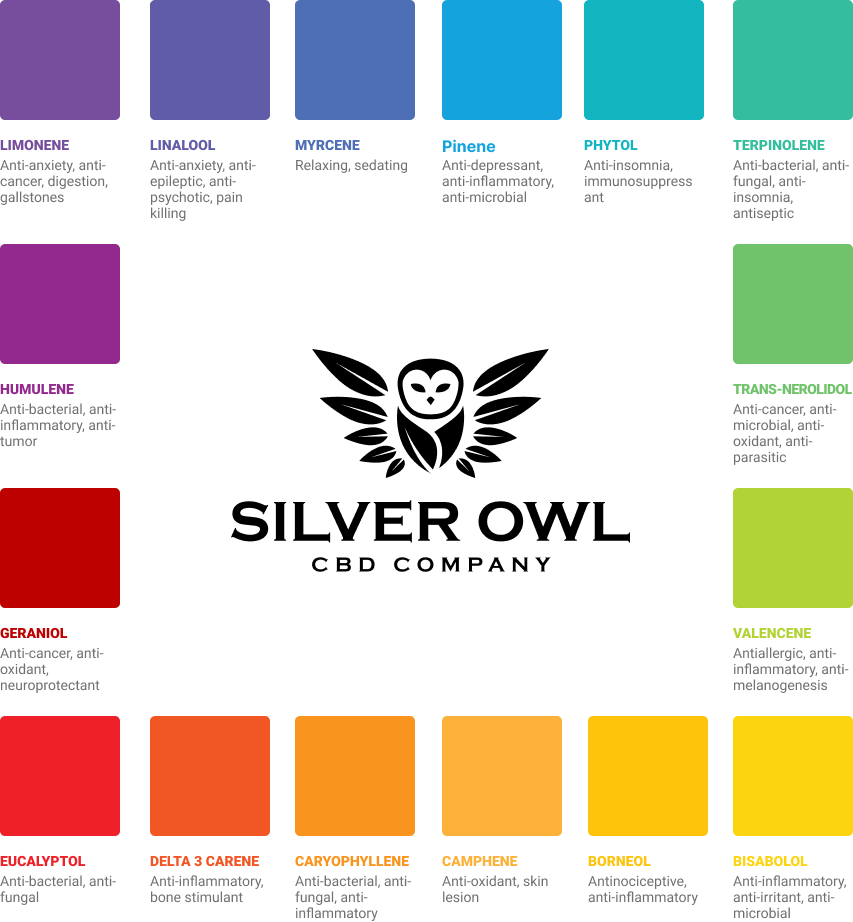 The most important terpenes in cannabis
Although CBD itself does not contain terpenes, terpenes and CBD are commonly used together. Many broad-spectrum and full-spectrum CBD products contain various terpenes in their formulas, which not only affect the original flavor but also add additional benefits.
Here is a summary of some of the most important terpenes found in cannabis, their main characteristics, and the effects they have on the human body.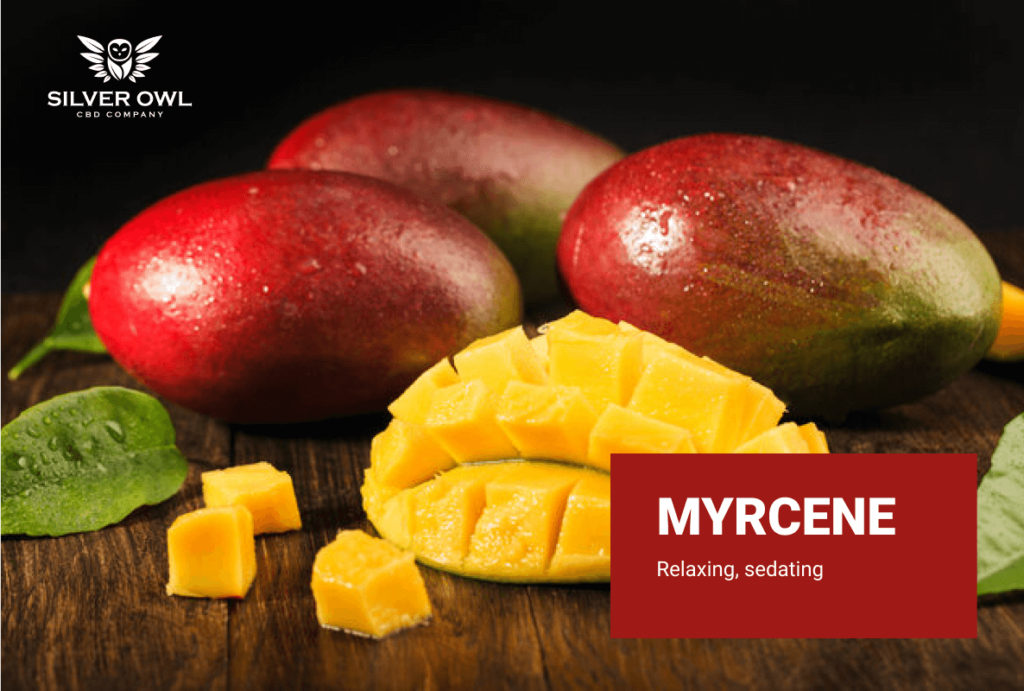 Myrcene
Myrcene is found in high concentrations of cannabis. It exudes a musky, herbal aroma.
Effects include:
relaxing;
antibiotic;
antioxidant;
analgesic;
anti-inflammatory;
accelerates the effects of cannabinoids.
Other sources: wild thyme, hops, lemongrass, mango, and cardamom.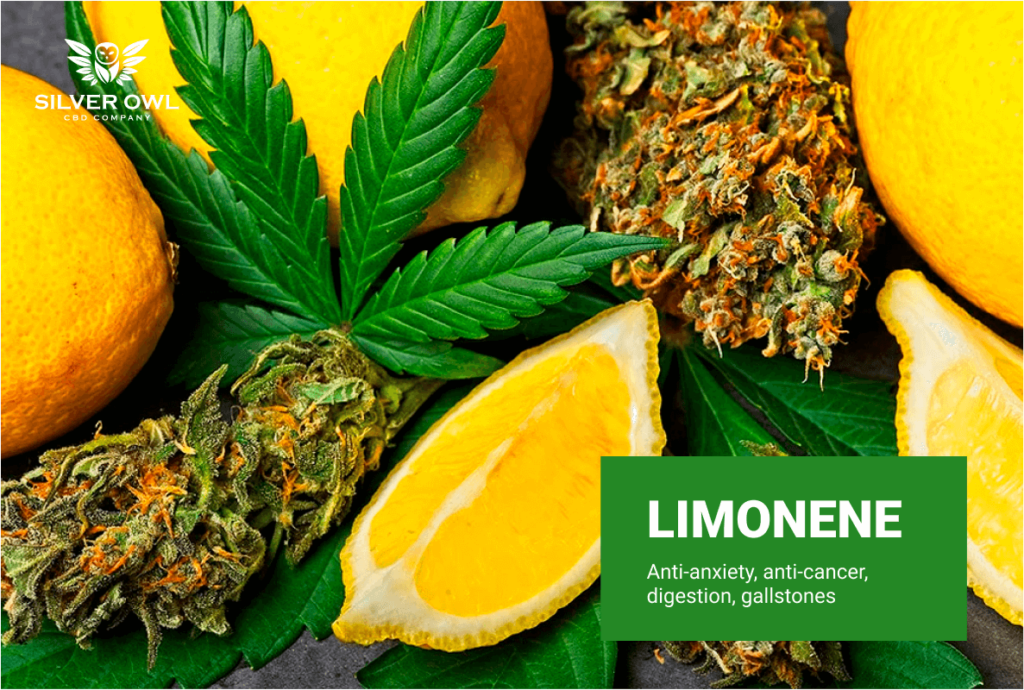 Limonene
Based on its name, limonene is a terpene with a characteristic citrus aroma. It is often found in the peel of fruits and many citrus fruits.
Effects Include:
invigorating;
relaxing;
antioxidant;
antifungal;
antibacterial;
anti-inflammatory.
Other sources: citrus fruits, rosemary, and conifers.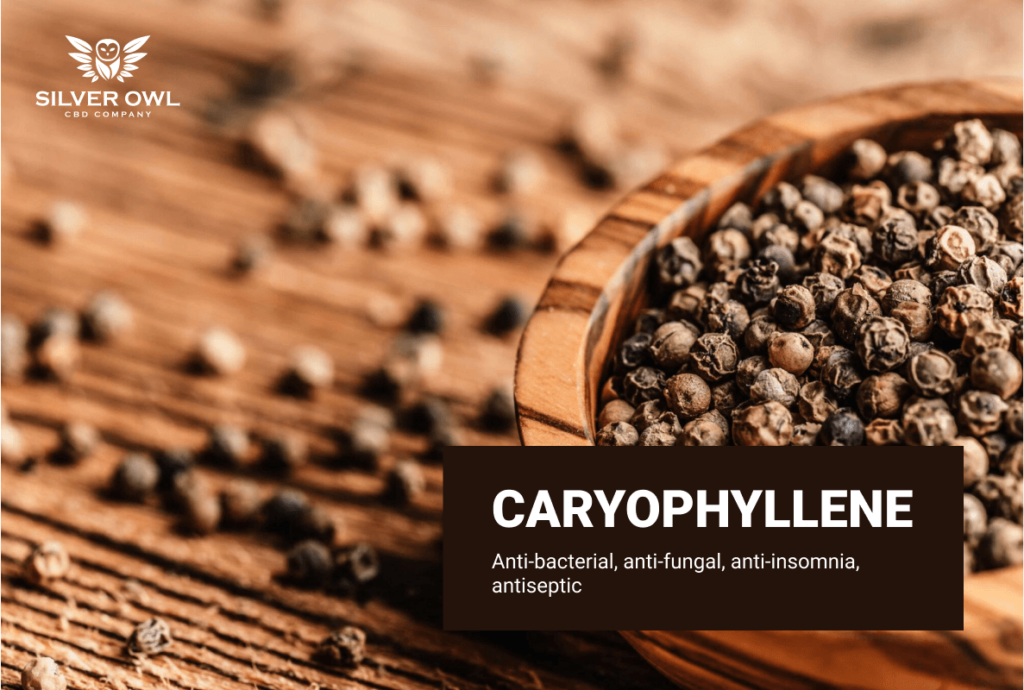 Caryophyllene
Caryophyllene is probably the only known terpene that acts as a cannabinoid. The reason is that it binds to brain receptors and acts as an antioxidant. It has a spicy and peppery flavor.
Effects Include:
Anti-Inflammatory
Antioxidant
Relaxing
Antidepressant
Analegesic
Neuroprotective
Other sources: black pepper, cloves, rosemary, and hops.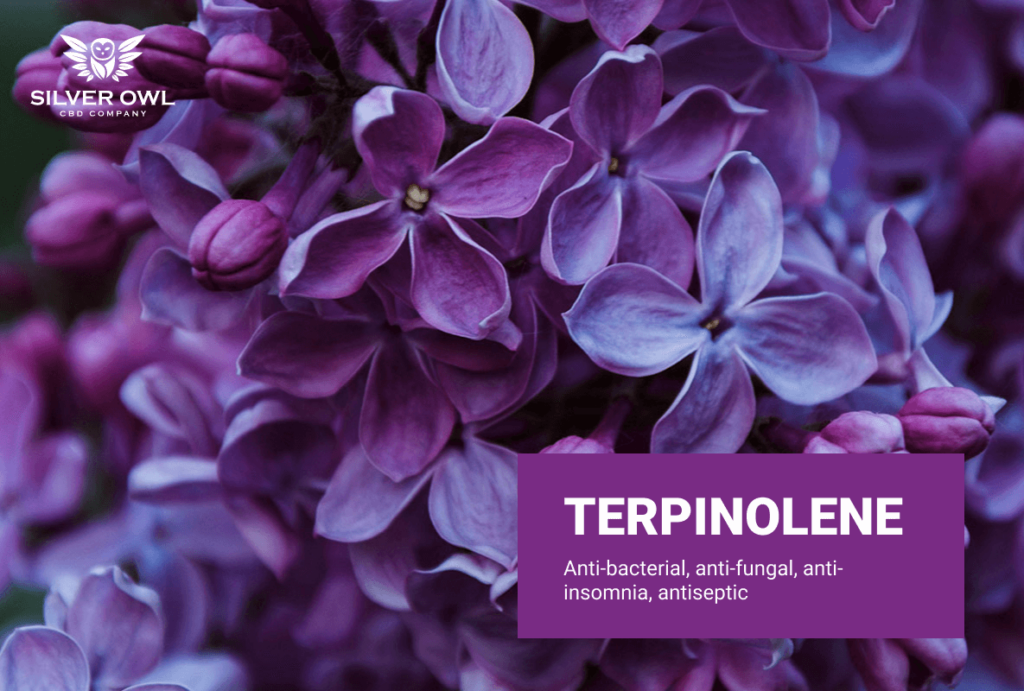 Terpinolene
Terpinolene is widely used in perfumery due to its complex pine-grass aroma.
Effects Include:
Invigorating
Antioxidant
Antianxiety
Antiinflammitory
Soothing
Other sources: allspice, parsnip, apples, cumin, sage, and rosemary.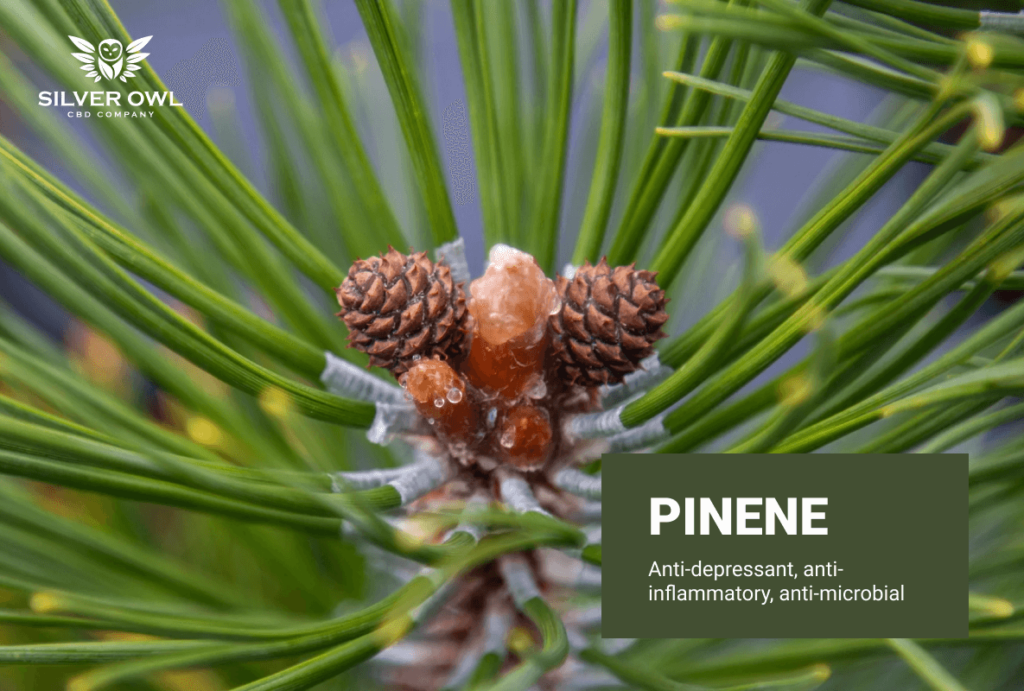 Pinene
Pinene is considered one of the most common subspecies of terpene in nature. It has a characteristic pine aroma and is found in a wide variety of plants.
Effects Include:
Antiseptic
Antimicrobial
Antiinflammitory
Soothing
Other sources: pine, softwood resin, citrus fruits, basil, and parsley.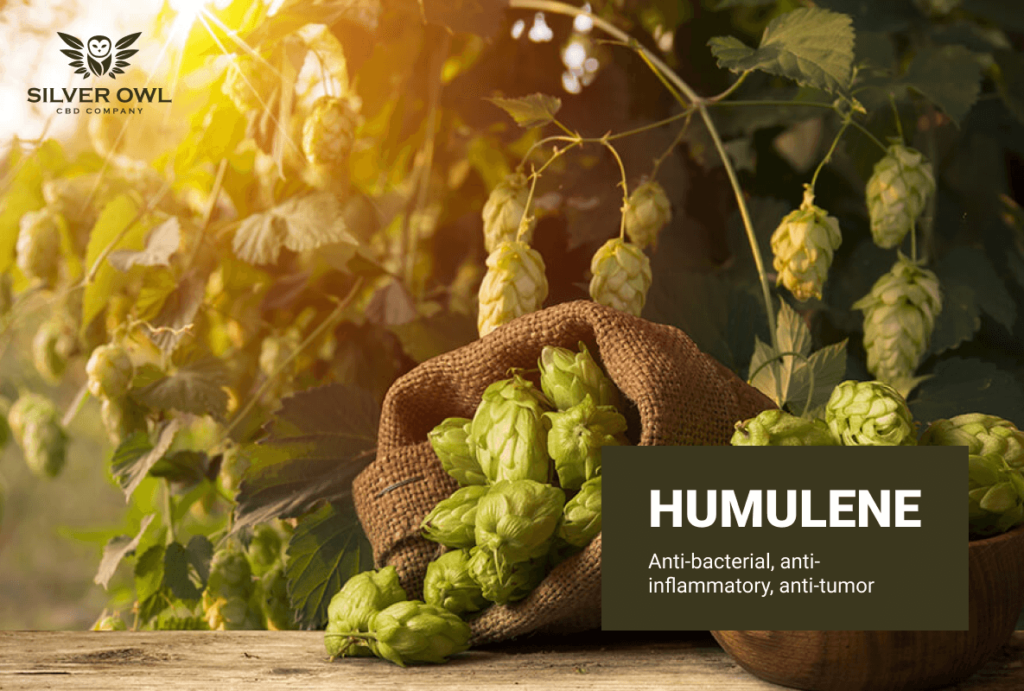 Humulene
Behind the hop aroma of the beer, there is a characteristic herbal aroma of humulene.
Effects Include:
Antibacterial
Appetite Suppressant
Anti Inflammatory
Other sources: hops, coriander, and basil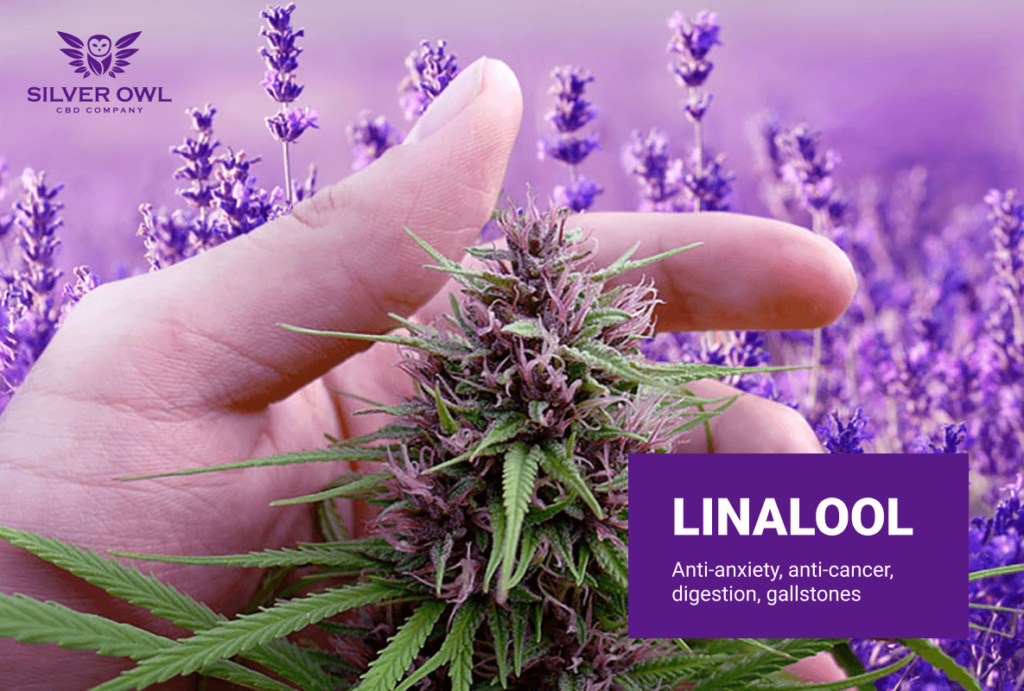 Linalool
Linalool is the main lavender terpene with a strong floral aroma.
Effects Include:
Antimicrobial
Calming
Anti Inflammatory
Relaxing
Analgesic
Other sources: Lavender, peppermint, and cinnamon.
What is the Entourage effect?
The Entourage effect refers to the fact that, all the compounds in a plant work better together than separately. Combining the different terpene profiles combine their effects to create unique, one-of-a-kind sensations. Dry herbs with strong effects and terpene content, such as myrcene and linalool, will create a special mixed effect. Try mixing different terpenes and experience a whole new sensation. In this respect, your possibilities are endless. To maximize the entourage effect, try each type of terpene individually as well as in a mix with others. But remember that some of them break down at low temperatures, so start your experience at lower temperatures to allow each species to unfold. Start your session at 174° C to capture the flavor and aroma before they disappear. After that, increase the temperature to a medium range, say 199°C. After that, gradually increase the temperature to get a clean effect.
How to evaporate terpenes?
This is an important point because each terpene has its vaporization temperature. This is especially helpful if you prefer to consume cannabis using a vape or other temperature-controlled device. To find out the ideal temperature for vaping terpenes, check out the instructions below.
Temperatures of 345°F (174°C) and below will provide a smoother, lighter, and more invigorating effect. You won't notice it at first, as these effects are subtle, but can cause a slight buzz. This temperature setting is ideal for quick sessions of togetherness with yourself and Jah.
From 350°F- 399°F (177°C to 204°C) you will experience a light, invigorating sensation, but with a more noticeable calming effect.
388°F (198°C) and higher for heavier effects and pure highs. At this temperature range, terpenes, particularly linalool, release their sedative effects.
Follow this little list of instructions to vaporize the terpenes and get the desired effect.