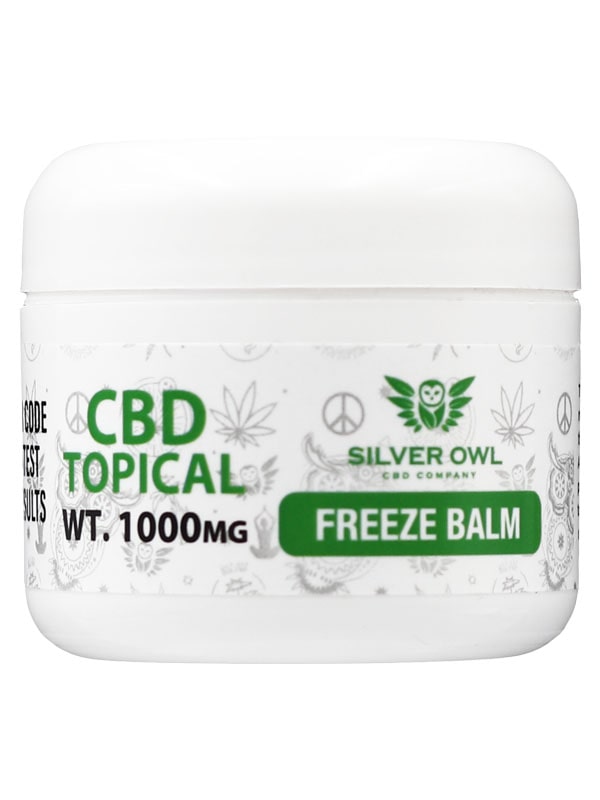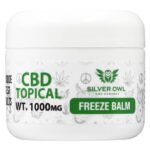 Silver Owl CBD Freeze Balm
$27.99 – $30.00
Description
Additional information
Silver Owl CBD Freeze Balm has you covered! Our natural, soothing ingredients "freeze" hot spots to help you relax while our CBD works to provide lasting relief.
Freeze balm
Looking to chill? Our CBD oil is isolated from Colorado-grown hemp, allowing you to deal with your pain without the use of any THC, and the rest of our ingredients are locally sourced for a true Colorado experience. The Rocky Mountains are known for a good freeze; we like to think we bottled a little bit of that cool when we formulated our Silver Owl CBD Freeze Balm. Try a tub and see what we mean… we'll freeze that pain away like it was a Floridian at the peak of Mount Evans in the middle of a February blizzard!
Ingredients: CBD Oil, Organic Beeswax, Natural Menthol, Aloe Vera Extract, Arnica Montana Extract, Tea Tree Oil, Tocopheryl Acetate (Vitamin E)
Available in 250mg and 1,000mg tubs
| | |
| --- | --- |
| Weight | 0.1 kg |
| Dimensions | 1 × 1 × 1 cm |
| Mgs CBD | 250, 1000 |
Cronic Pain
This is amazing. I have had back pain for years and this is the first thing that actually works to relieve the pain. Thank you so much.
Absolutely wonderful product
I bought this mainly for my mom for her hip pain but I went ahead and bought me a tub also. And let me tell you, my knee pain that I've had for almost 3 years now is gone when I use this stuff. I can bend it without feeling tightness and pressure. It feels like I got a brand new knee.
Chilling relief, described in brief
This really kicks the crap out of icy hot
Mountain relief!
I got sunburned while skiing and used this balm on it out of the shower. This stuff relaxed my whole body and made it so I could sleep comfortably. Love ittttt
Freeze balm review
I love to put this product on my achy parts when I go to bed. When I wake up, the pain is gone. I also love the scent but it make me tear up a little but that's how I know it's working.
Great product... Love it
I absolutely love this cream. I use it because I have back pain and abdominal pain with occasional muscle spasms. After a hot shower this cream is the best. Yes. I recommended it to everyone one I know who suffers with pain. I'm even going to add it to my stocking stuffer for Christmas.
Great relief!
With 15 miles of running and hiking, I rubbed this on my legs before bed and woke up with virtually no soreness or pain that I started feeling the night before.