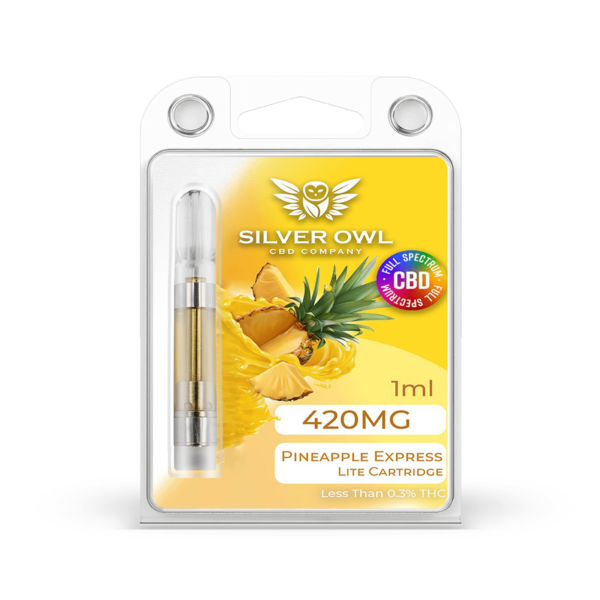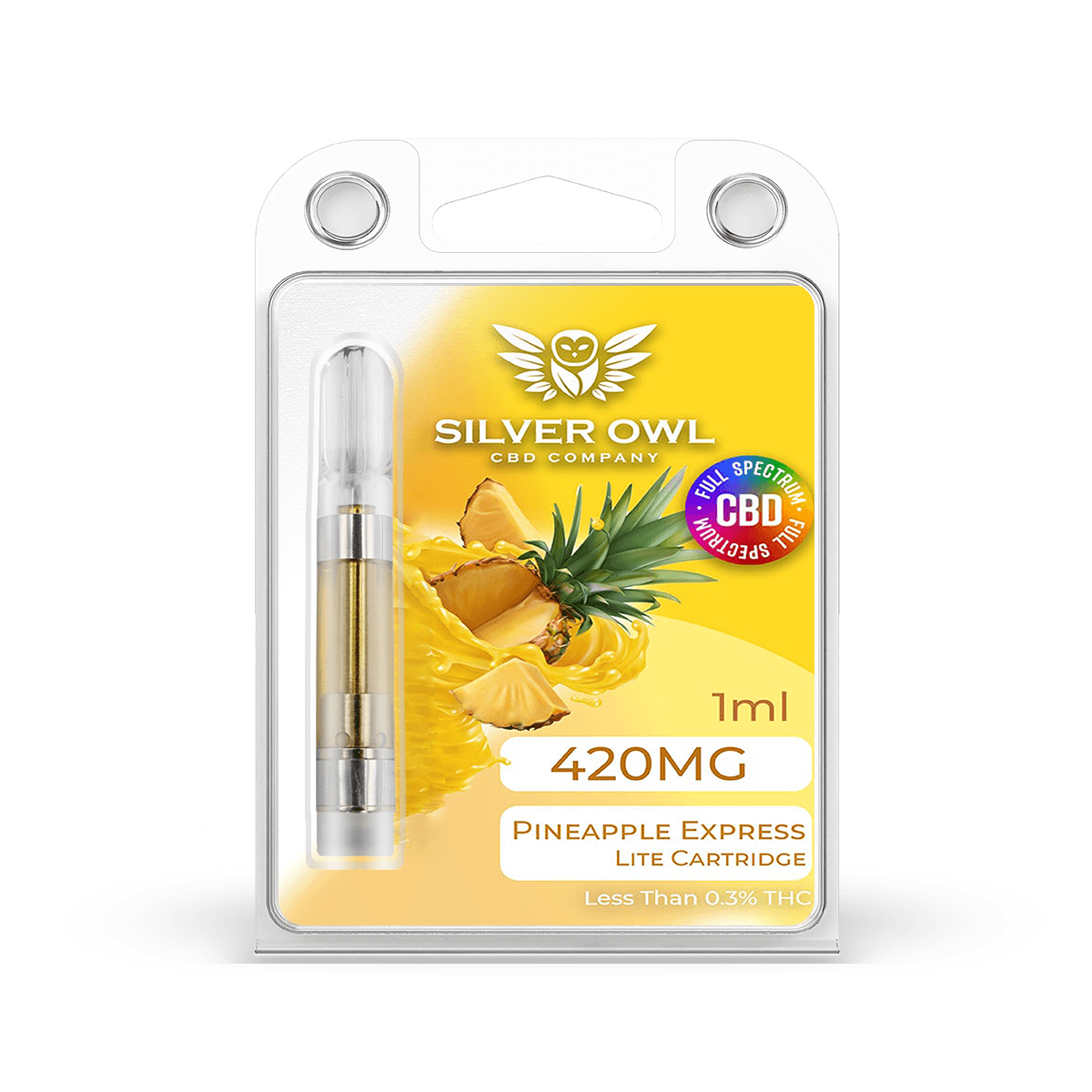 Full Spectrum Lite Cartridge Pineapple Express
$14.99 – $140.00
Description
Additional information
Back from the grave in time for the fall: Silver Owl Full Spectrum CBD Cartridges!
Our Full Spectrum Cartridges have been a major hit in the CBD community, so we've decided to expand our line! With our newest Cartridge options we've created an entirely new set of products for those whose needs our first wave couldn't meet. Though a darker color is natural in a higher potency extract, it was enough to scare some people familiar with the unregulated "homebrew" concentrates out there away from trying our carts. Some thought they worked a little too well, while others simply couldn't afford them. That's certainly understandable- 2020 was a rough year across the board. 
For those looking for smaller doses or even more affordable alternatives, Silver Owl Full Spectrum Lite Cartridges were made just for you! Named for their lower potency, lighter color distillate and cheaper prices, each Lite Cartridge packs 420mg of our new "Lite" Full Spectrum Extract and higher terp contents for more pronounced flavors and terpene-flavonoid-cannabinoid interactions. 
A new flavor in the Silver Owl family of products, Blue Bud features the terpene profile of the classic Blue Dream strain with an added hint of blueberry flavor. This one's definitely for the 420 fans out there!
Please note: This product contains trace amounts of THC. Silver Owl Full Spectrum CBD Cartridges and any products formulated with our Full Spectrum Extract will naturally contain less than 0.3% Delta-8 and Delta-9 THC, in compliance with all applicable federal and state laws. Silver Owl Full Spectrum products are not psychoactive, but should not be used by anyone who is pregnant, breastfeeding or otherwise adverse to ingesting trace amounts of THC. 
If you are concerned about ingesting cannabinoids or are adverse to ingesting trace amounts of THC for any reason, please consult your physician or other licensed medical professional prior to using Silver Owl Full Spectrum products.
| | |
| --- | --- |
| Quantities | 1 Cartridge, Box of 10 Cartridges |
Great little things!
Super convenient, I take it everywhere.
Best Cbd cart
Best pineapple express cbd cart that I have tried!!!! Very convenient to have with you anywhere you go
Very uplifting, smooth, and delicious. Will absolutely be purchasing again.
420mg
It feels like 920 is a lot of CBD for me, so I prefer 420mg so I can hit that more often, the flavor is good
Top tier CBD cart!! most leak or look really dark, these looked perfect and worked until the coil was burnt and there was nothing left. Solid product for sure!!!
So good!
This is my go-to cart. Do yourself a favor and grab one.
Best cart out there
CBD carts tend to taste funny from dispos. these ones actually taste and work like intended. i love them
Silver owl is amazing!
I purchased this product to help with sleep! Great customer service super friendly!!
Thank you so much for the review. We love our customers
Flavor
The flavor is amazing. The terpenes really come through with these cartridges.
We love hearing good things about our products.