What Is THCA and What Are Its Benefits?
The cannabis plant is unquestionably an herbal miracle. When it comes to the benefits that the plant can deliver, the list is very long and ever-expanding as we learn more about it. In most cases, the benefits of marijuana are the result of some form of processing. CBD has to be extracted from the Cannabis sativa plant using a solvent or chemical extraction process. Delta-8 THC is produced by chemically converting CBD or delta-9 in a process called isomerization. While the resulting cannabinoids present benefits of their own, the fact is that very few of them produce effects in raw form.
That is where THCA enters the picture. Unlike CBD or delta-8, THCA is a cannabinoid that needs no processing to be beneficial. THCA is abundant in raw cannabis and its many benefits can be harnessed without smoking it, dabbing it, or vaping it. In this article, we'll cover THCA and the multiple benefits associated with it, making it one of the most popular modern cannabinoids.
Table of contents
What is THCA?
In the most basic terms, THCA is a cannabinoid. Just like many other cannabinoids that you have likely heard of – THC, CBD, and Delta-8 all included – Tetrahydrocannabinolic acid is a compound found in the Cannabis sativa plant. You might have noticed, but the word "acid" isn't usually a part of most cannabinoids' scientific names. That is because the acidic component is usually eliminated from most popular cannabinoids through chemical conversion.
THCA is a relatively "raw" cannabinoid. It is the byproduct of CBGA (the compound that ultimately breaks down into the main cannabinoids), which makes it as organic as a cannabinoid can get. THCA is different from compounds like delta-9 THC and THCP in that it is not psychoactive. Ingesting THCA will not produce any of the intoxicating effects commonly associated with marijuana.
Despite having a very similar molecular structure to delta-9 THC, THCA contains an extra carboxyl ring that prevents the compound from binding to the brain's CB1 receptors. That binding process is what is responsible for producing intoxicating effects. While THCA is non-psychoactive, it still provides many of the positive effects that you'd expect from other common cannabinoids.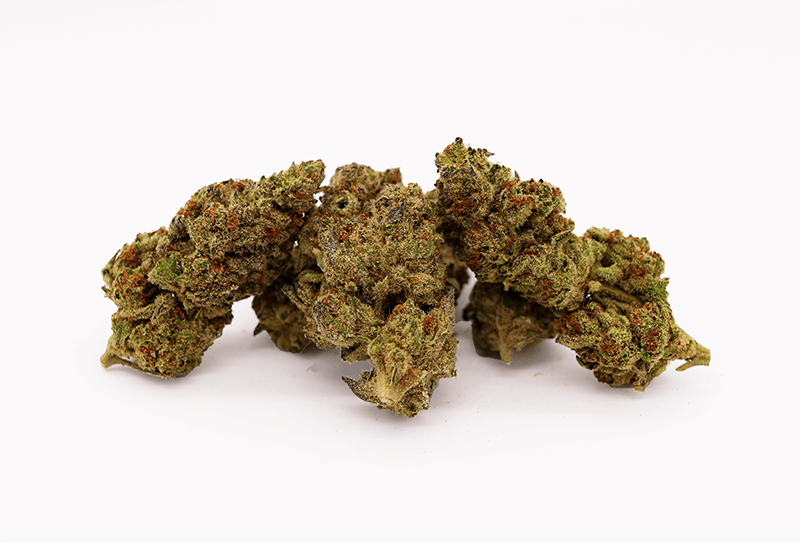 Does THCA Get You Stoned?
One of the first questions that most people ask in regard to a new cannabinoid is whether or not it will get you stoned. As we have briefly covered, THCA's chemical composition prohibits it from interacting in a great deal with the endocannabinoid system. Unlike delta-9 THC, THCA's additional carboxyl ring prevents it from binding to CB1 and CB2 receptors in the brain, prohibiting any psychoactive effects. So, in essence, no, THCA can not get you stoned in its original form.
However, THCA is one chemical change away from being able to get you stoned. Through a process called decarboxylation, it is possible to eliminate the compound's carboxyl ring, transforming it into delta-9 THC. The process of "decarbing" THCA is very simple and likely something that you have done once or twice when sparking up a bowl. THCA can be turned into psychoactive delta-9 by adding heat to the compound. That is why marijuana is psychoactive once you burn it; THCA is rapidly turned into delta-9 THC, getting you high as a result.
What Are the Benefits Of THCA?
While THCA was discovered in the 1960s, the benefits of THCA as an individual cannabinoid haven't been studied to great lengths, With that being said, we do know a fair amount about THCA's benefits, as they fall in line with other similar cannabinoids like delta-9 THC and CBD. While THC is the better option in terms of pain relief, THCA can have pain-alleviating effects, particularly if the pain is caused by inflammation. THCA is a prostaglandin inhibitor, meaning that it blocks the central chemical compound that causes inflammation in the body. As such, THCA is a good option for those that experience inflammation-related joint discomfort and similar ailments.
Along similar lines, a study conducted by Biochemical Pharmacology in 2019 determined that THCA has shown an ability to reduce fat mass and body weight gain by reducing glucose intolerance and insulin resistance. In fact, THCA has shown positive effects on multiple critical organs, including the brain. One of the most significant benefits of THCA is its ability to work as a neuroprotectant. That simply means that it protects vital aspects of brain functioning including memory and motor coordination. In fact, THCA is better at preserving these brain functions than delta-9 THC.
To add another exceedingly positive THCA benefit to the list, there has also been some evidence that THCA can aid in inhibiting certain types of cancer from growing or spreading. In an article published by the Journal of Pancreatic Cancer, scientists found that THCA effectively reduced tumor volume and tumor weight through oral ingestion.
THCA Side Effects
Many of the gripes associated with cannabis use boil down to undesirable psychoactive responses. Due to the fact that THCA is non-psychoactive, many of those unwanted side effects aren't present. However, THCA has been reported to have some side effects that align somewhat with the common side effects of delta-9 THC. These include a dry mouth, dizziness, tiredness, and increased heart rate. Since there isn't very much conclusive research on the compound, many of THCA's side effects are anecdotal. With that being said, it is often said that the side effects of THCA are a lot less apparent than they would be with a psychoactive cannabinoid.
Like many other cannabinoids, THCA affects people differently based on a number of individual factors. These include metabolic rate, body mass, and an array of other individual characteristics. As such, it is hard to pinpoint umbrella side effects that are experienced universally.
What Forms Does THCA Come In?
Even though THCA is one of the most abundant cannabinoids in raw cannabis, it isn't widely available as an individual cannabinoid in very many forms. That is largely due to the fact that many of the ways that you would typically intake cannabinoids like delta-9 THC and HHC do not apply to THCA. Since THCA cannot be heated without chemically changing into delta-9 THC, the most common forms of ingesting THCA revolve around the raw cannabis plant itself.
Some people find that juicing raw cannabis flower is the best way to intake THCA. This process is intuitively named cannabis juicing and is typically done by adding cannabis flower into a juicer with other fruits and vegetables to dilute the taste a bit. Since there is no heat involved in this process, the THCA compound remains intact.
Some other THCA consumers choose to add raw cannabis to other food items like salads or sandwiches. This can be done by grinding up raw cannabis flower into fine particles to make consumption easier. Like cannabis juicing, heat obviously isn't involved in this process either. Of course, it might not be the most pleasurable experience to consume raw cannabis, but it will unquestionably deliver the benefits of the non-psychoactive compound.
Is THCA Legal?
The legality of THCA is an interesting topic to tackle, as there are technically a few right answers to that question. In the end, for federal legality purposes at least, it boils down to what plant the THCA was derived from. THCA can be derived from either marijuana or hemp plants, which can make the difference between federally legal THCA and illegal THCA. Due to the 2018 Farm Bill which made hemp-derived cannabinoid products federally legal to manufacture and purchase, THCA extracted from hemp plants, rather than marijuana, is technically federally legal.
If THCA is derived from marijuana, it may be considered a Schedule 1 drug in the future on the grounds that it is a structural analog to tetrahydrocannabinol. There is legal framework in place which might make THCA and other similar cannabinoids the target of federal intervention in the future. The Federal Analog Act could have implications for THCA unless a strong case can be made that it is chemically diverse enough from delta-9 THC to fall outside of the Act's parameters.
THCA is a very interesting cannabinoid when it comes to its legality due to the fact that it can be converted into intoxicating delta-9 THC very easily. Smoking or heating THCA flower or THCA dabs will get you just as, or nearly as, stoned as regular delta-9 THC flower or dabs which seemingly contradicts its legality.
At this point in time, however, THCA is unregulated and is not explicitly prohibited in the eyes of the U.S. federal government.
Will THCA Cause You To Fail A Drug Test?
As a general rule, it is not a good idea to consume any THCA Tetrahydrocannabinolic acid products if you have a routine drug test coming up. Due to the fact that THCA has a nearly identical molecular structure to delta-9 THC, THCA can absolutely cause you to fail a drug test. While there aren't any tests that target THCA directly, its similarity to other intoxicating cannabinoids makes it likely to trigger a positive result.
Depending on how frequently you ingest THCA, the compound can stay in your system for anywhere from a few days to a couple of weeks. While there isn't enough conclusive evidence to say for sure how long the THCA cannabinoid stays in your system, it can be generally assumed that the half-life of THCA is similar to THC. Frequent THCA users can expect the compound to be detectable for up to 14 days depending on multiple factors including individual metabolic rates, the potency of the THCA product, and whether or not the product contains other cannabinoids. For light Tetrahydrocannabinolic acid users, that number could be significantly less.
THCA Takeaways and Summary
THCA is a very unique compound in the cannabis world, as it seemingly provides many of the same benefits as other cannabinoids without the intoxicating effects. THCA is a byproduct of the CBGA cannabinoid, making it one of the first cannabinoids to be created through the plant's decomposition. THCA's acidic structure contains an additional carboxyl ring that isn't present in most other cannabinoids, making it non-psychoactive. While THCA is not intoxicating in its pure form, it can be easily converted into intoxicating delta-9 THC by simply subjecting it to heat.
Many of the positive benefits of THCA are shared with delta-9 THC, including anti-inflammatory and anti-cancerous properties. While THCA does provide benefits on its own, researchers aren't yet certain about whether or not its effects are more significant when paired with other cannabinoids. While THCA shares benefits with delta-9, it also shares some side effects. Most of THCA's side effects include dry mouth, dizziness, fatigue, and increased heart rate.
Due to the fact that THCA cannot be smoked to remain in its chemical state, options for consuming THCA are limited. Some people opt to juice cannabis to extract THCA, while others simply ingest raw cannabis.
While THCA is, strictly speaking, federally legal, its proximity to delta-9 THC makes it at risk for criminalization in the future. The 2018 Farm Act currently protects hemp-derived THCA, but that might not always be the case. Due to the structural similarities between THCA and delta-9 THC, THCA can be detected on a routine drug test. For that reason, it is a good idea to abstain from THCA intake if you have a drug test on the horizon.