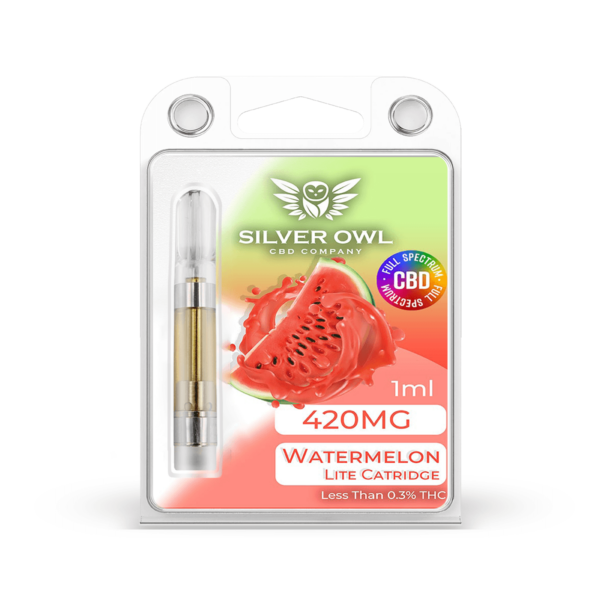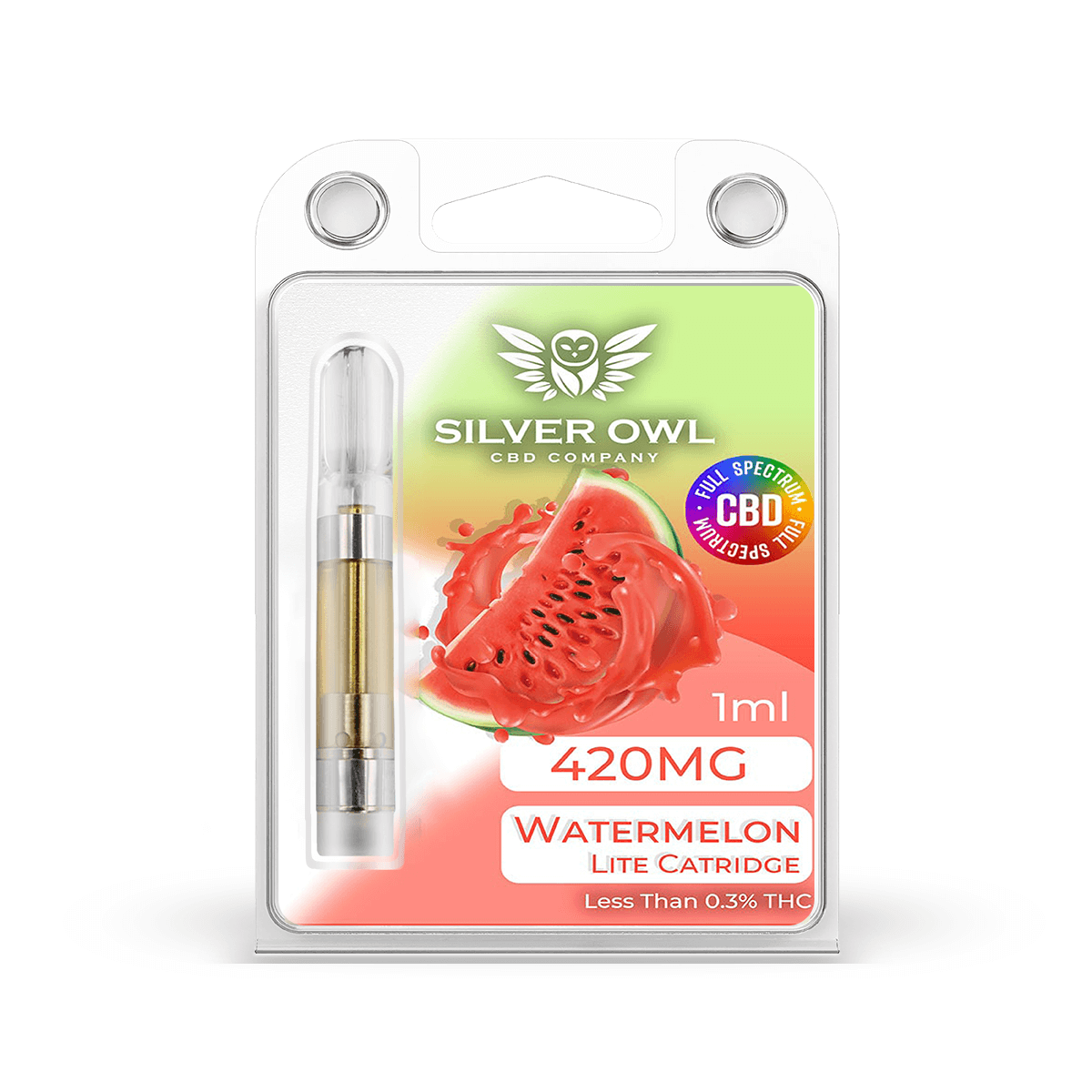 Full Spectrum Lite Cartridge Watermelon
$14.99 – $140.00
Description
Additional information
Back from the grave in time for the fall: Silver Owl Full Spectrum CBD Cartridges!
Our Full Spectrum Cartridges have been a major hit in the CBD community, so we've decided to expand our line! With our newest Cartridge options we've created an entirely new set of products for those whose needs our first wave couldn't meet. Though a darker color is natural in a higher potency extract, it was enough to scare some people familiar with the unregulated "homebrew" concentrates out there away from trying our carts. Some thought they worked a little too well, while others simply couldn't afford them. That's certainly understandable- 2020 was a rough year across the board. 
For those looking for smaller doses or even more affordable alternatives, Silver Owl Full Spectrum Lite Cartridges were made just for you! Named for their lower potency, lighter color distillate and cheaper prices, each Lite Cartridge packs 420mg of our new "Lite" Full Spectrum Extract and higher terp contents for more pronounced flavors and terpene-flavonoid-cannabinoid interactions. 
A new flavor in the Silver Owl family of products, our Watermelon Lite Cartridges might have the most explosively fruity flavor in the line. When we were playing around with this mix in the experimental stages of its development, one of our teammates took a puff and immediately proclaimed, "Yep, that's definitely watermelon!" We think we nailed it with this one- but we'd love to know what you think!
Please note: This product contains trace amounts of THC. Silver Owl Full Spectrum CBD Cartridges and any products formulated with our Full Spectrum Extract will naturally contain less than 0.3% Delta-8 and Delta-9 THC, in compliance with all applicable federal and state laws. Silver Owl Full Spectrum products are not psychoactive, but should not be used by anyone who is pregnant, breastfeeding or otherwise adverse to ingesting trace amounts of THC. 
If you are concerned about ingesting cannabinoids or are adverse to ingesting trace amounts of THC for any reason, please consult your physician or other licensed medical professional prior to using Silver Owl Full Spectrum products.
| | |
| --- | --- |
| Quantities | 1 Cartridge, Box of 10 Cartridges |
Top Notch
All I Gotta say, is I don't know what they're doing over at Silver Owl, but keep it up! Top-notch on everything they do. This vape is a perfect blend of flavor and calming results. I highly recommend it if you're trying to improve your vibe, relax, and just feel better about yourself. I know I have a lot to be thankful for, but now I just added Silver Owl to that list. Thanks again friends, keep doing what you're doing!
First-time buyer and was very impressed/satisfied with this product. The flavor/taste is amazing and the vape hits so easily. Will def buy again
FLAVOR
This stuff tastes good, it doesn't taste strong like watermelon like the candy but it tastes like actual watermelons and it is very rare to find a flavor like that for sure!
This tastes like real watermelons not just a flavoring. Awesome.
Thank you for taking the time to review our products