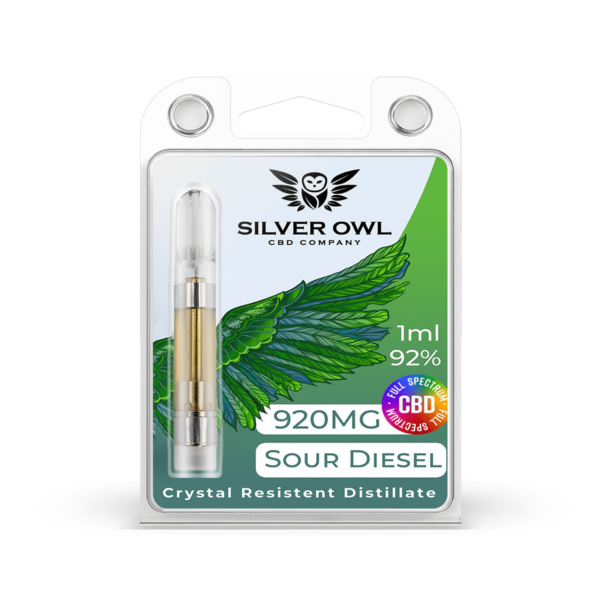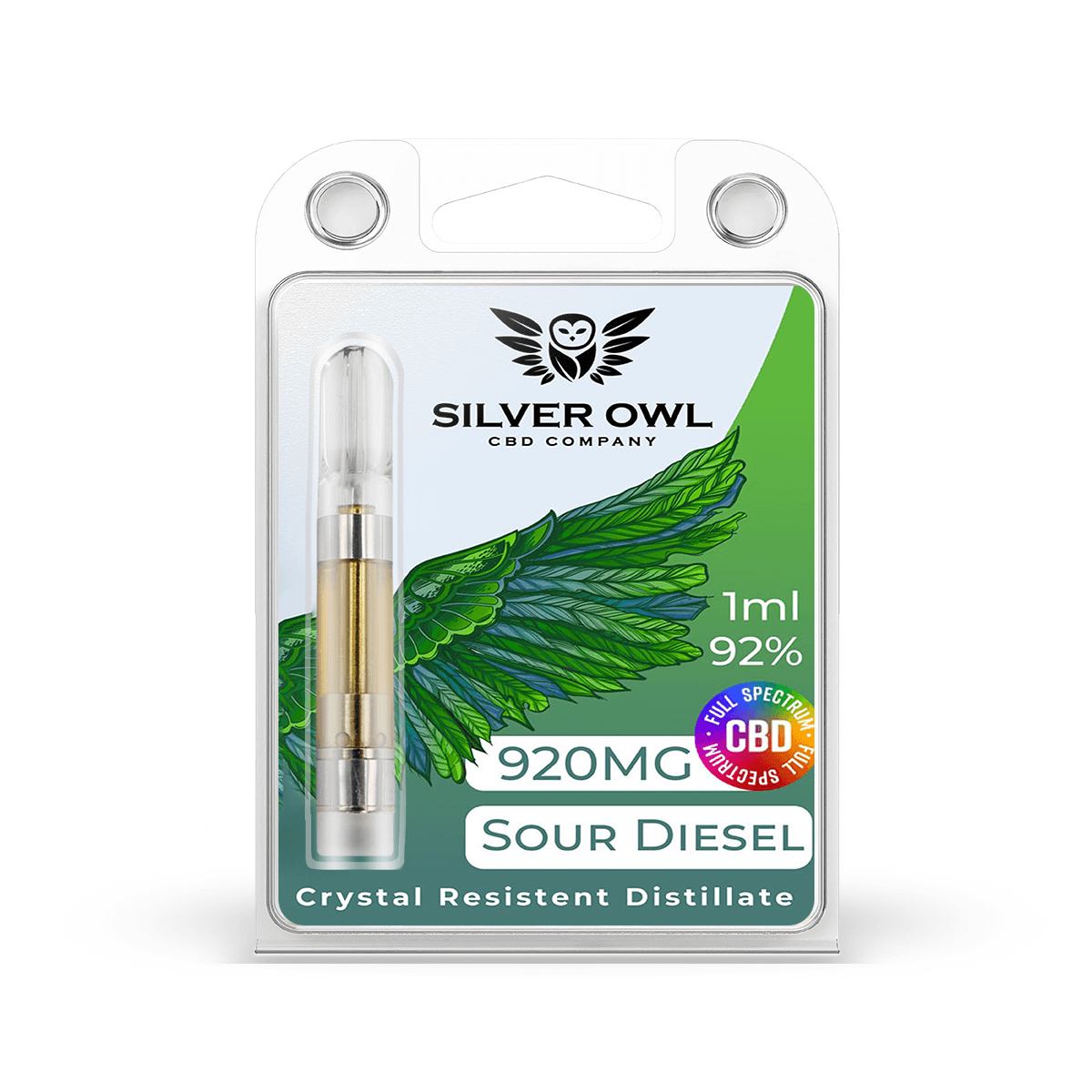 Full Spectrum Cartridge Sour Diesel
$19.99 – $180.00
Description
Additional information
Back from the grave in time for the fall: Silver Owl Full Spectrum CBD Cartridges!
We've been working with CBD Isolate since we started the Silver Owl CBD Company and have made a number of fantastic products with this pure form of CBD, but lately we've been feeling like it's time to start branching out with new types of hemp derived extracts as we grow. And the times, they certainly are a'changin': as more Americans have started taking CBD, the stigmas against hemp and hemp derived cannabinoids have lightened their grip on our country's perceptions of the plant and its compounds.

With these changes in perception and our efforts to expand compelling us, we've been working hard on developing our new Full Spectrum Extract. Full spectrum products usually contain a broad range of the better known and more abundantly available cannabinoids, but not every full spectrum product out there contains "lesser" cannabinoids such as CBC and CBA. We've refined our extraction techniques to ensure that our Full Spectrum Extract pulls CBD, CBN, CBG, CBC, CBA, numerous other cannabinoids and a full range of terpenes found in our raw flower for a truly full spectrum experience.
We're excited to release our first line of full spectrum products to the public: Silver Owl Full Spectrum CBD Cartridges! Each 1g cartridge contains 920mg of our Full Spectrum Extract and 80mg of terpenes for additional flavor in a crystal resistant distillate formulated to avoid hardening and congealing around the heating element, which can lead to premature burnouts. With roughly 580mg of CBD and 340mg of other cannabinoids working synergistically to provide the "Entourage Effect", our Full Spectrum CBD Cartridges are sure to please!
An ode to the extremely popular strain bearing the same name, our Sour Diesel Cartridges pay homage with a familiar hit and similar experience. The inhale tastes piney and slightly sour before leading into a dank note on the exhale. Our Sour Diesel Full Spectrum CBD Cartridges are definitely the carts of choice for industry purists and old-school fans alike!
Please note: This product contains trace amounts of THC. Silver Owl Full Spectrum CBD Cartridges and any products formulated with our Full Spectrum Extract will naturally contain less than 0.3% Delta-8 and Delta-9 THC, in compliance with all applicable federal and state laws. Silver Owl Full Spectrum products are not psychoactive, but should not be used by anyone who is pregnant, breastfeeding or otherwise adverse to ingesting trace amounts of THC. 
If you are concerned about ingesting cannabinoids or are adverse to ingesting trace amounts of THC for any reason, please consult your physician or other licensed medical professional prior to using Silver Owl Full Spectrum products.
| | |
| --- | --- |
| Quantities | 1 Cartridge, Box of 10 Cartridges |
Handy
I put this on my pen and hit it throughout the day. Good for a quick couple puffs when I'm on my way from here to there.
relaxing but inspiring!
really enjoyed the effects on this cart, it got rid of my anxiety without getting me drowsy at all. perfect for a busy stress free day
Amazing
Never can go wrong with an OG strain. Nothing but the great hemp taste!!!! If you don't like flavored cbd products, you must try this amazing oil cart
Mood Enhancer
Very good smooth blend in the product. Easy to order and fast shipping. Quite a mood enhancer had me relaxing and feeling great. Not to mention a discount on the next purchase if you leave a review. The Sour Diesel also tastes amazing.
So awesome. Light and fluffy. Tastes great. It's CBG and CBD. Same relaxing result but helps with the brain and focus. Highly recommend for those that smoke when they work and have to think.
This has been a huge help with getting me to relax after work! i often never leave work mentally and this has really helped change that!
Love this flavor!! It tastes super similar to the THC version and helped me slow down on smoking. Im now living a more clear headed life so thank you!
Relaxing
I have high anxiety and this is great to have on hand throughout the day to mellow me out. Amazing.
We started this business to help people. Thank you so much for your feedback.