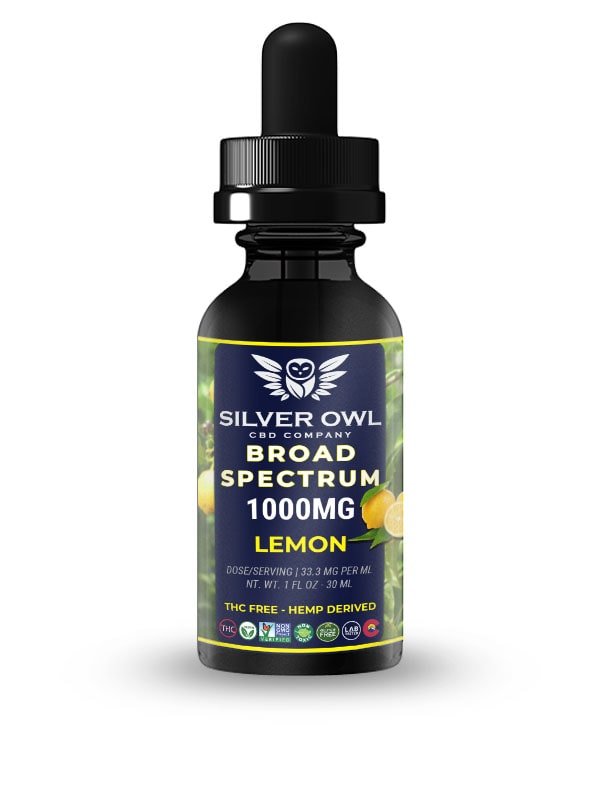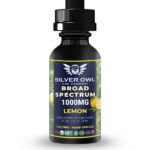 Silver Owl Broad Spectrum CBD Tincture Lemon
$29.99 – $99.99
Description
Additional information
The Silver Owl CBD Company is committed to helping as many people as we can and we have been since the start. We know the different types of hemp extracts have different degrees of effects for different folks, depending on any number of factors, and we all have our preferences in forms of use.
Broad Spectrum CBD lemon tincture
With this in mind, and keeping with our THC free tendencies, we've decided to share the next step for the Broad Spectrum Extract first seen in our CBD Gummies: Silver Owl Broad Spectrum CBD Tincture! This extract features a full range of cannabinoids- except for THC, which has been removed- and terpenes in our non-GMO MCT Oil for maximum bioavailability. This allows you to get everything you can from the interactions between hemp's cannabinoids boosting each other's effects through the "Entourage Effect."
Silver Owl's Broad Spectrum Extract contains more compounds from hemp than CBD alone, so our Broad Spectrum CBD Tinctures will naturally bear more of the plant's flavors. To sweeten things up a bit, we've added some Lemon Essential Oil. The citrus notes and the terpenes together make for a warm and delightful experience!
Flavor: Lemon
Available In: 1,000mg, 3,000mg, 5,000mg and 10,000mg
| | |
| --- | --- |
| Weight | 0.1 kg |
| Dimensions | 1 × 1 × 1 cm |
| Mgs CBD | 1000, 3000, 5000, 10000 |
This is the first time that I have seen 10,000mg. The price is so good. I hope everyone finds this product. It works so good. You can actually feel the difference unlike other CBD products. The flavor is amazing as well.
This is one of my favs too.
I love Silver Owl CBD!
I've used many brands, but I think Silver Owl Broad Spectrum is the best. And reasonably priced! The lemon flavor even tastes good!
We use all-natural ingredients in our products and are always improving.
All around solid product
Big fan of the silver owl lemon broad spectrum, havent had a chance to try any of the other flavors yet but this one tastes great, and seems to last longer than most of the other CBD products i currently have at home. Really helps me get through my work day without feeling constantly in pain.
Silver Owl
Seems to be helping with pain.
Wonderful
Really enjoy this product. I find it is more effective and longer lasting than any other product I've used.
Excellent
great product, very fast shipping
so amazing !
I received the 10,000 mg broad spectrum tincture as a gift and have been in love with it for months. All you really need is a full dropper and you already get a 160 mg dosage. This is really fantastic because the effects show up immediately and last almost up to 8 hours. Great work silver owl !!
Works extremely well!
Recently I've had a lot of depression and anxiety with getting out of the military but this product has worked great in the 2 weeks that I've been using it. I was a little worried about taking it because I had to take a drug test for a new job but everything was clear! Definitely recommend this product!
You can actually feel this stuff
For a long time me and my dad were always buying low strength cbd from random places till we found this. It almost seems unreal how cheap it is for the quality you get. It is 100 percent the best CBD. After an hour of a full dose you feel completely at ease and painless