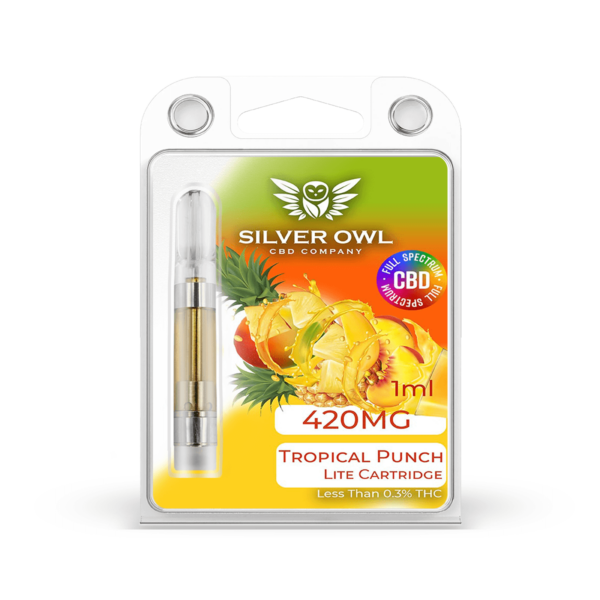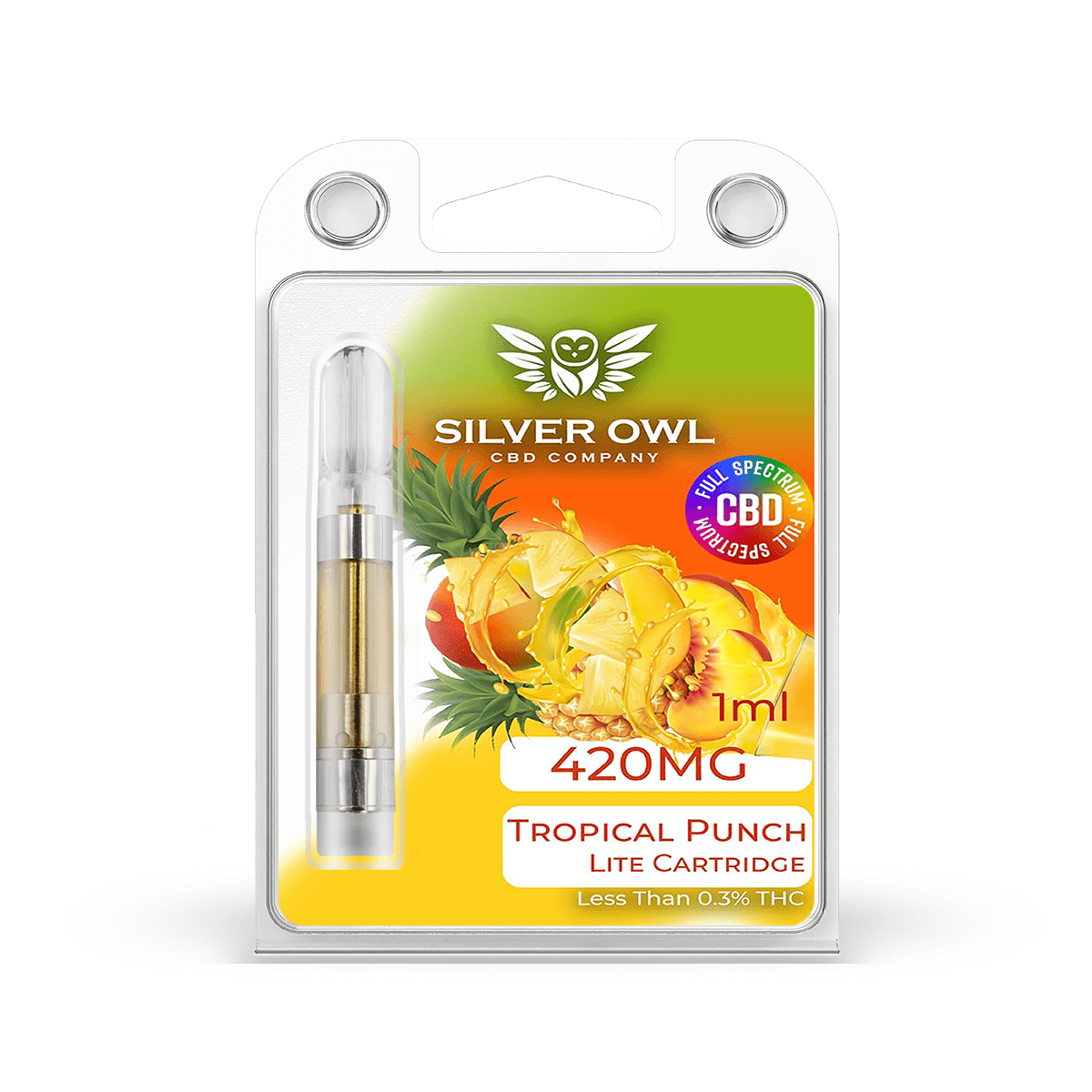 Full Spectrum Lite Cartridge Tropical Punch
$14.99 – $140.00
Description
Additional information
Back from the grave in time for the fall: Silver Owl Full Spectrum CBD Cartridges!
Our Full Spectrum Cartridges have been a major hit in the CBD community, so we've decided to expand our line! With our newest Cartridge options we've created an entirely new set of products for those whose needs our first wave couldn't meet. Though a darker color is natural in a higher potency extract, it was enough to scare some people familiar with the unregulated "homebrew" concentrates out there away from trying our carts. Some thought they worked a little too well, while others simply couldn't afford them. That's certainly understandable- 2020 was a rough year across the board. 
For those looking for smaller doses or even more affordable alternatives, Silver Owl Full Spectrum Lite Cartridges were made just for you! Named for their lower potency, lighter color distillate and cheaper prices, each Lite Cartridge packs 420mg of our new "Lite" Full Spectrum Extract and higher terp contents for more pronounced flavors and terpene-flavonoid-cannabinoid interactions. 
Featuring the terpene and flavonoid profiles we first used for our CBD/CBG Crystals, Tropical Punch Lite Cartridges provide a smooth, delicious pick-me-up for the casual first-timer. Each hit is like a splash of aloha straight to the tongue and the lungs!
Please note: This product contains trace amounts of THC. Silver Owl Full Spectrum CBD Cartridges and any products formulated with our Full Spectrum Extract will naturally contain less than 0.3% Delta-8 and Delta-9 THC, in compliance with all applicable federal and state laws. Silver Owl Full Spectrum products are not psychoactive, but should not be used by anyone who is pregnant, breastfeeding or otherwise adverse to ingesting trace amounts of THC. 
If you are concerned about ingesting cannabinoids or are adverse to ingesting trace amounts of THC for any reason, please consult your physician or other licensed medical professional prior to using Silver Owl Full Spectrum products.
| | |
| --- | --- |
| Quantities | 1 Cartridge, Box of 10 Cartridges |
Great Quality
I got this Tropical Punch Cartridge to help me relax before bedtime. I've been stressed to the point I'm having trouble clearing my head to fall asleep. I had to stop using THC because the side effects were starting to affect my performance at work and in other areas of my life. A couple of puffs of this at night and I don't need to smoke cannabis to fall asleep. I'm very happy with the quality and flavor of all of the Silver Owl products I have tried so far. I plan to try some of the flower on my next purchase.
changed everything!
I have been smoking cbd everyday since I got this cart! It helped me with my moods and my pain and I don't get as many headaches anymore since I have been smoking this everyday since I got it!!!
The effects of this are amazing. I wasn't sure that the mg was going to be high enough but they absolutely were.
Love hearing good things about our products