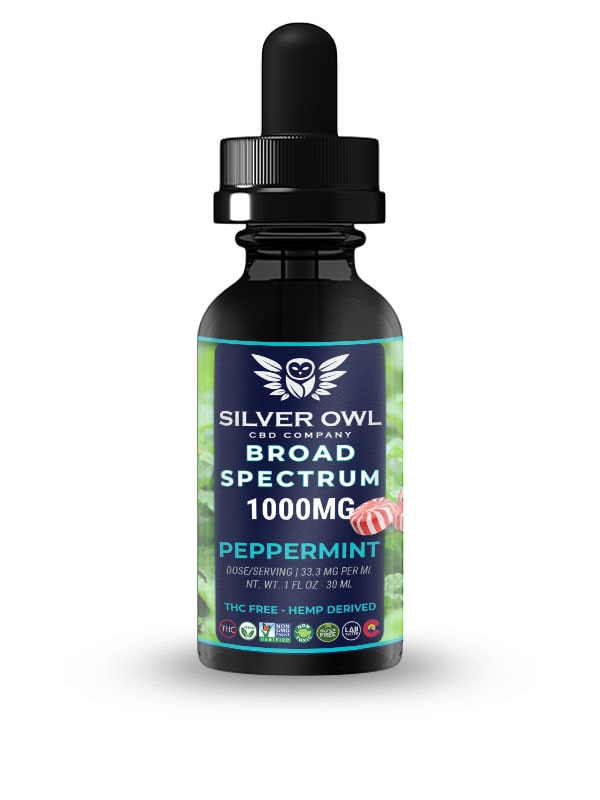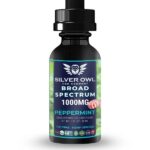 Silver Owl Broad Spectrum CBD Tincture Peppermint
$29.99 – $99.99
Description
Additional information
The Silver Owl CBD Company is committed to helping as many people as we can and we have been since the start. We know the different types of hemp extracts have different degrees of effects for different folks, depending on any number of factors, and we all have our preferences in forms of use.
Broad Spectrum CBD Tincture Peppermint
With this in mind, and keeping with our THC free tendencies, we've decided to share the next step for the Broad Spectrum Extract first seen in our CBD Gummies: Silver Owl Broad Spectrum CBD Tincture! This extract features a full range of cannabinoids- except for THC, which has been removed- and terpenes in our non-GMO MCT Oil for maximum bioavailability. This allows you to get everything you can from the interactions between hemp's cannabinoids boosting each other's effects through the "Entourage Effect."
Silver Owl's Broad Spectrum Extract contains more compounds from hemp than CBD alone, so our Broad Spectrum CBD Tinctures will naturally bear more of the plant's flavors. However, with the addition of Peppermint Essential Oil, the tastes of the extract's terpenes give way to a smooth, cool kick that's perfect on a hike or after a meal!
Flavor: Peppermint
Available In: 1,000mg, 3,000mg, 5,000mg and 10,000mg
| | |
| --- | --- |
| Weight | 0.1 kg |
| Dimensions | 1 × 1 × 1 cm |
| Mgs CBD | 1000, 3000, 5000, 10000 |
Peppermint CBD tincture
I have really enjoyed the peppermint tincture. It has helped my back pain tremendously. I reccommend this to several of my friends. Great product!
We got in this business to help people. We are happy to hear you love our products.
Love it! I can sleep through the night when I take it!
Tastes pretty good
Found you guys through Izzyblaze on instagram and I'm so damn happy I did. popped some into my coffee and it just touched my soul ! Taste so good buttery! Will be turning all my friends to this so far silverowl has not let me down on their crystals or freeze balms I will be ordering the gummies next !
This is my new favorite thing
I've been using the regular CBD tinctures for a few years now. Not to brag or anything, but I work out a lot, and as such am quite often very sore. I can tell the difference between when I am regularly using CBD and when I'm not. It can mean the difference between just making it through the day, or actually looking forward to getting things done. I would usually use an entire 1 mL dropper, two or three times a day. I use half a dropper of this stuff once a day, and have seen all the effects I have come to expect: a reduction in soreness, an all around better mood, falling asleep easier. I got a bottle of the 10,000 mg Peppermint a couple of weeks ago, and I don't think I've had an unequivocally bad day since. I can only recommend this product.
Amazing Flavor
The flavor is amazing. I really expected a strong hemp flavor for the 10000mg and was amazed at how flavorful the peppermint was. The taste is incredible. There is such a big difference in the difference between the full spectrum and and the isolate. This is by far the best CBD product i have ever tried.
💖💖💖💖
I love this product so much I will leave this review on all of them! This LITERALLY!!!! Changed my life! I use the 10,000mg Peppermint (now). One bottle a month. And have never felt better!!! Mentally, Physically, and Emotionally!!! Changed my Life! Please try this for yourself! This is an amazing product and it will change your life!